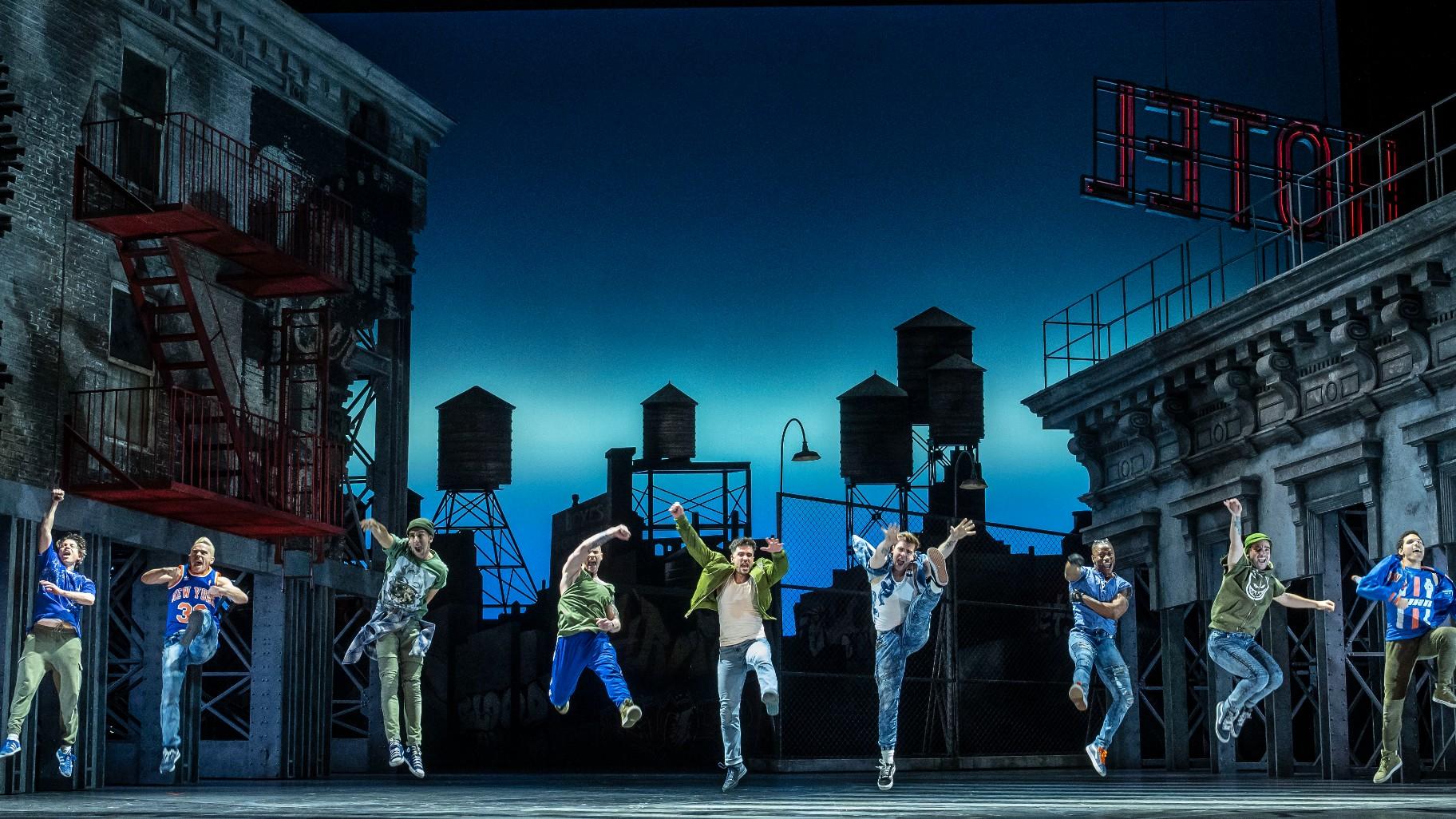 The company of "West Side Story" at the Lyric Opera. (Credit: Todd Rosenberg)

It is common knowledge that the United States has a long and complex history as an immigrant nation. And, as it happens, the American musical is in many ways a product of that immigration — an ongoing phenomenon that, at this very moment in our history, has become an immensely controversial issue.
And ironically enough, two very different musicals now on stage in Chicago — a revival of "West Side Story" at Lyric Opera, and a new work, "Lucy and Charlie's Honeymoon," at Lookingglass Theatre — are in many ways driven by that issue.
"West Side Story," the brilliant, groundbreaking work from 1957 — with a book by Arthur Laurents, music by Leonard Bernstein, lyrics by Stephen Sondheim and original direction and choreography by Jerome Robbins — hardly needs an introduction. And while it was inspired by Shakespeare's "Romeo and Juliet," it easily suggests the era in which it unfolds with the tense snapping of fingers by streetwise gangs called the Jets (New York-bred teens) and their rivals, the Sharks (recently arrived immigrants from Puerto Rico). Both are vying for control of the streets on Manhattan's Upper West Side, and there will be a painful price to pay.
"Lucie and Charlie's Honeymoon," with a book and music by Matthew C. Yee (who also stars as Charlie, a decadent musician), and direction by Amanda Dehnert, is set in current times. And it homes in on a pair of newly married, unabashedly criminal first-generation Asian American "renegades" who drive around the Midwest, and, who more than a little ironically, sing in an exuberant country western style. Now how is that for some cross-cultural assimilation?
Lyric's grand-scale re-run of its 2019 production, once again directed by Francesca Zambello, features a huge cast, the lush sound of the Lyric Orchestra conducted by James Lowe, and Robbins' finger-snapping original choreography, which is expertly reproduced by Joshua Bergasse.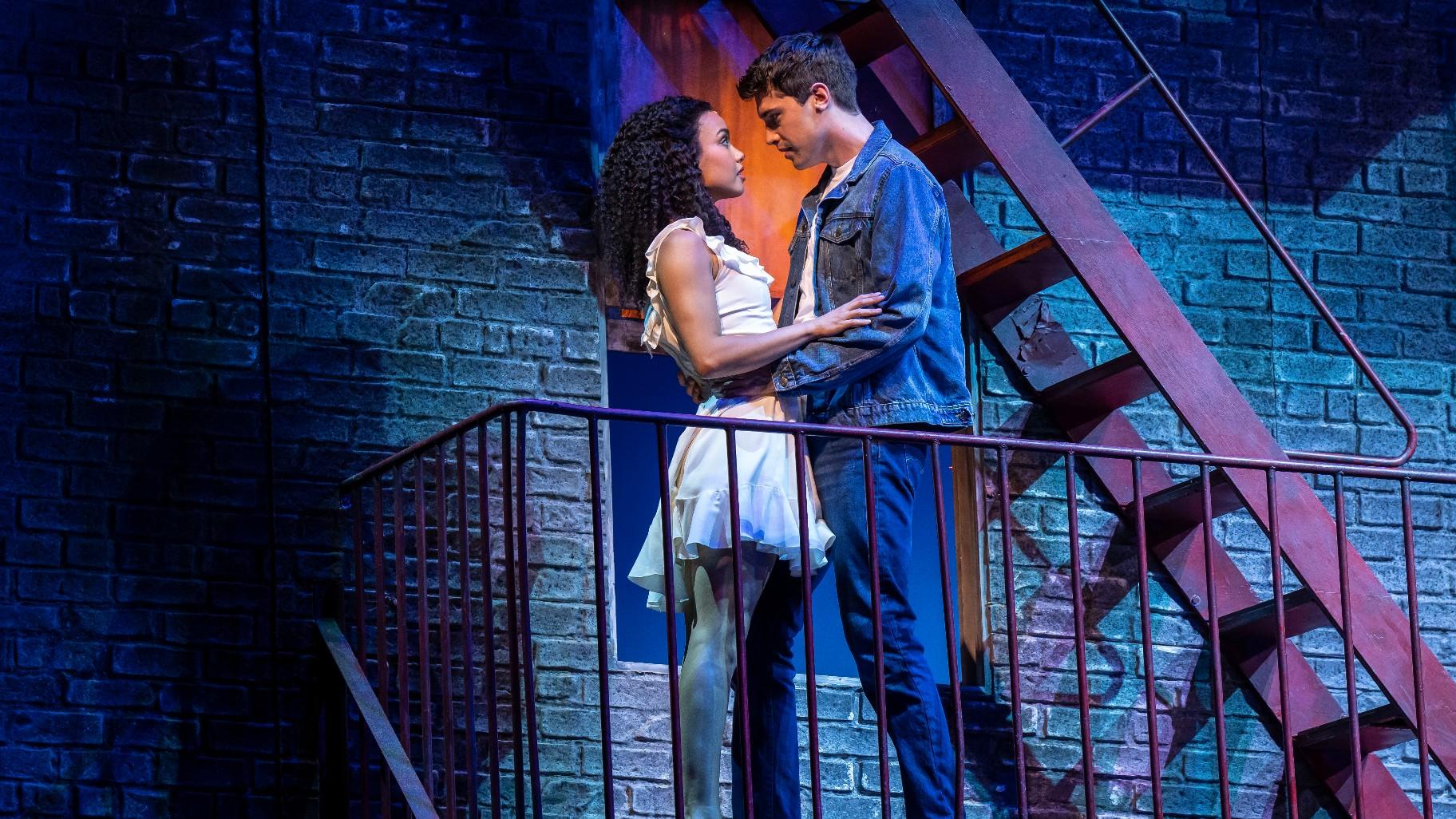 Kanisha Feliciano as Maria and Ryan McCartan as Tony in "West Side Story" at the Lyric Opera. (Credit: Todd Rosenberg)

The standout in this production is Ryan McCartan who plays Tony, the former leader of the Jets who has left the gang, and who falls in love with Maria (soprano Kanisha Feliciano), an innocent but love-struck young Puerto Rican girl. As it happens, Maria's brother, Bernardo (Yurel Echezarreta), leads the Sharks, and is the boyfriend of the sassy Anita (Amanda Castro), who works with Maria in a bridal shop. And of course Tony, who tries to break up a rumble between the gangs, is tragically drawn into the upheaval and kills Bernardo.
McCartan's soaring, show-stopping tenor is breathtakingly beautiful and an ideal fit for "Something's Coming," "Maria" and for his duets with Feliciano, a lovely soprano who joins him in "Tonight" and "One Hand, One Heart." Also show-stopping are the male dancers who play the Jets and the Sharks and who execute Robbins' iconic street-wise, jazzy choreography with immense flair.
"West Side Story" runs through June 25 at the Lyric Opera House, 20 N. Wacker Dr. For tickets visit westsidestorychicago.com or call 312-827-5600.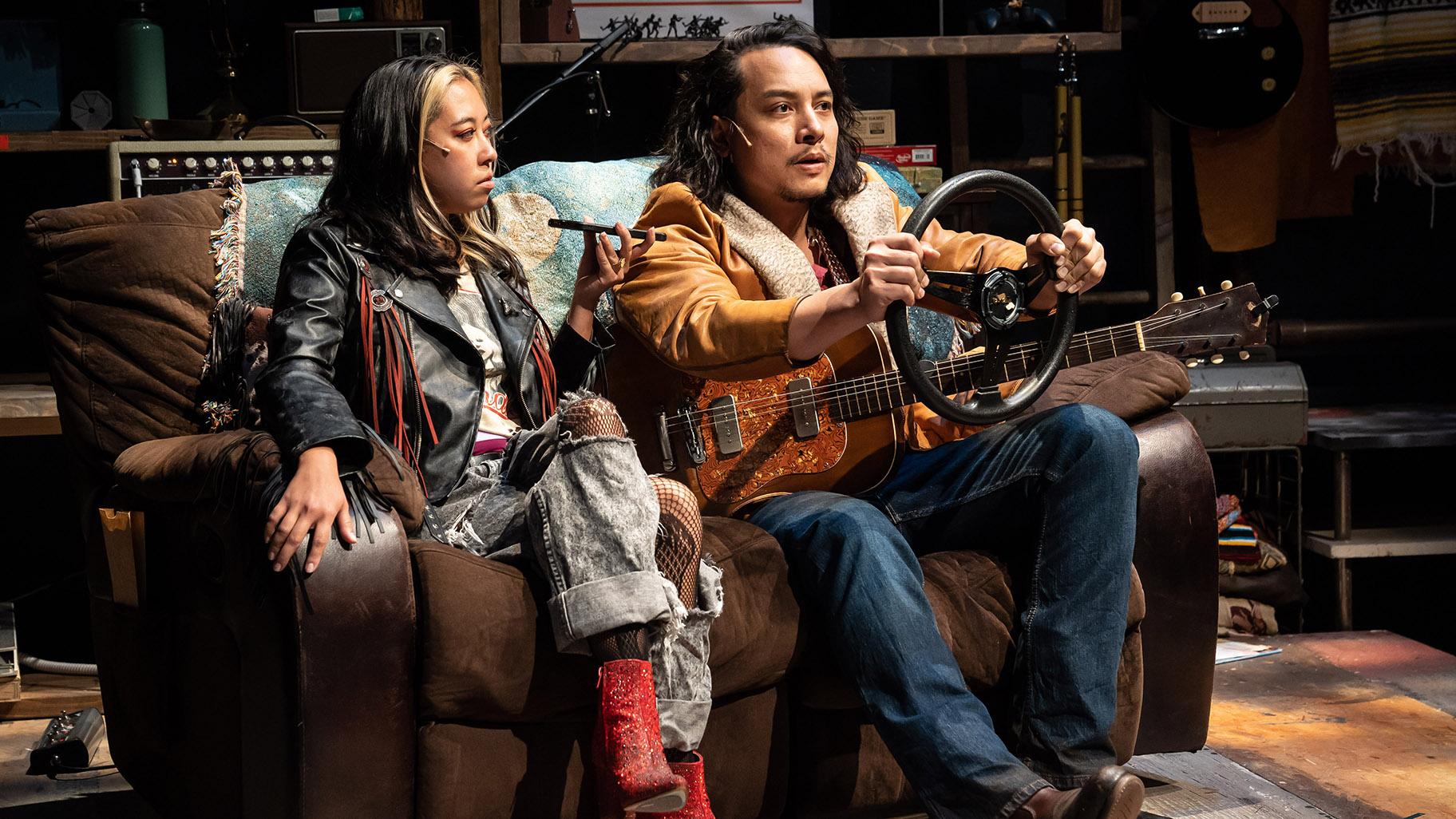 Matthew C. Yee and Aurora Adachi-Winter star in "Lucy and Charlie's Honeymoon" at Lookingglass Theatre. (Credit: Liz Lauren)

And now, on to the altogether new, culture-jangling world of "Lucy and Charlie's Honeymoon" at Lookingglass. It's a work that quite unabashedly tries to challenge and poke fun at the generations of intensely hardworking, family-oriented and academically exceptional Chinese immigrants who have settled in the U.S. over many decades. At the same time, it suggests a whole new generation of Chinese Americans have assumed many of the worst characteristics of U.S. culture.
Frankly, while the score of the show is first-rate, and the actor/singer/musicians in the nine-person cast are clearly multi-talented, I found its overall hard-edged satire off-putting in many ways. But as it happened, I was seated next to one of the show's understudies who admitted that while my response was understandable, it could be perceived in another way.
And in a sense, if you think about it, the fact that Charlie and Lucy (Aurora Adachi-Winter) seem to have adopted American-style attitudes, decadence and criminal behavior — as well as quintessentially American roots music — the show can be seen to suggest that a younger generation of Chinese Americans are now fully "Americanized."
By far the most entertaining character in this show is Grandma, played with great comic flair by Wai Ching Ho. Not only does she capture the savvy spirit and shrewd nature of a woman of an earlier generation, but she winningly suggests that this is a woman who can keep in step with the current time as well.
The other members of the cast — Daniel Lee Smith, Matt Bittner, Doug Pawlik, Rammel Chan, Harmony Zhang and Mary Williamson (who plays a character named Feinberg, whose name is meant to be a bit of a joke) – do first-rate work.
"Lucy and Charlie's Honeymoon" runs through July 16 at the Lookingglass Theatre, 821 N. Michigan in the Water Tower Water Works building. For tickets visit LookingglassTheatre.org or visit 312-337.0665. (Note: This show is not for kids.)
Follow Hedy Weiss on Twitter: @HedyWeissCritic
---