It happened quickly. Within days of the slow roll of lockdown ordinances, it seemed the entire world moved online. Universities, non-emergency healthcare practitioners and large corporations alike learned how to virtually host meetings in an attempt to continue business as usual. Classical music organizations were no different.
According to the National Endowment for the Arts, the value added by web publishing and streaming in the U.S. jumped by 14.3% between 2019 and 2020. In terms of music performance, what was once an added perk became imperative.
In Boston, Boston Baroque and Guerilla Opera jumped into the digital sphere experimenting with live streams, archival performances and on-demand digital offerings. But now, a week out from the end of the COVID-19 state of emergency on May 11, questions remain about whether or not musical performance organizations will continue to embrace the digital world.
Boston Baroque finds a niche online
For Boston Baroque, that answer is clear. Founded in 1973 by Martin Pearlman, it was the first permanent period instrument orchestra in North America; fittingly, it started as an experiment. Pearlman studied period instruments in Europe and assembled a group of musicians in Boston who would play on old-world instruments, like trumpets without valves and violins with catgut strings.
"You could think that pure period performance must mean that we are only looking at the past, but that is not the case," explained Emily Weddle, Boston Baroque's director of marketing. The organization tries to approach its work with timelessness, recreating environments where music might have been originally performed and presenting it in a way that reaches modern audiences. Boston Baroque is a small organization with seven administrative full-time employees, allowing them to be quick moving in comparison to some national groups. Long ago, they began prioritizing video and audio recordings for the archive.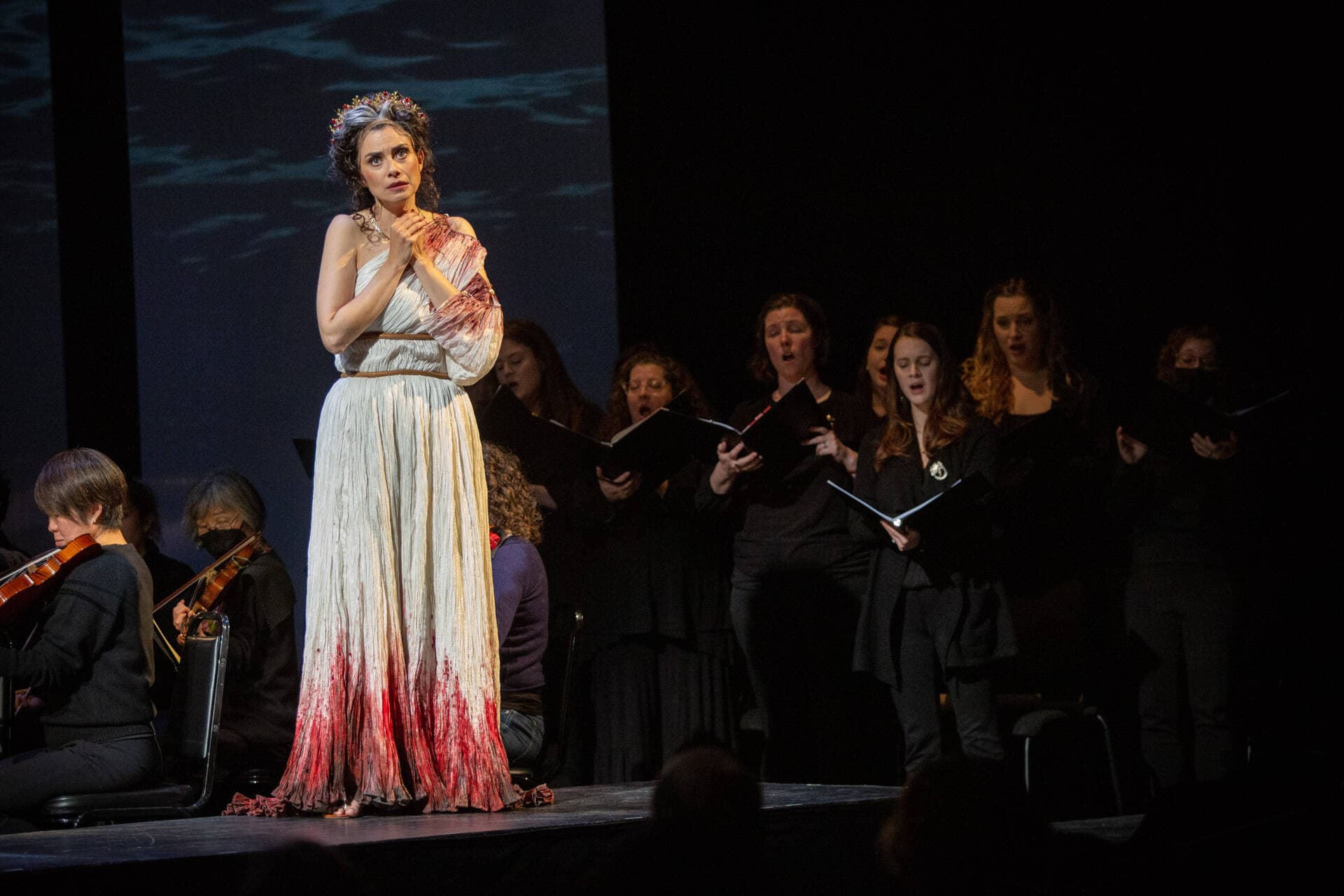 Although the organization was ahead of the curve with archival recordings, when the pandemic began, Weddle's job shifted dramatically. "Instead of being a director of marketing that was trying to sell tickets and get people into the concert hall, I shifted into being an executive producer of full-length concerts and operas," she said.
The pandemic was a shock to the system for all of the arts, but it also created an opportunity for the acceleration of digital performance. Boston Baroque took action to secure licensing rights for past performances and started distributing content on YouTube and Amazon Prime. But first, they offered full-length concerts for free on their website before transitioning viewers to a paid rental. What they found was something remarkable: widespread interest from audiences all over the state — and country.
"That there was demand from an audience larger than what we could offer in a physical concert hall was just groundbreaking and absolutely would have never happened without COVID," said Weddle. At the end of Boston Baroque's 2020 season, which was cut short, they performed for less than 5,000 people, which is striking when compared to the over 12,000 people they reached in 2021. Much of this had to do with the digital content Boston Baroque released.
Since then, Boston Baroque has cut ties with the traditional subscription model. Now, if someone wants to buy a subscription, the orchestra offers one package that is entirely virtual. From there, buyers can decide if they would like to attend any shows in person — 41% of the organization's subscribers this season are only tuning in virtually.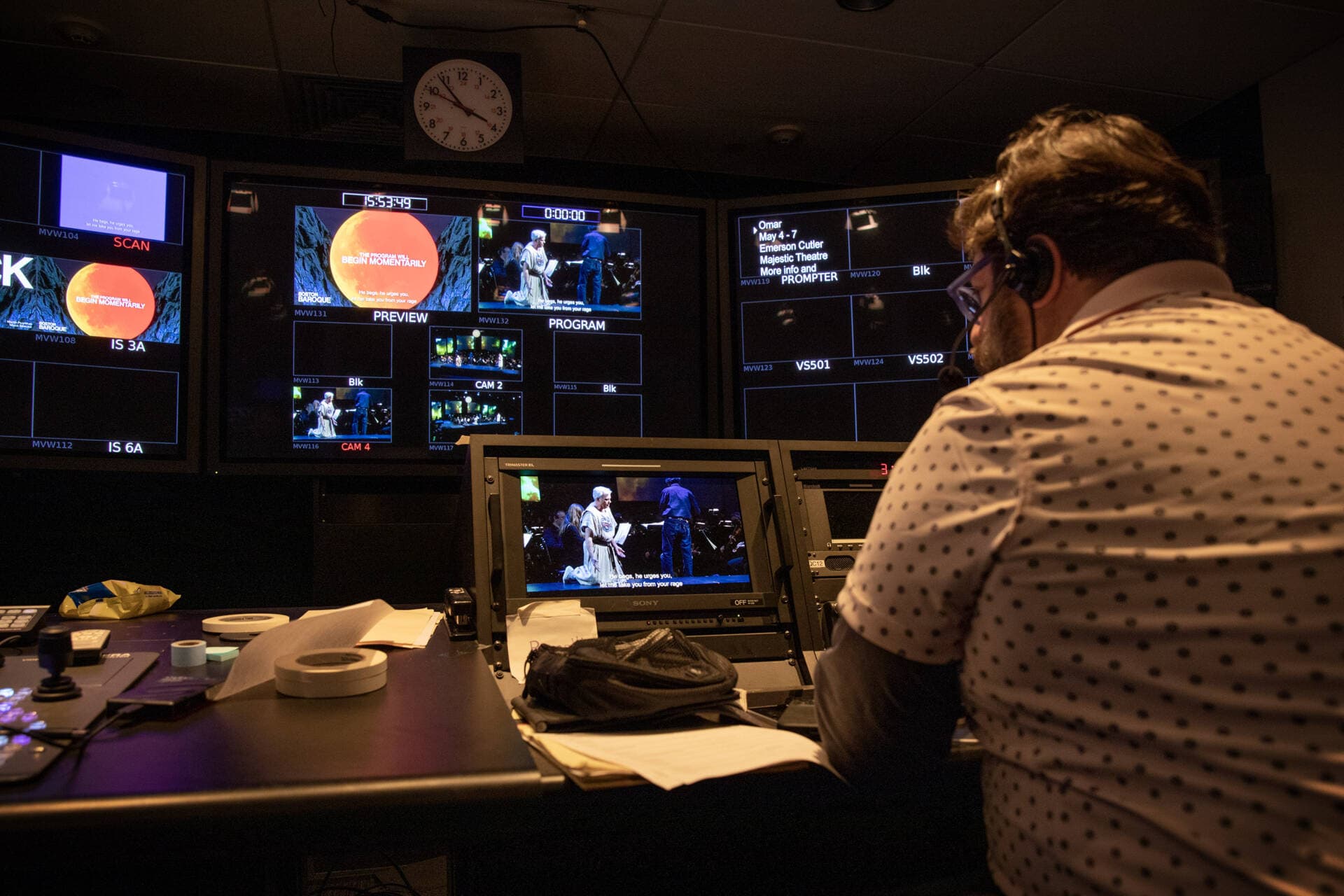 But this decision is not without challenges. The threshold for quality in digital performance is high. Matthew Principe, Boston Baroque's director of live streams and artistic planning, was hired during the pandemic alongside a team of camera operators. His job consists of carefully following the gestures and tempo of Pearlman, the conductor, to produce high-quality video recordings.
"When you're watching football or baseball or soccer, you just follow the ball, and your eyes will adjust whenever they cut to a different angle," said Principe. "But here, you can't follow the intangible emotion of music making." However, they get close to it.
Beyond streaming, the organization has formed a relationship with GBH, which provides technology to record high-quality digital content and an intimate performance space. That, Weddle said, has made all the difference. Because of its location, "We're seeing a lot more young people come to the concerts that we stream live in person at GBH," said Weddle. Between an influx of new listeners at GBH, classical music lovers at Jordan Hall, a more traditional concert hall, and live performances, Boston Baroque's trajectory is trending in a positive direction.
Principe pointed out, "The greatest beauty of everyone pivoting into the digital sphere is the democratization of accessibility, of information." The access Boston residents have to leading performance art and classical music is rare. So for those outside of the metropolitan area, Boston Baroque performances can be a window into a niche sect of the genre. Individual live stream tickets are pay-what-you-can, starting at $9 — a low barrier to entry when compared to in-person prices, which range from $25-$175 depending on the performance.
"We really, finally, I think, listened to what our audiences were saying and allowed them full flexibility with deciding what kind of relationship they want with Boston Baroque," said Weddle.
A new kind of streaming at Guerilla Opera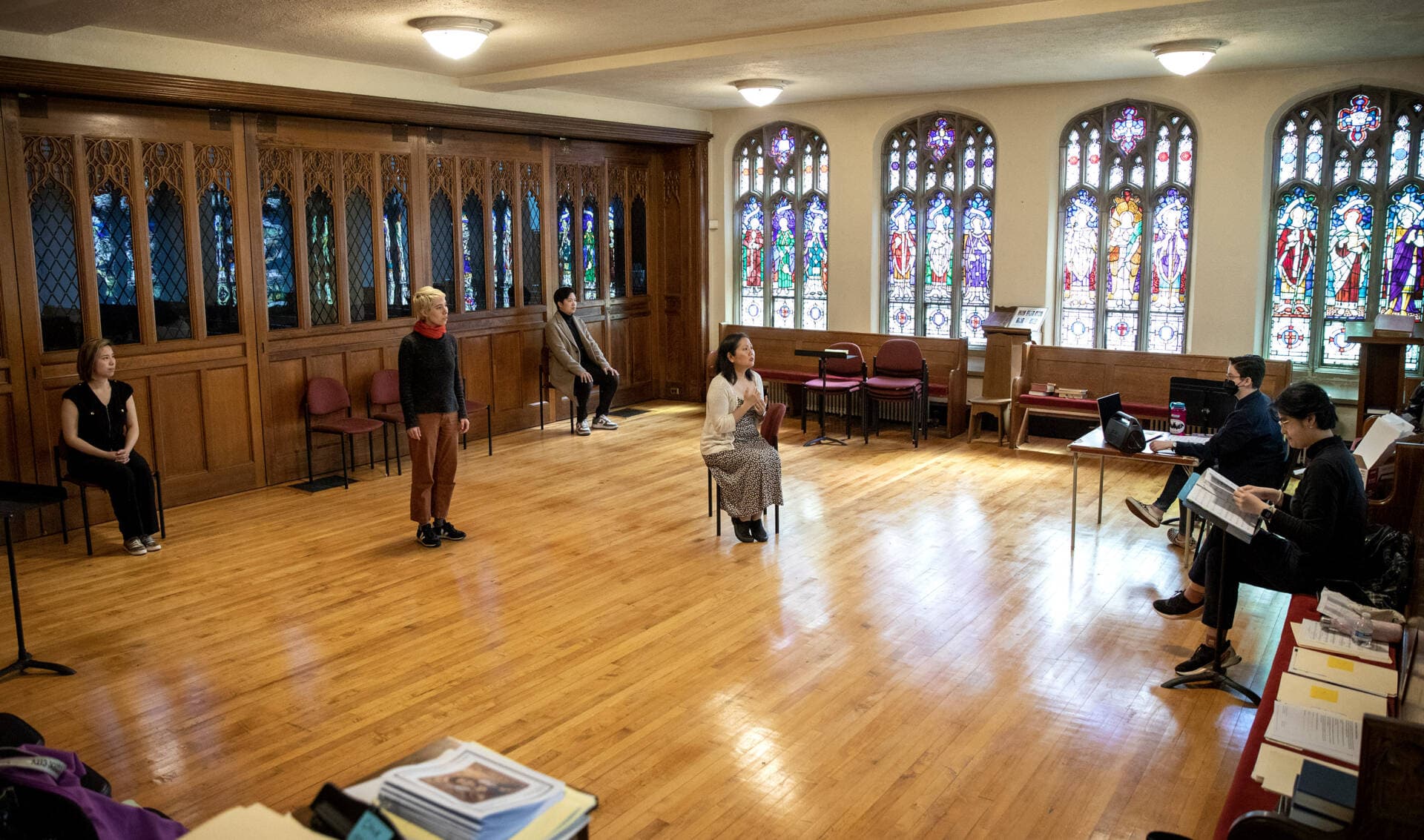 Guerilla Opera, an artist-run organization, was founded in 2007. They are a music ensemble that performs without a conductor or formal music director. Like Boston Baroque, they're small, nimble and open to experimentation and change. "We've been doing this for 16 years, and in 16 years, we've championed over 30 composers with the works that we have in development," said Artistic Director Aliana de la Guardia "We have 40 works that have either premiered or in the making and over 100 performances." And they've been live streaming since 2013. Although, how they plan to offer digital performances in the future has been changed by the pandemic.
After watching the 2013 Philip Glass Walt Disney opera, "The Perfect American," live streamed from Spain, de la Guardia imagined ways Guerilla Opera could introduce it. At the time, the organization was in residence at the Boston Conservatory. "I asked for it, and we let [The Boston Conservatory] test it through us," said de la Guardia.
When things shut down, Guerilla Opera was in a good place to continue sharing work digitally because of its breadth of archival footage. And they were able to circumvent many of the regulations big organizations have when it comes to music rights and licenses.
"Everyone was game. They wanted Guerilla Opera to survive, and they wanted our audiences to have an opportunity to experience their work again," said de la Guardia. "This gave not just our audiences, but new audiences and people who haven't known us for that many years, the opportunity to see the history of our work."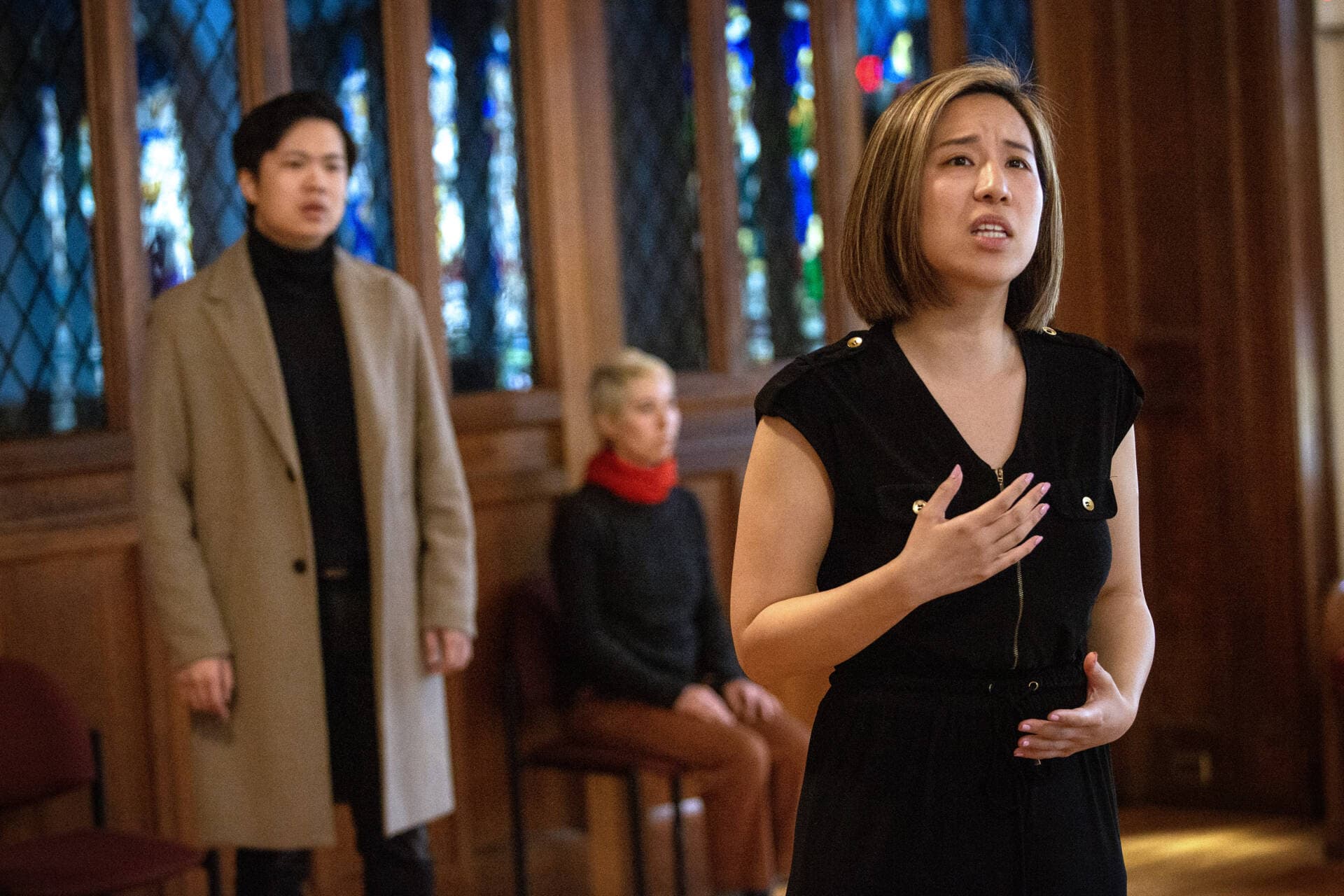 The organization experimented with how to offer virtual content during the pandemic. First, they offered a series called "Encore," which offered free productions. Then, last year came The Guerilla Underground, a monthly streaming service. "We did a call for videos and we got submissions from all over the world and we called for videos that highlighted feminist work and underrepresented voices," said de la Guerra. In the end, they had five guest artists presented alongside Guerilla's own work.
After launching Guerilla Underground, their profits from ticket sales leaped. In its 2019 season, the organization made $1,100, and in 2022, they made $9,100. This increase can be partially explained by digital offerings, but they also implemented "community-centric" ticketing pricing, a pay-what-you-want model with tiered suggested admission prices, and saw an upswing in sales for live performances in terms of how much people were willing to pay.
But they came up against a central challenge in the digital world: building community. After private and public virtual trials, de la Guardia said Guerilla Opera has made a decision. In the future, their Underground series will be presented as a kind of virtual festival that features Guerilla's performances and official selections from guest artists. It will take place just once a year.
"Because, for me, live streaming isn't just about showing people our work, right? It's about the community experience. It's about what's happening in the chat box," she said.
De la Guardia's dream is to host live viewings of performances in large theaters similar to the Metropolitan Opera. But regardless of how organizations move forward, she hopes people will continue to support the arts; classical music and otherwise. "Especially the small ones that work in your community, that create work using the artists that are in your backyard," she said. "It really directly affects you. And your economy and your cultural economy."
Boston Baroque and Guerilla Opera approach the future of live performance differently, but they want similar things. To share beautiful, cutting-edge art with listeners near and far. Although the beginning of the pandemic sounded a death knell for the performing arts, it also forced organizations to observe, reimagine and rebuild.
While discussing the future for Guerilla Opera, de la Guardia asked a prescient question, one that's relevant to the entire arts landscape at this point in the pandemic: "In how many ways can a work have a life?"