Thunderbirds 'excited for next year'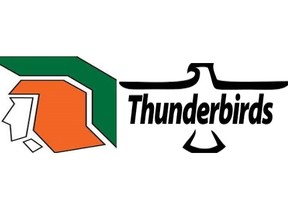 Article content
North Park Collegiate's undefeated Athletic Association of Brant, Haldimand and Norfolk boys soccer season continued on Wednesday.
Article content
Playing at Kiwanis Field against Pauline Johnson Collegiate, the Trojans (4-0-1) defeated the Thunderbirds (0-6) 4-1.
"We've got to be pretty happy with our start," NPC coach Chris Haase said. "We've had a couple of good tournaments with excellent performances, too.
"We're not upset with where we sit right now."
Where the team currently sits is at the top of the table in the boys league.
Haase said his team possesses a great starting 11 and a solid bench that should be pivotal going into the playoffs next week.
The coach said that even though his team is first in the league, he and his players know that they must show up every game. Losing their only game of the season at one of the tournaments they played in, the Trojans will be ready.
Article content
"We know we have a good team and we've got a lot of confidence," said Haase. "But we also know we have to perform on the day.
"We know we have to take care of business."
In the game against PJ, North Park came out hot as Christian Alagna scored with less than a minute played when he put the ball past Jacob Marckesano.
The Trojans remained in control and in the 26th minute the key play of the game took place.
Following a Zach Ebert corner for PJC, D'Shawn Wright seemed set to put the ball past Travis Bonney but North Park's Jared Allen stuck his foot out and cleared the area. Allen then went right down the field and scored NPC's second goal.
"The game was 1-0 at that point," Haase said. "It saved a goal and it changes the game. Within 10 seconds he scored the other way. It shows his work rate.
Article content
"It was a fantastically created goal using multiple people."
Alagna added a second goal before the half was over.
Following the break, PJ pushed and it was rewarded when Ebert scored on a beautiful free kick from 35 yards out.
The Thunderbirds turned the tables and controlled the second half but North Park sealed the victory with a goal from Alex Okopien.
"We kind of got down on ourselves after letting in an early one and then after the first half we kind of picked ourselves up a bit," PJC coach Dan Olds said.
"There were a few senior guys who have been here a while and it was their last game so the players wanted to play hard for them."
Obviously the season didn't got as well as hoped for PJC in terms of wins and losses. Olds said there were an abundance of athletes on the squad, the team just didn't feature as many club soccer players as other schools.
"We had a lot of guys come out for tryouts," said Olds, noting the number was around 60.
"The problem is we have a lot of great athletes but only a handful play club soccer. It's an adjustment for them."
The Thunderbirds will lose three fifth year players – Wyatt Salzer, Ebert and Wright – but it will also return some strong athletes.
"There will be a lot of great players coming back," said Olds. "We're excited for next year."