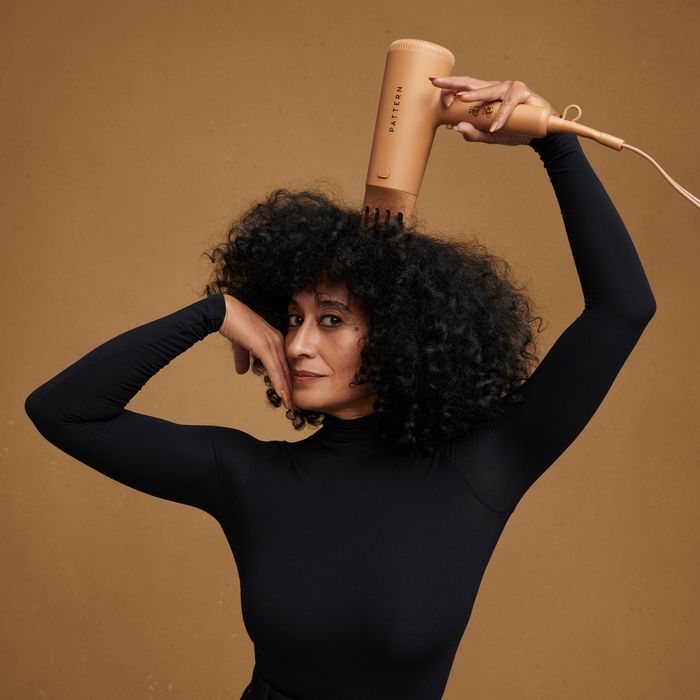 Photo: Courtesy of Pattern
We all remember the iconic looks Tracee Ellis Ross's character, Joan, gave us on Girlfriends. Every episode she gave us structured power suits, slinky halter tops, low-rise jeans, and voluminous curls. But according to Ross, her curls went through a lot while filming the show. During the third season, Ross decided to try something different with her natural hair and straighten it. She went to a salon where the stylist used a stove and a hot comb, an old-school technique that's been traditionally used in Black and brown households for decades. "As she was doing it and the smoke was going, I was like, 'Are you sure my hair's going to bounce back?' Of course, no ma'am, it did not, and all of those beautiful virgin curls from the first and second seasons got lost," she says, recounting the vivid memory. It's a predicament many Black and brown women face. The aftermath? Heat damage that takes years to resolve.
Fortunately, this experience led the actress to where she is today: the founder of Pattern Beauty. And she's using her personal struggles with heat to create a hot tool that actually meets the needs of the natural-hair community in a safe way. Her latest launch? A blow-dryer for textured hair.
Ross recently sat in front of a crowd of editors and content creators, demoing the sleek device. She held up each attachment: a nozzle, wide-tooth comb, diffuser, and "game-changing" brush-head attachment, accompanied by several heat and speed settings. There's even a setting option to smooth cuticles and enhance volume. "In all of those ten years of dreaming when Pattern was born, part of the vision was that it would include heat tools to reintroduce heat into our routine and as a gateway for possibility," Ross says.
The Cut spoke with Ross about her evolving hair journey, her creative process when she's getting all glammed up, and the wash routine she does for her iconic pool dip content that often breaks the Internet.
Can you tell me more about your personal journey with hair and using hot tools? 
Like so many of us, I grew up getting Saturday blowouts, texturizers, and relaxers. Many other people had beaten my hair into submission, so my natural hair texture got lost and damaged. So many of us are still into that idea of straightening our hair to look more presentable because of the society and culture we live in, because of systemic racism, and because anything that moves you closer in your proximity to whiteness supports you in getting a job or being considered "appropriate." I disagree and I poke holes in all of those lies. So much of Pattern, The Hair Tales, and my own mission is about dispelling those myths so that we can have the freedom to do different things.
Which features of this blow-dryer were the most important to you? 
I wanted a blow-dryer that was a professional-grade engine, but was not so big and heavy that you couldn't use it yourself. I didn't want it to get so hot that you couldn't hold it. And I wanted the attachments to not fall off when you're using them. I've been dinged in the head so many times by a diffuser or a nozzle that falls off. Listen, I know that people love technology. I love technology, but sometimes technology takes you out of function, and it's so neat that it doesn't work. I've had blow-dryers where you have to use your finger to move it, and then while you're blow-drying your hair you accidentally change the heat setting. I've had blow-dryers that won't listen to me. You're like, "Oh my God, why won't it do the thing?" I wanted to be able to have the blow-dryer in my hand, and if I felt like I wanted to change the setting while holding it, I could do it easily with my fingers. The toggle switches are old school, but old school in that they function. It was really important to me that the entire cord was the same color — every detail matters. The color is called Caramella. I didn't want it shiny, I wanted it matte. I wanted this thing to look pretty in your bathroom. I'm obsessed, and the cord is the same color all the way to the bottom — we do not spare on beauty.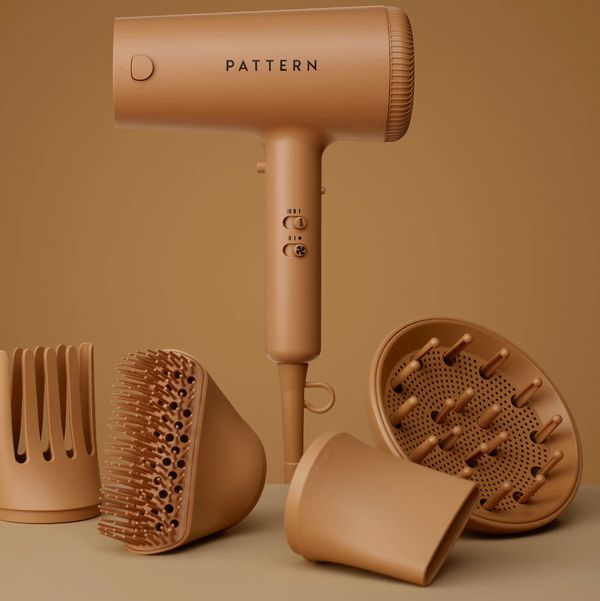 Photo: The Cut; Photo: Pattern
We all feel like we know you because of your authentic approach to life. How do your beauty and wellness rituals relate to one another?
There is an activist named Alok, and they define beauty as your soul's blueprint and something that blossoms. So I have adopted that beautiful expression, because it is my belief and understanding as well. It's the discovery that hair care is self-care, which is obviously something I knew, but when you put language to it, it changes how you use it as a ritual in your self-love.
We both know as Black women that, historically, the beauty industry hasn't prioritized us. Do you have any current frustrations with the industry? 
I want to exceed the needs of the curly, coily hair texture community, and to stay centered around the celebration of Black beauty, and that in and of itself is challenging a narrative that hasn't been at the center of the beauty industry.
My other mission as a founder and CEO is to change this idea that Black hair care is a niche market. I was part of the McKinsey group, which conducted the Black Beauty Assessment. It was an interesting study to help society better understand our consumer. Data is really helpful in a capitalist society, particularly when money is on the table. Our rhythm for wash day is just different. We don't wash our hair every day, so our purchases are different. It was really about being able to listen to the customer and make systemic changes in how we respond and support the needs of this vast community that has not been serviced historically in the industry.
There are areas within the industry that I just think need prodding and poking because of those blind spots, which is what I set out to do on a regular basis. If I discover a place where a retail partner unconsciously doesn't make sense in terms of our customer, I have big conversations about that. This is not to just benefit Pattern; this is to benefit all of us and to make changes in the industry that need to happen.
Vacation Tracee is our absolute favorite. 
Where is she? I need her. [Laughs]
Especially your famous pool dip content, which the Internet loves to see. I've honestly tried to reenact that dip so many times on vacay, and let's just say, nobody does it like you. But what's your post-pool hair-care routine like? 
My summer-sun pool scenario is, I usually have dirty hair and I personally just do a lot of deep conditioning. I don't do a lot of shampooing when I'm in the sun. If I'm going to shampoo, I do the hydration shampoo, but mostly it's for rinsing chlorine. Even if I get a hose or a bottle of water, I rinse the chlorine out of my hair because it's so drying and just not worth it. I am fine with salt water in my hair for a little bit; it's natural and sometimes it actually makes for really sexy beach hair. But I will rinse it out when I get back to my room, and then it's just all about conditioning. When I'm on vacation, I usually go the intensive route and bring the treatment or transition mask with me. I also bring a travel-size wide-tooth comb, shower brush, and my teeny-weeny leave-in conditioner to the pool.
When you aren't on vacation, what's your regular around-the-house routine?  
For me personally, makeup is not a part of my routine. I'm a lipstick girl, but I don't put anything on my skin at all. I spend my energy on hydration masks. My brow artist Damone Roberts does these gorgeous eyebrows of mine that require nothing. But doing my hair is a regular thing for me. Usually, I do my best fresh wash and diffuse at night before bed. Then I do a slick back bun, because I just love the way my face looks with it. I'm 50 years old and it looks so elegant. I use my styling cream, leave-in conditioner, hair ties, and that's it. And then like today, I just grabbed some things. I've got on my favorite Rachel Comey jeans, an old Isabel Marant shirt because I wanted something soft and snuggly since it's cold out, and my little slippers.
When you are about to throw on a full look, how do you think about your hair and makeup choices?
I have saved hair and makeup folders on Instagram and on Pinterest. It's always hair inspiration for me. But I'll tell you, sometimes I'm inspired by shapes that are not hair, like different shapes of nature. When I'm working with professionals, we use the language of pictures and get inspired from there with their artistry. I follow some of the most incredible artists, some of whom are artists I work with, like Marcia Hamilton, Nai'vasha Johnson, Chuck Amos and Mideyah Parker. It's amazing; I give them a picture and they make something.
Do you ever look at TikTok for beauty inspiration? 
I'm 50; I grew up on magazines. I still appreciate imagery and photography. I can barely watch a TikTok dance.