ROGERS PARK — Eight-year-old Atticus Yoon-Haring spent several months practicing shooting a basketball into a regular-sized hoop.
He and his "bonus parent," AJ Domingo, would go to their meetups for Swish, a queer basketball league in Chicago, to practice. Domingo and the other players gave him pointers as he practiced while his mother, Jung Yoon, and sister, Adelaide Yoon-Haring, cheered from the sidelines.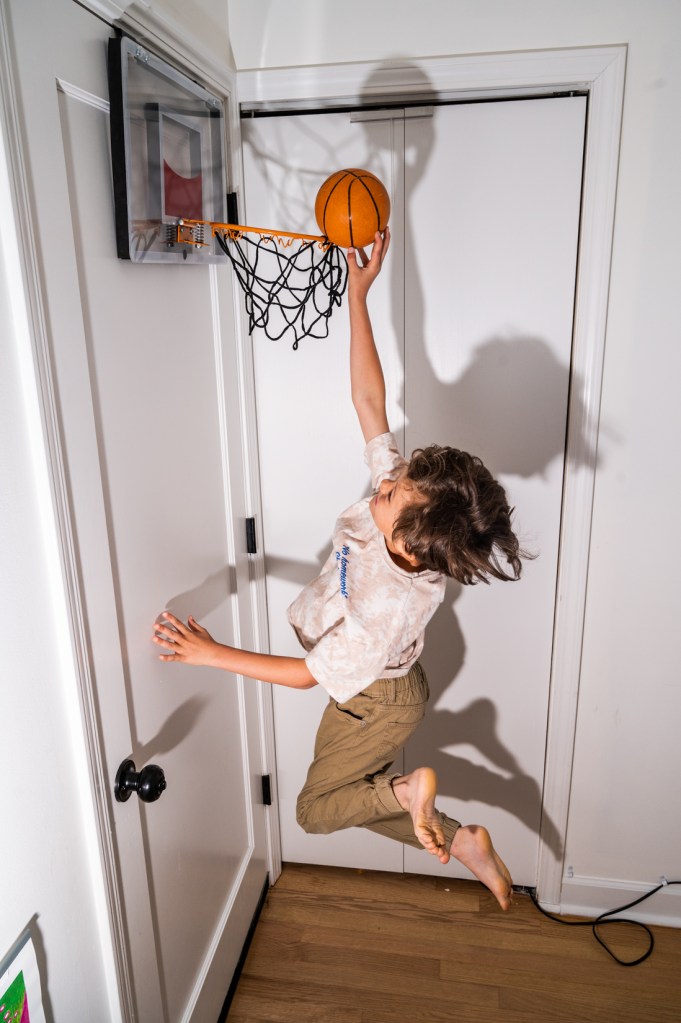 "He just couldn't do it yet, but then one day he made his first basket while we were at Swish," Yoon said. "Everybody got up and screamed and cheered. It was this beautiful moment that encapsulated the love within queer families, chosen families and community."
Yoon had been a single parent to Atticus and 10-year-old Adelaide before meeting Domingo on Tinder in 2019. The couple fell in love over the next few months before the pandemic forced them to hunker down, bringing Domingo into the family.
Domingo dove into their bonus parent role over the next three years. They pitched in to help home school the kids, tackled chores and organized fun activities to keep the family busy, including basketball, arts and crafts, cooking and movie nights.
Yoon said Domingo has been a "godsend," giving both partners more time for their careers and children as the family of four settles into a more stable and fulfilling life. The couple also bought their first condo in November in Rogers Park.
Reflecting on the family's journey over the last few years, Domingo said they wake up every morning "beaming that I've found this family and we fit together so well."
Finding Their Forever Home
Yoon and Domingo's first date was June 1, 2019. They met for drinks at Estereo in Logan Square.
By October of that year, the two knew that they loved each other. They started declaring their love for each other after Domingo let the three big words slip during a shopping trip.
"I accidentally said it and was flustered, but later that night I was like, 'I feel this, do you feel it, too?'" Domingo said. "We confirmed it and started saying 'I love you' from there."
After several months of "long-distance" dating — Yoon lived in Rogers Park with the kids and Domingo lived in Humboldt Park — the pandemic upended their lives, Yoon said. Suddenly, the children were adjusting to remote learning while Yoon had to navigate working from home full-time with the kids around.
"AJ unofficially moved in at that point," Yoon said. "They brought the cat [Scribbles] over, we both worked from the house and started home-schooling the kids. We all grew a lot closer through spending so much time together."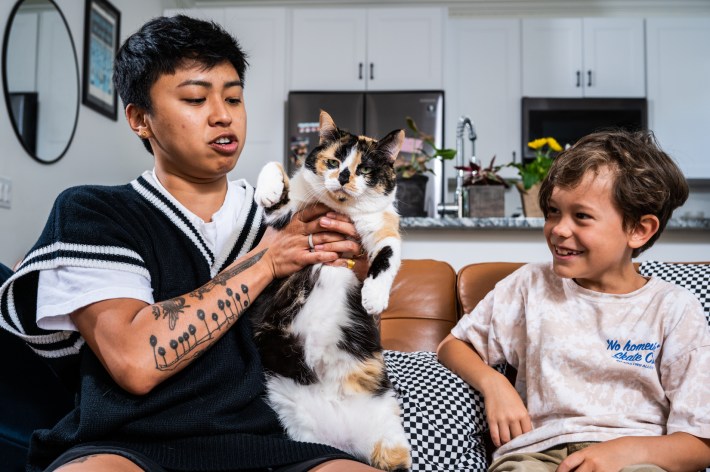 Yoon had been a solo parent in survival mode until she met Domingo, she said.
Yoon and her kids were moving apartments every year or so, Yoon said. She also fought to balance her work as a campaign director for Grassroots Collaborative, a nonprofit coalition advocating for policy change in Illinois, with making time for her family.
"I was just trying to get us through, so I was never one with a five-year plan or even thinking beyond a few months out," Yoon said.
But after Domingo moved in, they stepped in to help with parenting, making dinner for the kids on days when Yoon works late or making snacks and helping the kids with homework when they get home from school, Yoon said.
"AJ took on the nickname House Papi because they do most of the cooking, they're really good with the kids and they bring a lot of playfulness into the home," Yoon said. "My role in movement-building would 1,000 percent not be possible without AJ stepping in as a caretaker, which is just as valid, if not more important, to the movement at large."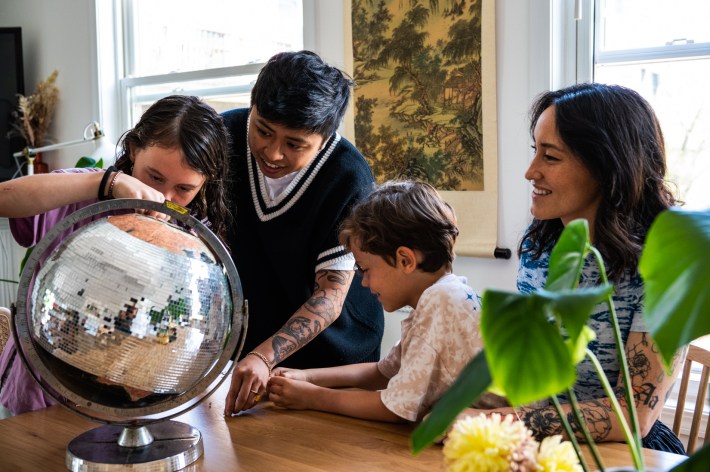 During the pandemic, Domingo kept the family occupied by teaching Yoon and Adelaide Yoon-Haring how to skateboard, they said. They spent most of their time outside skating, going on scooter rides and playing sports. They'd also do house crafts, like transforming an old globe into a disco ball, building with Legos or creating chain reactions with domino pieces.
"It's fun having AJ around because usually Mom is the only person in our family and she has work," Atticus Yoon-Haring said. "But now when I'm bored and she's working, I can ask AJ for an activity. And when they are working, I can ask Mom."
Growing Together As A Family
Domingo said their favorite part of stepping into their role as a parent has been cultivating the children's interests and passions.
In addition to helping Atticus Yoon-Haring with his basketball skills, Yoon has encouraged Adelaide Yoon-Haring to pursue her passion for running. The 10-year-old ran her first 5K last year.
"I find a lot of joy in seeing what brings them joy," Domingo said. "I cried when Atticus started taekwondo because he loved it so much. And cheering Adelaide on in her first race was so sick. It's so fun to be with them in those journeys."
Domingo's parenting skills were on full display early in their relationship when they joined the family at the doctor's office for the kids to get their back-to-school checkups and vaccines, Yoon said.
"That was something I had always done on my own and it was so stressful for me because kids don't like getting shots, so they're like traumatized by the doctor," Yoon said.
But Domingo brought levity to the situation, blowing up the medical gloves like balloons and making the kids laugh to distract them from their shots, Yoon said.
"I remember crying a bit because I couldn't believe I had found this person who was somehow bringing joy to what's always been a really hard moment for us," Domingo said. "They're really good at that."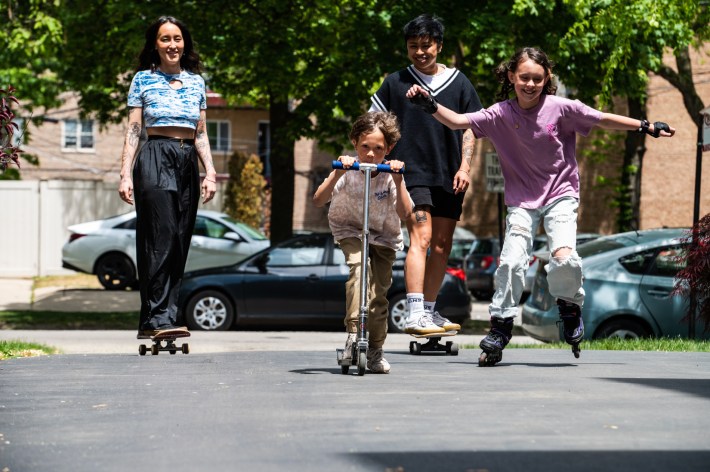 Domingo said they learned a lot about parenting from having two brothers who are 13 and 16 years younger, they said.
"I also feel like I'm growing into this role as House Papi very well," Domingo said.
Being able to care for the family has expanded their life "threefold," Domingo said. The driving force behind this growth has been love, they said.
"I feel an abundance of love from Jung that shows it can keep coming," Domingo said. "The love within this family is not conditional and will never run out."
On May 27, Yoon and Domingo began the next step in their partnership.
Yoon proposed to Domingo while watching the sunset at Loyola Beach, she said. She told Adelaide and Atticus earlier in the day so they could help with the surprise.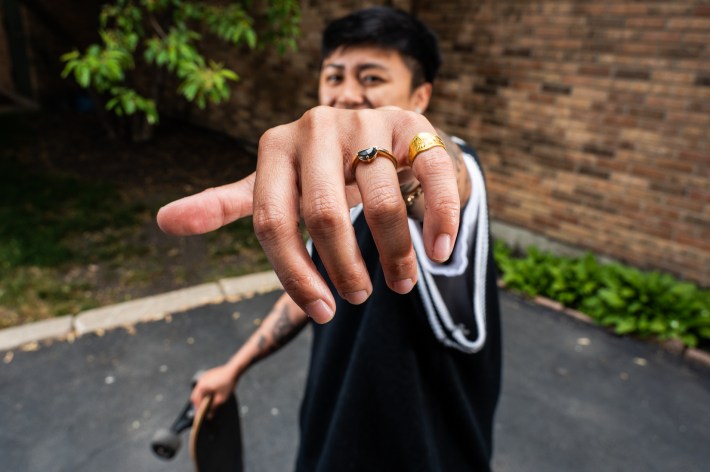 They brought Domingo to the beach under the guise of taking family photos. Yoon suggested a few shots where Domingo and the kids were turned around facing the water, Domingo said.
"And then we turned back around and Jung was on one knee, and she had a whole speech as well," Domingo said. "It totally caught me by surprise, but my brain was like 'yes.' I couldn't believe it was really the moment."
The couple is still deciding on a wedding date, but it will probably happen next year, Yoon said.
The family celebrated at home with ice cream and the film "Crater," Atticus Yoon-Haring said. The festivities continued the next morning when the family made a heaping pile of more than 60 pancakes by quadrupling their usual recipe.
"Moments like that I think about how I'm so lucky to have found my forever home and how we can keep growing together as a family," Domingo said. "I'm very excited to keep building on our future."
Listen to "It's All Good: A Block Club Chicago Podcast":