As much as we all love waking up to the sound of crashing waves just metres from our doorstep, and falling asleep under the stars, camping might not be quite as glamorous as we like to think. Yes, mosquitos may invade your tent and yes, if you forget your mattress air pump you're in for a rough night.
If you want to get in touch with nature—without diving in head-first—test the waters at the Sunshine Coast's top caravan parks. Whether you're a seasoned caravanner or a first-time road tripper, these Sunshine Coast caravan parks are the ideal base to explore our slice of paradise. Read on for 15 of the Sunshine Coast's best caravan parks. 
Looking for more?
Get back to nature at the Sunshine Coast's best camping spots. 
Enjoy luxury at the best Sunshine Coast hotels.
And here's the Sunshine Coast's top Airbnbs.
Noosa River Holiday Park
Noosaville
For those who like to be amongst the action, you can't go wrong with Noosa River Holiday Park. On the banks of the Noosa River, this caravan park and campground is one of the Sunshine Coast's most popular holiday parks—and for good reason.
Take it easy and enjoy your slice of Noosa, while overlooking the picturesque Noosa River, or get out amongst the action at the nearby Hastings Street hub. You'll find plenty of amenities, including hot showers, laundry facilities, a camp kitchen, BBQ, fridge, chargers and kiosk. 
Mooloolaba Beach Holiday Park
Mooloolaba
With direct access to one of Queensland's most beautiful beaches, you can't go past Mooloolaba Beach Holiday Park as one of the Sunshine Coast's best caravan parks. Opposite the Mooloolaba Wharf and SEA LIFE Aquarium, you're in a prime spot to explore Mooloolaba's most popular tourist hot spots.
In terms of amenities, you'll have a fully power slab site, laundry facilities, a camp ktichen and free Wi-Fi. Hands down, one of the Sunshine Coast's best family-friendly caravan parks.
Boreen Point Campground
Great Sandy National Park
Right on the edge of Lake Cootharaba, with water views and shady trees, you can't go wrong with the Boreen Point Campground. It's not too far to drive, is easy to access, and has loads of great facilities including hot showers, flushing toilets and drinking water, gas barbecues and wood burning fireplace barbecues (BYO firewood). 
There's also a great little cafe a short walk away to get your morning coffee fix (stocking our favourite Doonan roasters, Flying West Coffee) and a kiosk to hire canoes or SUPs.
Lake Borumba Camping Grounds
Lake Borumba
Lake Borumba Camping Grounds is located on the banks of Yabba Creek, an easy 800 metre walk from the stunning Lake Borumba. You'll feel totally secluded on the 25 acre property, which adjoins Imbil State Forest and Yabba State Forest—a bush walker's paradise.
The caravan and camping grounds are usually quiet and the facilites include hot showers, a camp kitchen, free kayaks, table tennis, a volleyball court, toilets and a kiosk. Float down Yabba Creek, explore the surrounding state forests or venture to Lake Borumba for boating, water skiing, fishing and swimming. 
Coolum Beach Holiday Park
Coolum Beach
Coolum Beach Holiday Park is set on ten acres of prime beachfront land, so you'll have direct beachfront access and can fall asleep to the sound of waves lapping nearby. This Sunshine Coast caravan park is dog-friendly (applications needed) and is packed full of family-friendly facilitles.
While the facilities are top-notch, we recommend you get out and explore the plethora of epic activities near Coolum Beach Holiday Park. We're talking Coolum Bowls Club, a Mt Coolum hike, the Mt Coolum Surf Club, Coolum Beach patrolled swimming and a maze of nearby bike paths. 
Noosa North Shore Beach Campground
Noosa North Shore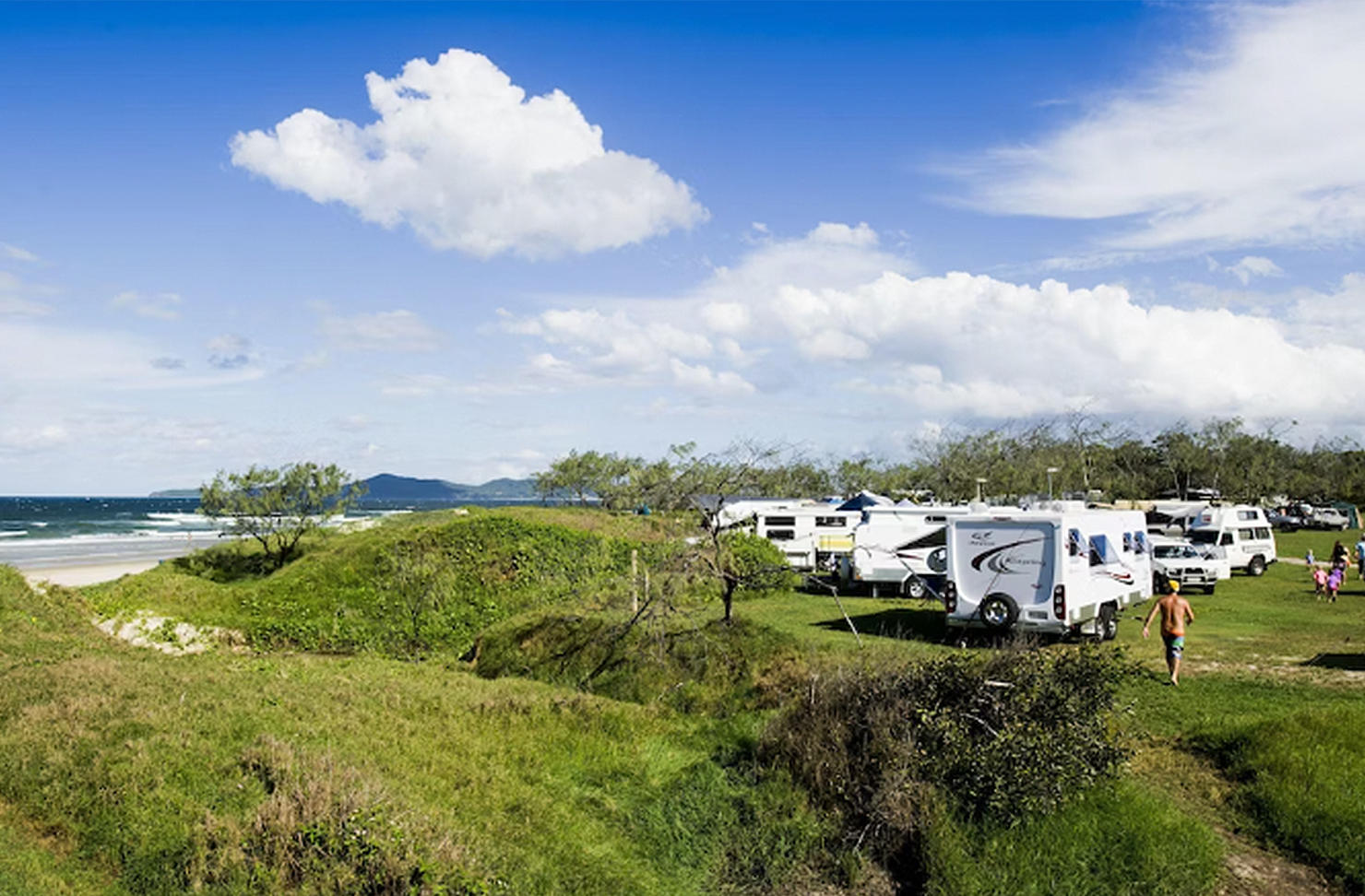 If waking up on the beach is your style, you couldn't ask for a more beautiful spot than the Noosa North Shore Campground. There are caravan sites and powered and unpowered camping sites, all nestled amongst the natural vegetation on the beachfront, with plenty of kangaroo friends regularly visiting.
You'll need to take your own drinking water, but there is a small kiosk down the road for when you run out of ice, as well as an amenities block. But the key thing here is that you get to wake up to the sound of crashing waves and can get away with a morning swim in place of your usual morning shower. Pure and utter bliss if you're looking for the best beachfront caravan spot in Noosa.
Ingenia Holiday Park Noosa
Tewantin
Another Noosa camping spot, Ingenia Holiday Park Noosa needs very little introduction. Once you see the location, you'll be sold. This family-friendly holiday park is next to Tewantin National Park and is just a short drive from Hastings Street.
There is a mixture of cabins, campgrounds and caravan sites, as well as a swimming pool, jumping cushion, games room, camp kitchen, BBQ facilities and kiosk. While it's great for a family-friendly getaway, this probably isn't a campground for those wanting seclusion and peaceful quiet.
Pomona Caravan Park
Noosa Hinterland
For those looking for a Noosa hinterland camping experience, Pomona Caravan Park is up there. Nestled in the Noosa hinterland, this pet-friendly caravan park comes decked out with a camp kitchen, BBQ facilities and hot showers, so you're not roughing it out.
The caravan and camping grounds are within walking distance of the country town of Pomona, as well as a historic silent movie theatre and live music venue. Plus you'll be spoiled with views of Mt Cooroora all to yourself.
BIG4 Caloundra Holiday Park
Caloundra
BIG4 Holiday Parks are synonymous with fantastic caravan parks in stunning locations, and the BIG4 Caloundra Holiday Park is no exception. Situated on the edge of Pumicestone Passage, you'll be just a hop, skip and jump away from Moffat Beach and Dicky Beach. 
The premium caravan park sites are ideally located on the river's edge and  if you feel like just kicking back and not leaving your caravan, you certainly don't need to. There is an onsite pool, pizza bar, espresso van, laundray, kitchen and jumping pillow for the little ones. 
Borumba Deer Park
Imbil
Another family-run camping park perfect for the kids (or the under-prepared caravanner) is Borumba Deer Park. Situated on the beautiful Yabba Creek, there are loads of outdoor activities to occupy all ages, with the convenience of boats and kayaks for hire, great fishing spots, and even mini-golf.
The pet-friendly facilities are well-equipped and include a kiosk, camp kitchens, log-fire spaces, kids' playground and the usual (but very necessary) amenities blocks. You can feed some of the wild deer and the Mary Valley and Borumba Dam are just a stone's throw away. 
Log Dump
Tuan State Forest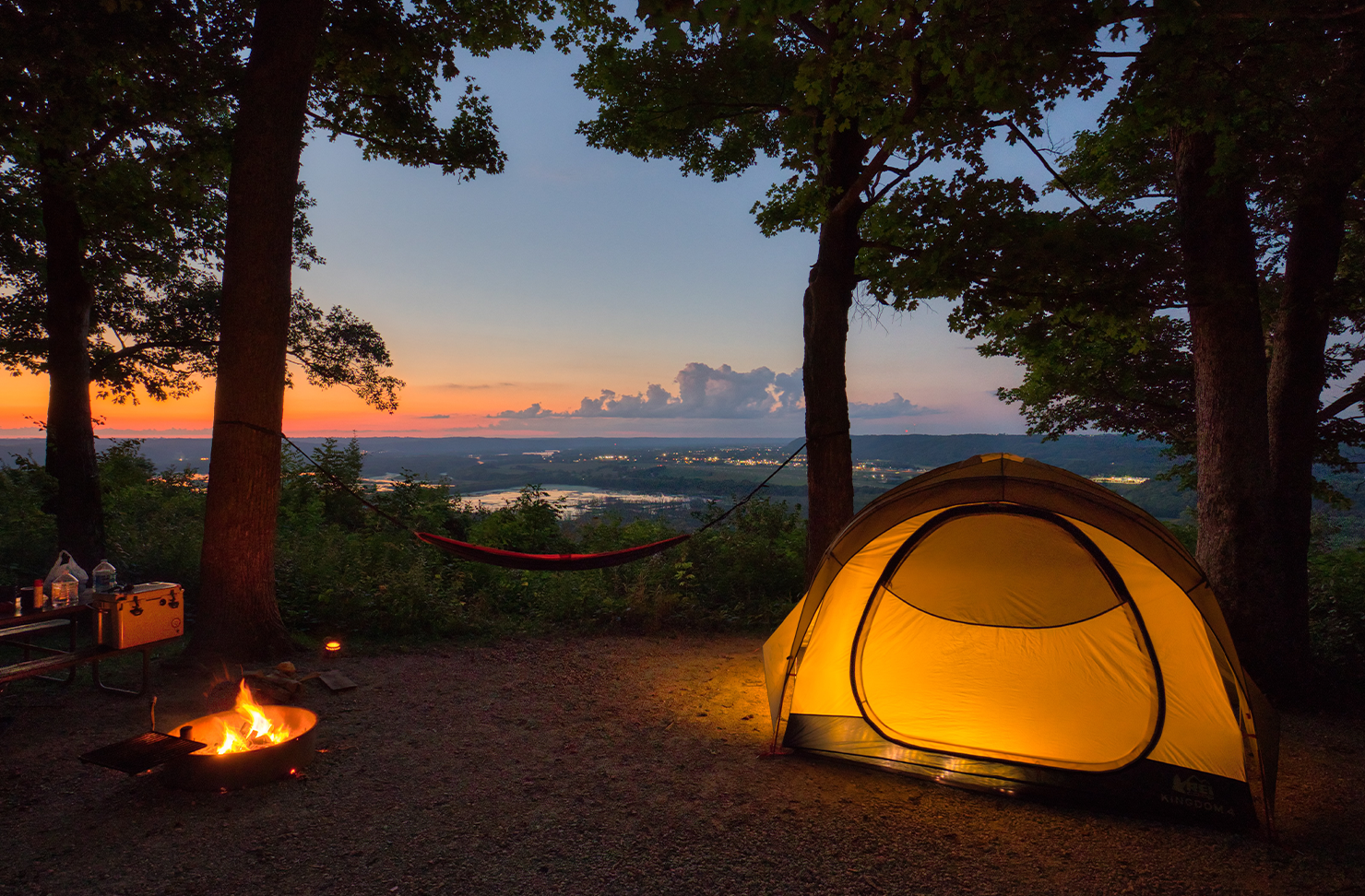 While the name doesn't sound very appealing, Log Dump is probably the most secluded camping spot on the Sunshine Coast—that also has a toilet and is caravan-friendly. Situated on the edge of Kauri Creek, near the Great Sandy Strait, this small site is accessible by normal vehicle (conditions considered) and then you're only a 10 to 15-minute boat ride from Fraser Island.
You'll need to bring your own water and will have to give up showering for a couple of days, but considering you can throw a kayak on the creek and have the opportunity to spot turtles, dugongs, and dolphins—it's totally worth it.
Dicky Beach
Caloundra
Alright, so it's not like Dicky Beach is a caravan park in the wilderness. To be frank, it's in the middle of a suburb in bustling Caloundra and directly across the road from the local shops. But, that doesn't mean it isn't special. And if you're a hinterland inhabitor or a camping rookie, then this Sunshine Coast caravan and camping spot could be the perfect base for you.
Rivershore Resort
Diddillibah
For caravanning newbies who can't tear themselves too far from an iPhone charger, hot shower or handy convenience store for ice cream and all of the outdoors activities for kids (think: waterslides, pools, a Kangaroo Jumper and mini golf) we suggest you set your GPS for Rivershore Resort on the banks of Maroochy River.
There are a mixture of pet-friendly caravan sites, powered and unpowered camping sites and even luxury safari tents—complete with a king-size bed, ensuite and wifi. So pack your fishing rods, deck of cards and bottles of red vino; this camping trip will be like picturing your future self as a retiree, and you'll love it.
Amamoor Creek
Sunshine Coast Hinterland
Set amongst a tall rainforest and beside the creek, Amamoor Creek campsite is the epitome of tranquility. There are a huge number of walks in the area and the creek is great for spotting platypus. 
The facilities include water (not suitable for drinking), toilets, cold showers, barbecues and fire rings for an open fire. This is the perfect Sunshine Coast caravan spot for anyone who wants to get away and live simply for a few days, but doesn't want to pee in the bush.
Want to get straight into it? Immerse yourself in nature at Noosa's best camping spots. 
Image Credit: Tourism & Events Queensland, Noosa Holiday Parks and supplied