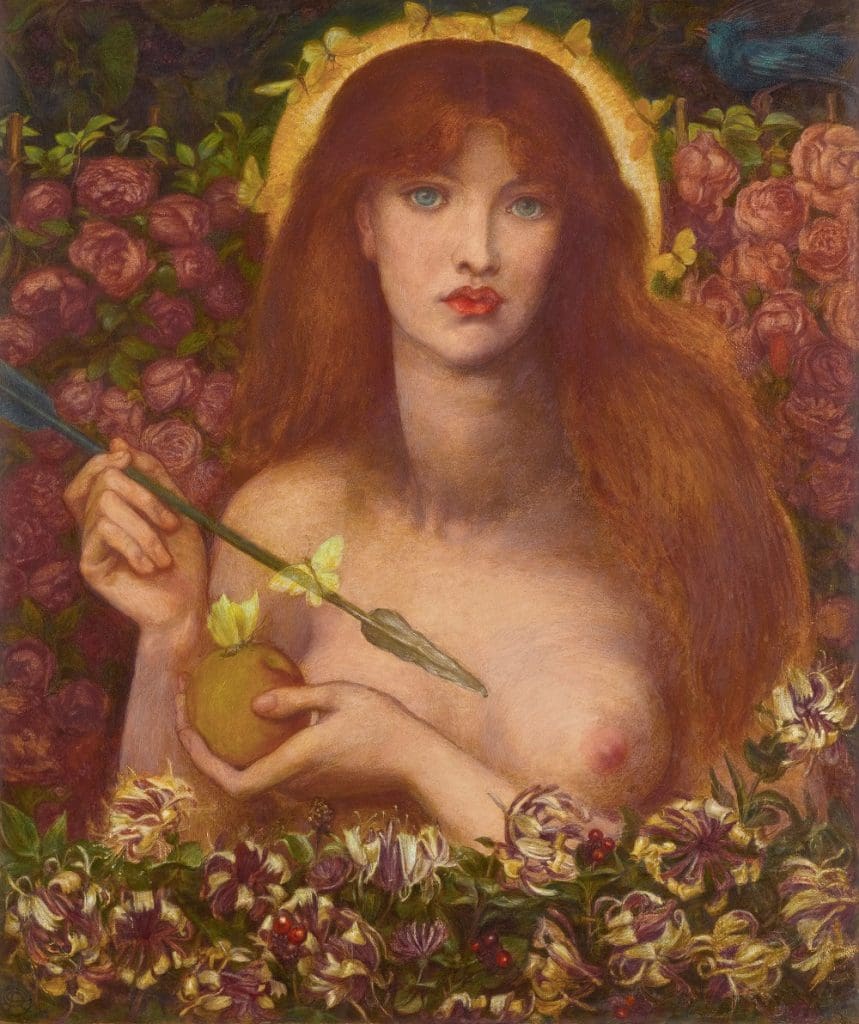 The Rossettis, Radical Romantics – Tate Britain revels in their irrepressible story
By James Brewer
Three spectacular, courtly paintings enhanced the drawing room in the opulent London home of Frederick Leyland, an enthusiastic patron of Dante Gabriel Rossetti. Entitled Mnemosyne, The Blessed Damozel, and Proserpine, they are shown together at a new Tate Britain exhibition for the first time since Leyland (1831-1892), a successful shipowner, used his wealth to build a fabulous collection of Renaissance masters, and commissioned works from famous artists of the day, including Rossetti, Edward Burne-Jones and James McNeill Whistler, to adorn his property on Princes Gate, a short distance from Hyde Park.
Leyland had built his flourishing transatlantic steamship business after starting his career as a bookkeeper at John Bibby & Sons, Liverpool's oldest independent shipping line. Whistler called him "the Liverpool Medici," a reference to the grand 15th century family that ruled Florence ruthlessly while promoting the arts and humanities.
The trio of paintings that so enthralled Leyland are among the many highlights of The Rossettis, Radical Romantics, which is at Tate Britain until September 24, 2023. The ambivalence of such works is striking, superficial beauty hiding outpourings of deep emotion; the mystery of alluring women and the symbolism of fruits and leaves conveying searing sentimentality.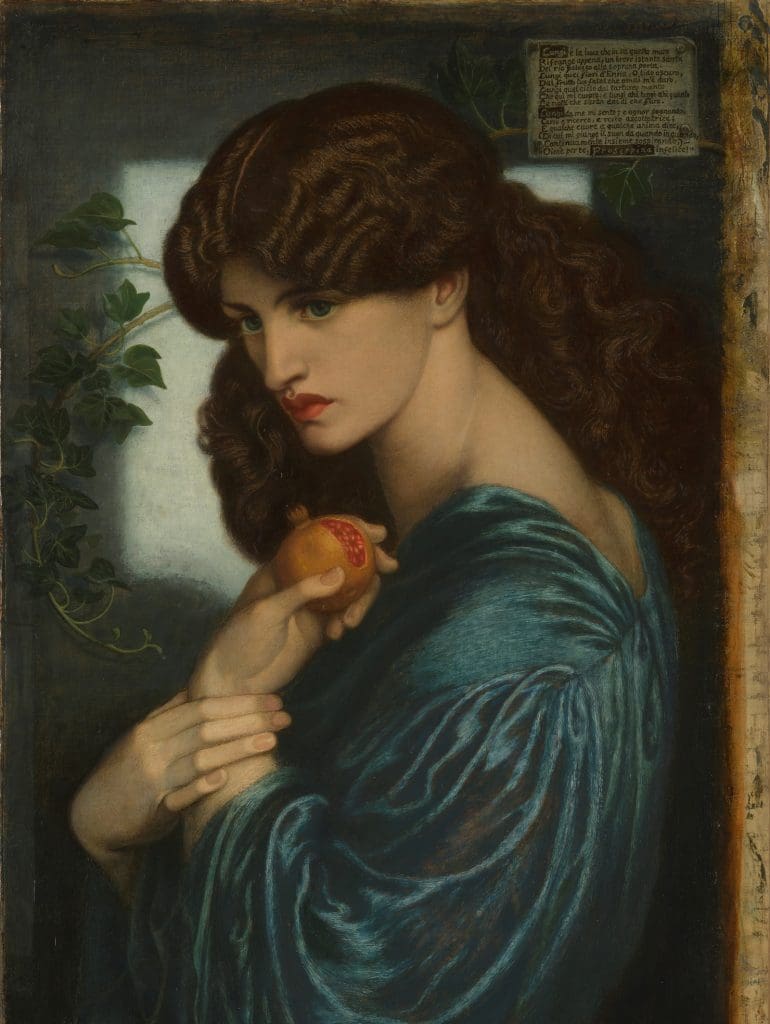 Painted in the last decade of Gabriel's life, they are prepossessing in shadow and shapes in potent shades of green. The damozel of the painting might be imagined in terms of Gabriel's wife Elizabeth, who died in 1862, or in terms of Jane Morris, the woman he loved though she was married to his friend William Morris. The paintings each bear a likeness of his last love, Jane, representing memory and loss. In fact, the ultimate model according to scholars was Alexa Wilding whose face was used in others of his dramatic paintings, underlining the complexities of the artist's imaginings of the main women in his life. He used Alexa's face as an ideal image, an emblem that transcended the often painful conflicts of love that Gabriel experienced.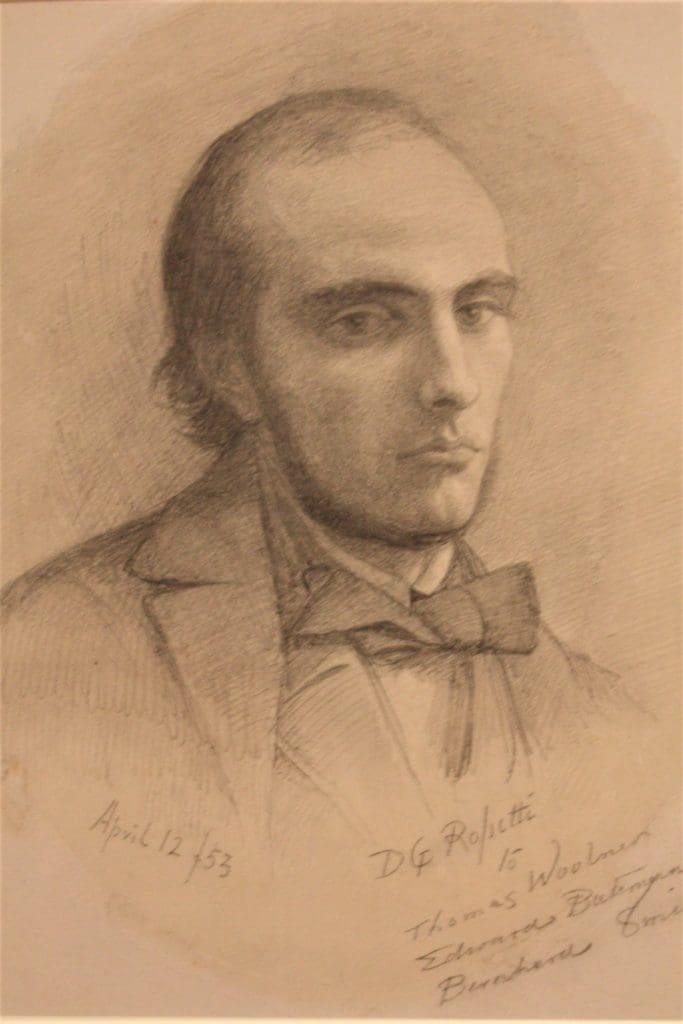 In its figuration, The Blessed Damozel is an intense tribute to his deceased wife as she and her lover on earth dream of each other. This picture is adjoined by the mythic Mnemosyne, goddess of memory, and Proserpine, the goddess daughter of Ceres, who on tasting the forbidden fruit, the pomegranate, fell captive to the king of the underworld each winter. Proserpine's longing for her release in summertime seems intended to evoke the yearning when Jane and Gabriel are apart. With its oppressing dark areas, this painting is also a seen as a study in melancholy, a subject the two spoke of when they were together. Of all Gabriel's depictions of Jane, Proserpine perhaps most strongly projects Rossetti's obsession with her totemic sultry Pre-Raphaelite looks – thick, wavy black hair and long, elegant neck – and his ideals of spiritual and erotic love.
Rossetti, and present-day admirers of his great works, have much for which to thank Leyland, whose financial support for the pioneers of what was at the time the avant-garde helped elevate their status in art history, although Leyland could be prickly – there was a long dispute with Whistler over an unpaid bill.
Tate Britain has worked knowledgeably and mightily to produce a superb exhibition of the ground-breaking Rossetti circle – Dante Gabriel, Christina, and Elizabeth (neé Siddal) and their models– a celebration of their unconstrained approach to life. The institution does a fine job of unravelling for the viewer the intricate strands of the Rossetti narrative, with fascinating revelations along the way.
It takes a fresh look at the free-spirited set through the lens of 150 paintings and drawings, supplemented by photography, interior design, and poetry. As curator Carol Jacobi says, the story is about connection, about love, about colour – "Maybe this is what we need [to see] after the two years [of Covid lockdown] we have had,".
Although the Rossettis were Victorians, they were also Londoners, she reminds visitors. They worked as a collective, yet this was the moment when art got personal, sweeping aside the inherited formal and classical concepts.
For Tate, this is its first retrospective of Dante Gabriel and the largest exhibition of his work in two decades. It spans the two movements that he originated, bringing together sumptuous Pre-Raphaelite oil paintings with many canvases of the aesthetic movement. The latter trend (the term aesthetic is derived from the Greek aithesis or perception, the science of the beautiful, especially in art) in Britain, from 1860 to 1900, aimed to supersede the ugliness and materialism of the industrial age by creating art that appealed to the senses – sometimes called 'art for art's sake' – rather than preaching morality.
In the process the Rossettis and others remade the domestic world of the upper classes and sections of the middle-class, paving the way for fresh art movements in the 20th century.  Blending past and present, the Rossettis and co-thinkers found beauty in Renaissance painting, ancient Greek sculpture and Asian art and design, especially Japanese prints, reinventing art for a fast-changing modern world. They encouraged bold design initiatives in chairs and tables, ceramics, textiles, and wallpapers.
Their call for new ideals was personified in Gabriel's portraits, which he often paired with his flowing poetry, adapting the likenesses of working-class women of exceptional appearance into fantasies of femininity inspired by Renaissance portraiture and texts based on mythology. He was one of the first artists to understand that shadows could be like characters, personified powerfully in Proserpine – possibly a result of his visited to the studios of Édouard Manet who had brought out the physicality of light and shadow.
Gabriel and his siblings inherited much of their outlook from their exiled Italian parents, the revolutionary and scholar Gabriele Pasquale Giuseppe Rossetti and his wife Frances Mary Lavinia Polidori. The children grew up in London and began their artistic careers early. Christina and Gabriel interwove their poetry with his artworks. At the Tate, after an immersive wall-displayed big-character and audio reading of some of Christina's most accessible and evocative verses, the exhibition swiftly moves to their other youthful forays, beginning with Gabriel's Ecce Ancilla Domine (The Annunciation) from 1850, a stark and evocative painting for which Christina and brother William Michael posed. Examples of Gabriel's teenage small-scale Goya-like drawings demonstrate his precocious skill and his enthusiasm for the beguiling voices of William Blake and Edgar Allan Poe.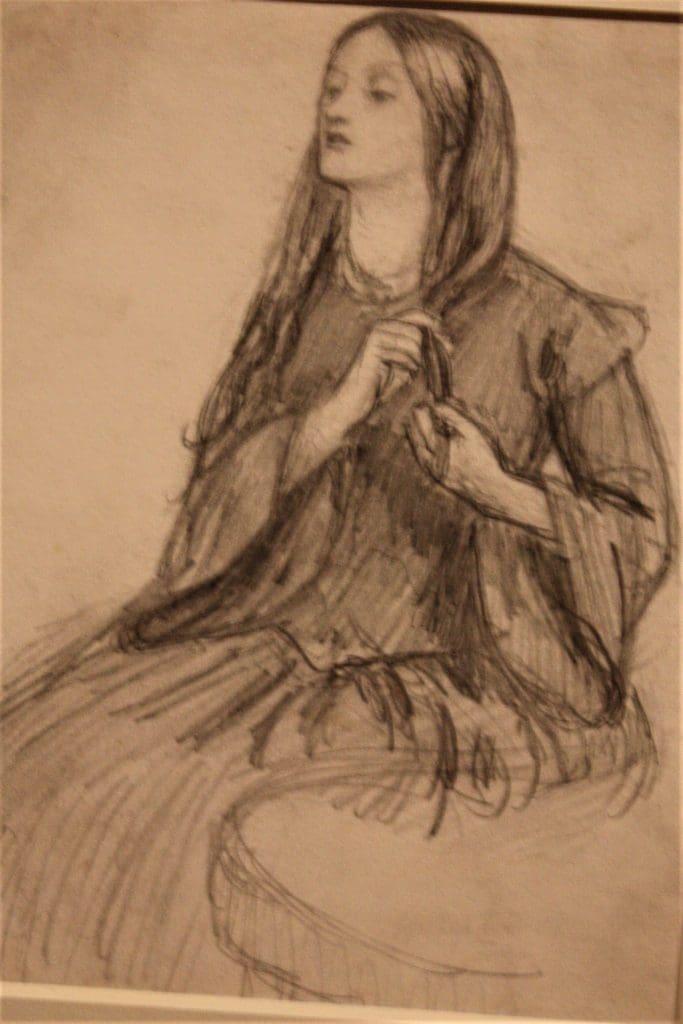 Gabriel's portrait of his sister, herself an occasional artist, in 1866 with coloured chalk on blue-grey paper, draws on the monumental forms of Renaissance art. She is seen simply dressed and the book she has with her advertises her learning and profession as a poet. A staunch Christian, Christina worked in a refuge for women who had been coerced into marriage or were regarded as 'fallen.' The Goblin Market, her 1859 allegory of feminist salvation became her most successful poem (widely read to this day in anthologies) and she had just published her third collection, The Prince's Progress and Other Poems. The Goblin Market of 1859 showed how love had to struggle against the snares of an unequal and materialist world. In it, two sisters are propositioned by predatory goblins, who tempt them to buy luscious fruits and become entrapped. She went on to publish 16 further volumes of poetry, fiction, and religious writing. She died of breast cancer at the age of 64.
With the spirit of revolution lighting up Europe in 1848, Gabriel, William Holman Hunt and John Everett Millais broke with the orthodoxy of the Royal Academy School to form a semi-secret society, the Pre-Raphaelite Brotherhood, signing their paintings PRB. Preoccupied with romance, they searched for legends and love stories in which they imagined themselves in heroic roles. The Rossettis especially looked to medieval Italy and the Florentine poet Dante Alighieri (1265-1321). Alighieri provided Gabriel with the model of an artist searching for beauty, love, and truth in a materialistic world. As Gabriel continued the work of their father in teaching, translating, and interpreting Dante's work, he prefixed his own name by Dante.
One of the key features of the show is that it is in effect the first retrospective of Elizabeth Siddal for 30 years, featuring her rare surviving watercolours and drawings. In her original and inventive approach, she was 20 to 30 years ahead of her time, albeit with a very short, interrupted career. A working-class artist who was largely self-taught, Siddal's work has often been overshadowed by the dismissive attitude that she was merely 'a muse', and by her tragic early death.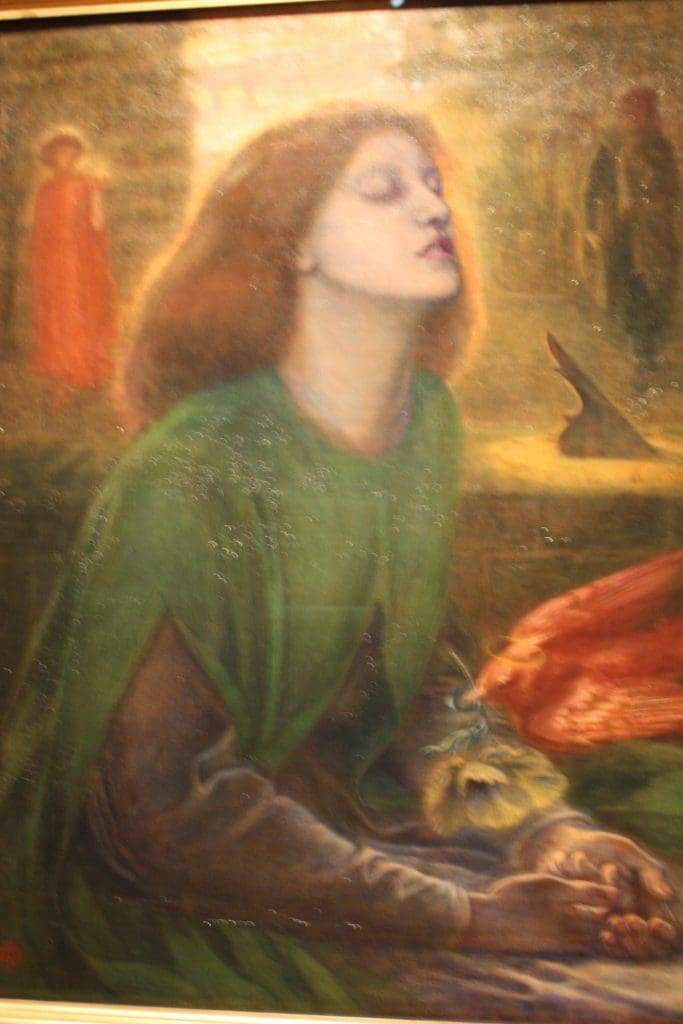 Elizabeth Eleanor Siddall (1829-1862) has been famed mainly for posing for the masterwork by Millais of Shakespeare's Ophelia. (Ophelia consistently is the most popular artwork on the Tate website and the most purchased postcard in its shop). For the painting, she laid in a tin bath filled with water, so that Millais could more faithfully render her billowing gown and floating hair. When oil lamps put under the bath to keep the water warm went out, the uncomplaining Lizzie silently suffered in the cold. Absorbed in his work, Millais failed to notice what had happened, and she contracted pneumonia.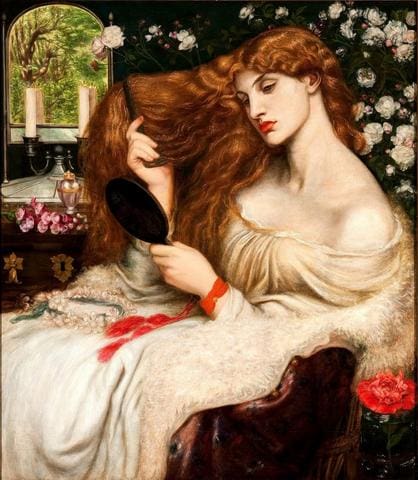 Attracted by her delicate features and pale complexion, Gabriel Rossetti and fellow artists were keen to use Lizzie, as she was known, as a model, after she was spotted by a fellow Pre-Raphaelite artist while working as a milliner. She inspired most of his early paintings of women, such as the heroines of the legends of King Arthur. Soon after meeting, in 1849, they became engaged, although they married only in 1860. She began painting in 1852 and went way to a school in Sheffield to study. In his studio, the two collaborated, using themselves as models, greatly influencing each other's style and subject matter. The eminent critic John Ruskin greatly admired her work and paid her a retainer to support her career.
Gabriel's drawings of Elizabeth were among his first to explore self-sufficient, mysterious women. He depicts her absorbed in dressing her hair or absent-mindedly running it between her lips. Free tresses of hair indicated a private space, and the self-contained activities of brushing, handling or biting it would exclude the viewer from her sensual world. In Gabriel's writing, however, hair was often a means of contact. It is described as touching or falling across a lover's face in The Blessed Damozel and other poems.
The idyll fell apart, however. She was in poor health and delivered a stillborn child a year after their marriage. Gabriel returned home on February 11, 1862, from teaching at the Working Men's College to find Elizabeth unconscious with an empty bottle of laudanum (a mixture of opium and alcohol) beside her. A doctor treated her, but she died the following morning. She was one of many Victorians addicted to cheap opiates which were freely available as the British Empire promoted poppy cultivation in Asia.
All surviving paintings, drawings, and watercolours out of the 100 accomplished over 10 years by Elizabeth are seen for the first in the exhibition. They include Lady Affixing Pennant to a Knight's Spear from around 1856, a watercolour on paper where she treats a chivalric subject in a manner charged with sexual symbolism. Elisabeth's life and death became part of Gabriel's art, and it would be 130 years before an exhibition was dedicated to her work alone.
In Beata Beatrix started in 1863 and completed much later, in 1870, Gabriel illustrates the last chapter of Dante Alighieri's poem La Vita Nuova, and paralleled Alighieri's despair at the death of Beatrice Portinari with his own feelings. The painting is a metaphor of how love can transcend the boundary between life and death. He portrays the subject's features as Beatrice and her death as a spiritual transfiguration. A bird brings her an opium poppy as a messenger of death and a sundial symbolises time. In the background, Dante looks across at Love, an angel holding the flame of Beatrice's life. The Florentine setting, the Ponte Vecchio bridge over the Arno, recalls the transition to Dante's Inferno. Close to Beata Beatrix is a handwritten poem by Gabriel believed to be a page recovered when Elizabeth's coffin was exhumed in 1869.
Among the voluptuous models Gabriel persuaded during the 1860s to sit for him was Alexa Wilding — the quintessential Pre-Raphaelite beauty – and Fanny Cornforth, his mistress, who had become important to him as Elizabeth became increasingly depressed. Employed by as housekeeper, Fanny with her striking features roused him to revolutionise his style and to develop the rich colouring with which he made such an impact for all time.
This evolution of the femme fatale informed works such as Lady Lilith of 1866-8 and Mona Vanna of 1866. Lilith was the mythologised first wife of Adam, who refused to be submissive to him and left the Garden of Eden. She was the first, and perhaps, ultimate femme fatale, beautiful and yet cursed for eternity, who brought the dangers of love to men at the dawn of time. Gabriel's original design for Lady Lilith featured Fanny Cornforth as model, but he replaced her with the image of Alexa Wilding some years after delivering the picture to his patron Leyland, asking for the picture back and telling him he had found a model whose complexion was better suited. In fact, in addition to the facial colouring, he painted over the original head, so that Alexa – despite, or because of, her impassive demeanour — was shown as the most infamous of all vixens.
There was no romance though, with Alexa. He liked Alexa but said that he found her dull. His studio assistant Henry Treffry Dunn described her as "without any variety of expression. She sat like a Sphinx, waiting to be questioned, and with always a vague reply in return… But she had a deep well of affection within her seemingly placid exterior." Alexa sat for more finished paintings that any of Gabriel's other models.
According to the studio assistant, one summer evening while walking in the Strand Gabriel became aware of a young woman by his side. He was struck with her beautiful face and golden auburn hair. It was the very type of face he had been seeking in a model, and so suitable for The Blessed Damozel. The artist begged the young woman for a sitting, but she did not turn up. Weeks later Gabriel was again in the Strand, this time in a cab, when he saw her again and leapt out to hail her.
Gabriel in 1865 adapted the Titian painting Woman with a Mirror into an image of the Song of Solomon which is about a young woman surrounded by attendants and a boy who offers her the King's gift, a vase of roses. The Beloved (The Bride), a lush oil on canvas, illustrates lines from the Bible, "My Beloved is mine and I am his. Let him kiss me with the kisses of his mouth: for thy love is better than wine." The bride in the picture moves her veil to meet her groom, the 'King.' He is not shown, for viewers of the picture take his place. To Gabriel, the seven figures he showed represented a universal vision of female beauty in a range of cultures and styled as an orientalist fantasy. Today, the work is sometimes seen as idealising whiteness.
The Beloved was created for a wealthy banker, George Rae. In the background, second figure on the right, is the model Fanny Eaton who was born in Jamaica in 1835. She is thought to be the subject of the nearby Head of a Young Woman (Mrs Eaton?) from 1863-65. "We like to think of it as Gabriel's Mona Lisa," said Tate curator James Finch, "with her inscrutable look." Fanny Eaton moved to London in the 1840s after abolition, with her mother Matilda Foster.  She married a cab driver, James Morris, with whom she had 10 children, and worked as a cleaner and cook at the Royal Academy and modelled for many painters, but until recently her story has been left to obscurity. Gabriel compared Fanny's beauty to that of Jane Morris. As did other artists, in his artworks he modified her facial features to fit various ethnicities – whatever race they needed to depict at the time – but never was she painted as a Jamaican. In Victorian society, Fanny was in the category of "Other." After her 10-year career as a black muse, and the death of her husband, she had to return to housekeeping, cooking, and dressmaking to support her large family. She died aged 89.  Only in late 2022 was her grave in Hammersmith marked with a headstone, followed by a blue plaque on her last home, near Shepherd's Bush.
The new lifestyles and design ideas of the Rossettis transformed the domestic interior through contemporary furniture, clothing and design. A wallpaper designed by Gabriel was intended to decorate the home that he shared with Elizabeth after their marriage. It was unrealised but has been created for the exhibition and bedecks a substantial area in the gallery. Tate Britain worked with the designer and illustrator Ilyanna Kerr, who is based in London and Amsterdam, to bring the design to life at giant scale. It depicts a grove of apple trees at dusk, with stars in the deep blue sky, echoing the setting of medieval courtly romances.
Gabriel's final years were dominated by his friendship, then love, with Jane Morris, who was born Jane Burden (1839-1914). Jane was 18 years old and a domestic worker in Oxford when Gabriel saw her outside a theatre and asked her to pose as Queen Guinevere. He and others, including the artist and designer William Morris (1834-1896) were painting murals in the Oxford University Union based on the Arthurian legend. Shortly afterwards, Jane and William Morris married, but In the early 1870s, Jane and Gabriel became lovers. The Morris home, the Red House in Bexleyheath, became a creative hub for experimentation with designs for living. William Morris founded a co-operative design company with Gabriel and others, which became the family firm William Morris & Co and to which Jane contributed much in the way of design.
Gabriel and William Morris shared the tenancy of Kelmscott Manor, a country house in Oxfordshire, and she was a model in his last major paintings. Jane's features continued to appear in Gabriel's works, even when she no longer sat for him, She outlived Rossetti by 32 years, reconciled with William Morris, whom she outlived by 14 years.
Captions in detail:
Venus Verticordia 1868. By Dante Gabriel Rossetti. © Private Collection.
Three prized Rossetti paintings in the home of Frederick Leyland: Mnemosyne, The Blessed Damozel, and Proserpine.
Proserpine 1874. By Dante Gabriel Rossetti. © Tate.
Dante Gabriel Rossetti, 1853 by William Michael Rossetti. Graphite on paper. Lent by the National Portrait Gallery.
Ecce Ancilla Domini (The Annunciation) 1849-50, Dante Gabriel Rossetti. © Tate, Purchased 1886.
Goblin Market 1865. Poems by Christina Rossetti.
Portrait of Christina Rossetti, 1866. By Dante Gabriel Rossetti. Coloured chalk on blue-grey paper.
Elizabeth Siddal, c 1854. By Dante Gabriel Rossetti. Graphite and watercolour on paper. Delaware Art Museum. FV du Pont Acquisition Fund 1985.
Lady Affixing Pennant to a Knight's Spear 1856. By Elizabeth Eleanor Siddal. © Tate.
La Ghirlandata 1873. By Dante Gabriel Rossetti.  © Guildhall Art Gallery.
Elizabeth Siddal plaiting her hair. Date unknown. By Dante Gabriel Rossetti. Graphite on paper.
Beata Beatrix 1864, By Dante Gabriel Rossetti. © Tate. Presented by Georgiana, Baroness Mount-Temple in memory of her husband, Francis, Baron Mount-Temple 1889.
Lady Lilith, 1866-1868 (altered 1872-1873). By Dante Gabriel Rossetti. Delaware Art Museum, Samuel and Mary R Bancroft Memorial, 1935.
The Beloved (the Bride), 1865-66. Detail. Oil on canvas. by Dante Gabriel Rossetti.
Head of a Young Woman [Mrs. Eaton?] 1863-65. 1863/1865. Medium. English: Black chalk and charcoal. © Cantor Arts Center, Stanford University; Museum Purchase Fund.
The Rossettis is supported by the Rossettis Exhibition Supporters Circle and Tate Members. The exhibition is organised by Tate Britain with Delaware Art Museum. It is curated by Carol Jacobi, curator of British Art 1850-1915 at Tate, and James Finch, assistant curator of 19th century British Art at Tate.
The exhibition at Tate Britain continues until September 24, 2023.