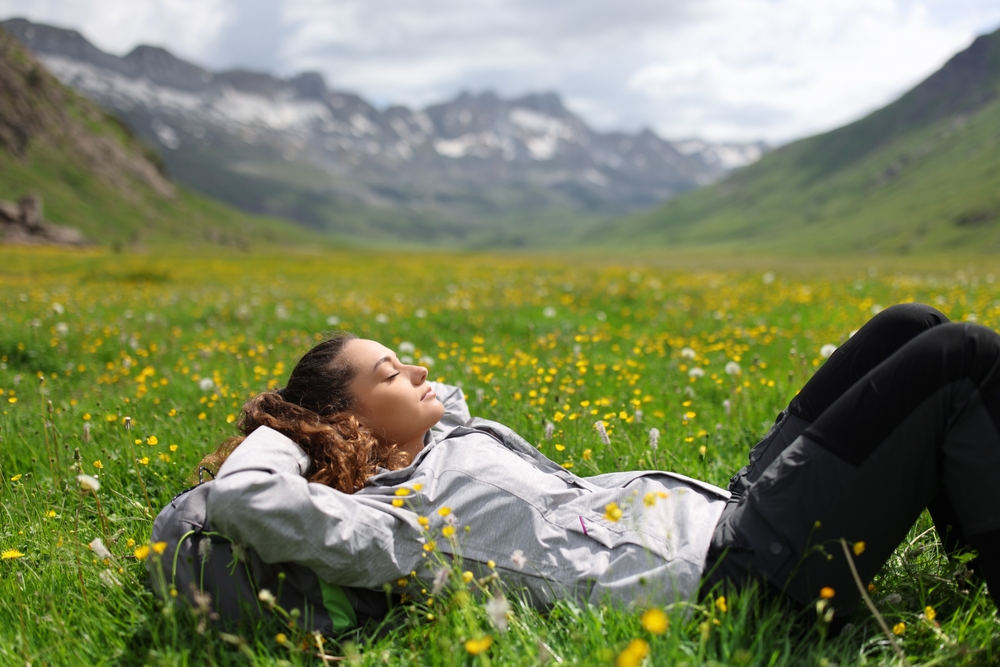 'Soft Hiking' is the latest trend to take social media by storm. Originating on the ever-popular TikTok app, the trend quickly attracted attention across the platform and beyond – but why? Whilst traditional hiking may be centred around pushing yourself to your physical limits, whether by walking long distances or overcoming strenuous climbs, soft hiking takes a more relaxed approach and focuses on taking things slowly and enjoying the overall experience.
The concept of soft travel as a whole offers travellers flexibility, in which they don't have to live up to the pressures and strains often associated with being adventurous outdoors. So, whether you simply want to enjoy the outdoors, having a picnic break, or snap a photo to capture the moment, this is all the more encouraged by this movement.
And, for those who often may feel defeated by the thought of a challenging activity or who wouldn't be able to keep up with those who lead a more active lifestyle, they may now be tempted to embark on their own, slower, adventures in light of the recent trend.
And as the soft travel trend allows people to take in their surroundings more proactively, and even frequently, this is exactly why Harvey Downard, Head of Cycling at active travel provider Cycling for Softies, feels the movement is gaining popularity:
And, he mentions that this may even be the "way forward for the active travel industry".  The company offers its own soft travel experiences, allowing guests to take leisurely cycling tours across the wine regions of France, Italy and the UK. Interestingly, Harvey mentions that the concept of soft travel has actually been around for longer than many may think.
Slow Your Pace, In More Ways Than One
It's easy to get caught up in, and used to, the fast pace of daily life, but travellers should make a conscious effort to slow down. Harvey mentions focusing on what aspects of your activity you can take at a slower pace. Whilst many may just think this to mean being slower as they walk or ride, focusing on slowing down your breathing is equally important to relax and, therefore, be more focused on your surroundings.
Taking the time to interact with your surroundings whilst you're immersed in new and beautiful environments will help shift your focus to things that you may normally overlook, or that are only around fleetingly.
For example, a particular species of flower which only blooms at one time of the year may be out, or, you may spot native wildlife in their natural habitats that you wouldn't normally have the opportunity to see.
Don't Limit Your Experience
Whilst it may be difficult to find time in our hectic schedules to slot in a soft travel experience, it's important to reap the benefits of this whenever the opportunity arises.
And, when doing so, it's equally important to ensure that you're not tying yourself to any restraints, such as having to return home within the next hour, or knowing you need to run on a short errand in and amongst.
This way, you truly allow yourself to embrace every element of soft travel: recentering your focus around being slow and mindful and not putting yourself under any external pressures.
Immerse Yourself In Local Culture
Wherever you embark on your soft travel journey, broadening your horizons by connecting not only with your immediate surroundings but also with the local culture in these environments is a great way to further enrich your experience.
For example, it may be that in a nearby town you find that there's a market taking place. Why not take a detour to indulge in the rich flavours of foods sold by local vendors, or smell the aromas of artisanal stalls selling seasonal goods?
Beyond this, you may be having your soft travel experience in an area that is known for being the best of the best for something. Sussex, for example, is the home of some of the best vineyards in the UK where you can go for a wine-tasting experience. And, further afield, Umbria is known for its truffle harvesting which travellers can enjoy during a gathering party. These are merely a few examples of ways to get involved in unique cultural experiences wherever you may be.
Indulge In, And Respect, The Local Environment
Ensuring that you're taking a moment to indulge in the beauty of the scenic landscapes you're travelling in will reground you in your setting, and give you a moment to truly appreciate where you are and what you're doing.
Even if you're only embarking on a trip in your local area, this may make you more grateful for where you live, as you may not otherwise take the time to appreciate the true extent of its beauty.
And, whilst doing this, it's equally important to respect the local environments you're in. Whether this is by taking your rubbish home with you, not wandering off marked paths to preserve local biodiversity, or being quiet in environments home to native wildlife, this will preserve the beauty of these areas for anyone wanting a soft travel experience in the future.
Support Local Whilst Soft Travelling
Whilst slowing down and simply savouring the environments you're in whilst you're soft travelling, you can take this opportunity to engage, and support, the local economy where possible.
If you're planning on being out in nature for quite some time and will likely need some snacks and refreshments to keep you going, why not visit an independent store rather than a large business to make these purchases?
Or, if you're on a route that takes you through a town or village and you'd like to stop for a coffee and cake to refuel, stopping by a small shop as opposed to a big chain is a great option to support local.
This not only funnels the money back into the local economy, but helps you to connect in another way to the area in which you're embarking on your soft travel trip. So, for those who are serious about getting involved with the soft travel movement, Harvey states that there's a broader scope to soft travel than just soft hiking.
The movement as a whole is beneficial for travellers to get involved with and may catch the attention of those looking to broaden their 'soft travel' horizons.