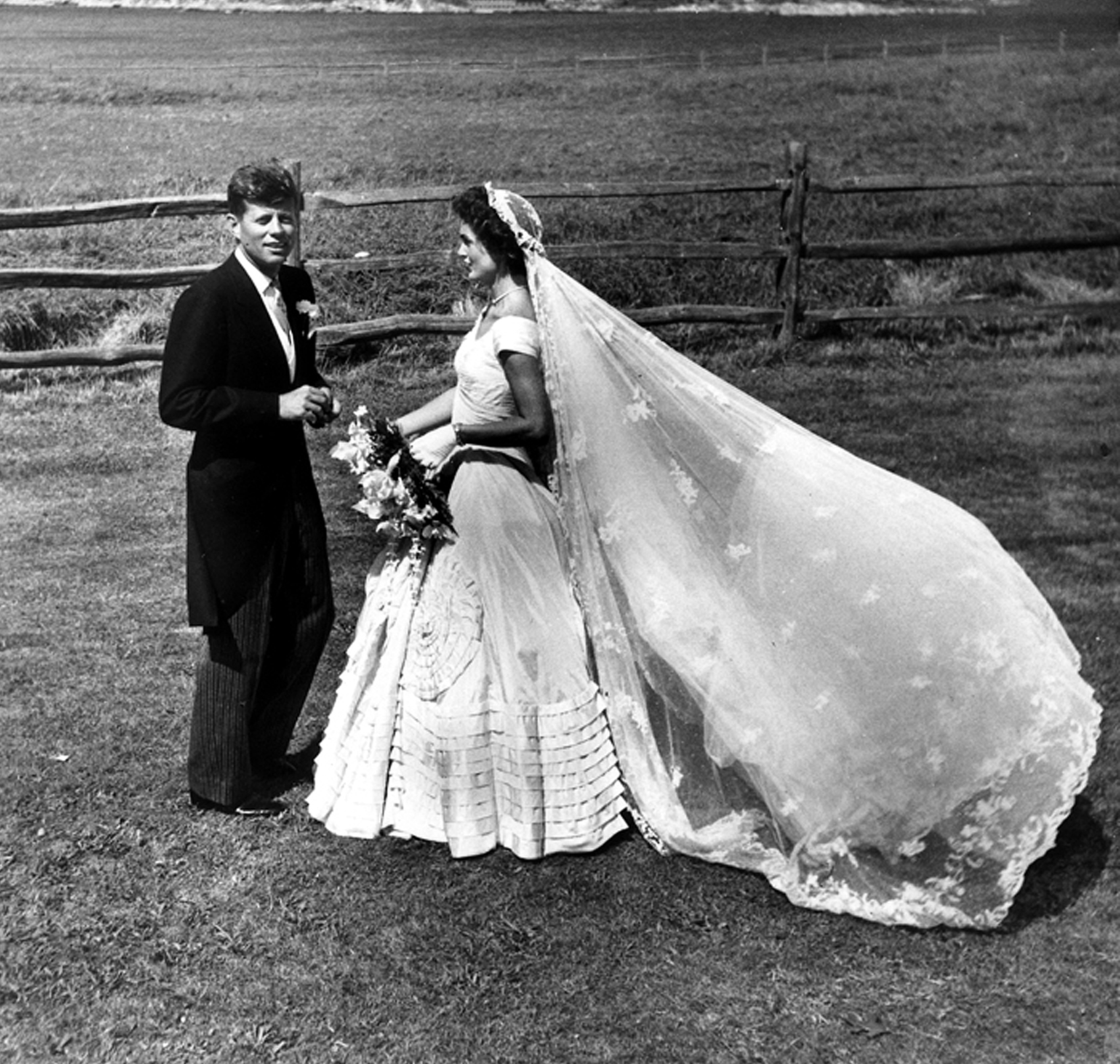 By Jennifer de Jiles Holtzman
Alexandria, VA – Monte Durham claims to be Jackie Kennedy's biggest fan. And he had the collection to prove it! When I first met him at Salon Monte on South Union Street in Old Town Alexandria, he gushed about Jackie. Monte calls her Jackie — and you get a sense that she's a friend, not a fascination.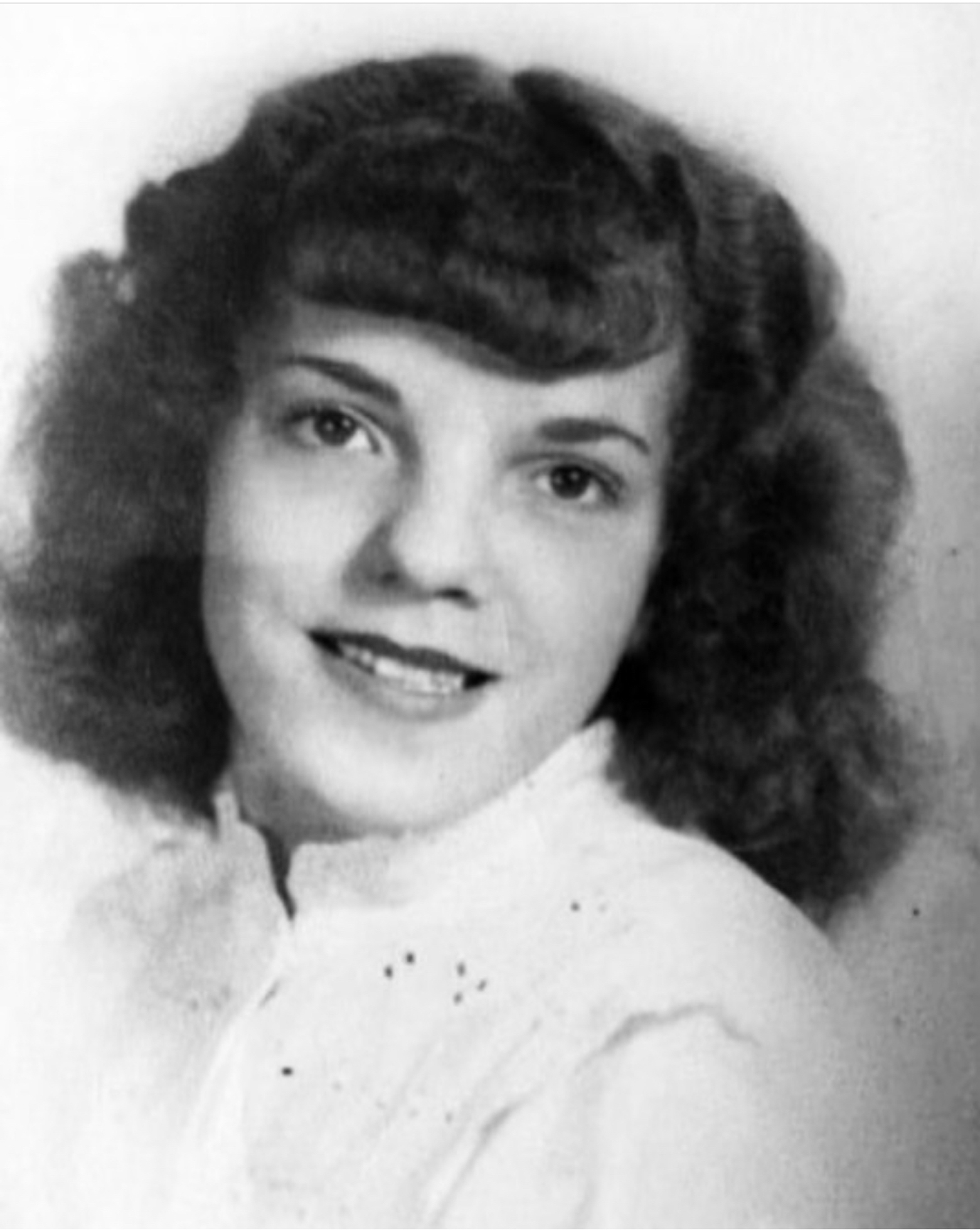 There's a prominent portrait of Jackie that Monte uses as a backdrop for selfies with his clients and fans at his salon. "Let's take the picture with Jackie. It's the best lighting," he explains. It's the only artifact he has left after donating his entire collection to the First Ladies Library & Museum in Canton, Ohio.
Miles, my husband, our furry princess, and I made the trip for the Press Preview and Opening of the much anticipated Beyond Camelot: The Life and Legacy of Jacqueline Kennedy Onassis Exhibition. While there, we were treated to two talks by Monte, where he went into his fascination with Jackie that led to a collection so large it could be donated to the national museum that preserves and promotes the significant role First Ladies play in the history of the United States.
First Ladies Library President and CEO Patty Down Schmitz said, "We are honored that Mr. Durham has chosen to gift his collection to the National First Ladies Library at the First Ladies National Historic Site, and we could not be more thrilled to host him in person here in Canton. Jacqueline Kennedy Onassis was an extraordinary woman whose life and legacy extends far beyond her tie as First Lady. We hope our patrons will be as excited as we are to explore her life 'Beyond Camelot' at this special 2023-2024 exhibit."
And Jackie Ohhh, is there a lot to explore. Jackie had so many talents and interests. So many things that nourished her soul. Not only did Jackie appreciate fine art and beautiful things in general, she was also an artist in her own right. She embraced the art, culture, history, and literature of humanity. She enjoyed travel, exploring other cultures, and showcasing culture and art in her own space.
Speaking of her space, while in residence at the White House, she restored and redecorated the mansion — bringing a sense of purpose and history to all of the furnishings and décor.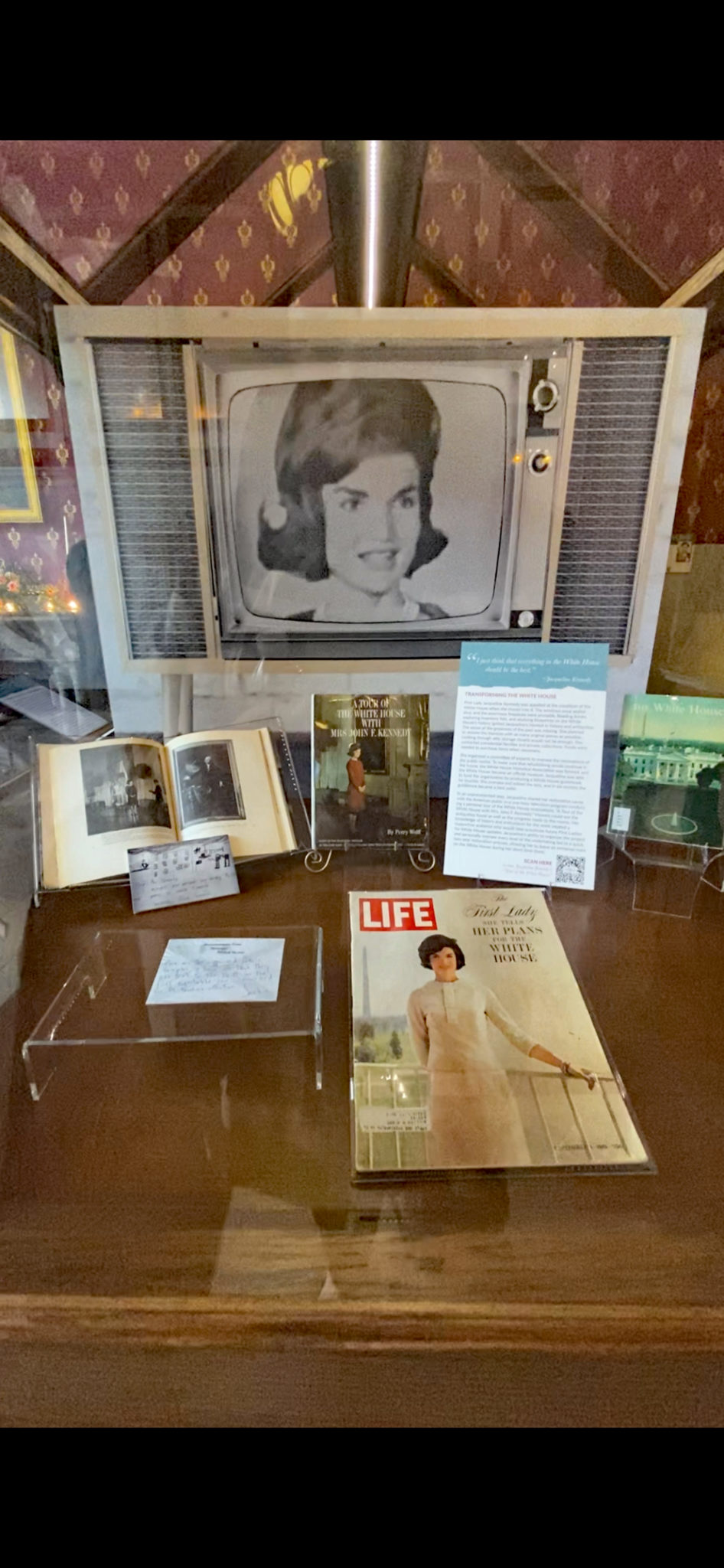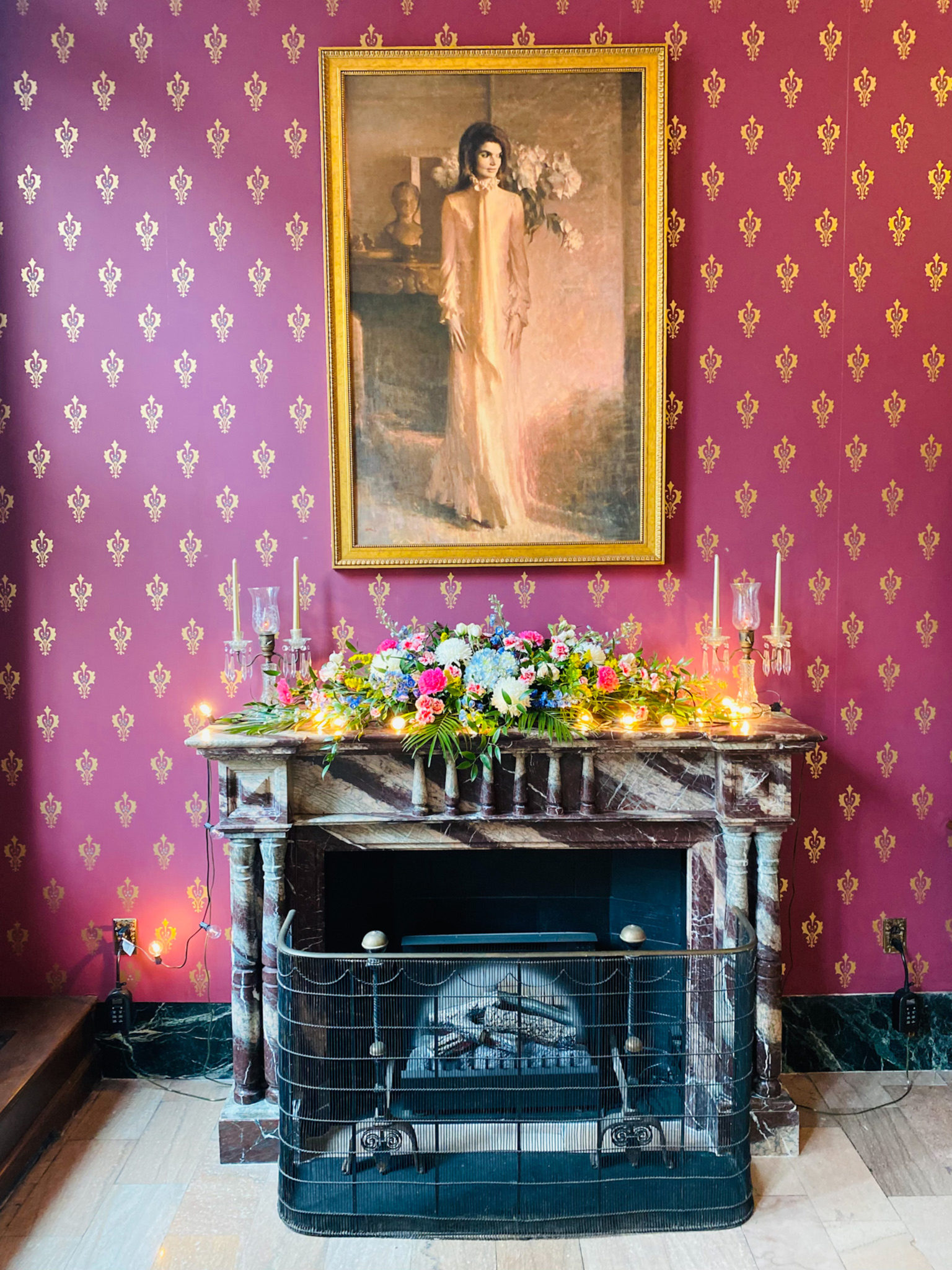 Monte is an excellent storyteller and speaks of Jackie, as First Lady (a term she never embraced) at just 32 went into the White House. And asked the simple question: why can't we open the windows?
Jackie challenged the staff that was stuck in a "we've always done it this way" mindset. The house was stuffy, and Jackie consciously brought it life. She brought with her not only a sense to redecorate 1600 Pennsylvania Avenue, but to literally bring in fresh air, to make the presidential mansion a home. She brought with her the art of living well.
While occupying the White House, Jackie also rented property in Middleburg to remain grounded in country life. She was an accomplished horsewoman. Also an avid reader and fluent in French, Spanish, and Italian.
Jackie was a smart sophisticated woman, with an amazing in-the-moment understanding of her place in history. Not to mention a style icon still influencing the fashions of today.
Shift dress and Jack Rodgers, anyone?
There are a million reasons to love Jackie. And collect memorabilia dedicated to her. But for Monte, it was a two-fold fascination. He, of course, loved Jackie for being Jackie, but Jackie also looked like his mom — the stylish southern woman, always dressed to the nines, that Monte absolutely adored.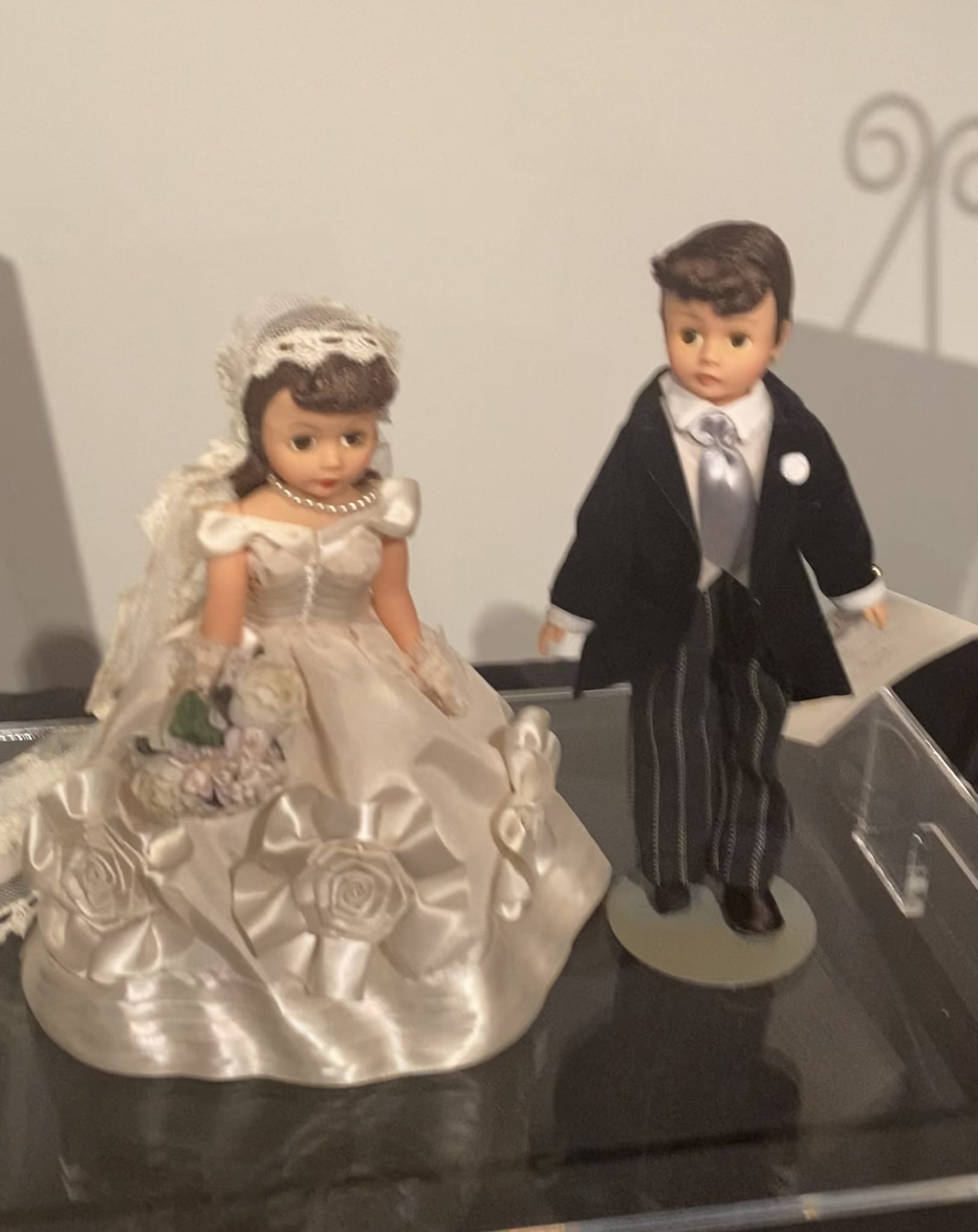 When in school, he had to write a report and chose Jackie as the subject. That report started it all. Monte jokes that he wrote the report back in the day when you actually had to go to libraries and bookstores to gather your sources of information.
One book of his own led to two. And he didn't set out to do it, but he looked around one day and realized he was a Jackie collector.
Monte had a whole room dedicated to Jackie in his Alexandria home, with even more artifacts in the attic. Plus, a wealth of knowledge significant enough to make him an expert. And he also had something that didn't exist anywhere else in the world. . .
An exact replica of Jackie's wedding dress to John Fitzgerald Kennedy (JFK / Jack).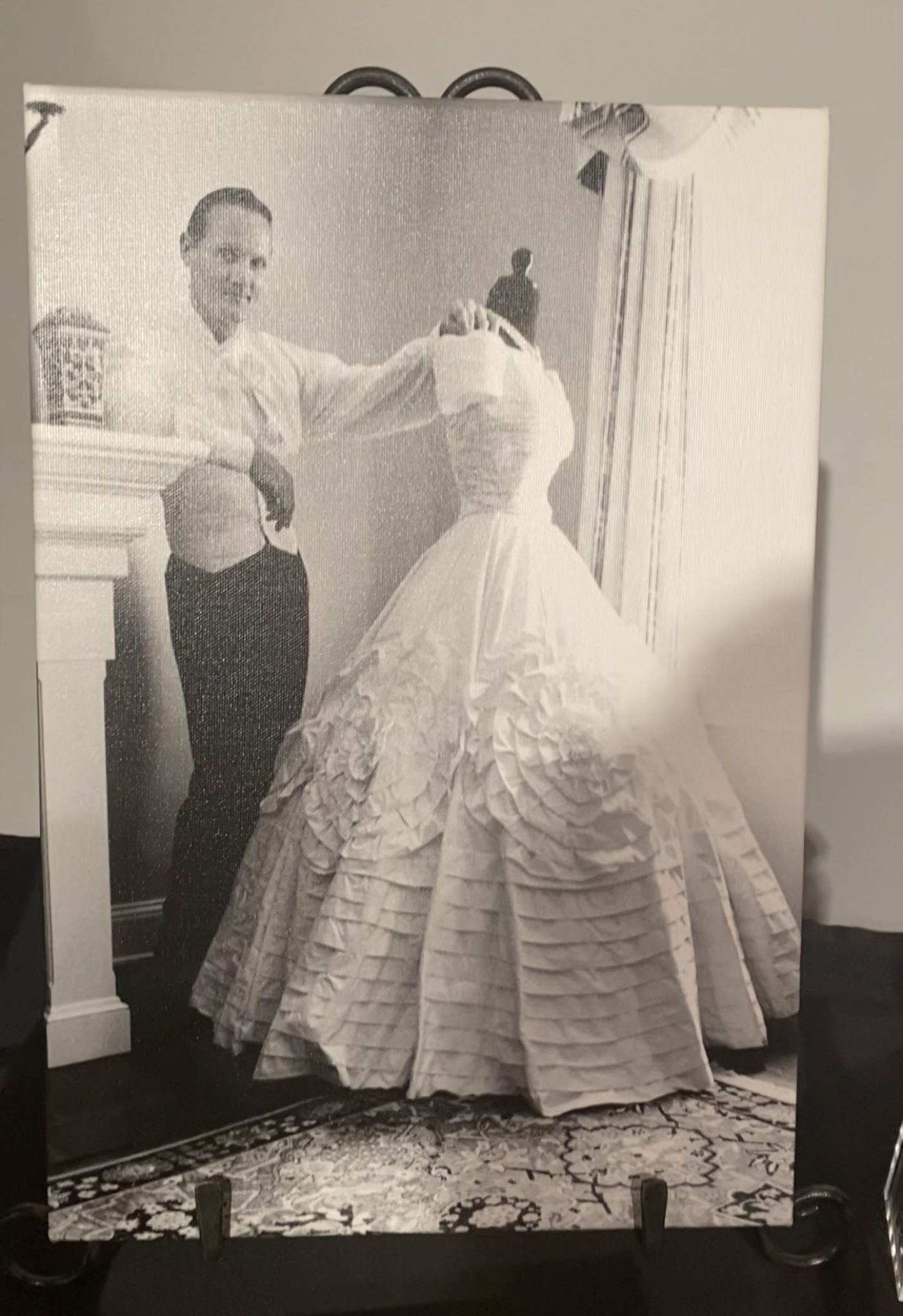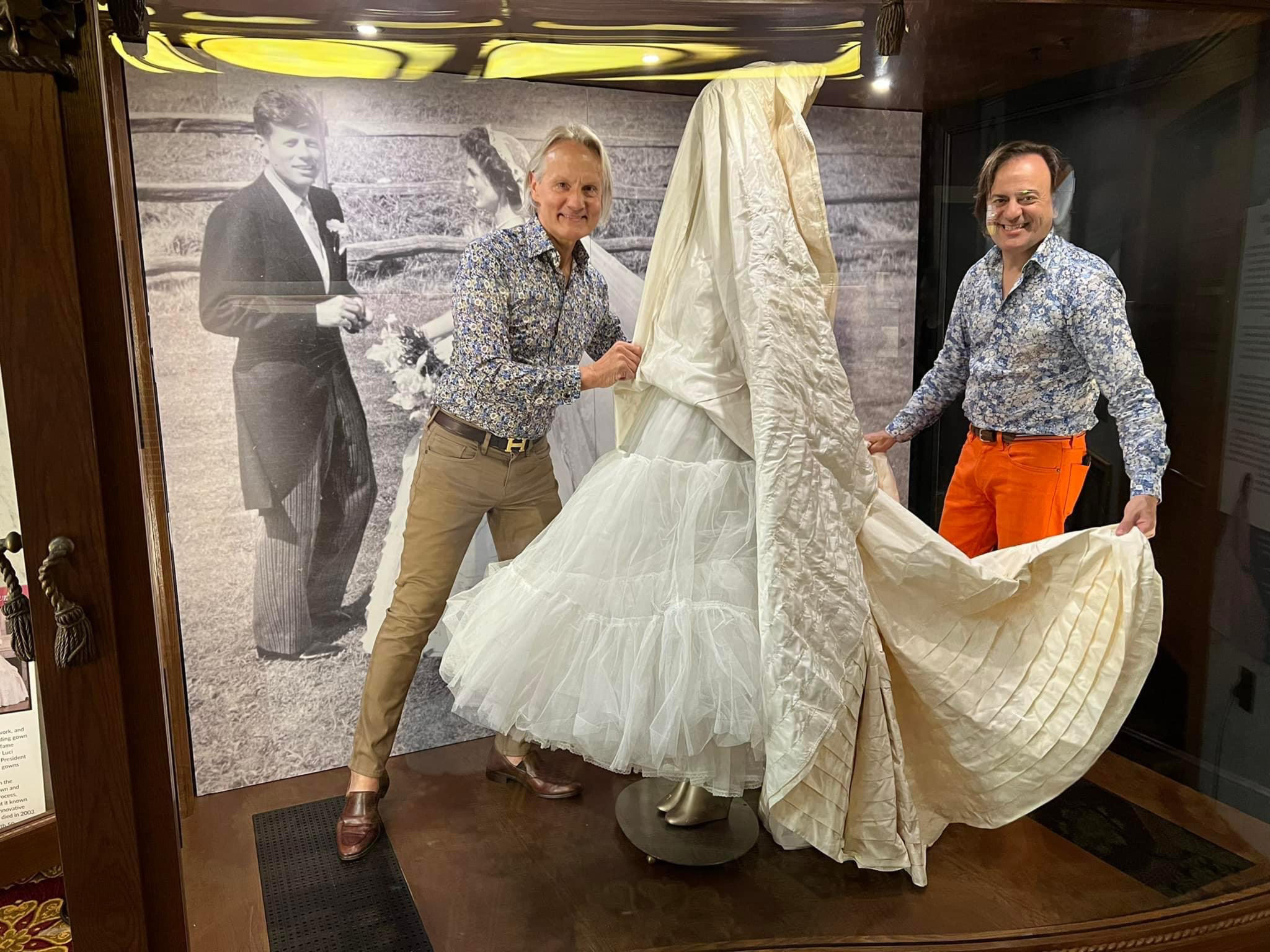 The dress was designed by Ann Lowe, an African American designer, in the early 1950s. The exhibit not only showcases her design — one of the most recognizable wedding dresses of all time — but also highlights Lowe's additional contributions and her relationship with Jackie.
The original dress is in the Kennedy Library in Boston, Massachusetts, and is too fragile to be on display. Monte, however, managed to get Priscilla of Boston, who does not do replicas to . . . well . . . to replicate it.
Priscilla of Boston was a leading American wedding design company from the 1950s to the 1990s — the lead designer, Priscilla Kidder, coming into fame in her own right when she designed Grace Kelly's wedding dress for her 1956 nuptials to Prince Rainier of Monaco.
Monte had done some publicity work for Priscilla of Boston and they kept saying: we want to give you a thank you gift. And Monte kept saying: recreate Jackie's wedding dress for me. And the Priscilla of Boston kept saying: we don't do replicas.
After sweet-talking the couture wedding dress designer, and agreeing to secrecy on the project, Priscilla of Boston finally gave in and created what ended up being the centerpiece of Monte's collection. (Note, Monte did not reveal the dressmaker until Priscilla passed).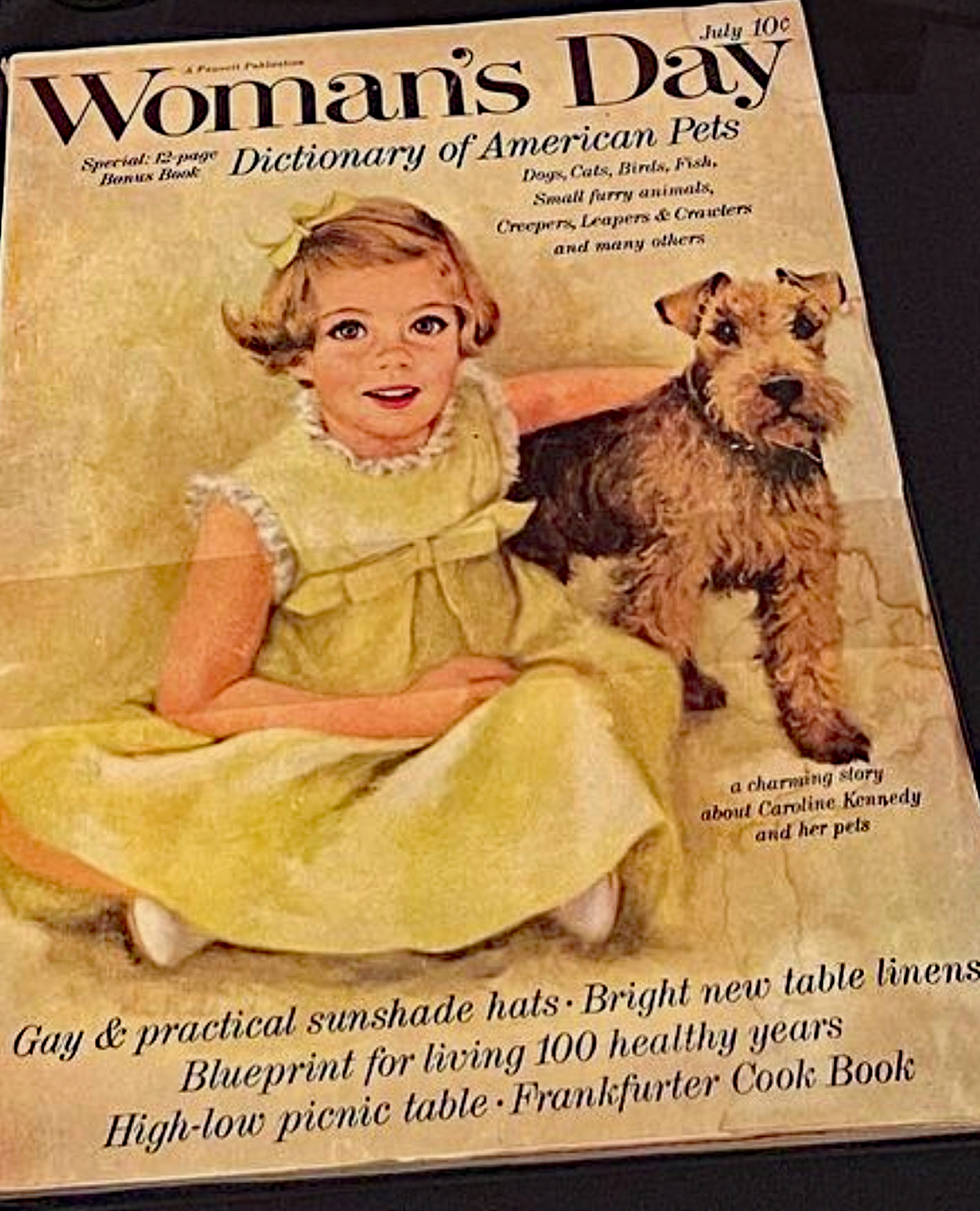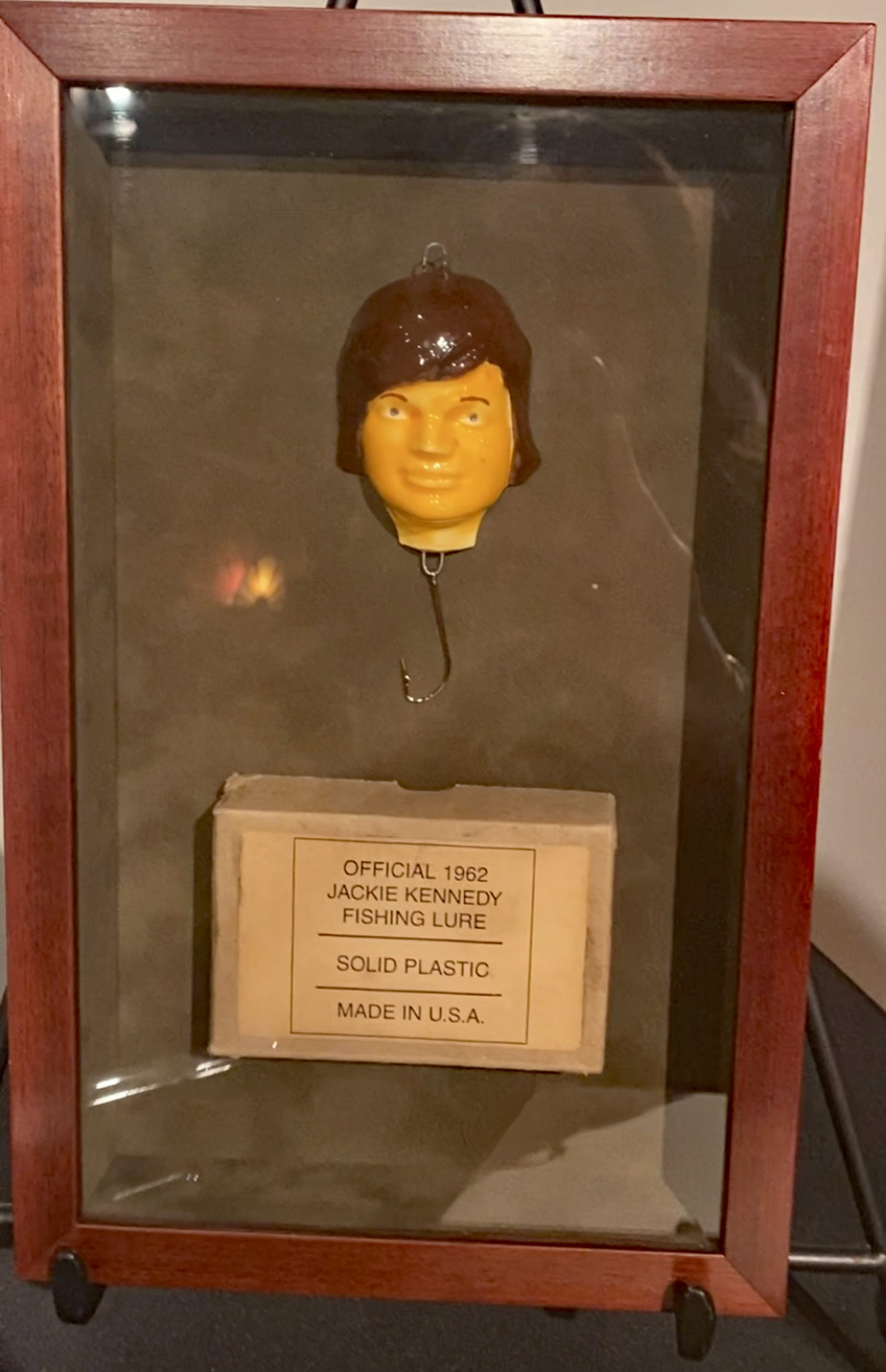 Now that Priscilla of Boston had agreed, precision and perfection was what Monte was after with the project.
He and Priscilla Kidder personally made several visits to the Kennedy Presidential Library to examine the dress, so that it could be properly replicated. They looked at detailed photos of the bridal gown and counted every ruffle and pleat for precision.
Monte was determined, but he wasn't met with smooth sailing on the project. An official from the library told Monte he was "casting too wide of a net" and began to discourage the alliance with the library. But Monte had a vision. And thankfully he did, as while the original dress is stored at the library, it is just too delicate now to be on display.
Replicating the dress is a story all its own. But there are so many items in the exhibit then tell a story.
One of Monte's favorite artifacts is this fishing bobble artifact with the likeness to Jackie's head. When it was in his home, he'd stare at it and wonder what made someone think to create it.
Another favorite that Monte pulled to talk about was Woman's Day magazine with Caroline and her Welsh Terrier, Charlie, given to her by her grandfather Joe Kennedy, on the cover. The 10¢ July 1962 edition featured an illustrated Caroline and Charlie on the cover with a special 12-page bonus book, The Dictionary of American Pets.
Guess what kind of dog Monte rescues? Yep. Welsh Terriers. And, yes, one is named Charlie.
At the end of Monte's talk he told one last story about Jackie. When JFK won the presidency, Jackie was asked what she thought her husband would do in the White House. Jackie replied that Jack would make a difference, "one man can make a difference, and every man should try."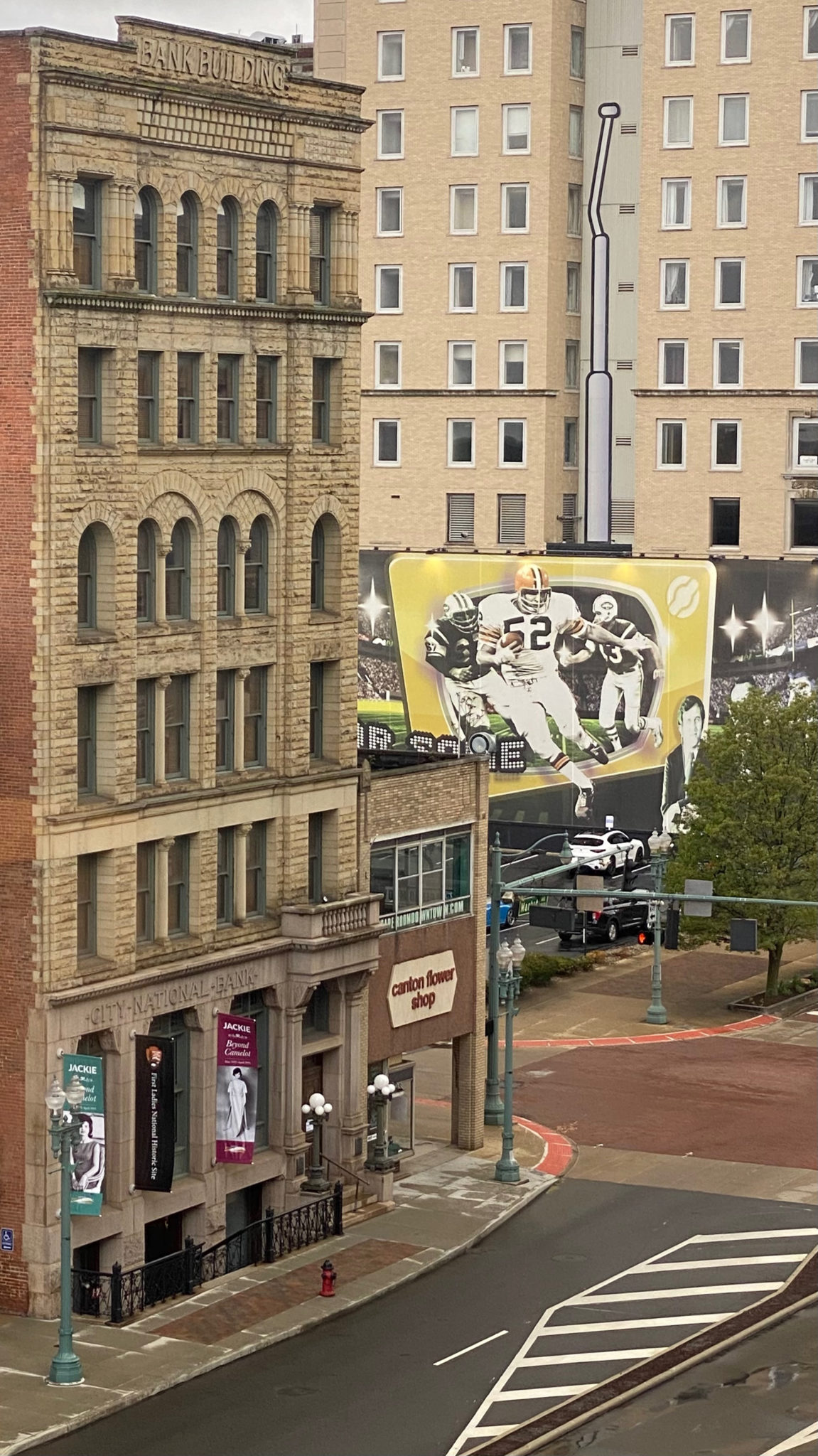 Jackie certainly made a difference. She projected beauty, glamor, poise, smarts, intellectual curiosity, and staying true to yourself. The life and legacy of Jackie remains a timeless fascination. Monte's collection celebrates Jackie, our fascination with her, and art of living well.
_____
Beyond Camelot: The Life and Legacy of Jacqueline Kennedy Onassis Exhibition with the personal memorabilia of Monte Durham, of Say Yes to the Dress: Atlanta, will run until 27 April 2024 at the National First Ladies Library in Canton, Ohio. There are additional appearances by Durham planned over the year.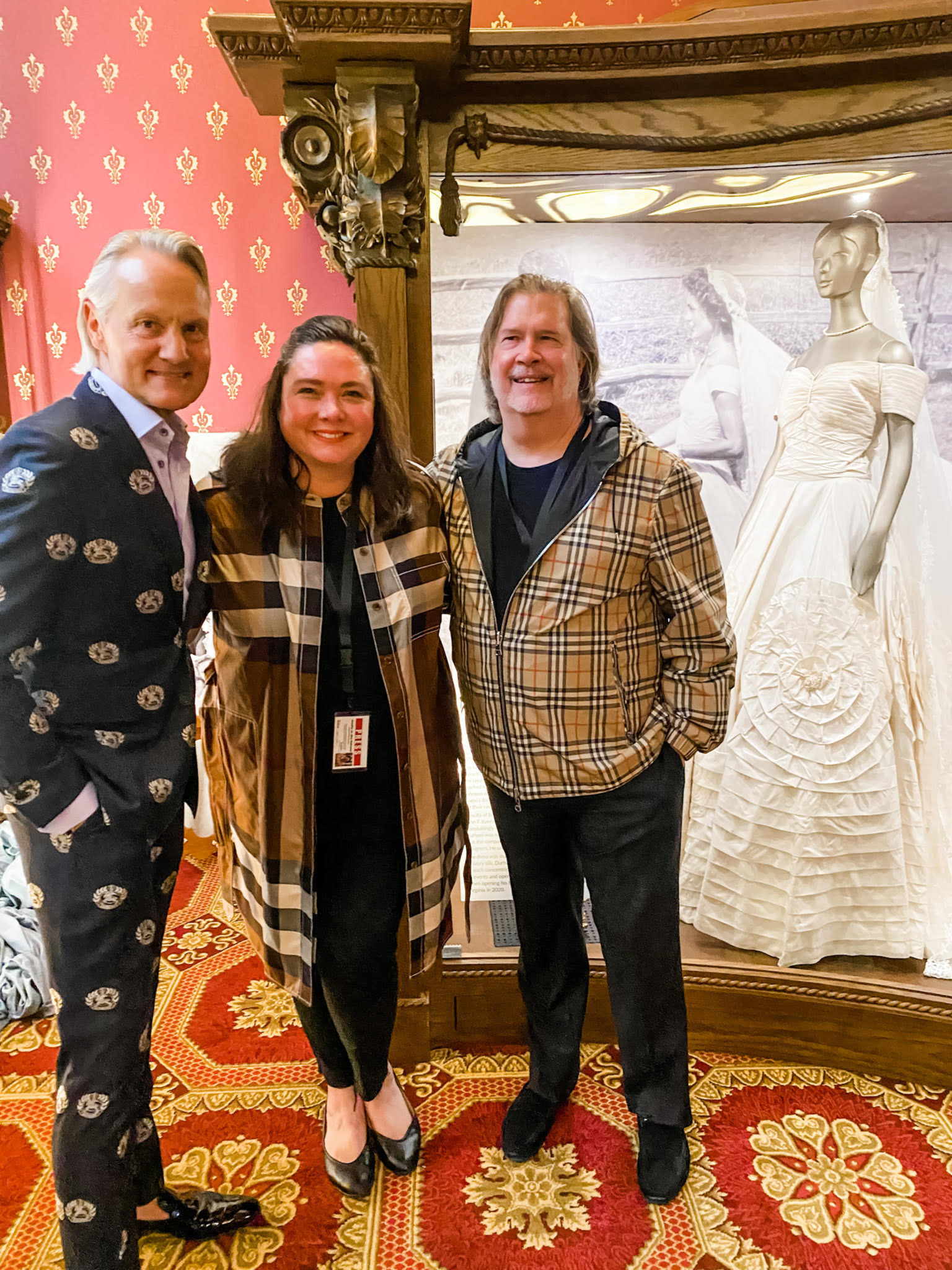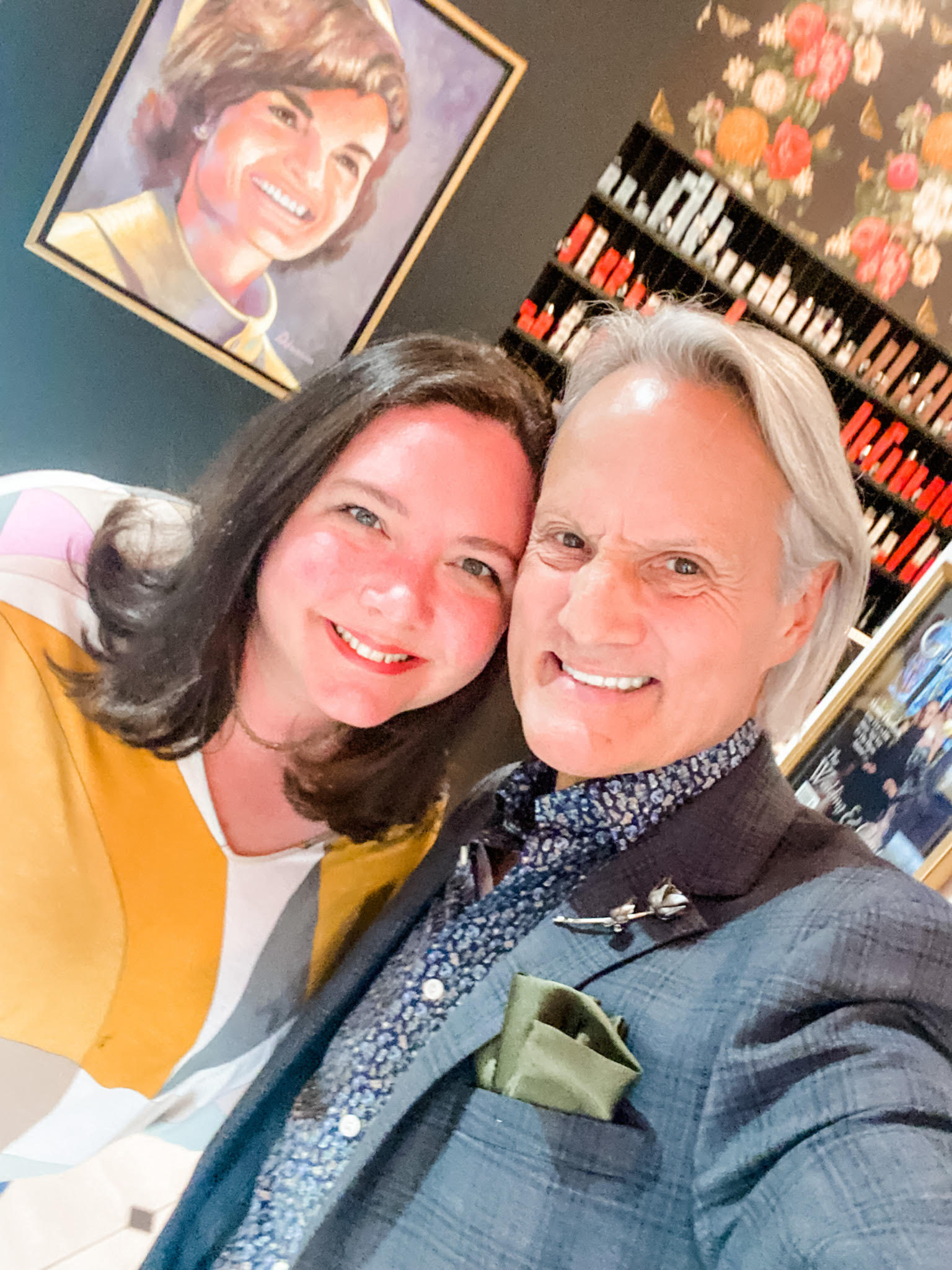 For further information about our trip, hotel, experience with the exhibit, and how Jackie consigned her clothes and made more money than she paid for them, you can visit our blog jetsetjiles.com.
ICYMI: Alexandria Chamber of Commerce Announces Its 40 Under 40 List for 2023
Post Views: 46