The 2023 Masters Tournament just wrapped up a little over two weeks ago, and it's probably got you thinking — "What are the best golf clubs that can help elevate my game," err, maybe more so, hit the ball in a straight line? The weather is warming up slowly around the country; before long, it will be sunshine and summertime. This means hitting the [driving] range, links, or simulators — which you have been using during the cold winter months, right?
Regardless of how you choose to hone in on your swing, one thing is sure: you must ensure your equipment is updated. Now is the perfect time to do a little golf gear audit and ask yourself, "What needs replacing, and what do I want to add this summer?" While poised as a simple question, the answer may not be as easy as it seems.
So, you know you need to upgrade some things. But where to look or what to buy can seem overwhelming if you start with an engine search. Thousands of results come up, but which is best? Allow us to help you along this endeavor. We curated the best golf clubs of 2023 to ensure you can hit the ball as well as Tiger in his prime or an escape shot as Lefty does, even if your game is nowhere near theirs.
Drivers
Ready to take your tee-off game to the next level? Here are the best drivers of 2023 to help you bomb it down the fairway.
Callaway Paradym Driver
Dicks:  $599.99
Callaway Golf:  $599.99
The Paradym driver series comes in three different models. These vary depending on what you seek in a club head and what type of hitter signifies your striking abilities.
Paradym  –  For those players looking for a high-launch height and a ball with less spin. Better for hit forgiveness and a tremendous overall club for players of all skill levels
Paradym X  –  Another club built for a high-launch point with the most forgiveness, especially those prone to slice shots
Paradym ◆◆◆  –  Compact club head transitions to a low launch and less spin with an overall neutral ball path
Why we like this driver
Resembling the body of an aerodynamically designed, midnight blue Lamborghini, the Paradym drivers were built with performance in mind. Their three models are suited for any ball striker looking to take their driving distance to the max. This is accomplished with the carbon composite chassis, which features a 360-degree weight redistribution. A thin titanium face sits in front of Callaway's newest AI feature, the "Jailbreak" system, which stabilizes and helps to enhance ball speeds exponentially while also coming in at a 33% lighter design. Innovation meets performance.
PXG 0211 Driver
Amazon:  $259
You don't always have to spend over half a grand nowadays to purchase well-made and high-performing clubs and irons. PXG has been redefining what it means to have premier quality at a more affordable price tag — and their latest driver, the 0211, offers just that.
Why we like this driver
The club head of this driver features a high-strength, razor-thin Ti412 titanium alloy which helps to generate significant ball speeds with substantial impact. This club is excellent for all ball strikers with an easy-to-hit club face, offers great forgiveness with less-than-stellar ball contact, and has a 1.7MPH faster ball speed with an improved distance of 5 extra yards than their previous model line. We're still in awe that a club with this high quality can be so affordable. Did we mention the impact sound it makes coming off the tee? Music to our ears.
TaylorMade Stealth 2 Driver
Dicks:  $599.99
Golf Galaxy:  $599.99
There are drivers, and then there is the TaylorMade Stealth 2 model — no golf club drivers list would be complete without one. As the golf industry slowly ushers in the new ear of carbon composite materials, TaylorMade is leading the way with its "Carbonwood Age." Looking like a suped-up Ferrari doesn't hurt the Stealth 2, either.
Stealth 2  –  Best for your typical average Joe golfer
Stealth 2 Plus  –  Creates a lower spin trajectory for golfers looking to curve the ball
Stealth 2 HD –  Offers the highest amount of forgiveness for those prone to slicing the ball
Why we like this driver
As the industry slowly moves away from titanium into the carbon era of equipment, TaylorMade is taking carbon design to its limits. Taking the already successful club of last year's model, they decided to double down, utilizing even more carbon and less titanium, with only a thin amount around the frame of the carbon composite face, with the Stealth 2—translation: lighter club face for launching golf balls to the moon. The new club face design also helps stabilize slightly off-center shots to help with swing forgiveness. No detail goes unnoticed, as the TaylorMade team even brought in engineers to create that perfect ping sound we crave when teeing off.
Hybrids
Helping to upgrade your long-distance golf game, here are the best new hybrids on the market today.
Mizuno ST-Z 230 Hybrid
Golf Galaxy:  $249.99
Rock Bottom Golf:  $249.95
The Mizuno ST-Z 230 is a beautiful hybrid that offers excellent playability for all levels of golfers. With their newest lineup of hybrids, Mizuno created this latest version to help maximize ball distance, developed in conjunction with their tour advisors.
Why we like this hybrid
A great club that offers less ball spin, a higher-than-average trajectory, and the ability to be adjustable checks off everything you will be looking for in a hybrid club. This hybrid has an energy-boosting steel clubface that helps create exceptional power and impressive ball speeds with the ability to adjust 4 degrees of loft to fine-tune your shots—a solid overall hybrid.
Ping G430 Hybrid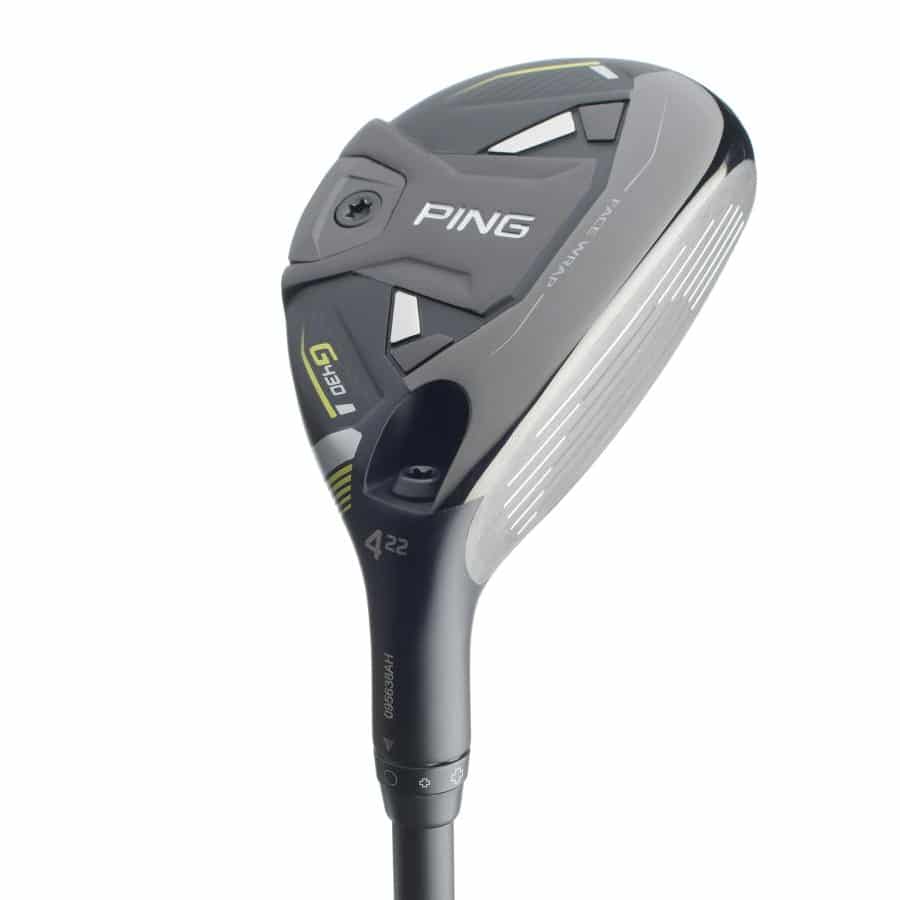 Dicks:  $299
Golf Galaxy:  $299
The goal of a hybrid club is to help each golfer maximize their shot potential, and sometimes the best way to do that is through advancing technologies — Ping Golf continues to lead that charge. With their latest innovations featuring a Carbonfly wrap, the G320 hybrid brings added ball speed and distance to each swing.
Why we like this hybrid
A slightly more oversized than average clubhead helps to ensure more forgiveness with each missed swing like this, keeping the ball more on target. The club also features a variable roll radius to help with "Spinsistency," as Ping likes to call it, which looks to improve overall performance by reducing ball spin while also helping to increase speed for added distance. The slick matte finish is also visually striking for this club.
Srixon ZX Mk II Hybrid
Dicks:  $249.99
Golf Galaxy:  $249.99
Srixon Hybrids continue to be a fan favorite for golfers whose play is well-above average, especially pros on tour. Packing a compacted design, their latest tech hybrid, the ZX Mk II, is sure to be a smash hit — pun intended.
Why we like this hybrid
Designed with a thinner face than previous models, this hybrid gets a slight boost in ball speed with a better-redistributed weight. It also is designed with what they call the "Rebound Frame," dual-flex zones help to initiate better power through the club face, transitioning that power into the ball, making sure you get the most distance on every strike. This hybrid will help your game's confidence with clean and consistent results.
Irons
The meat and potatoes of the golf clubs world are the best iron sets in 2023.
Callaway Apex Pro 21 Irons
Dicks:  $924.99
Golf Galaxy:  $1109.99
Utilizing the latest technology in A.I.-engineered software, Callaway went all-in on their latest version of the Apex irons, the Apex Pro 21, to bring unsurpassed results to each golfer. With the help of computer simulation, these irons were created with the goal in mind of boosting ball speed. The result is more distance on each shot.
Why we like these irons
Expertly crafted with a solid forged 1025-carbon-steel hollow body design, they also implement a tungsten energy core helping to improve overall ball launch while aiding in swing forgiveness. The perfect combination of craftsmanship, excellent ball control, club feel, and ball launch make this one set of irons sure to help your game.
TaylorMade Stealth Irons
Dicks:  $999.99
Golf Galaxy:  $999.99
For those looking to improve and lower their round scores, you cannot forget to include a set of TaylorMade Stealth irons in your golf bag. Some of the best "game-improvement" irons on the market, the Stealth clubs do just that by helping you make consistent ball contact with an improved launch and ball height.
Why we like these irons
Golf balls seem to fly off these clubs with each solid contact shot, thanks in part to their multi-material design and a dampening system known as their "Echo System," which is hidden in the back cap design and helps absorb unwanted vibrations upon ball contact. They also are some of the best-looking clubs on the market, fitting perfectly with the Stealth namesake, looking like an aerodynamic supercar design.
Titleist T100 Irons
Dicks:  $1299.99
Golf Galaxy:  $1299.99
There's a reason why Titleist is the number 1 irons pros use on tour — unsurpassed performance and absolute reliability. Already the industry standard when it comes to clubs, it takes innovation and the latest tech to keep pushing the envelope every year, yet time and time again, Titleist seems to find a way to do so. Their T100 clubs are some of their best yet.
Why we like these irons
By equipping these clubs with denser tungsten that utilizes a brazing process, as opposed to welding, they're able to save weight yet pack as much punch as possible into an ever-compact design, which Titleist loyalists will love. The result is a golf ball that seemingly blasts off each club's face efficiently due to the cradle club design that creates a continuous striking surface. To finish the almost perfect iron set, they took the feedback from the pros and opted for the ever-loved compact blade length, kept a minimal offset and thin topline, and decked it out in a beautiful brushed chrome finish — nearly perfect.
Wedges
Looking to take your approach game and hit each shot closer to the pin? Look no further than our favorite wedges.
Cleveland CBX Zipcore Full-Face 2 Wedges
Dicks:  $169.99
Golf Galaxy:  $169.99
Designed to help you get out of any ball location, the latest model CBX wedges offer full-face grooves with the largest striking area ever on this model club. These clubs are designed with spin in mind.
Why we like these wedges
These are a great set of wedges for all levels of hitters, from tour pros to those looking to shoot scratch golf with a significant amount of hit forgiveness. Newly designed tech Cleveland dubbed the "HydraZip," helps ensure a "mighty surface texture" (per their website) with the sole purpose of capitalizing on strike friction for excellent ball spin with every single hit.
Ping Glide 4.0 Wedges
Dicks:  $169
Golf Galaxy:  $169
Like many of the best wedge sets designed today, the Ping Glide 4.0 has a beautiful newly redesigned face blast with more added texture, causing extra friction for increased spin on each shot regardless of weather conditions.
Why we like these wedges
These wedges feature an 8620 carbon steel body construction with a built-in elastomer insert for a softer feel, while the blade has perfectly milled grooves for enhanced control. All this comes together in a lovely compact, rounded design with four specific grinds, depending on what type of swing-specific player you are, to match your exact preferred shot angle of attack.
Titleist Vokey Design SM9 Wedges
Dicks:  $179.99
Golf Galaxy:  $179.99
We've already said it once, but no list would be complete with Titlesit, and when we're talking about wedges, they need to be Vokey Design. Their latest model, the SM9, takes the cake; the epitome of performance meets craftsmanship.
Why we like these wedges
Those that know the game of golf know that these wedges are designed with two things in mind: high-performance engineering and artistry. The SM9 does that and so much more. The newest design of selected materials structures these clubs so that they produce a lower-flying ball but with way more spin, all without having to apply tremendous clubhead speed upon contact. Each wedge generates an exquisite, crisp little pop on the ball, allowing it to fly directly on target. As Bob Vokey loves to state of the new SM9s, "You're going to hit closer to the hole more often." We can't argue with that.
Bonus points: The clubs come in three breathtaking finishes: Tour chrome, brushed steel, or jet black. You cannot go wrong with any.
Putters
Putting is the component that can make or break your golf game. However, equipping yourself with one of these putters is almost like cheating.
PXG Battle Ready Blackjack Mallet Putter
Amazon:  $299.99
Many golfers struggle with putting partially due to losing stability throughout their stroke. Mallet putters do an excellent job at correcting this flaw — they are designed to help stabilize each stroke when even the most subtle of movements can affect a shot. If a stable putter is what you are looking for, then look no further than the PXG Battle Ready series.
Why we like this putter
Made from an aerospace-grade aluminum body and high-density tungsten, this putter has an exceptional weight and feel in your hands when you're looking to align each putt. Aligning each putt is a breeze, mainly due to a deep, bold primary white-colored sightline that pops out against the matte black body. It also has the ability of four different sole weights as a bonus to this putter.
Odyssey Tri-Hot 5K
Dicks:  $399.99
Amazon:  $399.99
Becoming synonymous with legendary quality and performance putters is the Odyssey brand. Since incorporating their "White Hot" polymer inserts, they have become an instant fan favorite and one of the most trusted brands on tour with the pros. This blade model takes that approach with a slight twist, widening it to make it almost play like a mallet putter.
Why we like this putter
Playing like a mallet putter, the Tri Hot 5K has excellent shot forgiveness, especially for off-center strokes, thanks to its multi-material, front-loaded, dense tungsten, which helps to improve the CG positioning (center of gravity), thus increasing inertia. The result is a more forgiving and better-performing putter that is still technically a blade putter. Better spin and consistency equals more putts drained.
Titleist Scotty Cameron Super Select
Dicks:  $449.99
Golf Galaxy:  $449.99
If you haven't guessed by now, Titleist makes the epitome of performance golf clubs — add in collaborations with skilled artisanal artisans like Scotty Cameron (see Bob Vokey Design wedges above). You couldn't make a perfect club if you tried. It's almost hard to fathom how a piece of art can perform as well as the Super Select putters.
Why we like this putter
Every year, Titleist Scotty Cameron putters seemingly make each newest model better. With the Super Select Newport 2 plus, they milled out more room in the heel and toe, helping manage those less-than-center hits and improving stroke forgiveness. Milled in the US, the club features 303 stainless steel in a solid clubface. It also combines a 6061 aircraft-grade aluminum in the sole of the club, designed to increase club stability. Clean line, milled sightline provides a superior putt alignment. The only thing this club won't do for you is sinking the putt.
Hitting the Links
Through ever-evolving technologies and materials, it's fantastic to see how far golf clubs have come within the past few decades. We have progressed exponentially since golfers played with brassies or mashies. These are some of the best golf clubs available today that can improve your game, regardless of skill level.