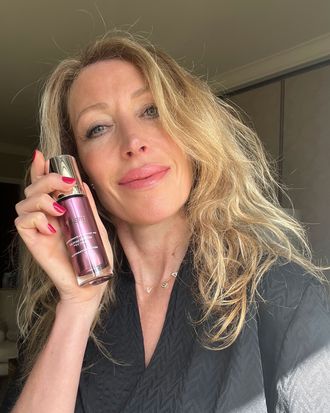 Eva Alexandridis grew up in Bulgaria and was first introduced to luxury products by her mother, an air hostess, who would travel to beautiful destinations and bring back things she had never seen before. As a young girl, Alexandridis would watch her mom spend hours getting ready for work. "She was very proud of her job and would spend time looking presentable," she said. "I always wanted to play with her products and had this fascination with beauty, but it was very unattainable for me."
This was the impetus for 111Skin. With Alexandridis's husband, Yannis Alexandrides, a world-renowned board-certified plastic surgeon, they wanted to create a line of highly effective and innovative products for his patients and those with sensitive skin. "He wanted results-driven products that would penetrate the skin without causing redness, tingling, or any kind of sensation that would stop people from using the line long-term," she says, which led him to make products later loved by the likes of Lady Gaga, Jennifer Aniston, and Victoria Beckham, and available in luxury retail stores and fancy spas like the Four Seasons in Anguilla. "We are very much about slow beauty rather than fast beauty," Alexandridis said.
Today, as CEO and co-founder, Alexandridis knows her mission: "My skin-care routine, the way that I dress, and everything in my life is very much about quality and valuing every single thing that you have, because I know what it is not to have things." While her husband is the expert on incorporating effective, scientifically proven ingredients in each product, Alexandridis is focused on the sensorial aspect — like the beautiful glass packaging, scent, and feel of the textures.
Alexandridis's simple approach to skin care stems from her childhood. "We had to be self-sustained with everything that we produced, and we had no access to western goods," she said. Now, as a CEO, wife, and mom, she still values quality products.
7:30 a.m. — I have to have quite a serious routine in order to accomplish all of the things I have to in a day. I always wash my face with a vitamin-C cleanser. I go to bed wearing a silk sleeping mask, and I feel like I really need to have a clean canvas again in the morning. I prefer complete silence in the morning, which doesn't always happen in the center of London.
7:37 a.m. — After I cleanse, I apply either a hyaluronic-acid booster or a cryo booster, and that's it. These products are easy and prepare my skin for my workout.
7:45 a.m. — I prepare breakfast with the kids, which is a big affair. (Even my son, who is 12 years old, knows how to make açai bowls.) Or we will prepare our own pancakes and eggs. I personally don't have breakfast first thing in the morning, but I enjoy sitting with my family. But I have lemon water and grapefruit juice.
8:00 a.m. — After breakfast, I take a walk with my kids to drop them off at school. This is my precious quality time with them. I drop one off at the bus and the other at the Tube station.
8:30 a.m. — I come back home, and on the days when Yannis is here, we have one personal-training session together, which we do on Tuesdays. And on Fridays, we do yoga together. The rest of the days, I run in the park. Running is very important to me — rain, shine, snow, or hail. I love starting my day with fresh air and thinking about my goals.
9:32 a.m. — When I come back from my workout, that's when my normal get ready routine starts. When I shower, I like to use the Aman Essentials body scrub. Then I use a tiny bit of my vitamin-C face wash again — like half a pump. If you have good face wash, a small amount goes a long way.
9:40 a.m. — After I shower, I begin my skin-care routine with an essence. My husband and I have a bit of an addiction to our antioxidant essence — it's one of the very first products we launched alongside our serum. We love it, because it's packed with antioxidants and preps the skin for the rest of my products.
9:41 a.m. — Next, I layer on the 111Skin repair serum, Black Diamond eye cream, and the repair day cream.
9:42 a.m. — I finish with a bit of makeup. I like the Gucci Westman foundation and highlighter stick. Because I wear very little makeup, I have a little beauty hack: I usually put just a drop of my hyaluronic-acid booster if I want more hydration (or if I have a night out, a drop of the rose-gold booster, which has radiance) and mix it with this foundation. My go-to lipstick is a classic Charlotte Tilbury Pillow Talk.
6:32 p.m. — I love winding down for the evening with cryotherapy. We have our 111Skin full-body cryo chambers at Harvey Nichols and Harrods, so from my office, I go straight to cryo. It's a three-minute, super-invigorating process. It does give me energy and clarity of the mind, but a few hours later, I sleep so much better, because you burn so many calories, which tires you out.
7:02 p.m. — After I get home, if I have some time to myself while I'm waiting for my kids and husband to come back. I'll either apply a face or eye mask or use my Celluma professional LED light-therapy device. I'll put on a podcast and sit under the light, which, to me, is a perfect night in.
7:30 p.m. — For nighttime skin care, I cleanse again and repeat the same simple steps as in the morning. I don't have a multistep regime. I use three to four products. Instead of an essence, I use the Celestial Black Diamond Retinol Oil and let it sit and absorb onto my skin. I'm 47, so retinol has been a very important part of my regime. Instead of a serum, I apply the Black Diamond eye cream, which is for combatting visible signs of aging, and a night cream.
My makeup routine takes less time than my skin care. I'm a big promoter of "less is more" when it comes to makeup. You don't want to mask. And if you take good care of your skin, you won't have to. I view skin care as such a vulnerable process. You use your hands to touch and apply products — it's quite a sensorial part of my morning. This is a good time to give yourself credit for who you are, look at yourself in the mirror, and say something positive.
We've had our company for many years, so we've seen a lot of shifts in the industry. In the beginning, there were very few launches. Then in the last few years, we've observed the opposite. All of these new launches are from corporate or incubator brands created in a boardroom, bragging that they've taken products from idea to launch in 12 weeks. I think it's shameful for the industry, because in order to test the product, you need a minimum of nine months. So if you're bringing something to market in less than three months, it's a ready-made formula with potentially very good marketing but nothing else.
My hope for the beauty industry is that, instead of overly bombarding people with thousands of new products that are launching every minute, we can teach people that skin is our largest organ. It's an ecosystem, and it's very important to treat it with a lot of respect. There's a science to skin care that should be met with knowledge and research, and in order to treat your skin right, it needs quality products.
My husband is a doctor, and he's against using parabens, paraffins, and silicones, so we avoid testing with those ingredients. We don't use any glycolics in our products. We're not against glycolics — if you come to my husband's clinic, there are prescription glycolic products available — but we believe that certain ingredients are better used by a doctor under special conditions, since they can be quite strong. If you overuse them at home, they can do irreversible damage on your skin. We make sure that, even if you overuse our products, we use ingredients that won't give you long-term damage.
It's definitely our original repair serum, which has helped me tremendously over the years. I think if it wasn't for this product, the brand wouldn't exist. It was created to help Yannis's patients recover faster after surgery. So it's very much about everyday healing of the skin. It helps with everything from dermatitis to rosacea and all sorts of other skin conditions. It's one of these products that heals the invisible damage of the skin. You don't have to have visible damage to use a healing product. My other hero product is all of the sheet masks. I can't pick one — I love them all.