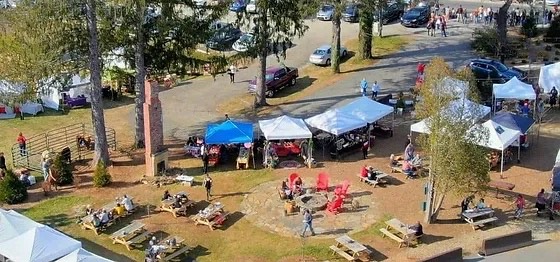 Join us every Thursday from 4-7pm when our community of farmers and artisans gather to socialize and share the abundance of these beautiful mountains!
Located outdoors in the grassy lawn at Homeplace Beer Company and Hog Hollow Wood Fired Pizza in downtown Burnsville. Dogs are welcome!
There are so many rotating local offerings including produce and plants, baked goods (gluten free and vegan options available!), culinary mushrooms, cut flowers, mountain crafts, photography, jewelry, beeswaxed canvas packs and totes, freeze dried fruits and candies, kettle corn, pet treats, pottery and more! There is something for everyone! We love to encourage and support our young entrepreneurs too so you can often find a table of eggs or handmade crafts like wooden swords, jewelry or soaps from the young people in our community.
Whether you live here or are just visiting, stop by and chat with your neighbors or find a special piece of the mountains to take home with you.
Enjoy a craft beer from Homeplace while you peruse the market, enjoy the great food, homemade sauces and specials from Hog Hollow and stick around for live music on the stage. You'll be looking forward to Thursdays!
The Appalachian Farmers and Artisan Market
When: Every Thursday from 4-7pm
Where: Homeplace Beer Company & Hog Hollow Wood Fired Pizza
321 West Main St, Burnsville, NC
Connect with us!
www.theappfam.com
Facebook www.facebook.com/AppalachianFAM
Instagram www.instagram.com/appalachianfam