The elite smartwatch market is a funny place. It's full of products that, upon first, second, and even third glance are hilariously expensive. Yet, it's a popular market so here's another new model: the Suunto Vertical.
But they exist for people who want to:
1: Track absolutely every bit of data from every activity, from heart rate and VO2 Max to training load, intensity and volume, from sleep patterns and calories to recovery periods;
2: Take their watch into the wild places for days on end knowing that the battery is very unlikely to run out and if you throw it – or yourself – at a rockface or into a river, the watch won't complain in the slightest;
3: Compete with themselves, with yesterday, with last year and with others;
4: And enjoy every kind of smartwatch functionality from music control and text messaging to contactless payment and multiple lifestyle apps.
If you're the kind of runner or walker who is just looking to pinpoint their location and record their adventures and/or mileage, then slimmer, sleeker, cheaper fitness trackers do those jobs just fine. They'll even offer varying degrees of fitness tracking and general smartwatch functionality too.
The leaders in the upper smartwatch echelon are Garmin, Coros (both US-based) and Finnish brand Suunto. But Suunto, we've found, have somehow all too often been the backmarkers in the race. Plenty of innovation, usually beautiful to look at, but often lagging behind in crucial areas like speed of GPS location or sync, battery life, or simplicity of interface.
The brand new Suunto Vertical is here to change that. I've had this sample for two weeks but already I can see that serious energy has been ploughed into making this a genuine competitor against those other big beasts.
Features and design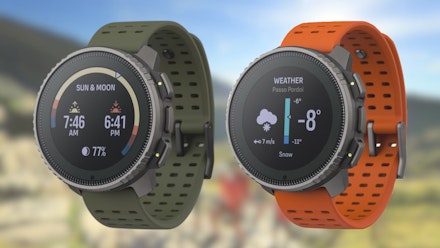 You can see the Suunto Vertical retains all the aesthetic elegance that makes it distinctly Suunto. Rival brands might have historically won in specs, but Suunto watches are always the most attractive thanks to their thin bezels and subtle buttons.
The Vertical comes in two versions with four colours for each version. One has a stainless steel bezel, the other titanium. The Titanium version also has solar charging.
Battery life claims are becoming crazier all the time, and Suunto makes a big deal out of the Vertical's battery life. But in the case of the Vertical, both versions are impressive but the Solar model's figures are truly insane:
Daily use without heart rate monitoring: 60 days
Daily use with daily heart rate monitoring: 30 days
Training mode (Tour): 500 hours
Training mode (Performance): 60 hours (or 85 hours with solar energy collection)
The other key point about the Suunto Vertical is its offline maps. Suunto are screamingly proud of the free offline mapping on this watch. First impressions dictate it's a good idea. Offline maps in the wilderness? Naturally. But we'll see how that works in practice.
Performance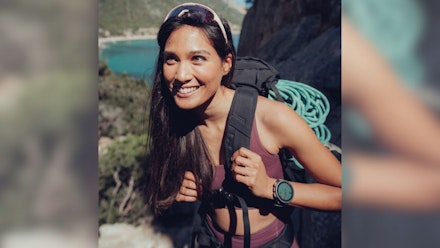 ©Suunto
Battery life
The stats for the Vertical Solar are incredible. For comparison, look across at the Coros VERTIX 2, which has 140 hours of continuous multi-satellite tracking, or a month of regular GPS usage.
From a simple user's point of view, I charged it fully when I got it, I've managed two weeks of GPS-tracked walks, runs and bike rides, and it's still on 73%. That's impressive.
The top-of-the-range solar variant apparently provides at least 30% more power on sunny days. Quite how you measure or check this isn't clear. But it feels like a good thing, even if you can't see the benefit from moment to moment.
Offline maps
I wondered who exactly is crying out for a small patch of text-free generic topo mapping on their watch. To be frank, I struggled to work it out. There are a wealth of apps sitting on your phone that can offer the same, or much better offline mapping, on a full, bright, easily interactive phone screen. Even the wildest trail runner probably has a phone with them, don't they? (Or even an actual paper OS map.)
So yes, if your phone's packed up/frozen/damaged/discharged and your paper map blew away, it's nice to be able to consult the watch mapping for an immediate location fix and likely escape route (especially with no signal). But other than that, I'm not sold on why we should believe that watch-based mapping is the future.
I do wonder if it's because the Europe and US markets don't have mapping as beautiful and detailed as we do thanks to Ordnance Survey and Harvey Maps. We're so spoilt.
Accuracy
The Suunto 9 Peak Pro was always pretty accurate in its positioning and tracking, as indeed are its rivals. The new Vertical makes use of a dual-band GNSS system, and what I think has improved – drastically – is speed of location.
Previous models, including the 9 Peak Pro, would sometimes sit buffering in search of satellites for up to two minutes while Garmin and Coros were yelling 'LET'S GO!'. Not anymore. By the time I've left the house and walked down the drive, it's got me. Likewise, if I travel halfway across the country and start a track in my new location, provided I can see the sky, it'll find me within a minute.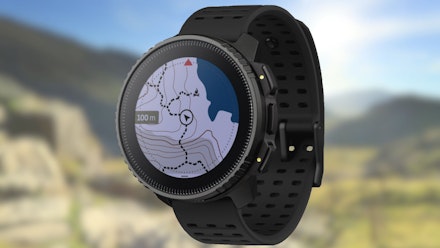 Interface
Previous Suunto watches were confusing to use, especially to anyone brought up on the simplicity of Apple. Now, though, Suunto have put themselves on a much more level field with the rivals. There are three buttons, all very simple. Up is up, down is down, middle is select. The touchscreen interface is good too.
There are 97 pre-set sport modes to choose from (Roller skiing? Telemark skiing? Snorkelling? Cheerleading? Frisbee?). And more can be customised, much to the relief of all those Greco-Roman water pogo-stickers out there. They're easy to select too. And if you just want to set Florence + The Machine blasting out of your phone (and turn it up or down) you can do that easily; likewise handling text messages.
And one final delight: while its rivals will often end an activity by flashing an immediate report that says 'unproductive' or 'no effect' (is there anything more soul crushing? Especially when I loved that run, or enjoyed climbing that mountain) Suunto have learned a lesson here and the first message that flashes up when you finish is "How Was It?" YES! Let ME decide how good I thought that was, before you start lecturing me! Clever.
Suunto app
The Suunto app was already brilliant, and that hasn't changed. Clean, bright, presenting all the key information from an activity in useful form. The app is a joy to use, especially if you like importing or exporting tracks to and from other platforms, e.g. OS Maps or Strava. It has great fly-throughs of your routes too.
The speed of sync has improved. This used to be pretty laggy on the previous models, not just initially but after importing activities, when the 'updating GPS' wheel would spin for minutes and make me paranoid about swiping it off so I could review my freshly-minted walks and runs. This seems to be sorted, and the whole sync process is now quick and painless.
Comfort
I definitely feel the heft of it given the enormous 49mm diameter and 13.6mm depth. The Titanium Solar model I've been using is 74g, making it lighter than both the Garmin fenix 7 Solar (75g) and Coros VERTIX 2 (87g). The stainless steel version is chunkier at 86g.
Given the large dimensions, I suspect I'd feel that pretty acutely on the go. That said, I really do value the large size of the face and the clear typography and graphics. I'm 47 y'know. My eyes ain't what they were – especially when I'm running and it's broad midsummer daylight.
The strap is OK too. Smartwatch watch straps tend to be much of a muchness, but this one is decently breathable, lightweight and not too sticky, even after 10 hot miles along the Norfolk coast.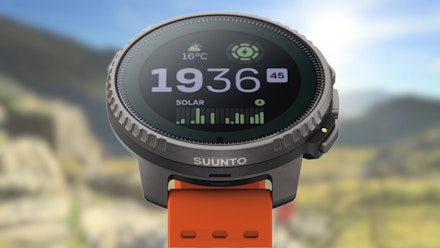 Construction
There is absolutely no questioning the build quality really, especially on the grade 5 titanium version. And nor should there be given how much this watch costs.
Both versions come with sapphire glass, which can bang, scrape or crunch against dense gabbro and still look like it's ready for Oscar night. It's all tested to military grade (MIL-STD-810H, it says here) and waterproof down to 100m.
Sustainability
This is something that sets Suunto strongly apart from its rivals. The Vertical is made in Suunto's factory in Finland, which runs off 100% renewable energy.
Suunto also calculates the lifetime carbon footprint of each product and offsets that footprint via Tree Nation reforestation project.
Suunto has a very good international service network too. In 2021, 72% of the products its service centres reported were repaired irrespective of age or of the warranty status.
It acknowledges there is a lot of work to do in some areas such as conflict minerals, but states it is working to replace the use of them where it can.
Verdict
This is a tremendously impressive smartwatch that genuinely rivals the Garmin fenix 7 range and Coros VERTIX 2 on every area of the playing field, from astonishing battery life to easy interface. And it still looks as beautiful as the Suunto 9 Peak Pro, whose smooth circular simplicity and clear face displays have always been more aesthetically pleasing than the chunky, prosaic lines of its rivals.
The Suunto Vertical completely changes the smartwatch game per se, even with its incredible battery life. But it definitely does bring Suunto onto an even footing with the offerings of its rivals.
1. Suunto Vertical Titanium Solar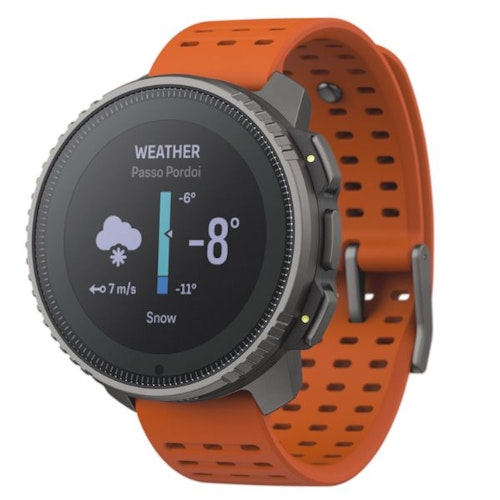 Description
[Check out the non-Solar version
Pros
Looks better than rivals
Very impressive battery life
Fast GPS location
Solar and standard versions
Excellent app
Cons
We're not sold on offline maps
Main display not as large or clear as rivals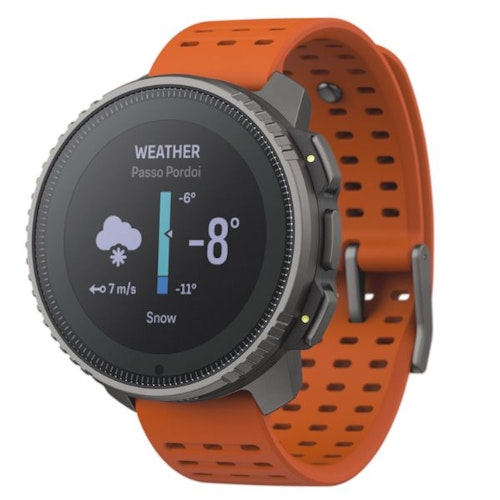 Get half-price digital OS Maps! Trail and Country Walking magazine members get 50% off an annual subscription to OS Maps for 12 months! Find out more here.
Don't forget to subscribe to the Live For The Outdoors newsletter to get expert advice and outdoor inspiration delivered to your inbox!