District Detroit project helps city continue to compete on national, global scale; May Mobility expanding autonomous shuttle fleet in Ann Arbor, creating 300 high-wage jobs; LJ, Inc. to establish first autonomous dredge company in the world in Shiawassee County; MSF support for Statewide Housing Plan underscores Team Michigan's whole of government approach; Revitalization projects create new housing, placemaking improvements in Haslett, Manistee, Marquette
LANSING, Mich. – Governor Gretchen Whitmer joined the Michigan Economic Development Corporation today in announcing Michigan Strategic Fund approval of a wide range of projects underscoring the state's dedication to making Michigan a business-friendly state and supporting projects that create places for talent and visitors alike to enjoy and build a future. Today's projects will strengthen Michigan's leadership position in future mobility and advanced manufacturing, and revitalize communities across both peninsulas.
"Today's economic development approvals will create over 6,400 jobs, build nearly 700 housing units, revitalize downtowns across the state, and advance Michigan's leadership in the future of mobility," said Governor Whitmer. "Year over year, our economy has added 75,000 jobs, and we are building on our strong economic momentum with today's investments. Our economic development strategy is an all-of-the-above approach, as we simultaneously work to bring manufacturing jobs and supply chains home while building housing and investing in community revitalization efforts. Together, we will make Michigan the best state to live, work, and invest. Let's keep getting it done."
The District Detroit will bring $1.5 billion investment, 6,000 permanent jobs to Detroit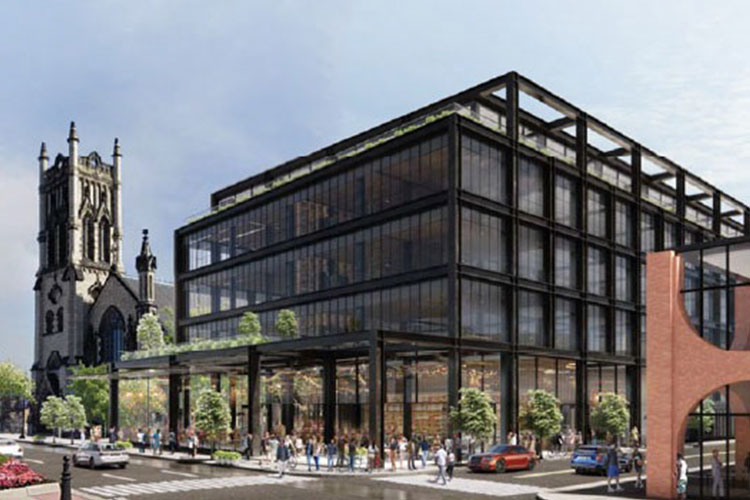 Related Companies and Olympia Development of Michigan (ODM) received MSF approval of a Transformational Brownfield Plan for its project, The District Detroit, a mixed-use development that includes the rehabilitation of four buildings, three of which are historic, and construction of six mixed-use buildings in an area of Detroit anchored by Little Caesars Arena. The projects include mixed-use buildings for retail and office spaces, residential units, and a four-story Detroit Center for Innovation Incubator, as well as the adaptive reuse and renovation of the historic Fox Office Building into a hotel. The four residential projects will include a total of 695 units, with 139 units reserved for residents with incomes at or below 50 percent of area median.
When completed, the 10 projects will link downtown, midtown, and surrounding neighborhoods and aim to attract leading businesses, entrepreneurs, institutions, and innovators, through innovation that is anticipated to propel job creation and inclusive economic growth in Detroit. The planned urban density and modern design of planned office and commercial space will be highly attractive to new businesses seeking to locate and expand, making Detroit nationally and internally competitive for new talent and businesses.
The completed project is expected to generate a total capital investment of $1.53 billion, create 12,000 construction jobs, and when fully occupied, could result in the creation of up to 5,790 full-time jobs. MSF today approved a Transformational Brownfield Plan valued at $614.9 million that authorizes several sources of tax capture in support of the project:
State tax capture of up to $167,739,071;
A maximum of $11,422,200 in construction period tax capture;
A maximum of $38,114,899 construction period sales and use tax exemptions;
A maximum of $352,361,674 in income tax capture revenues and withholding tax capture revenues (post-construction).
The city of Detroit is supporting the project through the local property tax capture portion of the Transformational Brownfield Plan, local tax abatements under the Neighborhood Enterprise Zone Act and Commercial Rehabilitation Act as well as a Payment in Lieu of Taxes to support the 139 units of affordable housing. The abatements, given to projects once completed, in total are valued at approximately $133.3 million across the sites over the full term. The developer has also secured up to $25 million in financing from the city of Detroit Downtown Development Authority to support infrastructure expenses. For the first time ever, the Detroit DDA has also authorized $23.8 million in forgivable loans to fund the affordable housing components of the mixed-income developments.
Related Companies and Olympia Development joint venture brings a 10-building world-class real estate development to Detroit. Related Companies' community-building experience and proud history as the largest private owner and preservationist of affordable housing in the nation, combined with Olympia Development's steady progress in The District Detroit and decades-long experience designing, building, renovating and operating dynamic multi-use venues such as the Fox Theatre, the award-winning Little Caesars Arena and Comerica Park, has enabled the two companies to identify significant opportunities for future development.
May Mobility's expansion in Ann Arbor focuses on growing its autonomous vehicle fleet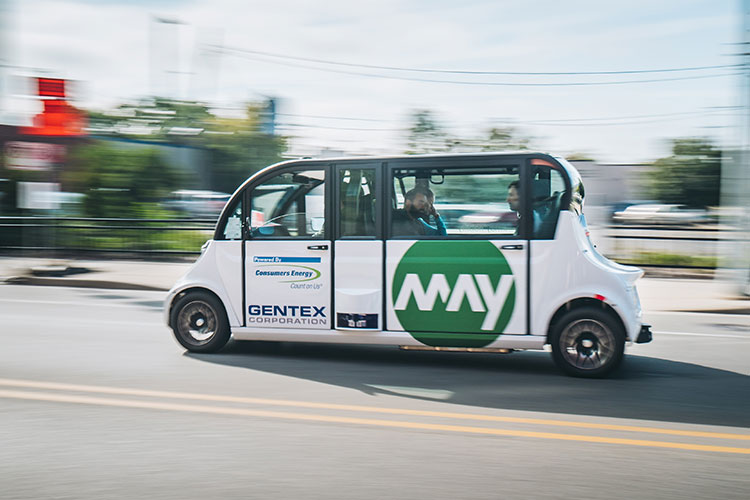 May Mobility, Inc., headquartered in Ann Arbor, deploys autonomous shuttles to help people get where they need to go safely and easily. The company operates in several cities across the U.S., offering transportation as a service, sold to enterprises and municipalities as a fully managed fleet of shuttles. The company has become the market leader in autonomous vehicle deployments in four cities across three states, all on public roads. The company's shuttles move people between high-value points of interest within urban centers, filling a transportation gap between ride-hailing, scooters, and buses. May Mobility currently has 197 employees in Michigan.
The company is experiencing significant growth and plans to expand its autonomous vehicle shuttle fleet as well as its engineering and operations staff. May Mobility plans to expand at its existing location in Ann Arbor, where it will add IT equipment and expand its engineering capabilities.
The project is expected to generate a total capital investment of $18 million and create 300 high-wage jobs over the next three years, supported by a $3 million Michigan Business Development Program performance-based grant. The company chose Michigan for the project over competing sites in Boston, Silicon Valley, Pittsburgh and Tokyo, Japan because it has become an integral part of the Ann Arbor community and has developed strong relationships with the local university as well as with public and private partners.
The project builds on the state's work to position itself as the global leader in the future of electric vehicle manufacturing and mobility. The new positions will relate to a variety of areas including autonomy and AV platforms, product, production, and software development, with an average wage of $67.31 per hour plus benefits. The company will also continue to build out its corporate business function and executive management team.
Ann Arbor SPARK has offered to assist the company in recruiting candidates for the new positions and will continue to work with the company to find additional support for its mobility initiatives. Individuals interested in careers with May Mobility should visit https://maymobility.com/careers/.
In August 2020, the company announced it was looking to expand all aspects of its services, including enhancements to its Autonomous Vehicle (AV) shuttle fleet, a project that will generate a total private investment of $11.8 million and create 100 high-wage engineering and tech jobs in Ann Arbor. The Michigan Strategic Fund awarded the company a $700,000 Michigan Business Development Program performance-based grant in support of the project.
In July 2019, MEDC's mobility initiative teamed up with May Mobility, the city of Grand Rapids, and nine Michigan companies to form the Grand Rapids Autonomous Vehicle Initiative (AVGR). The coalition – a first of its kind – brings together enterprise and infrastructure to gather and analyze critical information with the goal of understanding the usage of autonomous vehicles in a city environment. The May Mobility fleet operates complementarily to the city of Grand Rapid's existing DASH transportation fleet.
LJ, Inc. constructing new facility in Shiawassee County, manufacturing autonomous dredges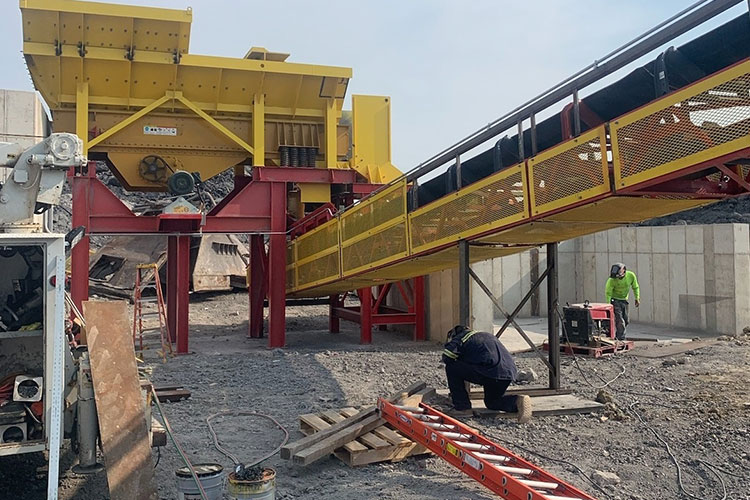 Founded in 2010 and headquartered in Swartz Creek, LJ, Inc. is a family-owned advanced manufacturing company providing electrical, fabrication, automation and robot integration solutions, controls engineering, HVAC and computer service needs. The company currently has 115 employees in Michigan.
LJ continues to grow and is purchasing 50 acres of land in Venice Township, where it will construct a 150,000-square-foot facility to house the manufacture of autonomous dredges. The project will result in the first dredge company in Michigan and the first autonomous dredge company in the world.
The project is expected to generate a total capital investment of $18.25 million and create 250 jobs with the support of a $2.5 million Michigan Business Development Program performance-based grant. The company chose Michigan for the project because of its established relationships with suppliers and the community.
The project will bring good-paying advanced manufacturing jobs to the region. LJ provides full benefits to its employees and hires workers with challenged backgrounds, empowering them to learn new trades and providing them with on-the-job training and apprenticeship opportunities.
The Shiawassee Economic Development Partnership anticipates approval of a property tax abatement in support of the project. MEDC has also authorized a State Education Tax abatement to be used in support with the local abatement.
For information on careers with LJ Inc., visit https://ljinc.biz/employment-opportunities.
Hotel Ventures bringing new hotel, marine launch to downtown Manistee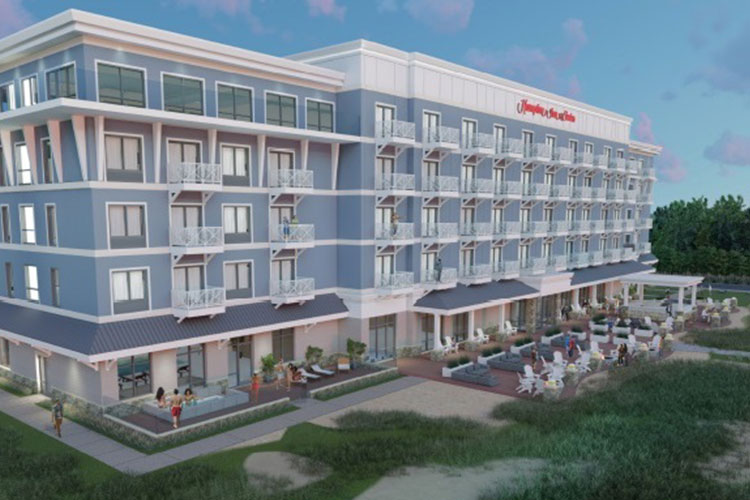 Hotel Ventures Manistee, LLC plans to redevelop a vacant, single-story motel property located at 101 S. Lakeshore Dr. in downtown Manistee. The completed project will consist of a new five-story hotel with 102 guest rooms, an onsite restaurant, common space, and a connection to the surrounding public park along Manistee's Lake Michigan waterfront. The project will also include public infrastructure improvements such as a new curb and sidewalk, bike lanes, new and restored public parking areas, a new marine launch for public marine access, and more.
The project is expected to generate a total capital investment of $27.6 million and create 45 full-time equivalent jobs, supported by a $2 million Michigan Community Revitalization Program performance-based loan participation. In addition, the City of Manistee Brownfield Redevelopment Authority received MSF approval of $808,701 in state tax capture for the reimbursement of brownfield activities at the site.
By creating a vibrant downtown experience and bringing a much-needed hotel, offering new access to Lake Michigan, the project will help generate new visitor spending in the community. It is also expected to result in new commercial and retail operations in the area.
The city of Manistee is supporting the project with a 10-year Commercial Rehabilitation Act abatement valued at $1.2 million and through approval of the local portion of the brownfield plan, valued at $453,294. The city of Manistee is certified with MEDC's Redevelopment Ready Communities program.
Vacant property in heart of Haslett gaining housing, commercial space, public plaza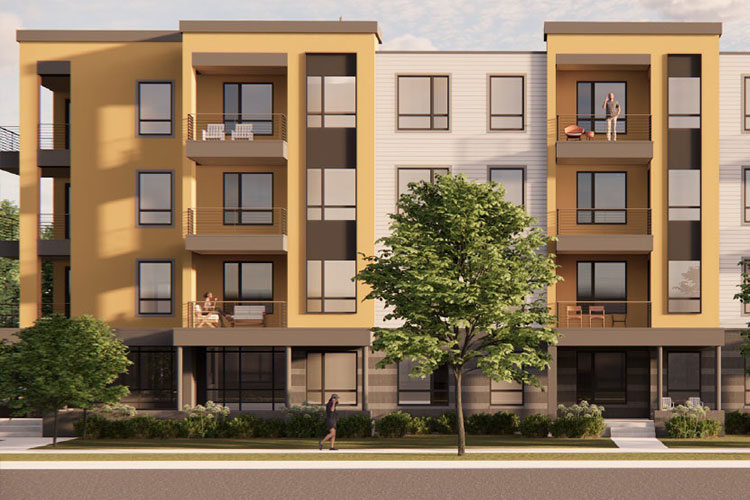 SP Holding Company, LLC plans to redevelop a 19-acre vacant and underutilized property in the center of the village of Haslett's business district. When completed, the project will include 289 market-rate residential units consisting of apartments, stacked flats, and townhomes. It will also include 21,000 square feet of commercial space with two restaurants and a community center. The project will also make public infrastructure upgrades including a public plaza, dog park, green spaces and public sidewalks.
The project will revitalize a long-unused, mostly vacant property in the heart of Haslett's commercial district, bringing new vibrancy and commercial activity to the community. The new community center will provide space for events and social activities by adding covered and open terraces with fire pits, an outdoor pool with sun deck, a playground, and facilities for food trucks.
The project is expected to generate a total capital investment of $68.2 million and create 38 full-time equivalent jobs. The Township of Meridian Brownfield Redevelopment Authority received MSF approval of $2,148,939 in state tax capture for the reimbursement of brownfield activities at the site.
Meridian Township is supporting the project through the approval of the local portion of the work plan valued at $201,134 and a 10-year Commercial Rehabilitation Act tax abatement valued at $3.6 million. Meridian Township is certified with MEDC's RRC program.
Former Marquette General Hospital property gains MSF approval for brownfield activities, preparation for future development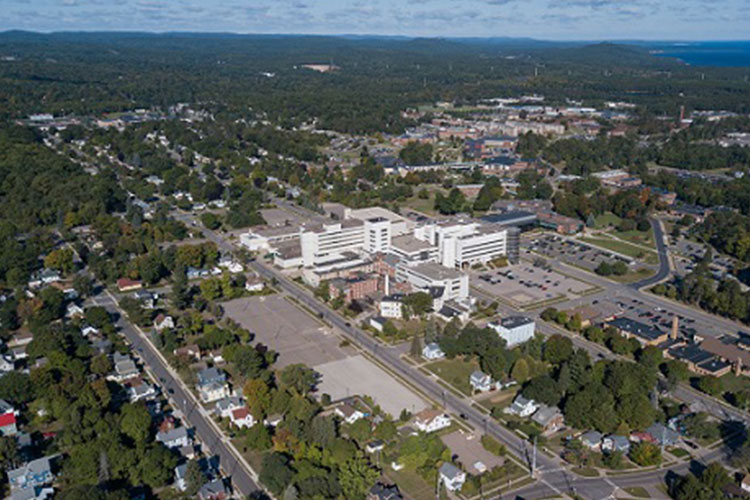 The City of Marquette Brownfield Redevelopment Authority received MSF approval of $3,835,399 in state tax capture for the reimbursement of brownfield activities at the City of Marquette Blight Clearance Project in Marquette. The project will include the demolition of buildings at the site of the former Marquette General Hospital as well as structure and site demolition and lead, asbestos and mold abatement.
The city expects that eliminating the functional obsolescence conditions at the site will spur future private investment, pedestrian activity and connectivity for Northern Michigan University neighborhoods.
In February, the Michigan Strategic Fund awarded up to $8 million in Community Development Block Grant (CDBG) funds for the project that will be wholly dedicated toward blight elimination at the site. The tax capture approved today includes reimbursement for the remaining eligible activity costs that were not included in the CDBG award.
Located near the Northern Michigan University (NMU) campus, the site is an attractive location for much-needed housing and other amenities that could complement the neighborhood, NMU, and nearby 3rd Street business corridor. An economic feasibility analysis shows the viability of an estimated $166 million mixed-use development, featuring a wide range of housing, retail and commercial space, and greenspace and pedestrian corridors to better connect the development and surrounding neighborhoods to NMU's campus.
The total estimated cost for MSF brownfield non-environmental activities is $8,246,000. The project is supported by regional economic development partner InvestUP, the Northern Michigan University Foundation, local legislators, community stakeholders and residents. The city of Marquette will serve as the grantee of the project and will provide expedited review and permitting as part of the project process. The city is certified with MEDC's Redevelopment Ready Communities (RRC) program.
The Michigan Strategic Fund also took the following actions today:
Approval of $20 million in Community Development Block Grant funds to be awarded to the Michigan State Housing Development Authority to meet the goals of the 2022 State of Michigan's Statewide Housing Plan, which has the goal of building or rehabilitating more than 75,000 housing units in the next five years. The transfer of the CDBG program to MSHDA is intended to jumpstart the execution of the housing plan.

Teams at MEDC and MSHDA have been committed to supporting the expansion of workforce and affordable housing across the state. Today's change will allow more flexible funding to promote housing innovation and ensure the state can get funds out the door more quickly to build more housing faster.

"Positioning these CDBG funds within MSHDA gives us more resources to address the lack of affordable housing across Michigan," said MSHDA Executive Director Amy Hovey. "We will move swiftly to deploy grants in a way that removes barriers to housing for families, neighborhoods and communities."

Approval of a bond authorizing resolution in the amount of $110 million for tax-exempt private activity bond financing for DTE Electric Company to construct and equip solid waste facilities to handle and dispose of solid waste at the company's Monroe Power Plant and St. Clair Power Plant.
Approval of an allocation of $7.5 million from the Business and Community Development Programs to the Build Ready Sites Program for two awards:

 LEAP – $2.5 million for site control and due diligence, multiple sites
Flint & Genesee Chamber Foundation – $1.5 million for site control and due diligence, infrastructure improvements at the Advanced Manufacturing District of Genesee County.
The MEDC real estate development team has been working collaboratively with local economic development organizations focused on proactive site readiness for megasites and strategic sites in Michigan. Today's funds will be used to gain or maintain property control and conduct due diligence activities toward determining site feasibility and viability. For Michigan to gain a competitive advantage in business attraction and expansion projects, it must assist with the development and enhancement of sites to make them investment ready and competitive for site selection.
"Today's MSF approvals represent Michigan's culture of innovation and commitment to leading the way by spearheading new technologies, processes and creative solutions that make a tangible difference in the lives of our friends and neighbors," said Michigan Economic Development Corporation CEO and Michigan Strategic Fund President and Chair Quentin Messer Jr. "We are grateful to Governor Whitmer, legislators from both parties, and local officials for their continued support for our Business and Community Development programs. We appreciate the ongoing hard work of the Michigan Strategic Fund board, and know that the shared work and learnings continue in the weeks and months to come. The projects approved by the MSF today – from Ann Arbor and Detroit to Manistee and Marquette – highlight the power of 'and' through our dedication to making Michigan a business-friendly state and developing and creating places for Michiganders and visitors to enjoy. "
Related Companies, a global real estate and lifestyle company defined by innovation, is one of the largest private owners and preservationists of affordable housing in the U.S. and a fully integrated, highly diversified industry leader with experience in virtually every aspect of development, acquisition, management, finance, marketing, and sales. Headquartered in New York City, Related has offices and major developments in Boston, Chicago, Los Angeles, San Francisco, West Palm Beach, Miami, Washington, D.C., and London, and boasts a team of approximately 4,000 professionals.
Related Olympia Predevelopment Company, LLC is a joint venture of Olympia Development of Michigan (ODM), LLC and The Related Companies, LP. ODM, an Ilitch company, is a real estate development firm largely focused on the Little Caesars Arena and the surrounding properties. Related is a New York-based real estate firm with major developments in cities around the world. Its most recent development, Hudson Yards, on Manhattan's West Side, is the largest private real estate development project in the history of the United States.
Local voices in support of today's projects:
May Mobility:
"May Mobility started in Michigan, and I'm excited about our future growth here. This grant will boost the development and deployment of our autonomous vehicle technology," said May Mobility CEO and co-founder Edwin Olson.
"May Mobility's growth is a remarkable demonstration of the innovative and entrepreneurial spirit of our region, and it is bringing state-of-the-art mobility solutions to our community, making it more convenient for our residents to get around," said Pittsfield Township Supervisor Mandy Grewal.
"May Mobility's success is a testament to the strength of our region's mobility ecosystem, and their continued growth will help further establish Ann Arbor as a global leader in mobility technology," said Paul Krutko, president and CEO of Ann Arbor SPARK.
"What an exciting time to grow our economic base," said State Representative Felicia Brabec (D-Pittsfield). "May Mobility is committed to expanding their business which was founded in Ann Arbor in 2017. By adding 300 high wage jobs to our area, May Mobility is adding to our economic vitality. This $3,000,000 grant from MEDC will allow them to grow in all the ways necessary to sustain their innovative business which focuses on transportation accessibility throughout Washtenaw County. What a fantastic investment!"
LJ, Inc.:
"We are very excited to welcome LJ, Inc.'s expansion into Shiawassee County," said Shiawassee Economic Development Partnership President/CEO Justin Horvath. "This is a very successful, highly diversified business that provides quality, good-paying jobs for our area's residents, and their proposed new facility will definitely help to sustain their growth. We are currently working collaboratively with government officials to secure necessary local approvals, and are very grateful for the support the Michigan Economic Development Corporation and Michigan Strategic Fund is providing to help the company make their investment in our community."
"We are excited for the opportunity to set up our new headquarters in Shiawassee County," said LJ, Inc. President Laura Slieff. "With opportunities in many different locations we are glad to be able to share our growth and expansion with the wonderful small-town community of Venice Township. We are also very excited and grateful to be working with the Michigan Economic Development Committee to bring forth the best plan and options for the people of Michigan."
"The impact of investments in industries surrounding energy and engineering will continue to create sustainable, good paying jobs that are sure to expand the growth and development of Shiawassee County and the region," said Sen. Sam Singh (D-East Lansing). "I look forward to seeing how LJ Inc. will utilize this grant funding to expand its successful operations in Shiawassee County."
SP Holding:
"I'm thrilled to see this investment in our community," said Rep. Penelope Tsernoglou (D-East Lansing). "This project will be made possible by the Michigan Commercial Rehabilitation Act, which will provide for a cap on local property taxes for the next 10 years, allowing for this mixed-use redevelopment without an increased burden on the citizens of Meridian Township. I have no doubt that this will make Haslett an even more attractive place to live, work and raise a family, while also creating dozens of good-paying jobs along the way."
Hotel Ventures Manistee:
"The 6PM Hospitality team is truly honored to bring this exciting project to beautiful Manistee," said 6PM Hospitality Partners Peter D. Beukema. "We are proud to partner with the city of Manistee and the MSF in bringing this vision to life. We believe our project will help showcase all that the city of Manistee has to offer alongside beautiful Lake Michigan."
"This project was the city of Manistee's first approved Commercial Rehabilitation Act incentive," said Manistee Mayor Jermaine Sullivan. "Hotels Venture Manistee is a committed partner, and I am very proud of this development. I look forward to this new lakefront hotel drawing people to beautiful Manistee and discovering all that we have to offer, including our historic downtown and sandy beaches."
"We are excited and grateful for the MEDC Michigan Community Revitalization Program's investment in this transformational Manistee project," said Stacie Bytwork, CEO and president of the Manistee Area Chamber of Commerce, Manistee County's economic development organization. "The beachfront hotel is acting as a catalyst for development, generating more interest and investment than ever before, and drawing attention to our community on the shores of Lake Michigan."
Marquette Blight Clearance Project:
"The state has recognized that the Upper Peninsula is well-worth bold, strategic investment," said State Rep. Jenn Hill (D-Marquette). "When money flows from Lansing to the U.P., we all win. I will continue to work toward leveraging state funds for the future success of our communities."
About Michigan Economic Development Corporation (MEDC)