Before this week, I had never been to a Selkie NYFW show. I'd seen the brand come across my timeline with images of women dressed in Bridgerton-esque dresses and styles that are most likely plastered across cottagecore Pinterest boards everywhere. As I stood backstage observing the room, waiting to speak with Kimberley Gordon, the designer behind Selkie, and makeup artist Lottie, who was responsible for all the makeup, sponsored by ColourPop, the diverse environment made me happy. There were models of all sizes, models of all abilities, and a diverse backstage team in terms of race, gender, and sexuality representing what I always want to see at a New York Fashion Week show. And though they showed a day after NYFW officially ended, Selkie was like the industry after party, but the collection itself—imagine you are in a large field, and you're on shrooms, fairy hunting.
As we chat at The St. Regis, the venue for the Selkie show, Gordon shares that her inspiration for the show was based on the Cottingley Fairies from the 1920s. Two cousins, Elise Wright and Frances Griffiths, wanted to convince their parents that fairies were real. The created cardboard fairies and using Wright's father's camera, took five photographs. While their parents called their bluff, the images caught the attention of others and started a frenzy of people thinking the fairies were real. "It's the importance of believing. The importance of imagination," Gordon exclusively tells ELLE.com, which was the general theme throughout her fanciful collection, filled with mushroom and strawberry prints, ruffled leg warmers, and pieces with architectural draping.
"So many of us start out believing in the supernatural. It's such an important aspect of being a child and growing into a teenager and into an adult. Belief allows you to become a believer in you," states Gordon. The show itself is a metamorphosis, and no, I'm not just talking about the beautiful monarch butterfly printed dresses, which Gordon shares were inspired by her sister. "My older sister is my favorite person in the world and has a giant monarch butterfly on her back. Everytime she sees a monarch, she's like, 'Oh my God, monarchs!' I thought it would be so fun to give them an elegant version of a monarch print."
More From ELLE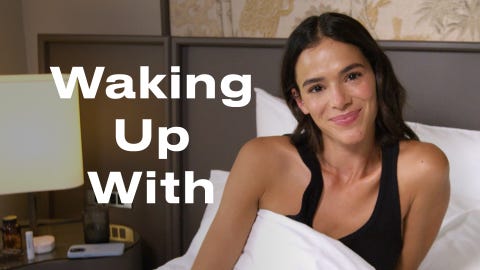 The runway show was more of a performance as it lasted over 30 minutes and you felt like you were in a 1920's French theater, possibly a speakeasy. As models walked, er, hunted fairies (or were the fairies themselves) intertwined in the show were two burlesque performances—and yes, size diversity was present. The scantily clad plus size burlesque dancer squealed, "I'm a little shy!" as she ran backstage with her feathers covering her butt after she stripped down to a bedazzled thong and tasseled pasties which covered her nipples.
Celebrity makeup artist, Lottie, modernized a 1920s look, which pairs perfectly with Victorian era aesthetic of cottagecore. "For the makeup, it's inspired very loosely by the '20s, but it's more of like a softer modern ethereal version of that," says Lottie. To bring out the 20s look, Lottie placed blush under the eye and flushed it down to create that flushed, 1920's aesthetic using Colour Pop Angel Energy Cream Blush. "Apply on the high point right under the eyes, on top of the cheek," Lottie states.
Using the ColourPop Star Stamp to emulate a mole, Lottie shares "accentuating your mole is very on trend." Lottie opted for a softened heart-shaped lip, "a bow lip" as she calls it, and can be achieved effortlessly. "People like the ease of just tapping your finger and staining your lips, and a liquid lip is easy for that," she says.
The beauty combined with Selkie's notorious whimsical fashions truly transformed me into a 1920s cabaret where I felt I slipped off into a daydream of mushroom circles, fairy hunting, and ease. The diversity and representation were obvious and purposeful, but not the headline, or showcase of the show. For 30 minutes, Gordon created a fantasy world, that melded with hopes for the future.

Digital Beauty Director
Danielle James is the Digital Beauty Director of ELLE.com. Previously, she was the Fashion and Beauty Director of HelloBeautiful.com and MadameNoire.com. She's written for The Cut, InStyle, Allure, The Business of Fashion, Nylon, Essence, Good Housekeeping, and more. She enjoys sailing, thrifting, Japanese whiskey, Naomi Campbell's runway walk, and Rihanna in the comment section.