James Moody, Toots Thielemans and Jim Hall are just some of the late jazz legends who have performed in San Diego under the auspices of the La Jolla Athenaeum's jazz concert series since its inception in 1989.
But saxophonist and flutist Charles Lloyd — who will celebrate his 85th birthday two days late with a March 17 concert at San Diego's Irwin M. Jacobs Qualcomm Hall — has few equals when it comes to doing multiple Athenaeum performances, each with a different band featuring musicians four or even five decades younger than him.
"What I do is just keep making music," Lloyd said in a Jan. 13 phone interview from the Montecito area home he shares with his wife, Dorothy.
"I can't stop because of all this (turbulence in the world)," he continued. "When I was a kid, I thought all this stuff would be straightened out when I was an adult. I'm way on the other side of being an adult now, but the 'kid' in me, fortunately, is still here and I remain entirely about expanding the music."
Fortunately for San Diego audiences, Lloyd continues to do exactly that, with a unique combination of artistic maturity and youthful exuberance, finely sculpted musical phrases and spur-of-the-moment extrapolations.
Witness his concerts here and around the world, which find him constantly exploring new creative vistas. And witness the fact that, in 2022, Lloyd released three absorbing new albums — each featuring an entirely different trio — on Blue Note Records.
"Charles is certainly one of the most nationally and internationally acclaimed jazz greats we have presented, and this will be his fifth concert for us since 1998," said Daniel Atkinson, who has curated the Athenaeum's jazz concert programming since its inception 34 years ago.
By coincidence, Lloyd is one of two great octogenarian saxophonists named Charles who will perform as part of the Athenaeum's 2023 winter and spring seasons. The other is San Diego's Charles McPherson, who at 83, is also as busy as ever.
McPherson's season-opening Feb. 14 duo concert with former Bad Plus pianist Ethan Iverson at the Athenaeum is sold out. It will take place at the same venue where — in May 2021 — McPherson teamed with former San Diego pianist Ethan Iverson for the first online concert in the Athenaeum's 100-year history.
Returns and debuts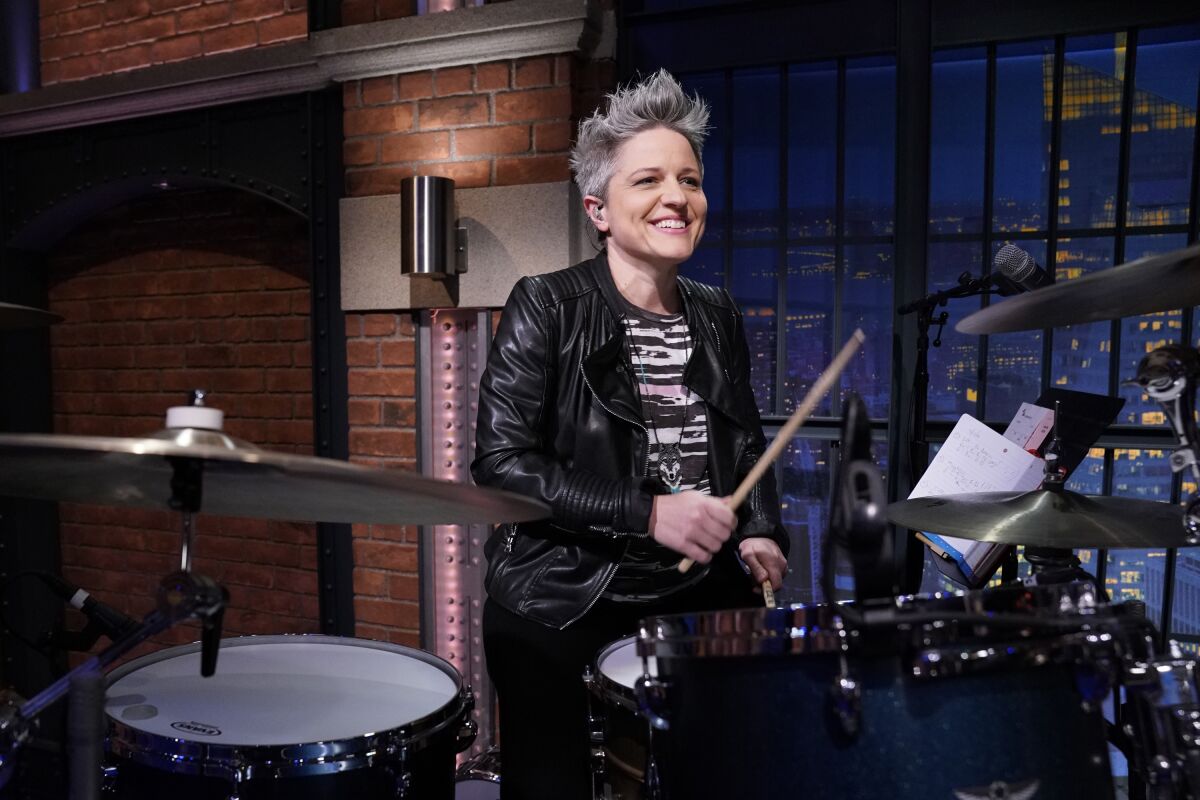 The upcoming Athenaeum season also features drum dynamo Alison Miller's Boom Tic Boom, Norway's Tord Gustavsen Trio, the Kevin Hayes Trio, the San Diego debut of the we ARE Trio, and more. By coincidence, We ARE's drummer and bassist, Eric Harland and Reuben Rogers, have been members of Lloyd's quintet since 2002 and 2007, respectively. Both were in their 20s when they joined his band.
In addition, the season includes a concert by singer Gillian Margot and former San Diego pianist Geoffrey Keezer, who is a 2023 Grammy Award nominee in the Best Instrumental Composition category.
Lloyd's March 17 concert at the 534-seat Irwin M. Jacobs Qualcomm Hall will be with 38-year-old pianist Gerald Clayton, bassist Larry Grenadier and guitarist Anthony Wilson, who is a noted solo artist and longtime member of Diana Krall's band.
"Every night with Charles is like driving off a cliff!" guitarist Wilson said, speaking from his Los Angeles home.
"He always refers to his 'beginner's mind.' And he really has maintained that open-eyed, unjaded ability to be spontaneous and present, which I guess is what it takes if you want to do this so well at (almost) 85. That's where you want to be, rather than be jaded, closed off and doing the same thing over and over.
"If you are in his band, he encourages you to not stay tethered. It's a matter of going forward and if he senses you are not doing that, he gets frustrated. Charles says that you have to be searching — you have to always be searching — and to just start searching right away with the music, as much as you can. He tells us, very excitedly: 'You have your freedom.' Any hesitation or trepidation, that's what he doesn't want. He wants it to be totally now, let's go!"
Lloyd chuckled appreciatively when told of his guitarist's observations.
"He's a brave warrior, a brave man, and very talented, too," the saxophonist said of Wilson. "We go exploring every night (on stage), that is what we do."
And how good a driver is Lloyd, who in the 1960s befriended and performed with Jimi Hendrix, Bob Dylan and the Grateful Dead?
He chuckled again.
"Ninety miles an hour is the speed I drive!" Lloyd replied, invoking the lyrics to the Hendrix song "Crosstown Traffic."
"So," he added, "Dorothy, my wife, doesn't let me drive that much! Plus, I had all these fast cars when I was a kid and I kind of put those six-shooters away."
Lloyd paused for emphasis.
"Musical ideas come to me a lot when I'm hiking in the mountains and trying to figure out quantum mechanics," he said.
"It's all about trying to find some things that aren't 'understandable.' You go exploring and don't come back the same guy. I'm kind of the lone man on the mountain. And I never got good enough to quit!"
Pandemic pivot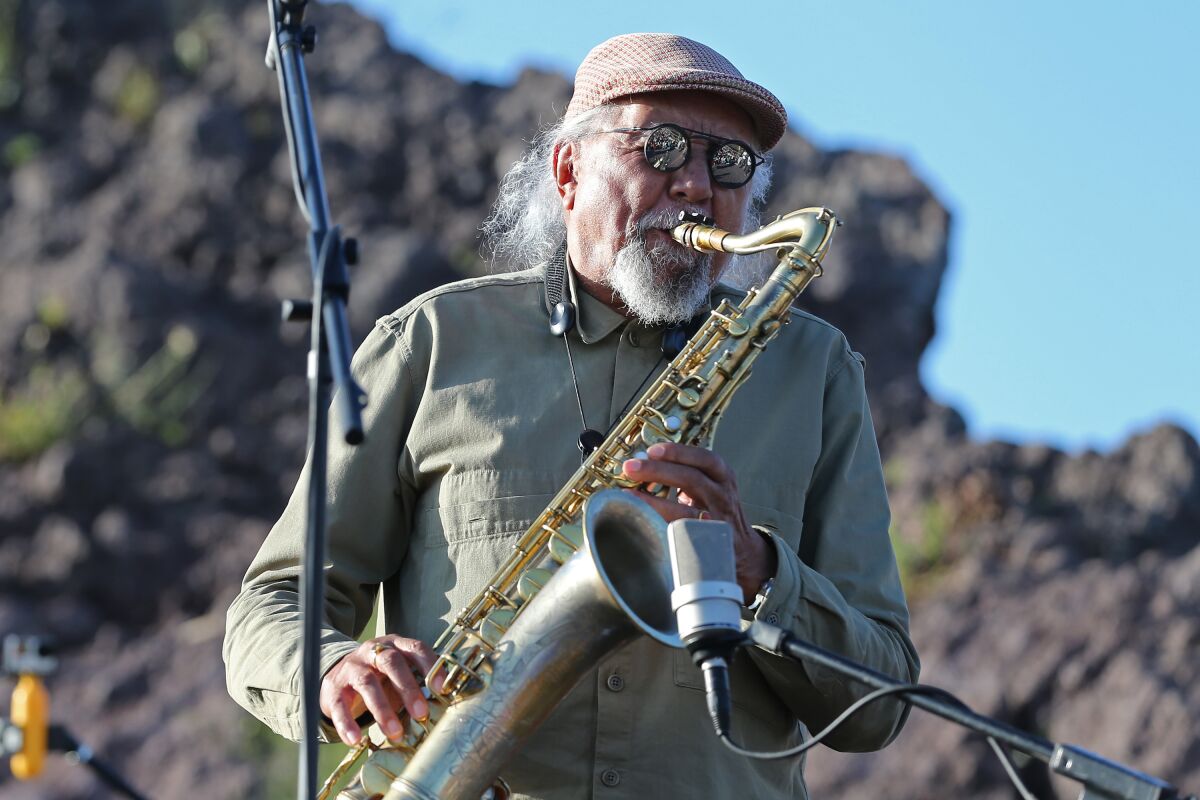 Lloyd's March 17 concert here is a makeup date for his and pianist Clayton's March 2020 Athenaeum Jazz at TSRI Auditorium duo concert, which was postponed because of the COVID-19 shutdown of live events.
"We tried to reschedule Charles for later in 2020, which would have been in a duo with (guitarist) Julian Lage, and then last year, but we couldn't get a venue here for the dates he was available," said Athenaeum jazz curator Atkinson, who is also the Western Jazz Presenters Network's executive director.
"The opportunities to present these storied artists are finite. So, being able to now celebrate both Charles Lloyd and Charles McPherson — in their mid-80s — is a special moment, especially given the long relationship our series had with each of them."
McPherson's first Athenaeum performance was as part of its 1990-91 season. Apart from pianist Mike Wofford and flutist Holly Hofmann, McPherson has done more headlining performances for the series than any other San Diego-based jazz luminary.
"Certainly, Charles comes right after Mike and Holly, who have been the core of the program for many, many years," Atkinson said. "Which one of them, Mike or Holly, has done more dates for us as a leader, I couldn't tell you. And so many of their dates for us were joint performances."
The La Jolla Athenaeum Music & Arts Library opened in 1898. Its jazz concert programming began in 1989 in the 160-seat Joan and Irwin Jacobs Music Room. Seven year later, in 1996, the Athenaeum Jazz at Neurosciences Institute Auditorium series was launched. (That venue was renamed Scripps Research Institute Auditorium in 2012.)
In addition to Lloyd, McPherson, Hofmann and Wofford, the 350-seat auditorium has hosted Athenaeum-produced concerts by such major artists as organist Jimmy Smith; pianists Chick Corea, Carla Bley, McCoy Tyner and Brad Mehldau; guitarists Allan Holdsworth and Kevin Eubanks; and many more.
The series' international attractions have ranged from the late Polish trumpeter Tomasz Stanko, Swiss harmonica virtuoso Grégoire Maret and Spanish flamenco-jazz pianist Chano Domínguez to Israeli clarinetist Anat Cohen, Brazilian singer Luciana Souza, Colombian harpist Edmar Castañeda and German pianist Julia Hülsmann.
The Athenaeum has also hosted the San Diego area debut concerts by a host of rising talents who have since achieved high-profile careers. Some key examples include Mehldau, saxophonists Ravi Coltrane and Melissa Aldana, and singer Veronica Swift.
Careful musical curation
Los Angeles-based Lloyd band guitarist Wilson, who has performed multiple times in the Athenaeum jazz series, said Atkinson offers a really strong example of how to do creative music programming.
"In addition to featuring the masters, as Dan Atkinson has done so beautifully, there's the seeking of young artists, the seeking of not so-well-known artists and of people who are in your backyard in San Diego. He nurtures all the branches of the tree, Wilson said. "There's a sense that Dan goes out and engages in the search for artists, which is something a lot of presenters don't do."
The Athenaeum's jazz programming began in 1989 with a series of lectures. It quickly evolved into a concert series that initially featured top San Diego artists before incorporating national and international jazz attractions.
Atkinson laughed when asked if, in 1989, he had even an inkling the Athenaeum's jazz programming would endure and be thriving more than three decades later.
"I think I would have been incredulous!" he replied.
"I don't think I ever anticipated any of this would have gone on this long. Things change a lot over time. When I started the Athenaeum series, the San Diego Jazz Festival and Elario's were gone or almost gone, and they had both been mainstays of the jazz scene here for quite a long time.
"So, I know these entities have their lifespan and that it's pretty unusual to have something like this series last this long. So, in 1989, I would have said: 'You're kidding me!'
"But, in another way, I would have been delighted. Because one of the most gratifying things is the relationships that have developed with the artists and with the audience members. There's a real spirit of camaraderie that I'm really grateful for."
Did you know?
A tireless artistic force, Charles Lloyd was barely out of grade school when he launched his musical career in the 1950s in his native Memphis. He was mentored there by pianist Phineas Newborn Jr. and performed gigs with such then-rising blues stars as B.B. King, Johnny Ace and Bobby "Blue" Bland.
Lloyd earned his degree in music composition at the University of Southern California in 1960. He had spent the previous few years in Los Angeles playing with such fellow young visionaries as fellow saxophonist Ornette Coleman and drummer Billy Higgins, with whom Lloyd memorably performed here in 1998 at an Athenaeum Jazz at Neurosciences Institute concert. Lloyd also worked in the L.A. big band led by Gerald Wilson, the father of Lloyd's current guitarist, Anthony Wilson.
In the mid-1960s, Lloyd recorded two live albums at San Francisco's Fillmore West, where he and his band shared stages with Cream, Jefferson Airplane, Janis Joplin and other top rock acts of the day. His group featured two future jazz giants in pianist Keith Jarrett and drummer Jack DeJohnette.
In recent years, Lloyd has collaborated with American singer Lucinda Williams and top pedal-steel guitarist Greg Leisz. Now, as in the past, the saxophonist remains open to all music and wary of categorizations.
"The Airplane, the Dead, The Band and (Bob) Dylan had all heard the (blues and R&B) music I grew up playing," Lloyd, an early friend of Dylan, said in his 2020 Union-Tribune interview.
"So, bonding with them wasn't so much (aesthetic) Catholicism on my part as much as I had this experience of all this deep music, and genre didn't get in the way."
Lloyd stepped back from his career for much of the 1970s and part of the 1980s to focus on his physical and spiritual health. Since resuming his career four decades ago, he has gone from peak to peak. Like a Zen master, he knows that stillness is as important as motion and that musical propulsion can be achieved through careful contemplation as much as through execution.
"I've been blessed to have longevity and that helps keep me on the prowl for elevation," Lloyd said.
"The hour might be late, but I know I'm still drunk with music and that's a beautiful thing."
Jazz at the Athenaeum 2023 winter & spring season
Tuesday, Feb. 14: Charles McPherson & Ethan Iverson (sold out)
Sunday, Feb. 19: Tord Gustavsen Trio
Sunday, Feb. 26: Kevin Hays Trio
Thursday, March 9: Geoffrey Keezer & Gillian Margot
Friday, March 17: Charles Lloyd Quartet
Saturday, March 25: Allison Miller Boom Tic Boom
Wednesday, April 12: We ARE Trio, featuring Aaron Goldberg, Reuben Rogers & Eric Harland
When: All concerts are at 7:30 p.m.
Where: La Jolla Athenaeum Music & Arts Library, 1008 Wall Street, except for the March 17 concert, which is at Irwin M. Jacobs Qualcomm Hall, 5775 Morehouse Drive
Tickets: $35 and $40 for all concerts at the Athenaeum through March 9. $40 and $45 for the March 25 and April 12 Athenaeum concerts.$50 and $55 for the March 17 Qualcomm Hall concert
Phone: (858) 454-5872
Online: ljathenaeum.org/jazz-concert-series
george.varga@sduniontribune.com