Adventure of the Seas may not have as many bells and whistles as other Voyager Class ships, but she offers some great values in cruising right now.
My mom and I recently disembarked Adventure of the Seas after a seven-night Western Caribbean sailing that visited Roatan, Honduras; Belize City, Belize; Cozumel, Mexico; and Perfect Day at CocoCay. We had a wonderful time!
Here's what you can expect when sailing on Adventure of the Seas in 2023.
Ship revitalization
Adventure of the Seas is a Voyager Class ship that first set sail in 2001.
She was the first ship to come back to service after September 11. To commemorate this, the godparents of Adventure are four individuals who "devoted their lives in service of others." This plaque is located near Boleros.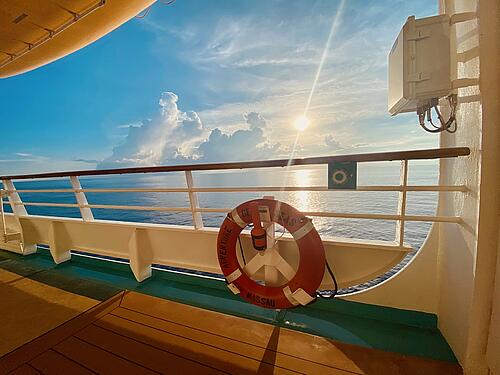 Read more: All about Voyager Class cruise ships
In both 2016 and 2018, Adventure of the Seas went through a $61 million refurbishment. Royal Caribbean added new cabins, new thrills like the FlowRider and waterslides, as well as new venues such as Izumi, Chops Grille, and more.
Embarkation process
For this cruise, we decided to purchase The Key. 
When we were able to select our check-in time for embarkation day, noon was the earliest we could select. After we purchased The Key, we received an email about a week prior to our departure that we could arrive at 11 a.m. We were happy to see that we could get to the cruise an hour earlier than expected!
My mom and I took a Lyft to the Port Everglades terminal and arrived at 10:40 a.m. We wondered if they would make us wait since we were almost 30 minutes early. 
Read more: Guide to cruises from Fort Lauderdale
The Key check-in spot was easily identified, and we were able to walk right up and check-in. Security only took a few minutes.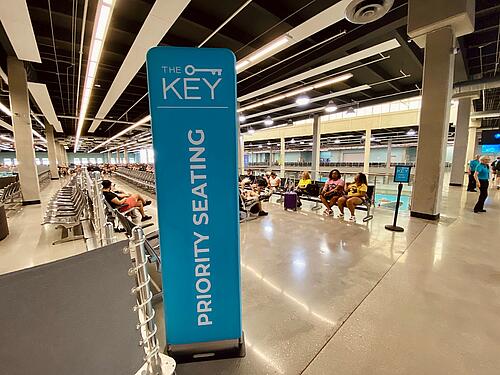 We were then directed upstairs, where another employee separated suite guests and The Key guests. We weren't there for more than five minutes when we were told we could board the ship.
The whole process was very easy, smooth, and fast. By our original planned arrival time, we were already onboard and exploring the ship. In reflection, it seemed as though we got the same priority treatment as a suite guest for a whole lot less money!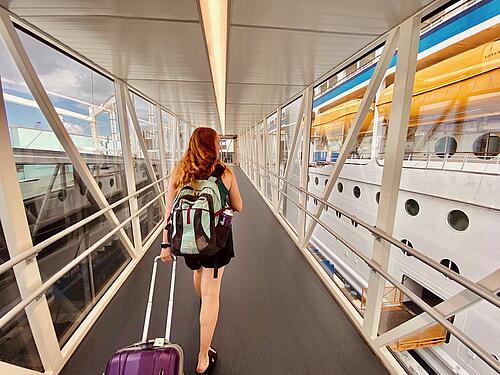 Was it worth buying The Key? If you are new to cruising and/or below Diamond in Crown and Anchor Society, I would say yes. Some of The Key benefits overlapped with my Diamond Plus status, such as the priority seating at shows and the wifi being included in lieu of my two free days.
I would definitely recommend The Key for your next cruise if you are planning to buy internet for your voyage. 
Interior cabin
My mom and I stayed in the cheapest available cabin, which was an inside guarantee cabin. 
Read more: I stayed in the cheapest cabin on Adventure of the Seas. It was small and windowless, but for $300 a night, it was a great deal.
We were not able to select the location of our cabin, but we ended up having an ideal location on deck nine. We only had to go up two flights of steps to reach The Windjammer and pool deck.
 Our cabin was situated in the very aft of the ship. Since we were at the end of the hallway, we didn't hear much noise, which was great for sleeping. The sailing was so smooth I couldn't feel the ship move at all in our cabin!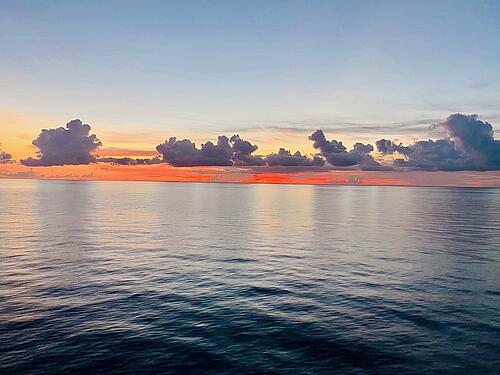 My first impression of the cabin was that it was well-kept and clean. There was more than enough storage for all of our belongings with a large closet and vanity with multiple drawers.
The bathroom was small but offered everything we needed.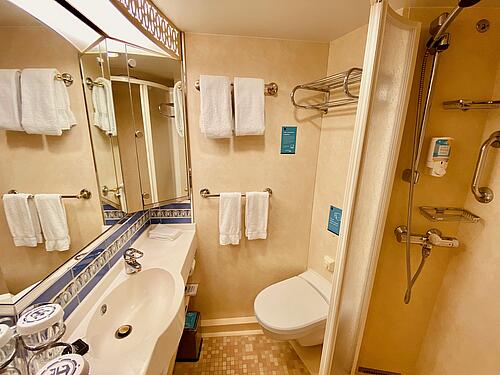 This was my first time cruising with the new housekeeping change. My mom and I agreed that the once-a-day cleaning was just fine. It worked out great to have our stateroom attendant clean while we ate dinner. I actually liked not having a morning cleaning because I didn't feel I had to get out of the room quickly so they could clean.
Dining onboard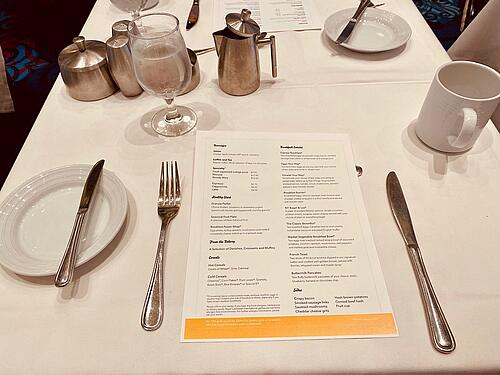 Adventure of the Seas offers many places to dine onboard. We never went hungry!
Most mornings, we dined in the Windjammer for breakfast. I loved getting a custom omelet and some waffles, along with my favorite cranberry bread.
On our first sea day, we enjoyed breakfast in the Main Dining Room. We got to the Sapphire Dining Room at 9 a.m., and there was a line to be seated. We only had to wait about 15 minutes. It was a busy morning so our food didn't come super quick, but I was glad to have breakfast in a different venue.
The Windjammer was busy a lot of the time since the ship was over capacity. When we went to the Windjammer during off times (like the end of breakfast or lunch, especially on port days), it was less crowded and we were able to find a clean table easier.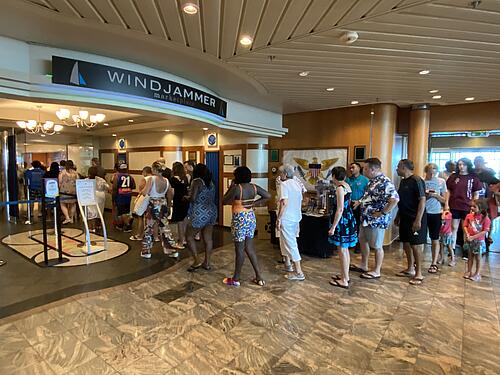 Every evening, we dined in the Main Dining Room. We had early seating at 5:30 p.m. Here are the themed menus we had each night:
Welcome Aboard
French Night
Taste of USA
Italian Night
Mexican Night
The Royal Night
Bon Voyage
Our waiter and assistant waiter were both so nice! The service was excellent and fast. Our dinners usually only lasted about 75 to 90 minutes.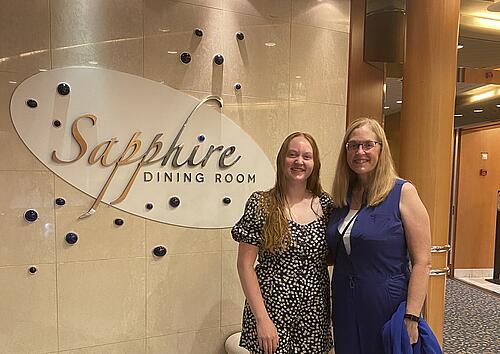 My only complaint about the Main Dining Room was how some of our meals were not very hot. Either my food was super hot (which I like) or lukewarm. The cold food was always cold so I didn't have to worry about that.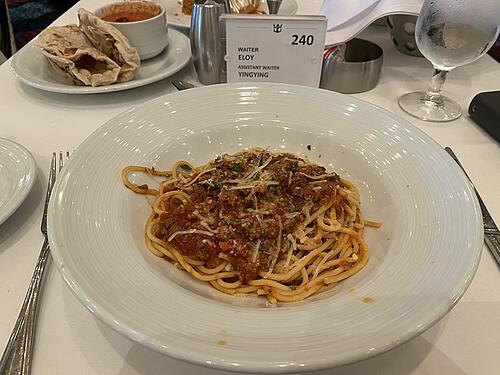 Whenever we left dinner, there was a long line to get seated. This was usually around 7 p.m. We really liked having a scheduled seating so we could just walk to our assigned table every night and not wait in line.
I loved that I could use my Diamond Plus drink vouchers on drinks such as Johnny Rockets milkshakes and Starbucks frappuccinos. I of course also had some yummy cocktails most nights.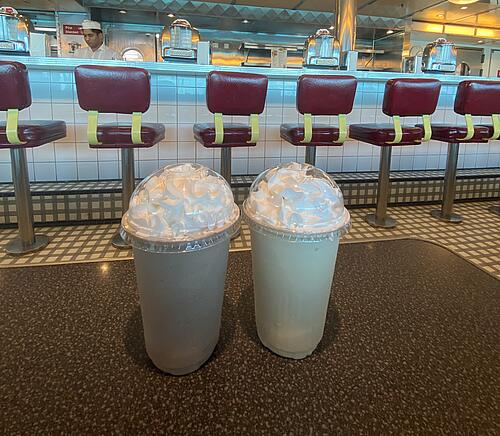 My mom tried room service once during our sailing. She ordered from the complimentary menu and got some coffee and donuts for an estimated delivery between 9 and 9:30 a.m.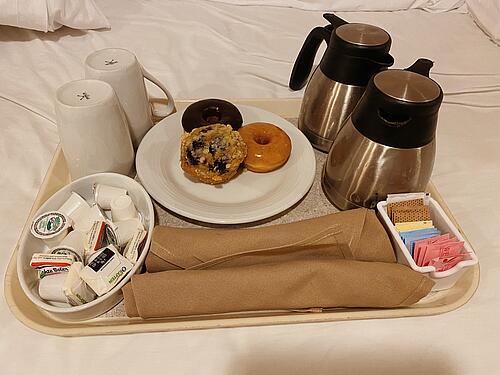 The morning of, a crew member knocked on our door at 9:10 a.m. She was expecting two cups of coffee, but instead, she got two carafes, each filled with two cups of hot coffee. She was pleasantly surprised because she needs lots of caffeine in the mornings.
Activities and entertainment
My mom and I went to every Production and Headliner Showtime performance in The Lyric Theatre. We always love going to these shows because of the wide variety of acts, from singing, dancing, comedy, and dare I say, adventure.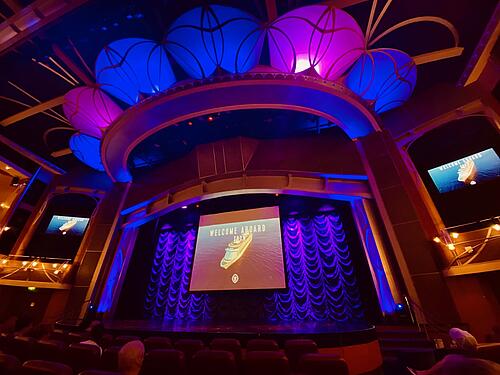 Can't Stop the Rock and Invitation to Dance with the Royal Caribbean singers and dancers, as well as IMPACT, were my favorite performances.
IMPACT was described as, "having passion and charisma, along with extraordinary lighting effects and staging." What was really cool was that we were able to see their last performance on Adventure. They had been performing onboard for two and a half months. Their high-energy show was filled with dancing, singing, intricate choreography, stomping, drums, and more! My mom and I thoroughly enjoyed IMPACT, so much so that we saw them twice on the same night.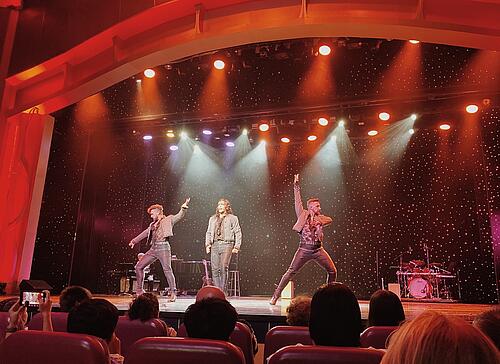 The ice skating show Cool Art Hot Ice "explored the multifaceted world of art by embarking on an odyssey through time and geography." I didn't quite pick up on the theme of the show, but nonetheless, I enjoyed watching the beautiful ice skating.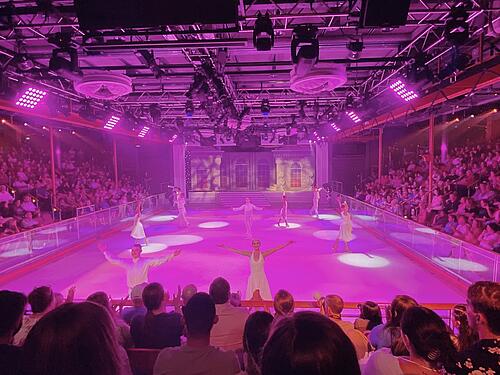 We also saw Jimmy Hopper sing some rock tunes. After seeing his show, we felt like we had seen him before. Sure enough, when we returned home, we found an old Cruise Compass and saw he was on Harmony of the Seas in 2022 when we sailed!
Lastly, the comedian Heath Harmison performed on the first and last night. He hosted a late-night comedy show on the last night that was hilarious. I wish he offered more shows during our seven-day voyage!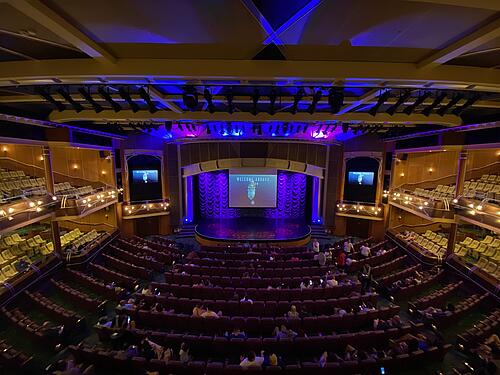 I like going to the game shows on Royal Caribbean ships. Some of my favorites from Adventure of the Seas included Finish That Lyric, Majority Rules, Battle of the Sexes, and The Quest. Every game show was very well attended by all ages. It was usually hard to find a seat in the Imperial Lounge!
Other activities that were a highlight for us included:
The sail away party
Outdoor movie on the pool deck
Rock climbing (during The Key priority time)
The Perfect Storm waterslides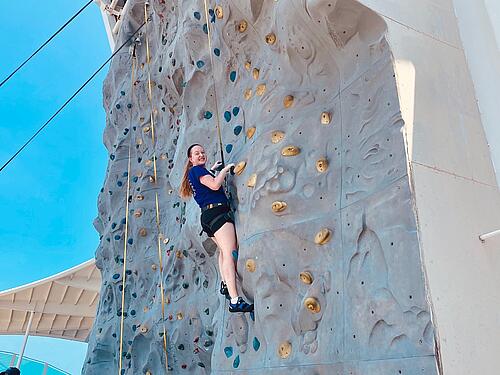 Ports of Call
My mom and I did not purchase any shore excursions during our trip. At each port of call, we explored on our own.
Roatan, Honduras
The Roatan port is convenient to a touristy area with restaurants and shops. We decided to go shopping a little bit and ended up purchasing a few souvenirs.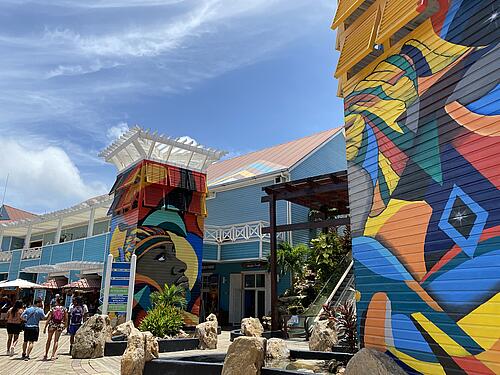 The water here was beautiful and crystal clear. We could see colorful fish right off the shore. There is no doubt that snorkeling and scuba diving would be great here!
I thought it was fun how the town did a special send-off for us when we sailed away. A whole bunch of locals, drummers, and dancers did a little show while they waved goodbye.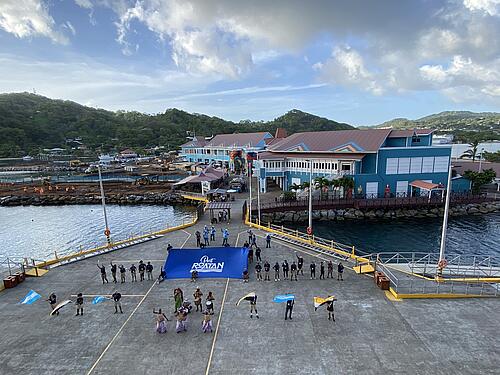 Belize City, Belize
Belize was a unique port because it was the only one that required us to tender to the city. 
Read more: What does tender mean on a cruise ship?
Because we had The Key, we did not have to worry about getting a tender ticket. We were able to get on a tender between 7:30 and 9 a.m. Everyone else had to get a tender ticket the morning of between 7 and 9:15 a.m. We got off the ship around 11 a.m., so we didn't really take advantage of this benefit.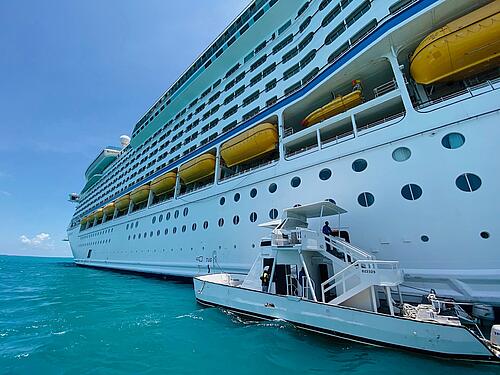 I was slightly worried that the 20-minute ride to the city would be rough (I get motion-sick pretty easily), but it wasn't at all! It was smooth sailing the entire time.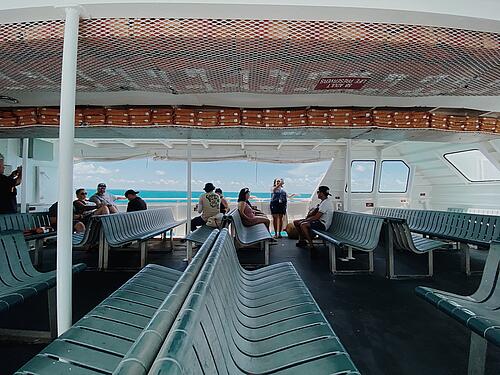 My mom was afraid we'd have to wait a long time to return to the ship and have to stand in the heat. This was not the case. They kept enough tenders running that we walked right on one after we explored the port area and did some shopping. Plus there was a partially shaded waiting area, so my mom was happy.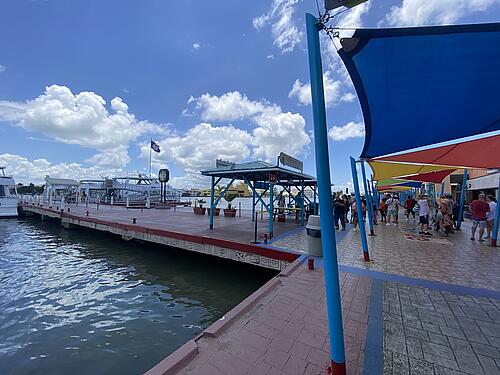 Cozumel
It was extremely hot in Cozumel the day we were docked, so we didn't do much of anything! We got off the ship around noon, took a few photos with the ship, and then went back onboard for a cold drink at the bar.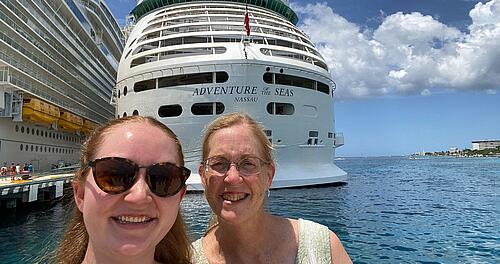 Perfect Day at CocoCay
Our final stop was at Perfect Day at CocoCay. I was most excited about this port! It has become one of my favorite places to visit. There's so much to do, so every time I am there, it's a different experience. 
Read more: 40 Perfect Day at CocoCay tips, tricks and secrets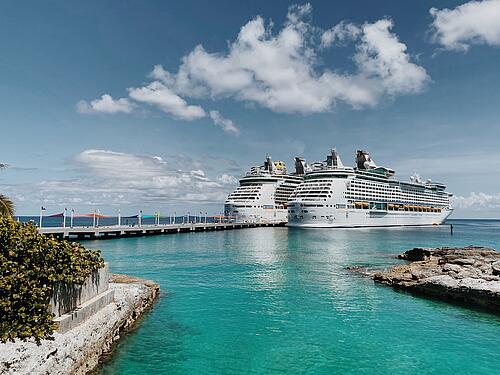 It was so hot out that the first thing I wanted to do was get in the water at Oasis Lagoon and enjoy a cocktail at the swim-up bar. The water wasn't as cold as I wanted it to be, but it was refreshing, almost like bath water. 
After several hours at the Oasis Lagoon, my mom and I got chicken sandwiches and a funnel cake to share at Snack Shack. It was so delicious!
We wanted to find a nice relaxing spot in the shade, so we headed over to the hammock area at Chill Island. I took advantage of my Wi-Fi and watched a show while in the shade. It was a lovely day!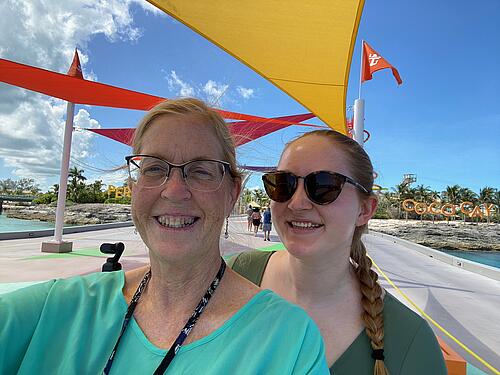 Disembarkation day
As The Key guests, we enjoyed an exclusive breakfast in the Main Dining Room. This was available from 6:30 to 8:30 a.m.
There was a special breakfast menu that featured entrees like steak and eggs, crab benedict, and french toast. There were also other continental breakfast items available. After most mornings in the Windjammer, this was a nice way to spend our last breakfast on the Adventure.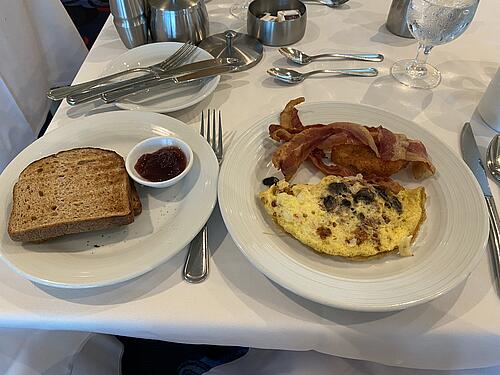 We chose to leave the ship during the main departure time and pick up our luggage inside the terminal. We had a late flight out of Fort Lauderdale, so we were not eager to leave. Before disembarking, I got one last Starbucks coffee!
In the terminal, there was a dedicated area for The Key guests' luggage. Our two suitcases were the very last ones in The Key area when we exited the terminal at 9:20 a.m. As soon as we walked outside, I ordered an Uber. It didn't take long to get one, and the drive to the airport was a quick 10 minutes.
A few final thoughts
We sailed the second week of August. Because school hadn't started quite yet, there were lots of families onboard. In fact, of the 3,947 people onboard, nearly 1,000 of them were children (under the age of 18). The ship's capacity is 3,807, so there were lots of families using bunk beds.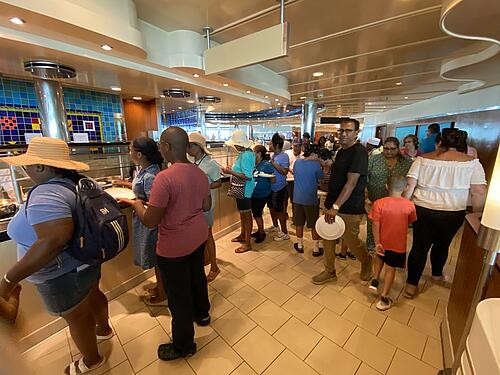 This cruise seemed to be the end-of-summer vacation for many families. There were lots of family reunion groups onboard. My mom commented that she felt on the older side at 62 years old.
The diamond lounge was very quiet throughout the voyage. There was plenty of seating whenever we went. We found out there were less than 110 diamond, diamond plus, and pinnacle members sailing!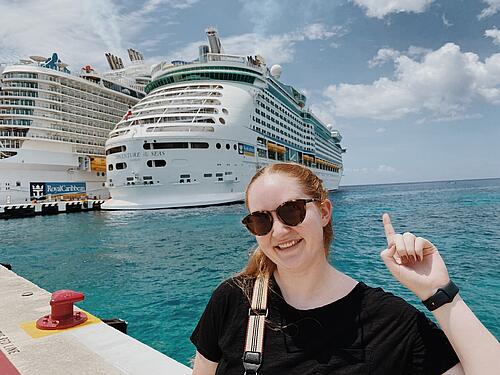 The Wi-Fi was fast onboard. However, it was sometimes spotty in our cabin. I didn't have problems when I watched YouTube videos or had to send work emails. Overall, I would say the Wi-Fi was reliable and quick.