1998 sci-fi/disaster film Deep Impact has been restored for release on 4k Ultra HD Blu-ray from Paramount Home Media. The 2-disc combo edition with 4k BD, 2k BD, and Digital Copy arrives on May 2, 2023, celebrating 25 years since the film premiered in theaters. 
Here's a review of the 4k/HDR presentation of Deep Impact. 
Movie
Deep Impact begins in 1998, no coincidence the same year it premiered in theaters, when a young astronomer named Leo Beiderman (Elijah Wood) discovers a 7-mile-wide comet that's heading towards Earth. The discovery seems to go unnoticed for about a year, when journalist Jenny Lerner (Téa Leoni) falls into the hidden secret of the E.L.E. (Extinction Level Event) that's being covered up by the government.  
After the initial discovery, the movie spends most of the beginning developing Leoni's character. It isn't until about 27 minutes that the President of the United States (Morgan Freeman) holds a press event announcing the comet and plans for the Messiah mission, in which a spacecraft would be launched to plant nuclear bombs within the comet.  
The "pre-apocalyptic" film was directed by Mimi Leder and also stars Robert Duvall, Vanessa Redgrave, and Maximilian Schell. Deep Impact was written by Bruce Joel Rubin and Michael Tolkin.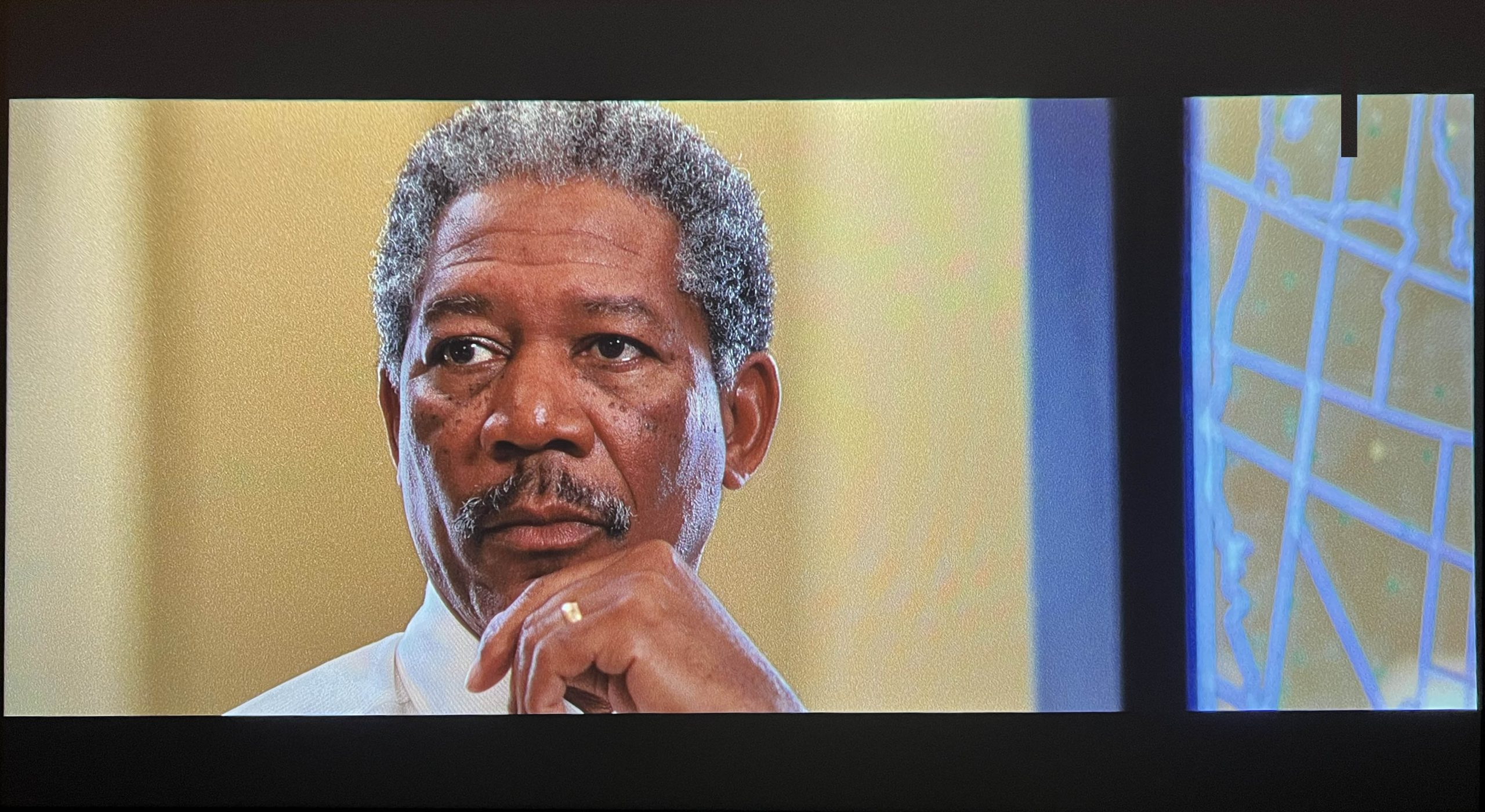 Video 
On 4k Blu-ray, Deep Impact is presented in 2160p resolution at 2.35:1 aspect ratio. High Dynamic Range is included via Dolby Vision or HDR10 (you can't play both at the same time, don't you know?). The 4k/24p HEVC video was not really consistent in terms of bitrates. Often, scenes played at a low 20-25 Mbps (which isn't much better than 4k streaming) but then jumped to other scenes averaging 35 to 45 Mbps. The bitrates are not as high as other 4k discs, with the highest noticeable peaks in the 60 Mbps range.  
The most beautiful imagery starts when the Messiah spacecraft (a collaboration between the United States and Russia) first encounters the giant comet. The blackness of space is rendered beautifully in this restoration, with grain only viewable when play is paused. 
Sharpness is excellent on 4k Blu-ray. A close-up of Morgan Freeman at about 1 hour and 2 minutes is so sharp you can almost count his whiskers. Aboard the Messiah, details of the interior of the spacecraft are a huge improvement over the 1080p Blu-ray. And, the massive "traffic jam" at 1 hour and 35 minutes exhibits some extensive detail not seen before in 1080p, and certainly not cable video.  
The only scene that didn't seem to render too well is when Leo leaves the entrance of the ARK sanctuary to get back to his new-wife Sarah (Leelee Sobieski) at about 1 hour and 28 minutes. The black levels are definitely crushed, but nevertheless, not much could have been done with this extremely dark scene given the quality of the source material. 
The 4k disc is a huge improvement over the HD Blu-ray. By comparison, the HD image is completely flat, lacking in contrast, lacking in detail in shadow areas, and lacking deep and realistic color. The advantages of HDR are clearly illustrated here. You'll never want to look at the Blu-ray again if you have already seen the 4K Blu-ray with HDR.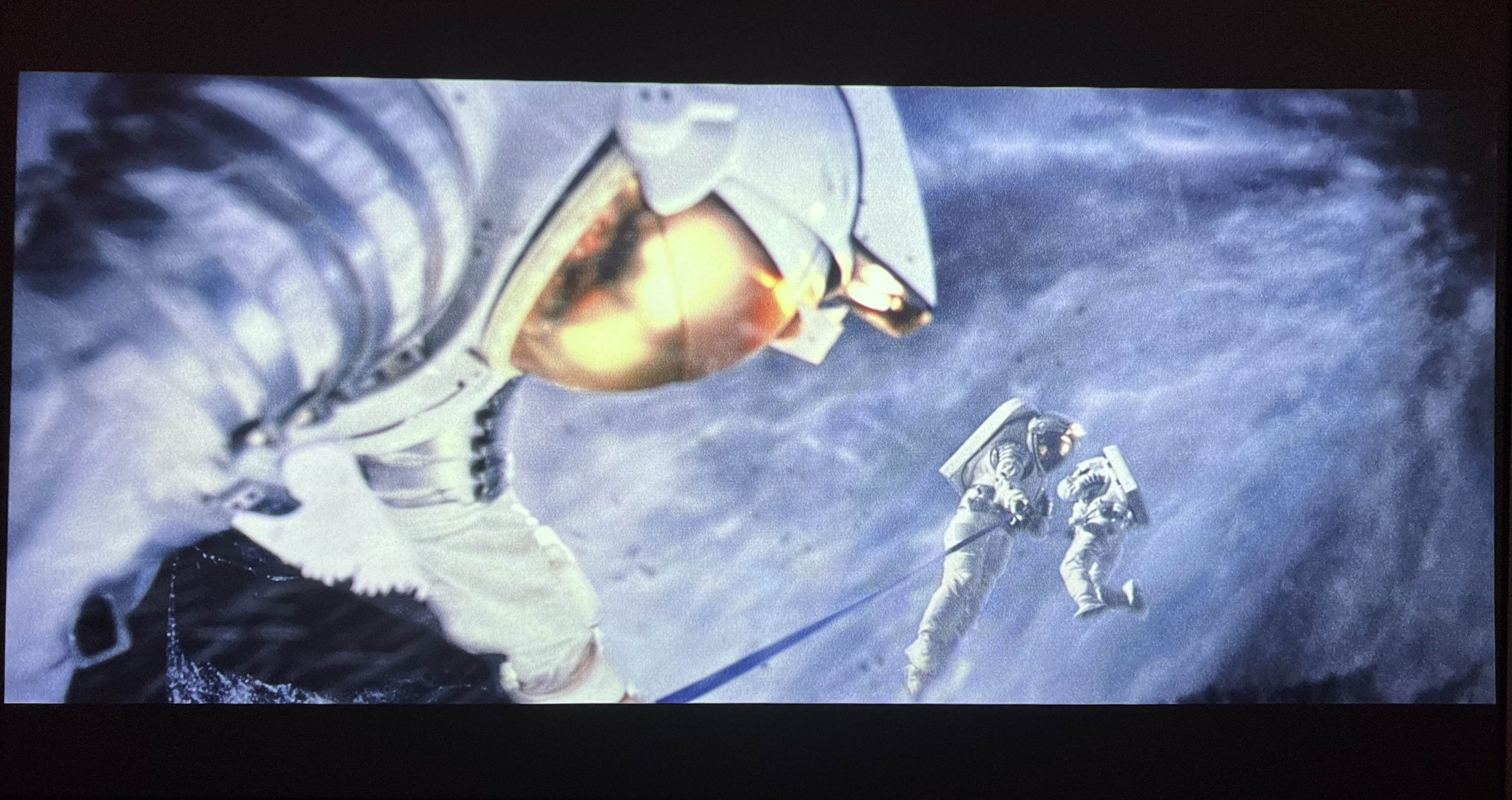 Audio 
Deep Impact plays in 48 kHz English Dolby TrueHD 5.1 channels, as well as French and Spanish in Dolby Digital 5.1. The audio is not an upgrade from previous Blu-rays, which is kind of disappointing, considering what could have been done with more immersive effects. The audio streamed at an average of 2.2 Mbps during dialogue moments and somewhat higher with deeper levels of sound.  
The movie on Blu-ray and 4k Blu-ray provides a mostly frontal approach to the audio, with some shifts from left to right speakers. Bass frequencies can be heard especially in the Messiah and helicopter scenes.  
While rear speakers are sparsely activated, some light ambient noise can often be heard lingering in the back. One moment when the rear speakers actually create some immersive effect is when a wave overtakes an oil-drilling rig at about 1 hour and 44 minutes, as well as the following scenes when the tidal wave overtakes Manhattan and Virginia beaches. 
The music by famed composer James Horner (Titanic, Aliens, Star Trek II: The Wrath of Khan) eases in and out of scenes, creating emotional moments that take you up and down throughout the film.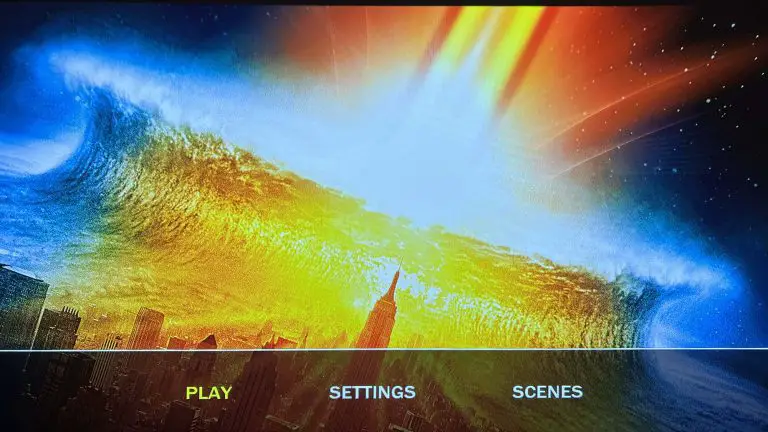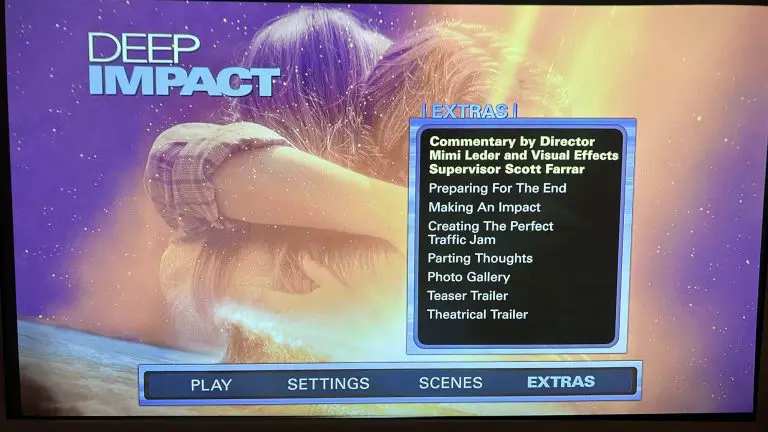 Bonus Features 
There are legacy bonus features on the HD Blu-ray Disc. Extras include Commentary by director Mimi Leder and visual effects supervisor Scott Farrar, Preparing For The End, Making An Impact Creating The Perfect Traffic Jam, Parting Thoughts, Photo Gallery, and Trailers. 
These extras only appear to be available on disc by the way, as we could not find any digital services offering bonus material with the purchase of Deep Impact. 
In addition, a code to redeem a Digital Copy is included in an insert, but unfortunately can only be redeemed with Vudu in the US.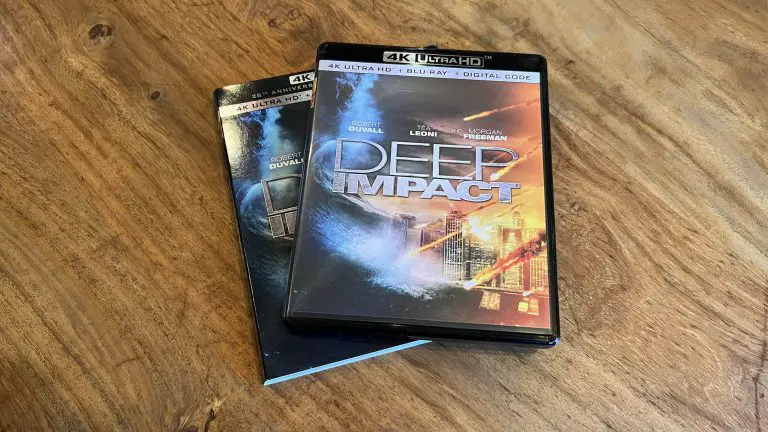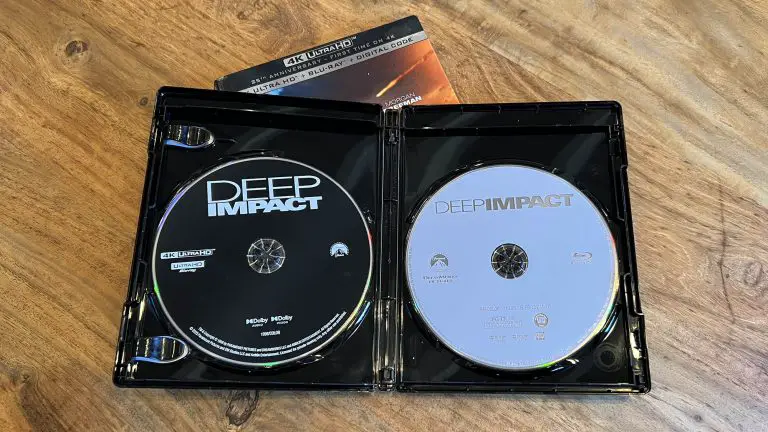 Scores 
Movie 
3.5/5 
Video 
4/5 
Audio 
3/5 
Bonus Material 
3/5