September 12, 2023
The University of Wisconsin-Whitewater hosted a record number of camps and conference participants over the summer of 2023 — more than 6,740 people, the most since the university began hosting campers in 1973.
In addition, an estimated 7,000 people experienced the campus through large-scale partner events such as the Wisconsin Special Olympics 2023 State Summer Games and Madison Scouts Marching Band.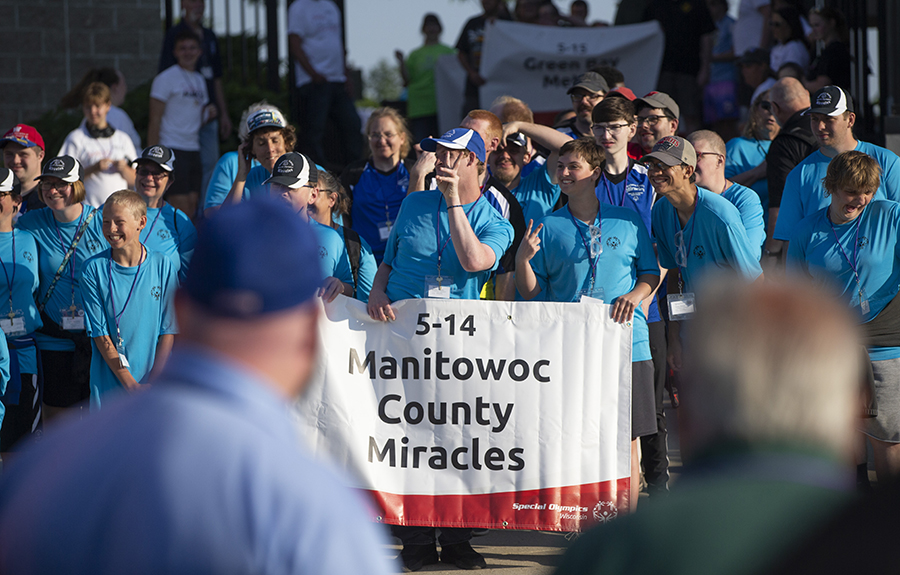 The UW-Whitewater Office of Admissions hosted 3,340 visitors on campus, including prospective students and their family members and guests, through 127 campus tours and three preview days. And the First Year Experience office hosted 2,445 incoming students and 2,638 family members for 11 different SOAR visits, the university's registration and orientation program.
"Summertime at UW-Whitewater is a vibrant time of year when our youth programming really shines through our camps. In addition, future students and their families learn what it means to be a Warhawk, and get to enjoy our beautiful, park-like university," said Corey A. King, chancellor. "We're proud to be the reason that well over 20,000 people visited the city of Whitewater this summer to experience all that our welcoming community and our local businesses have to offer."
This brief summer highlight video captures the energy generated by the breadth of activities hosted on campus — and the many connections made as a result. (UW-Whitewater video/Kyle Winter)
As it marks its 50th year, camps remain a vital part of the campus experience at UW-Whitewater. Of the many athletics, arts and STEM camps offered, several had record participation this year: football, volleyball, boys basketball, boys high school soccer, jazz, and game development.
Many other popular camps returning with high registration numbers included tennis, band, gymnastics, and College for Kids. Grandchildren's University returned for the first time since the pandemic, and camps that debuted included a rock, pop and music production camp on the Whitewater campus and Music Explorers on the Rock County campus.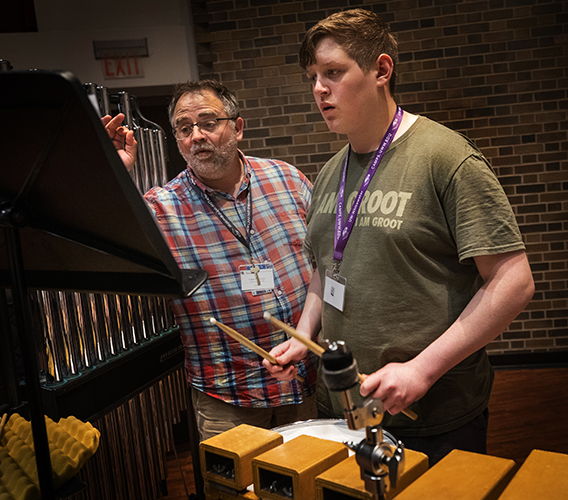 Tobie Wilkinson, left, senior lecturer of music and percussion, coaches camper Keller Oelke during a rehearsal session with an ensemble during percussion camp at UW-Whitewater on Tuesday, June 13, 2023.
Inclusivity and belonging are part of the priority mission of UW-Whitewater; summer camps put the mission into practice by providing events like wheelchair basketball camp, hosted by coaches who are national champion team members, and Chatter Matters, a camp serving individuals who use assistive communication devices and their families. UW-Whitewater maintains a 1:10 ratio of camp staff to camper for all youth programming and prides itself in youth protection training for all faculty, staff, coaches, and volunteers involved in leading programming.
"UW-Whitewater has built a reputation of offering exceptional programming, in state-of-the-art facilities, at affordable prices," says Morgan Anderson, director of Camps and Conferences at UW-Whitewater. "Camps offer spaces for kids to be kids, disconnect from devices, and reconnect with activities they love. Through camps, youth are developing life skills that will serve them well — long after camp is over."
Registration for the 2024 camps season will begin in January. Music, athletic, and academic events for youth are also held throughout the academic year. Visit camps.uww.edu for more information.