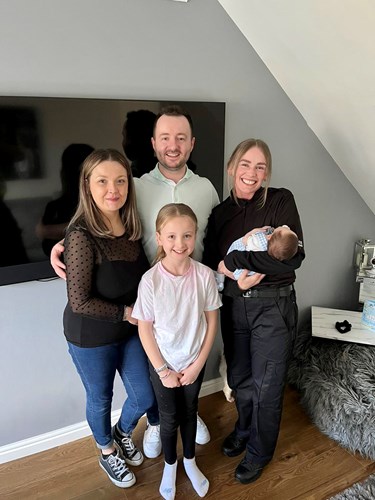 At around 10pm on Saturday, 4 March, 2023, PC Lauren McMinn (28) was within her patrol car along with another officer in Cathcart Road, Glasgow when they were flagged down by a very distressed Graham McInnes (31) who explained that his partner, Lisa MacDonald (32) had gone into labour in their car.
The officers initially thought they would be able to escort the woman to hospital however PC McMinn soon realised that this baby was not going to wait and began helping Lisa deliver her baby whilst waiting for the ambulance to arrive.
A few minutes later Arlo McInnes made his appearance into the world, the ambulance had arrived and Lisa and Arlo were taken to Glasgow Royal Infirmary.
PC Lauren McMinn said:
"This was the most surreal moment of my life. I never would have imagined that during a routine shift, I would end up delivering a baby.
"I remember whilst being in the foot well of the car, introducing myself to Lisa and telling her that I had never done anything like this before. We had a little laugh and I just remember trying to keep her as calm as possible – she was absolutely amazing and we were both so relieved to hear the sound of the ambulance sirens a short time later.
"I was able to confirm time of birth to Graham and Lisa as I had shouted this over my airwave."
New mum Lisa, who lives with her partner Graham, daughter Khloe (11) and new baby Arlo in East Kilbride, said:
"Arlo certainly picked his moment to enter this world and I am so thankful for the help of the officers and paramedics who assisted but especially to Lauren who undoubtedly saved the day and delivered our beautiful baby boy."