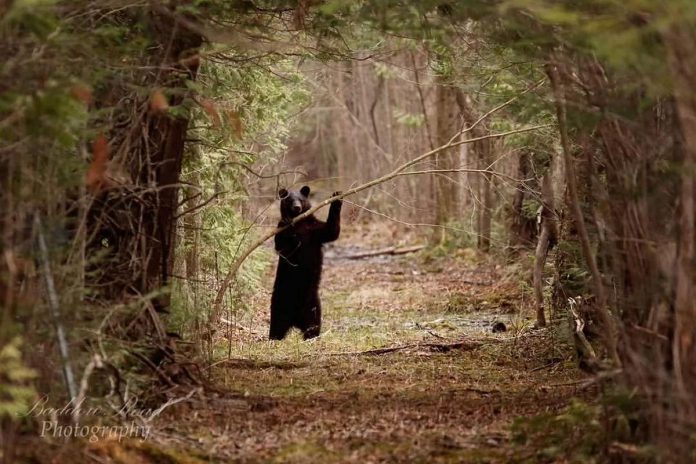 April is my favourite month and it always flies by way too fast. This April in the Kawarthas was a mixed bag of everything that Mother Nature could throw at us. We had snow, we had sleet, we had frost, and we had buckets of rain. We had March cold and we had July heat. When spring finally arrived and the ice broke and the snow finally melted away, we welcomed back many of our favourite things.
Open water is back with the sky and sunsets reflected in our beautiful lakes, paddling is back, and the herons and loons are back. Coffee on the dock is back for the lucky few who can access cottage country early in the season. And it seems that the trilliums are back early this year — they started to bud late in April, but you'll see them in full bloom in our May column. And nothing says spring like a black bear wandering in the woods, and our top photo tells that story.
Many thanks, as always, to our intrepid local photographers who bring The Kawarthas to us every month.
Do you want to get on our top photographers list? All you need is an Insta account and to tag us using our hashtag #kawarthanow when posting your photo.
We share photos from across our readership area, which is the five-county area surrounding Peterborough which includes Peterborough, Northumberland, City of Kawartha Lakes, Haliburton, and Hastings (we sneak in the occasional Algonquin Park picture as well, particularly if it's by a Kawarthas photographer).
To see our daily shares of photos, follow us on Instagram @kawarthanow and check out our feed's highlight reels for recaps of every month in 2022.
Advertisement – story continues below
#1. Black bear playing in the woods in Kawartha Lakes by Karen Suggitt @karen_suggitt
Posted April 20, 2023
#2. Panorama of Baxter Creek and the old railway tunnel by Kirk Hillsley @kirkhillsley
Posted April 22, 2023
Advertisement – story continues below
#3. Great Blue Heron returns to Bobcaygeon by Jay Callaghan @caltek
Posted April 8, 2023
#4. Serviceberry blooms at the edge of Marmora Mine by Mike Quigg @_evidence_
Posted April 27, 2023
Advertisement – story continues below
#5. Misty sunrise at Providence Line near Peterborough by Lori McKee @l_mckee
Posted April 10, 2023
#6. Paddling season is back on Lower Buckhorn Lake by Memtyme @memtyme
Posted April 25, 2023
Advertisement – story continues below
#7. Easter Sunday morning at Gannon Narrows by Shirlanne Pawley-Boyd @gardengirl440
Posted April 9, 2023
#8. Sunset at Beavermead Park in Peterborough by Brian Parypa @bparypa73
Posted April 23, 2023
#9. Morning coffee on the dock on Lower Buckhorn Lake by Memtyme @memtyme
Posted April 29, 2023