Business & Economics
Alum Jennifer Yen, founder of beauty companies Purlisse and Yensa, uses traditional Asian ingredients in her product lines
In our My Big Idea series, we bring you interviews with BU alums and other members of the University community who have launched a business, built a new product, or solved problems big and small. We ask them how they got the idea, what were their biggest stumbling blocks, and what's next for their big idea.
There are ingredients Jennifer Yen has found comfort in throughout her life. 
The room-temperature green tea her grandmother used to soothe her childhood rashes and scrapes. The black rice and mushroom soups her mother made to boost her postpartum energy levels and treat her melasma. The blue lotus root in sesame oil they would all consume to symbolize resurrection and potential. For as long as she can remember, Yen and her Chinese American family have relied on traditional remedies to heal their bodies and spirits.
Eventually, she realized those remedies could translate to skincare.
Yen (CGS'97, SHA'99) launched her first company, Purlisse, in 2008 after leaving acting. (You may recognize her as the villain Vypra from Power Rangers.) The long hours wearing heavy makeup had wrecked her sensitive skin and left her with adult acne. Yen wanted to create a restorative, clean-beauty line incorporating some of the ingredients her grandmother used in her own beauty routine. 
Purlisse's early products—which included a blue lotus cleanser, an eye cream, and a brightening serum—landed to much acclaim. Then the recession hit.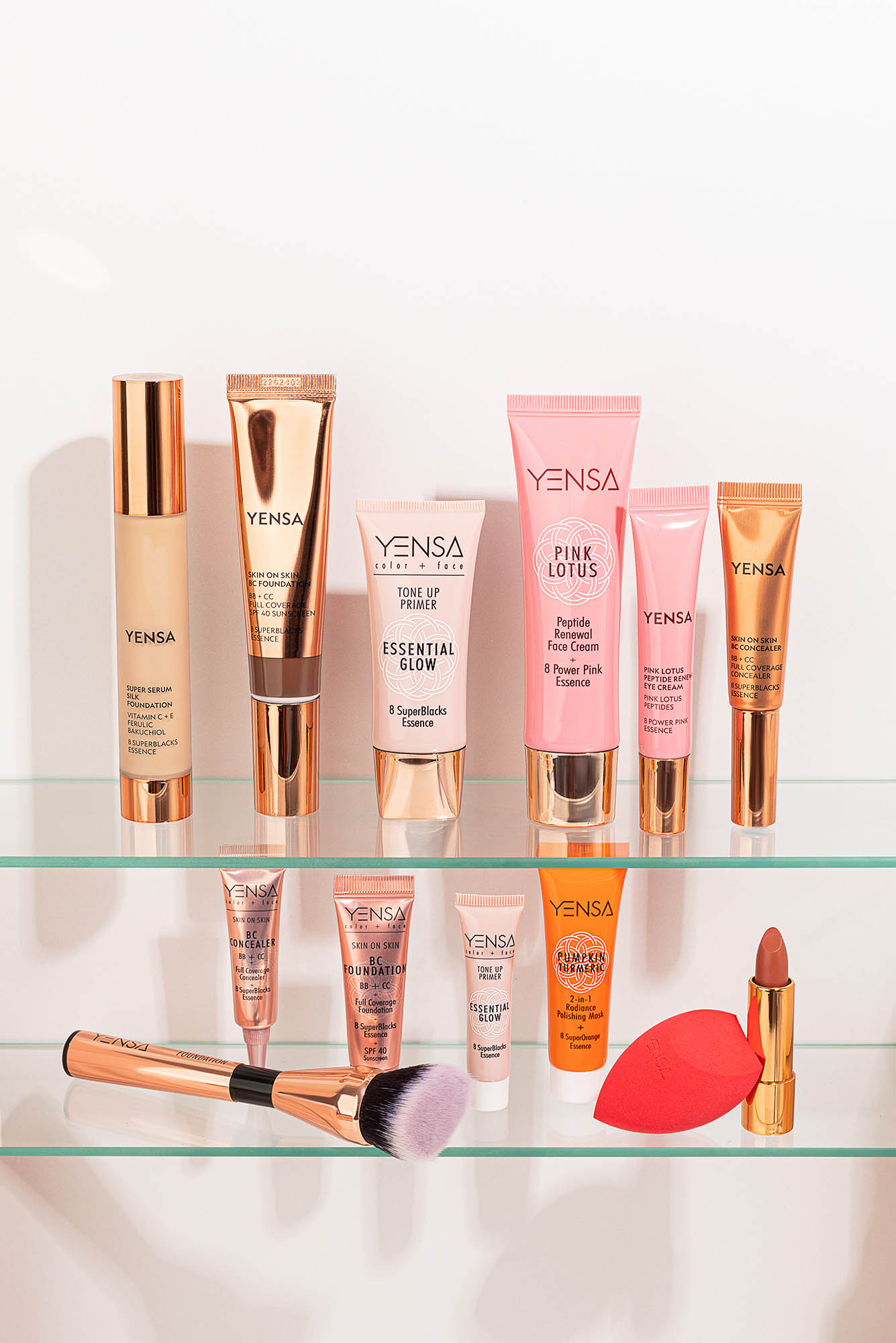 "When the economy crashed, we crashed too," Yen says. "It was so hard, and I made all these amateur mistakes because I didn't know better, and I wanted it to work out so badly." But that also became a strength: "I think my lesson from that experience is that sometimes not knowing can be an advantage. Looking back, if I had started out in the corporate world, I may have been like, I don't think I can do this."
A decade and a half later, Purlisse is one of the highest-rated product lines on the subscription-box giant Ipsy. Purlisse's BB creams are among the top picks on Amazon, outperforming brands like bareMinerals and Clinique. One BB cream, the Ageless Glow Serum, won a best-of healthy beauty award from Self magazine in 2022. 
Yen launched Yensa Beauty, a superfood-infused cosmetics line, in 2018, after giving birth to her daughter and dealing with melasma—a skin condition characterized by dark patches or freckles that often affects pregnant women. Inspired by the vitality-boosting meals Yen's mother made her, Yensa's sensitive- and mature-skin–friendly products incorporate eight Asian "SuperBlacks," including black rice and black seaweed. 
"My mission is to share the wisdom and beauty of my Asian culture by bringing it to the West and modernizing it for everyday women," Yen says.
Yen recently chatted with Bostonia about breaking into the beauty industry and what she learned from failure.
Q
&

A
with Jennifer Yen
Bostonia:
You've brokered some pretty impressive retail deals over the years—Henri Bendel, C.O. Bigelow, and now Costco. Purlisse was also one of the first to get in on the beauty subscription-box space. Why did that make sense for the company?
Yen: Purlisse had a good start [being sold at] big retailers. But then everything crashed. I didn't have any money to reproduce some of our bestsellers. I met with so many investors, but nobody wanted to invest in a desperate entrepreneur. Retailers weren't taking us on because they were still recovering from the recession and didn't want to take a chance with indie brands. 
Right before I was about to say, "That's it—we can't hang on anymore," I got the idea to put Purlisse on social media. That was around 2011, 2012, when Twitter and Facebook [took off]. When Instagram started, I began posting images of Purlisse products there.
Social media fueled the rise of e-commerce and subscription-box companies like Ipsy and Birchbox. [Ipsy was cofounded by famous beauty YouTuber Michelle Phan.] So what happened is, I needed an outlet for Purlisse, and I really believed in digital direct-to-consumer because I had struggled so much in retail. Ipsy needed sample-size products to distribute, but the big companies like Smashbox and bareMinerals thought it was too lowbrow for them. They didn't "get" YouTube and beauty vloggers then. So Ipsy asked us for something like 15,000 products. That was the beginning of our partnership and the beginning of reinventing Purlisse for a new generation and the direct-to-consumer market.
Bostonia:
Can you talk about some of the mistakes you've made, and what you learned in the process?
Yen: With Purlisse, I was passionate and creative—I spent so much time working with our chemists to develop the line because I wanted to get it perfect. And I had a clear instinct about how I wanted the brand to look. But I didn't know how to negotiate. I didn't really know what prices I should be paying for things. So I really grossly overpaid for the first set of production products. 
I also didn't really understand the risk associated with starting a business. And I really didn't understand how much money you have to put into a venture. All I could see as an amateur was, "This is how much we'll make if we sell all of these units." Well, you're probably not going to sell all your units. If you don't sell, you're going to have to put things on sale, and so on. So, I had to learn just some general business practices starting out. However hard you think [starting a business is]—you should times that by 100. 
The second time around, with Yensa, we were able to get to a growing phase a lot faster than with Purlisse. Ipsy proved to be a really successful partner with their strategy and the data they were collecting. So I said, "Okay, I'm not going to start Yensa through retail, I actually want to start on Ipsy and drive people to our website and have a direct-to-consumer model." I wanted QVC to be our second platform, because I needed a platform that was going to give me demonstrative and storytelling capabilities about why our products were different. So, I took the data from Ipsy to QVC and that really gave us a [more successful] second try.
Bostonia:
Then what were some wins that signaled you were on the right track?
For Purlisse, it was initially when we got into Henri Bendel and C.O. Bigelow, and when we got onto SkinStore. At that time, that was the largest skincare dotcom, and it was one of the first websites to let you leave reviews. [Reading those], I was like, "My instincts were right: people want products that are clean and safe for sensitive skin." 
The second was when we started working with Ipsy. One of our mud masks outperformed Glamglow, which is a huge company now owned by Estee Lauder. That just fed me more confidence and solidified that I should be putting my energy into developing products and formulas. 
For Yensa, it was when we started being featured on QVC and we would be the highlight of the show. We almost sold out a few times! That was great. And then just seeing our slow and steady growth, and seeing people discover our products and become loyal to us. Whenever I read customer reviews, I think, "You know what? I'm thankful that I had these skin problems." I knew I wasn't the only one. And even though 'Im selling to these women, I'm grateful that I'm helping them, too.
Bostonia:
There's always a new trend popping up in beauty: face gems, glass skin, lip stains, what have you. What are your thoughts on keeping up with—or staying away from—trends?
If you look at both brands, we tend to stay in our lane. We do complexion really well. We deliver on our promise of silky, beautiful coverage that looks natural and doesn't feel heavy or greasy on your skin. And, we're gonna protect your skin with SPF and nourish your skin with high-quality ingredients.
We know who we are. We're always going to make products that are modern and easy for busy women to use, and we're always going to use Asian and superfood-infused ingredients. If, say, matte velvet lipstick was trending one year we might try something for Purlisse, because that customer base is more millennial. But because Yensa is available on QVC, we're mainly targeting Gen X, and the question there is, will [this trendy product] help this particular customer?