Spoilers below.
More men in crop tops! More men in blouses! More men in skirts! As Christian announces at the beginning of this week's challenge, "The era of male peacocking is upon us," and what a privilege it is to witness. May we all send up a silent prayer of thanks that "gender-neutral" is no longer parlance for "one-size-fits-all" and "gray, brown, or yellow if we're feeling dangerous." The runway is not a newborn's nursery, babes! Timmy C. and co. are strutting down the red carpet in halter tops and feather boas, and all the people say amen.
Once all the designers are on the same page about the week's theme (Laurence: "What's male peacocking?" Bishme: "When you're, like, showing off"), Christian outlines the challenge ahead: The five remaining designers have two days to create a menswear look that "stands out and attracts the most attention possible, but by still being chic."
More From ELLE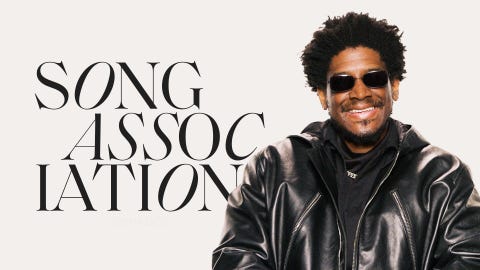 After an eventful trip to Mood—they each blow $750 (or $950, in Laurence's case) on some fascinating color choices, and Prajje almost steals a yard of fabric on hold for Lady Gaga—everyone arrives in the workroom exuding confidence. One of the joys of each Project Runway season is seeing the moment when these talented creatives finally master the routine being demanded of them. This week's challenge seems to be one of the first in which all of the contestants have a clear, uninhibited vision of what they want to create, not just as a designer but as a Project Runway designer in particular; they know their signatures, and they know how to use them in a way that both the judges and the cameras will appreciate.
The next morning, the male models arrive. (This is always, inevitably, a big moment on Project Runway. Breaking down why is the subject of another, much longer analysis.) Christian double-checks to ensure Brittany is wearing her wedding ring as the hot young guys storm the building. "I am very much wearing my wedding ring today," she assures him. "Bishme reminded me to put it on."
Christian, ever the romantic: "That's cuuuuuute!"
But Bishme's fixation on his fellow designer's not-wandering eyes apparently diminishes his ability to keep his own eyes on his needlework, as he accidentally stabs his model during the group's first fitting. With blood now staining his beautiful green trousers, he's afraid he'll have to recut a pant leg—but Prajje comes to the rescue with the recommendation of hydrogen peroxide. We love a man who knows his stain removers!
That night, Laurence, a former bartender, shakes up some cocktails for the crew, and they crash for one more night before the sun rises on runway day. The usual rush of cut strings, abandoned silks, and barbed remarks precedes the show: Of this week's designs, Laurence notes, "You know what's really working for me right now? None of them." But guest judge Colman Domingo—and myself, for what it's worth—might beg to differ. Let's get into it.
Brittany: I don't know what Brittany's drinking these days that keeps her afloat challenge after challenge, but I would like to invest in its inevitable franchise spin-off. Sure, her pussy-bow blouse and metallic green pants are reminiscent of Gucci's latest and greatest hits, but there's still something uniquely athletic about her interpretation. Maybe it's the plackets? The sex appeal of that see-through silk? I'm not sure, but it's working.
Rami: Despite some obvious fit issues around the model's torso, Rami's one-shoulder suit jacket is one of the smartest draping styles I've ever seen on a male body. It's so elegant yet playful, subversive without eschewing subtlety. I could absolutely envision a number of Hollywood A-listers going nuts over this look, "Sweet Tea" chief among them.
Prajje: I like what this look is trying to be—the fuschia butler jacket, the sexy mesh turtleneck underneath, and the hand-painted pattern on the fabric are quintessentially Prajje—but I don't think it works in execution. The overall ensemble is clashing, confusing, and strangely dated for an artist as forward-thinking as Prajje.
Laurence: As with almost all of Laurence's creations, the individual pieces here are crafted well. The "bulletproof" leather vest fits so closely it almost registers as a tank top, and the royal blue skirt hugs the model's waist in a manner you rarely see on dudes. But there's no question the outfit looks incomplete, nor do the top and the bottom feel as if they belong in the same conversation.
Bishme: The Mask, but make it fashion?! I love when Bishme lets his wildest ideas roar to life. The lime-green "Western Lenny Kravitz" get-up has a deep-V neckline, a fedora, and a scarf the size of a hallway runner—features I would not normally associate with couture. And yet, here we are!
"We're getting to that point where it's really so hard," Nina laments as the show draws to a close. In response, Brandon tilts his head back and forth and asks, "Is it?" Sure enough, he, Elaine, Nina, and Colman have little difficulty rattling off their favorites: Rami, Bishme, and Brittany each get another shot at the All-Star throne. Rami, in particular, wows the group with his almost-bridal-but-not-bridal menswear, earning him the top spot of the week and $5,000 to boot. That leaves Prajje and Laurence at risk of eviction from Hotel Indigo.
Laurence is chided for her unfinished work—particularly as the judging becomes only more exacting—but it's Prajje who gets the worst of their criticisms. ("Nothing in the year 2023 has offended Nina Garcia more than this gold mesh turtleneck," Brandon notes. Nina gently corrects him: "Copper.") In the end, the beloved designer gets Nina's classic "I'm very sorry to say this, but…" as his time on Project Runway draws to a close. But he promises to stick around anyway, at least as far as Christian's concerned: "Now I'm gonna haunt you in your dreams," he promises his exhausted mentor.
Regardless, next week, our dreams come true. The infamous avant-garde challenge is back, and the legend himself—image architect Law Roach—is judging. All-Stars, be warned: This is the standard you're up against. Good luck!

Culture Writer
Lauren Puckett-Pope is a staff culture writer at ELLE, where she primarily covers film, television and books. She was previously an associate editor at ELLE.