Wouldn't it be fun to walk a red carpet? Think about it: the glam, the photos… plus: you (usually) get to wear some kind of evening gown. Truly a dream. While I can't make all your red carpet dreams come true, I can let you in on a seriously simple (and affordable) premiere-worthy makeup look.
Earlier this month, Jennifer Garner, 51, delivered a huge slay at the premiere for her new Apple TV+ series The Last Thing He Told Me. She was absolutely glowing in a white Gabriella Hearst dress (which showed off her super-sculpted arms). Obviously, Jen always looks 10/10, but this look was next-level chic.
Luckily for you, Women's Health caught up with the mastermind behind part of Jennifer's glammed-up radiance, celebrity makeup artist Kara Yoshimoto Bua—so you too can be red carpet-ready, all with products for about $50 total (!!).
Yup. Jen's entire look was achieved using mostly Neutrogena products—a longtime favorite of Jennifer and Kara. Kara loves how naturally the brand's products—like the multi-use makeup stick and the Hydroboost concealer—go on the skin. Her personal fave, though, is the Hydroboost water gel for moisturizing.
"I don't like [faces] to look like makeup is on there. I want it to be natural and integrated into the skin tones and the skin texture mostly," Kara says. "I love products that help create a canvas that brings out the the glow in your face and skin." Enter: Neutrogena.
Before we get into the routine, let's back up for a sec: Kara has been in the makeup game for a very long time, so her stamp of approval is a big deal. In addition to Jennifer Garner, Kara has also helped so many other celebs such as Emma Roberts, Sharon Stone, and Christina Applegate achieve next-level red carpet looks.
"It's been so long," Kara says of how long she's worked with Jennifer. "It was pre-kids, pre-marriage, pre-everything when we met. We've shared a lot of life experiences together."
On the day of Jennifer's premiere, Kara started prep a few hours before Jennifer walked the red carpet. "We started off with skincare," Kara tells WH. "We both love the [Neutrogena Hydroboost] gel to moisturize the skin."
Then, it's onto Neutrogena's Hydroboost Hydrating Tint. "[I start with] a foundation first, and I like to put a little on my fingers and blend on my hands to smooth onto [Jennifer's] skin, kind of like moisturizer," Kara says. "I like to do that right after applying moisturizer so it glides on and gives a sort of watercolor wash to even out the skin tone."
This content is imported from poll. You may be able to find the same content in another format, or you may be able to find more information, at their web site.
Next, when applying the Hydrating Concealer Stick, Kara has a trick. "Under the eyes, work [concealer] in [by drawing] a melon, or like an upside down C shape toward the bridge of the nose and under the eye instead of [applying it] under the whole eye," she says. "Then, pat it to blend it out."
For finishing touches, Kara worked in the multi-use stick to brighten up Jen's entire face. "It's a beautiful warm coral-y color, so we put that on the cheeks and also worked it into the lip and on the crease [of the eyelids]," she says. It's pretty simple, but she really loves embracing a natural look.
Kara ended the routine by taking some photos of Jennifer (which she says is now a big part of her job), then, The Last Thing He Told Me actress was totally premiere-ready.
You can shop the whole look below for your own red carpet needs (or next bomb Instagram selfie).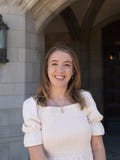 News Editorial Assistant
Olivia Evans (she/her) is an editorial assistant at Women's Health. Her work has previously appeared in The Cut and Teen Vogue. She loves covering topics where culture and wellness intersect. In her free time, she enjoys cooking, running, and watching rom-coms.