The U-shape haircut features rounded long layers that frame the face.
One editor tried the layered cut and is sharing photos of her results.
Keep reading for tips on how to style the look at home.
If, like me, you have thin, fine hair, you know that finding the right haircut can make a huge difference. I don't consider myself edgy enough for something like the "jellyfish" or "wolf" cuts, but I've tested out enough styles to know that the right layers are key to faking fuller, thicker hair. Recently, that came in the form of a new trend I tried: the U-shape haircut.
The style, which is named for — yep, you guessed it — its shape, features soft, rounded, long layers that frame the face, which creates a "U" along the perimeter. "The U-shape haircut is ideal for all hair types; one could almost say the 'U' is for 'universal,' but especially those hair types looking for a little extra fullness and volume," celebrity hairstylist Xavier Velasquez told POPSUGAR in November 2022. Unlike square cuts, which can make hair look weighed down, U-shape cuts give the hair more dimension and bounce.
To try the cut for myself, I visited Bomane Salon in Beverly Hills to see celebrity stylist and owner Andrea Henty. After chatting with her about what I was looking to achieve — more fullness and volume all over — we got to work. Henty first cut my hair dry, and when I asked her why, she said, "I never like to cut more than a client wants, and this ensures me the control and accuracy I need. I'm able to see how the hair is falling around each client's unique face and features, and it also yields a much softer end result."
When she busted out the scissors and began cutting into my hair, she sectioned it off into three different sections and started snipping layers in a U shape from the top to bottom. I was genuinely shocked to see that my hair was starting to look more full each time the scissors made contact. While everything started off looking flat, thin, and stringy, within five minutes my hair already looked twice as full even though I hadn't lost more than half an inch in length. Henty cleaned up my ends, which were dead and gross, and she also shaped everything to give it a rounded look.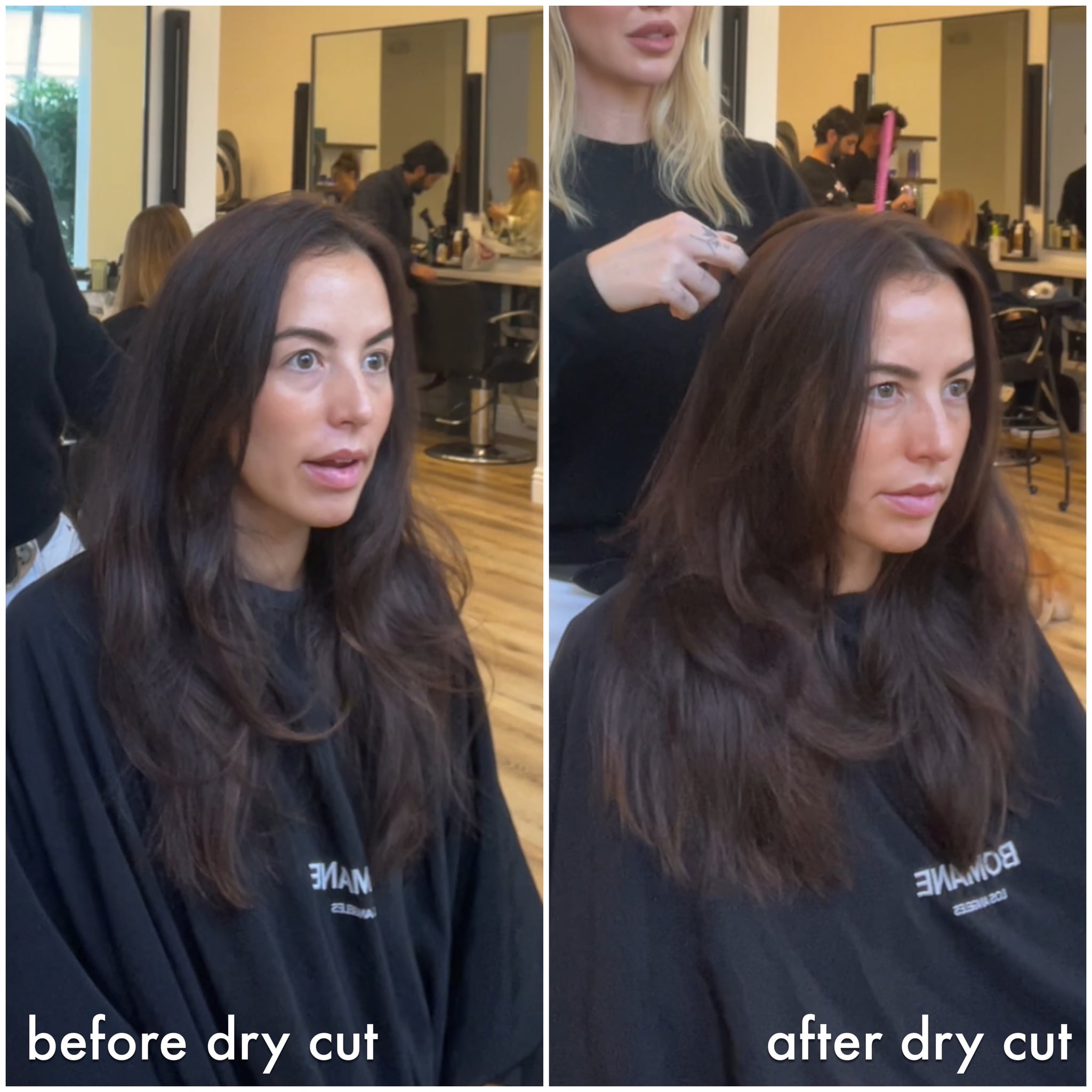 After Henty finished dry cutting, we made our way over to the shampoo bowl, where we washed and conditioned my hair. Since the end goal was to give me more volume, we used the Unite Boosta Shampoo ($31) and Unite Boosta Conditioner ($33), which would help with added body.
As for styling, after blow-drying my hair, Henty used a Hairbeauron 1.4″ curling iron to give the voluminous effect of a blowout. "If you're good with a traditional round-brush-blowout look, I recommend using a Bioprogramming Repronizer and setting it with no crease clips." If not, you can always fake the look with a "faux out" by using your favorite curling iron. "This haircut is all about the natural body, lift, and movement, so you want to make sure that you're styling it in a way that complements the haircut," Henty says.
To maintain the cut, frequent salon visits are key. "I'm really strict about this with my clients; I recommend never going longer than three months without a haircut," Henty says. "You're begging for split ends that travel up the hair shaft and aren't able to be cut without many inches being lost."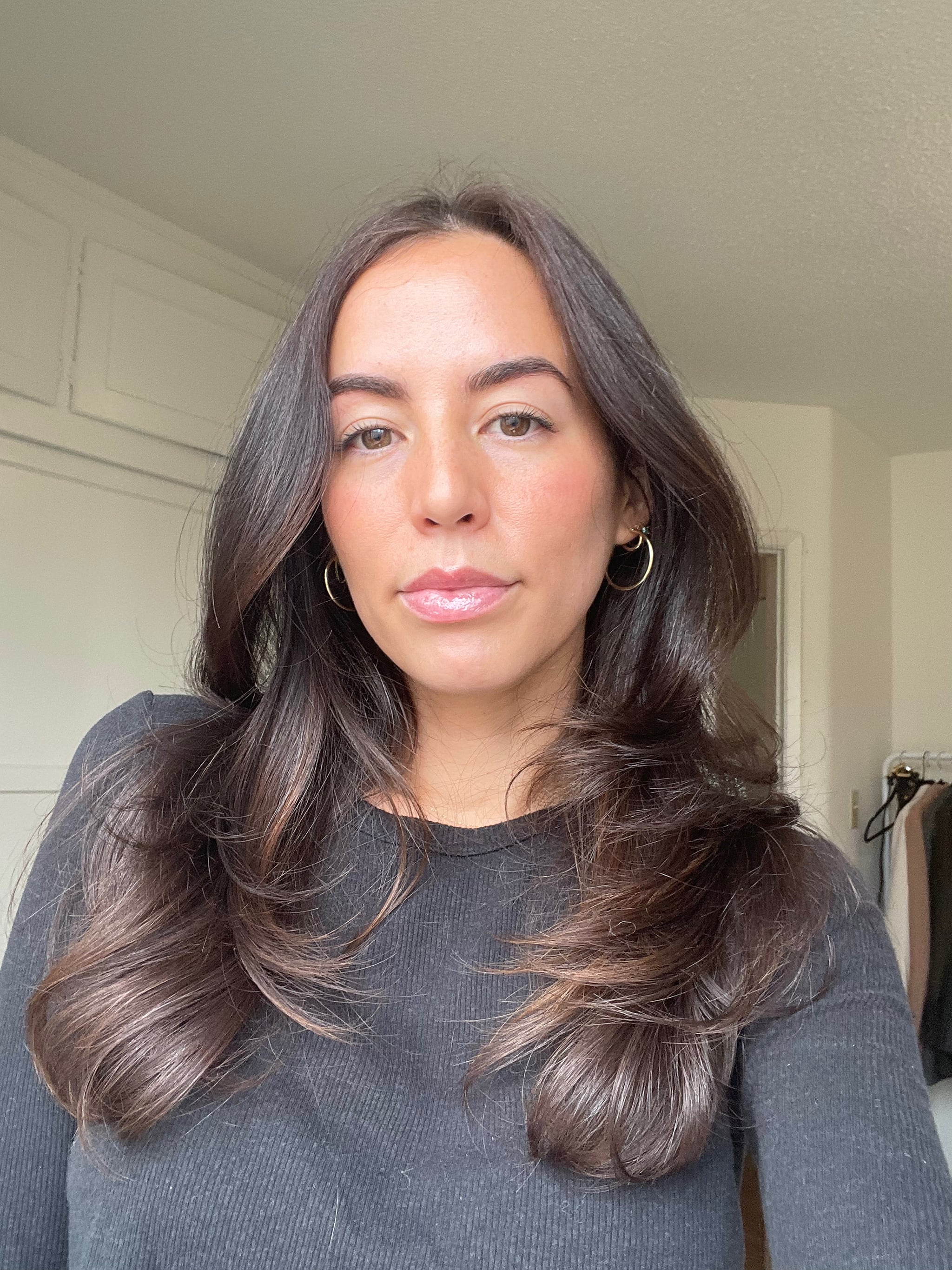 After she was finished and I looked in the mirror, I was excited to see that my hair had bounce and volume like never before. I had gone into the salon hoping that I would get a little more lift at the roots, but the end result gave me volume all over.
For me, the best part about this cut is how easy it's been to style. If I'm going out for the night with friends or on a date, I typically reach for my Dyson Airwrap with the round brush attachment. However, I've quickly learned that this cut is essentially a wash-and-go style. While it looks great blown out with the ends curved inward, I'm able to let it air-dry immediately after getting out of the shower, and I still have tons of lift at the roots. If you've got flat, fine hair and you've been looking for a way to give it a boost — ask your stylist about the U-shape haircut. It's changed my hair for the better.
Image Source: POPSUGAR Photography / Renee Rodriguez