This interview was conducted prior to the SAG-AFTRA strike.
I saw André 3000 here once and I freaked out," Halle Bailey half-whispers. "But I contained myself."
We're sitting in the dimly lit, no-frills dining room of Merkato, an Ethiopian restaurant in Los Angeles. Halle loves this spot because, in addition to the great food, it's a place where people tend to respect your space. Even if you're one of the greatest rappers of all time or, say, a newly crowned Disney Princess having, in celebrity terms, one of the biggest years in recent memory.
Maybe that's why Halle pulled up to lunch by herself, in a black puffer jacket and no makeup, genuinely expecting not to cause a scene. But as the saying goes, she was gon' learn today. "I'm such a fan!" gushes a teenage admirer as she approaches our table. "I knew that was you when you came in—I've been watching you since YouTube."
YouTube, meaning back in 2013, when a 13-year-old Halle and her sister Chlöe uploaded a video of themselves performing a cover of Beyoncé's "Pretty Hurts." In the stuff of every teen's wildest dreams, it caught the eye of Bey herself, who signed the duo to her record label and invited them to be the opening act on her tour.1 What followed for Chloe x Halle were countless magazine covers (including a Cosmo one in October 2020), four Grammy nominations, and regular appearances on the Freeform hit series Grown-ish.
1. JFYI, there'll be no more Beyoncé in this story. When I ask Halle about the question she's most tired of answering, this was it. She loves Beyoncé and is beyond grateful but has moved on from talking about her all the time, so we will too.
None of that really compares, though, to what happened next, the reason we're sitting here now, on Juneteenth of all days, after Halle is just back from a frenzied international press tour (England, Mexico, Australia, everywhere). Her leading role as Ariel in the live-action remake of The Little Mermaid pushed the film to gross $560 million and counting—and propelled Halle to, well, this.
"It's going to take a minute to sink in," she says. "I'm doing feature films, which I never thought would happen." Films, plural, because you'll soon see her starring in another majorly anticipated remake as Nettie in The Color Purple, adding producers Oprah Winfrey and Steven Spielberg to her list of impressive collaborators. Around the same time, and following the success of her powerful single "Angel," she'll casually release her first solo album, yet to be named.
As we chat, it becomes clear that Halle is still grappling not only with the jobs she's landing but with her newfound megafame. She still gets starstruck, still gives all glory to God—at least eight times during our conversation, if we're counting—and is still her sibling's biggest supporter (after lunch, she'll rush to be with Chlöe for the latter's live performance at CNN's Juneteenth Special). But she also seems to recognize that she's no longer just a singer or an actor. She's a symbol—that princess crown has followed her offscreen.
"Thank you for the wonderful example that you continue to show for young Black women," gushes the young fan, with whom Halle is now graciously taking a table-side photo.
Is there more pressure? Sure, but also opportunities. Because unlike with any semiretired musicians who may be able to move about unnoticed, Halle is smack-dab in the middle of her Magic Hour.
How's your heart right now?
My heart is great. I just got off this press tour for a movie that was five years in the making, and now that baby is gone. I'm really happy and proud and ready to move on to the next phase.
The Little Mermaid got a level of attention that most actors could only hope for. Add in the fact that you're a young Black woman, and it becomes historic. Have you managed to stay present at all?
A little. It was a bit of a whirlwind and overwhelming, every day in another city with fans waiting outside our hotels, following us to each interview. I'd never experienced anything like it. But it's really cool getting to meet all of these people around the world, especially the babies, which makes me so happy.
I saw you retweet this hilarious TikTok2 of a girl singing a ratchet remix of "Part of Your World."
People see me as a Disney Princess and, yes, that's what I am, but there's a very ratchet side to me as well. I mean, I'm from Atlanta. So it's just natural. I saw that video, and I loved it because as a young 23-year-old Black girl, that's just how I feel.
2. In the video, TikToker Atikin Rose (@AtikinRose) stands in front of a bathroom mirror singing (very well, I should add) the following lyrics to the tune of "Part of Your World": "I wanna be with the city girls / I wanna see, wanna see ass shaking / in the club drinking…what do ya call it? / Casamigos!"
Do you worry at all about being boxed into that Disney Princess image?
My main goal has always been to stay true to myself. There's so much more to being a young woman than this fairy-tale character. I think other people have a hard time separating who Halle is and who a princess is—and that's natural when you're a fan of an artist. But it's a beautiful thing to be a layered individual and not fit into one certain image.
Well, we're not going to have to wait long to see you in a totally new way. You're in the upcoming musical film The Color Purple. Going from Disney to Oprah in one year is quite a flex!
It's very surreal for me. I'm just in awe. I've loved The Color Purple ever since I was a little girl. I mean, it's a Black family staple. We all know the story; we all know what happened. When I heard that they were doing a remake, I was like, I hope they get somebody to do it right because it's something that we have to keep safe. This story, this movie that's lived on so long and has had such amazing talent come out of it, it's really cool. When I saw that Oprah and Steven Spielberg and all of the original creators were going to be involved, I was happy because it feels like—in a similar way that Mermaid did—you're honoring the original.
How did it come about, you getting the role of Nettie3?
I auditioned for the role while I was filming Mermaid. I got a request from the director, Blitz, who's actually worked with Parkwood for B.4 I was like, "Oh, I know him. He did some of Black Is King." I thought it would be cool just to send in a tape. I did a self-tape from my bedroom, singing a gospel song.
3. Nettie is one of two sisters central to The Color Purple's story. They are separated when Nettie's sister, Celie, is married off to a man who keeps the women apart for years.
4. Okay, yes, the B here does, in fact, stand for Beyoncé. And I must note for the record that I was not the one to bring her up.
The cast is such an all-star lineup—I imagine it being very Black on set. Just a beautiful, very Black-ass time.
It was beautifully Blackity Black. Set was like going to a cookout—it felt like a family reunion, honestly, like you're surrounded by your aunties and cousins. I was just excited to be there as a fan of everyone. The movie is a labor of love. I mean, we all care so much about the original story and really wanted to do a good job with this reimagining. People are going to lose their minds over Fantasia's and Taraji's performances.5 I get chills just thinking about it.
5. The cast includes Fantasia Barrino as Celie and Taraji P. Henson as Shug Avery plus Danielle Brooks, Colman Domingo, Corey Hawkins, and H.E.R.
How did working with such powerhouses inspire you as an actor?
It was so cool to get to watch their process—how they take direction and how they make things their own. With Fantasia, I could really relate to her because she comes from the musical world. She was able to translate the heart and emotion that comes out through her music onto the screen. I was just trying to be a sponge.
What do you hope audiences get from the film?
The reason I wanted to do it—and the reason I felt connected to it—is that it's about the beautiful bond of sisterhood. What it means when you're away from each other and how heartbreaking that is but also how special the moments you have together are. I could pull from my own experience with my sister, who's my angel and my best friend. I couldn't imagine what it would be like if we were separated in the way Nettie and Celie were.
And then there are messages about finding yourself and not letting certain trials and tribulations define you. I mean, Celie went through so much abuse and heartbreak. It's really beautiful to see somebody come out of that and still bloom into this beautiful flower.
It is. Will you bring anything you've learned on movie sets to your music?
Absolutely. Because I worked my whole childhood, there are things I didn't get to experience. Ariel was my college experience. She was the one to say, "Look, look what you have in you. You can." Nettie was the same type of lesson, almost in a spiritual way. These characters are speaking to me and teaching me. It's cool to learn things about life through their eyes. And all musical inspiration really just comes from life experiences. Love has been a really big one for me too, because that's something I'm experiencing for the first time, and it's, like, "whoa" in your brain. It's just fireworks, a spark for creativity.
So this is definitely your first time being in love6?
You know, you have puppy love experiences, you think that's love. But this is my first deep, deep, real love.
6. Halle is in a relationship with rapper Darryl Dwayne Granberry Jr., or DDG. The two were first spotted together at an Usher concert in January 2022. They became Instagram official on her birthday that year.
Does this mean we'll get a peek at your relationship through your new music?
I don't really talk about my personal stuff, but I will tell you where I get my creativity from. This has been a really beautiful transformative time for me. I have all this new material to write about. It's like, What the heck did I just experience and go through? A whirlwind of amazingness. You never know what you're capable of until you're put through it. I was very creatively inspired, and then from there, I fell in love. And so I really just played with those themes in my music. Sound-wise, it's a little modern R&B-ish, with all the jazz elements and hints of pop that I love.
Can we get a hint about when the EP is dropping?
Definitely before the end of the year.
Your sister Chlöe did an interview with Cosmo earlier this year,7 and when asked who she makes music for, she said, "I make music for people who are great at acting like everything's okay when it's not, and they're afraid to tell somebody." Who would you say your music is for?
My music is definitely for the young girl who doesn't know herself completely yet, who's growing every day and learning about who she is and about her power. It's an emotional, vulnerable kind of music. It's also a love letter to myself and my younger self and my future self.
7. For your reading pleasure.
We've seen a lot of child or teen stars struggle to navigate ushering their fan base into new, more mature content as they get older. Now that you're in the midst of that transition, how does it feel?
There will always be a conversation because I started so young. There's a sort of protectiveness or ownership that people feel they have over your story because they've known you for so long. Part of me thinks that's a beautiful thing, to know that you have that support from people and they just want to see good things happen to you. But it's also really easy for us to comment on what other people are doing…to say a lot of stuff. I think the transition will continue to happen naturally. It's on people to figure it out, not necessarily on me.
One form of evolution we've already really seen from you is with your fashion. You've become this style star.
I'm definitely not a natural! I look back at some of my pictures on the red carpet and laugh. But as I'm getting older and my body is changing, I'm learning who I am. I want to be sexy. I want to feel good. I want to wear clothes that embrace where I am in life. My confidence has gotten deeper and bigger with the help of my sister. She's always been an extroverted, sexy, demanding kind of presence. As I've watched her, I'm like, That's so cool. I hope one day I can do that. She's helping me find my footing in this whole adult-woman world.
From a high-fashion level, you're making some excellent choices.
It's definitely a collaboration. I've worked with some beautiful stylists that help me find that vision. I like to find shapes that make me feel good about myself. And because I'm smaller, because I'm petite,8 I still want to feel like a woman.
8. She barely breaks 5 feet.
I also have to ask about the versatility of hairstyles you've been able to rock despite having locs. As Black women, we know how mythical our hairstyles can seem to others, but this call is coming from inside the house because even most of us are shook!
Yeah, I'm with everybody else! The latest people I've worked with are so talented and amazing. I love my locs. They're like a sense of security for me because I've had them ever since I was young. I'm used to them being a bit bigger and not being able to fit them under wigs. It's really cool to be able to switch up your looks from time to time but still embrace your natural self.
You mentioned that Chlöe inspires you to push boundaries. How has it been recording music as a solo artist without her?
The biggest difference is that I had to learn how to believe in myself on my own. Every time we're working together, she's the voice of reason, and she's, like, the confidence for us both. She goes, "Keep going. Keep riding it, Halle. You're doing great. You're doing great." You know?
Yeah, having that kind of affirmation from someone whose taste you trust is everything.
She is my words-of-affirmation partner. So without her, when I'm making music, I'm trying to decide if things are good on my own. The creative process is very up and down. It's me learning how to give myself those affirmations.
For her part, Chlöe has talked about how you stand up for her in a way that she's trying to learn to do for herself.
I'm an Aries, so I will check anybody over my family, over the ones I love. I don't care. When it comes to me, I have to give myself that same type of grace. But it's something I'm still learning to do.
Are there any boundaries you have in place to protect Halle the person from Halle the brand?
I just live my life the way I want to live it and turn off my phone if I don't like what people are saying online. But I also do think what I'm going through as a young woman right now, it's really good fuel for me creatively. So I focus on putting whatever life experience I'm going through in the art that I'm creating.
And as we've established, you've been going through a lot! Have you made a point to celebrate the year you've had, maybe with a vacation?
For sure. But also, this last press tour was really intense, like plane rides every day. I do not want to see another plane.9 I just want to be home in my bed. It's nice to be home when you've been gone.
9. Okay, maybe just one more: This vacation question may or may not have inspired Halle's decision to jet off to Paris with her boyfriend a few days after we talked.
---
On the cover: Paco Rabanne coat, top, and skirt. 3.1 Phillip Lim boots. Pandora earrings and ring.
Stylist: Cassie Anderson. Hair: Vernon François using Vernon François Haircare and Redken. Makeup: Christiana Cassell at The Wall Group. Manicure: Kimmie Kyees using Mia Secret. Set design: James Lear at 11th House Agency.
Executive producer: Abbey Adkison. Director of photography: Jennifer Cox. Sound: Michael Rich. Assistant camera: Darren Kho. Editor: Sarah Ng.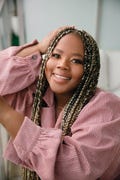 Sylvia Obell is a writer and podcast host who lives in Los Angeles. Her work has appeared in New York magazine, Cosmopolitan, and Essence. Previously, she was an entertainment reporter for BuzzFeed News.