originally published: 08/31/2023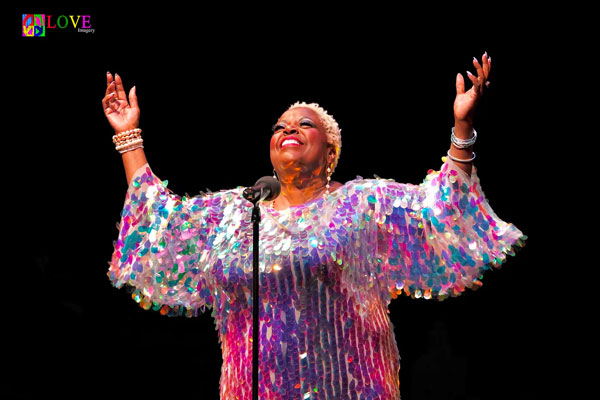 Cheers ensue as Broadway actress, Lillias White, takes the Axelrod Performing Arts Center stage this Sunday, August 20, 2023 evening along with her accompanist, pianist Mathis Picard. Recently featured on Jane Pauley's CBS Sunday Morning TV show, White, 72, is a veteran of nearly a dozen Broadway productions including How to Succeed in Business Without Really Trying and the winner of a 1997 Tony Award for her performance in The Life. She currently can be seen appearing in the hit Broadway musical, Hadestown.
White opens her show by asking the audience to echo her saying "Yes" prior to launching into "Yes," a song from her 2021 album, Get Yourself Some Happy. Exuding charm and personality as she interacts with the audience, White impresses with her vocal range and talent as she sings, "Life keeps happening every day/Say 'yes!'" Performing with positivity and power, White is perfectly enveloped by Picard's warm and precise piano playing on this jazzy opening number.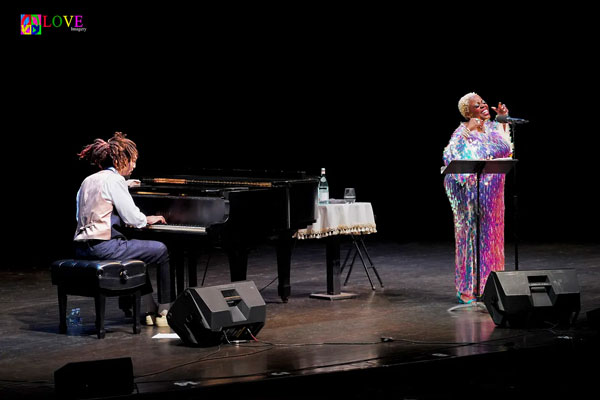 The crowd whistles and cheers, and White exclaims, "Thank you so much!" After introducing Picard, he blows her a kiss. White tells the crowd about Get Yourself Some Happy, explaining that it's a collection of songs that give her joy. Here, she invites the audience to snap along to another cut from the album, Queen's "You're My Best Friend." Looking marvelous with her short blond hair and shimmering gown, White happily sways as she sings the well-known "Ooh, you make me live" lyric and draws the audience into her world of song.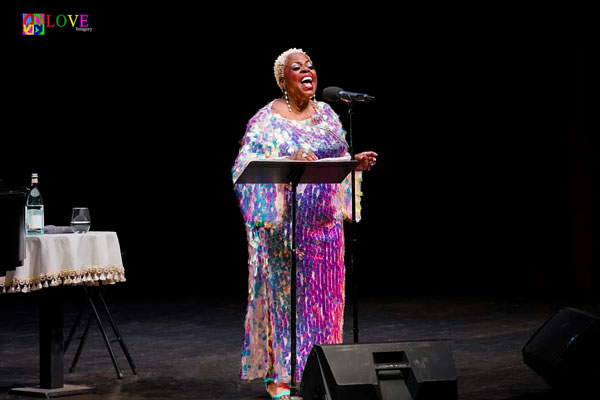 Following a sweet and sassy boogie-woogie rendition of "My Baby Cares for Me," White reveals to the audience that Picard is getting married tomorrow and dedicates her next number to "all the lovers in the house." White's voice soars as she sings with arms wide open on the Luther Van Dross number, "So Amazing."
She follows up with the Johnny Mathis tune, "Stairway to the Stars," where Picard plays soft piano arpeggios on this old-timey love ballad. Bending her voice as she sings — showy, legato, and luscious — White interprets the composition with musicality and grace.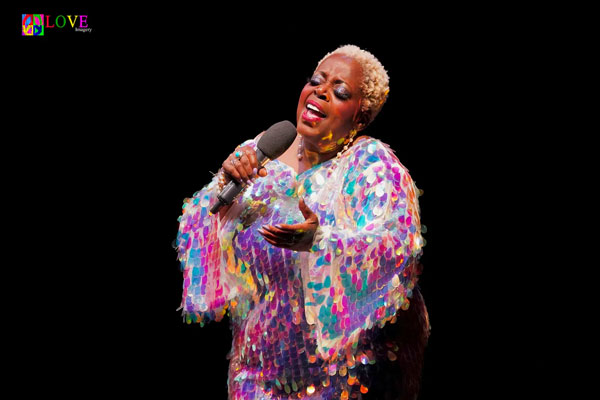 Advertise with New Jersey Stage for $50-$100 per month, click here for info
---
Picard solos softly before building with trills and runs, demonstrating his top-notch musicianship. The crowd cheers for Picard before White sings again with great emotion as the arrangement builds to a dramatic conclusion.
The crowd cheers, and White acknowledges, "I'm working on a Sarah Vaughn tribute album, and this is one of my favorite Sarah Vaughn songs," as she segues into the upbeat jazz number, "It's Crazy."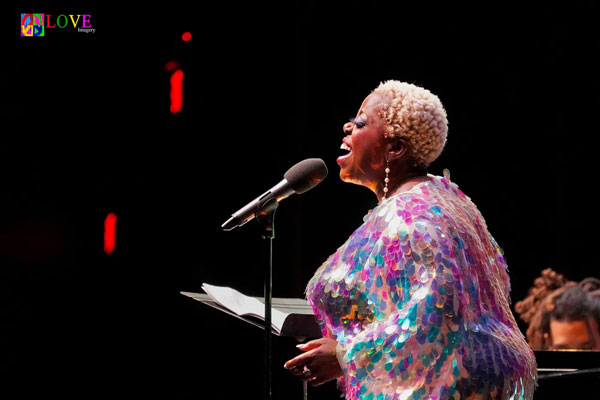 Then, she scats up, down, and around the melody with skill and technique on Vaughn's swinging "Shulie-A-Bop" before Picard takes off on a piano solo and White rejoins the song vocalizing with precise pitch and color.
A highlight of White's set is her performance of "Skylark." Soft and prayer-like, White sings in her rich and natural lower register, "Skylark/Have you anything to say to me?/Won't you tell me where my love can be?" on this Hoagy Carmichael classic.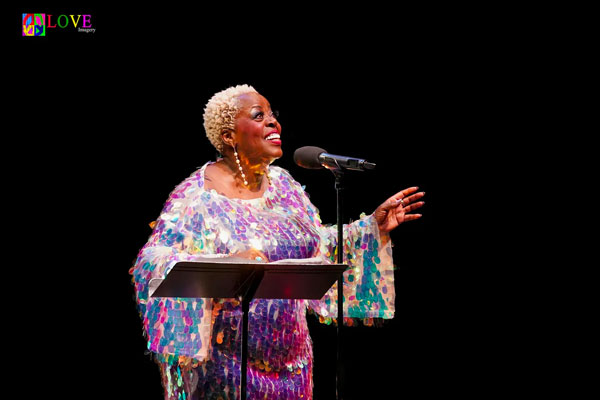 Picard impresses on the piano interlude where his right hand cascades as his left accompanies while simultaneously playing the melody. White hums as Picard plays before she retakes the melody, the two musicians performing as one on this timeless tune.
White chats with music lovers in the audience about her hometown of Brooklyn, connecting with them as she shares recollections from her childhood. Acknowledging that one of her dreams is to someday have a house on an island where she can have visitors stop by, she gives a gutsy and gritty performance of Sarah Vaughn's "An Occasional Man" where she dances sexy and loose during Picard's piano interlude.
Shimmying across the stage, White cries, "I can be your passionfruit!" on the song's jazzy ending.
Next, White gives Picard his turn in the spotlight. On the instrumental, "Pinky," Picard plays softly and sweetly, barely touching the piano keys but making the instrument sing. Building the arrangement as he plays with precision and style, music lovers stand calling, "Bravo!" as he takes a well deserved bow.
Another highlight of tonight's set is White's joyful rendition of Sarah Vaughn's "Your Smile." Singing, "You're smile is the key to my fortress/It has the power of magic/It is the door to my heart," White lights up the stage as she sings this upbeat and joyful Brazilian number.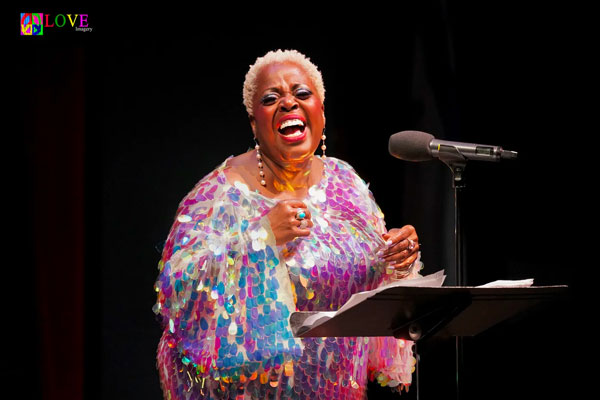 The audience hoots and hollers, and White takes a seat to explain that the words to her final selection provide "a lesson for everyone." On her sweet and gentle version of Tim McGraw's "Humble and Kind," White captivates concertgoers who nod in agreement as she sings, "Hold the door, say 'Please,' say 'Thank you'/Don't steal, don't cheat, and don't lie/I know you got mountains to climb/But always stay humble and kind."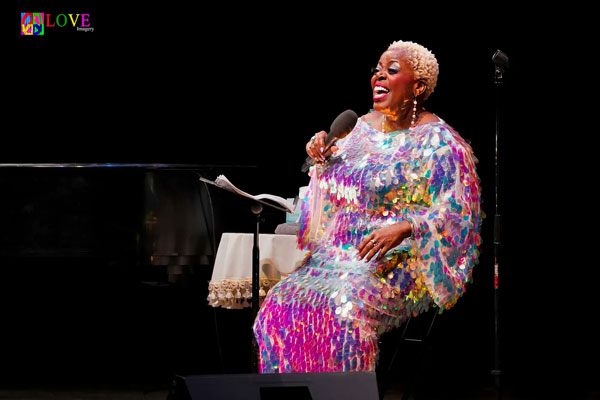 Ending by declaring, "I love you all!" music lovers cheer, and White exclaims, "Thank you! God bless you!" before inquiring, "One more?" The crowd responds in the affirmative and White performs an encore of Nat King Cole's "That's All," singing, "I can only give you love that lasts forever/And a promise to be near each time you call/And the only heart I own/For you and you alone/That's all, that's all."
Advertise with New Jersey Stage for $50-$100 per month, click here for info
---
As White remains at the edge of the stage chatting with fans, audience members react to her performance tonight. Remarks Carol from Farmingdale, "She's fabulous — just extremely talented! I hope she comes back again soon. That was one magical show!" Kelly from Long Branch agrees, adding, "I can't believe she's in her 70s! She has a magnificent instrument and knows how to use it. From her nuance and the way she turns a phrase to the rollicking power when she sets her voice free, she's just incredible — I enjoyed every minute of her performance!"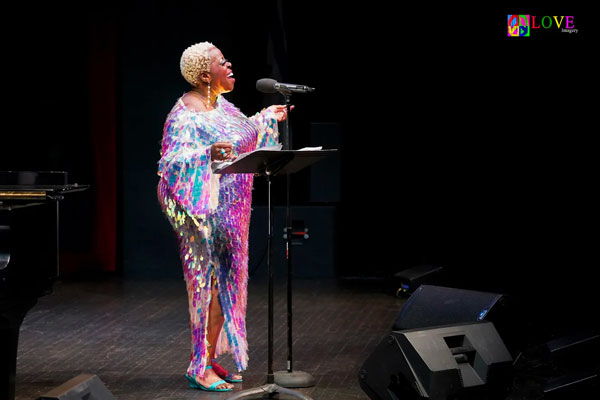 Declares Sue from Manalapan, "Lillias has a powerhouse personality! Experiencing her in concert is like sitting with your Auntie and just hanging with family," before confessing, "I didn't expect this show to be so amazing!" Cheryl from Freehold asserts, "I loved her warmth and honesty and personality. She's just so welcoming, honest, and real. She's 'everybody's people' and now I must go see her on Broadway in Hadestown!"
Bill from Deal comments, "I'd have to call Lillias White a 'humble diva' — she's so warm, yet so cool! And even though there were just two musicians on stage, her program was very orchestral sounding. Lillias' accompanist, Mathis Picard, has such control and style."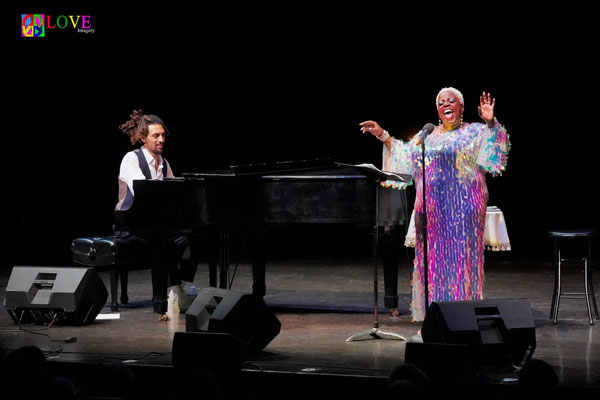 Elena from Monroe agrees, adding, "As a human being, she gives me hope that any dream I have I can still achieve," prior to noting, "and her accompanist Mathis Picard, is both entertaining and spellbinding. I could hear his heart when he played — he gave me chills!"
Lastly, Tina from Matawan asserts, "I love Lillias White! I've seen her on Broadway in How to Succeed in Business Without Really Trying and I've also seen her in New Jersey at the Paper Mill Playhouse. She's beautiful, talented, and unapologetically herself. In a word, she's effervescent!"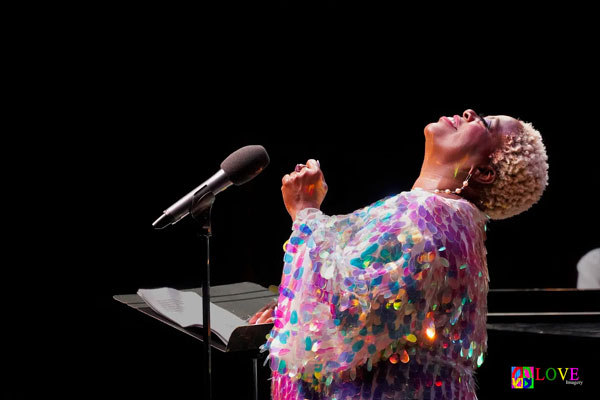 To learn more about Lillias White, please go to lilliaswhite.com. For information on upcoming performances at Deal's Axelrod PAC — including Celebrating Broadway and Hollywood starring Kate Baldwin and Aaron Lazar on October 14 and The Who's Tommy starring Remember Jones on November 10–18 — please go to axelrodartscenter.com.
Photos by Love Imagery
Spotlight Central. Your source for Jersey entertainment news and reviews
Love Imagery Fine Art Photography. all you need. peace/love/flower/power
ART | COMEDY | DANCE | MUSIC | THEATRE | COMMUNITY
Do Portugal Circus

Thursday, August 31, 2023 @ 7:30pm
Staten Island Mall
2655 Richmond Ave, Staten Island, NY 10314
category: community
Click here for full description
---
Do Portugal Circus

Friday, September 01, 2023 @ 7:30pm
Staten Island Mall
2655 Richmond Ave, Staten Island, NY 10314
category: community
Click here for full description
---
Do Portugal Circus

Saturday, September 02, 2023 @ 8:00pm
Staten Island Mall
2655 Richmond Ave, Staten Island, NY 10314
category: community
Click here for full description
---
Do Portugal Circus

Saturday, September 02, 2023 @ 5:00pm
Staten Island Mall
2655 Richmond Ave, Staten Island, NY 10314
category: community
Click here for full description
---
Do Portugal Circus

Saturday, September 02, 2023 @ 2:00pm
Staten Island Mall
2655 Richmond Ave, Staten Island, NY 10314
category: community
Click here for full description
---
Iris DeMent

Sunday, September 03, 2023 @ 7:30pm
The Vogel
99 Monmouth Street, Red Bank, NJ 07701
category: music
Click here for full description
---
Do Portugal Circus

Sunday, September 03, 2023 @ 5:00pm
Staten Island Mall
2655 Richmond Ave, Staten Island, NY 10314
category: community
Click here for full description
---
Do Portugal Circus

Sunday, September 03, 2023 @ 2:00pm
Staten Island Mall
2655 Richmond Ave, Staten Island, NY 10314
category: community
Click here for full description
---
Tuesday Night Record Club – Billy Joel's The Stranger

Tuesday, September 05, 2023 @ 7:30pm
Monmouth University – The Great Hall
400 Cedar Avenue, West Long Branch, NJ 07764
category: music
Click here for full description
---
Laughs In The Loft

Wednesday, September 06, 2023 @ 7:30pm
The Loft @ South Orange Performing Arts Center (SOPAC)
One Sopac Way, South Orange, NJ 07079
category: comedy
Click here for full description
---
Tony Mart Presents Mardi Gras AC: Cyril Neville with Omari Neville & The Fuel

Wednesday, September 06, 2023 @ 7:00pm
Kennedy Plaza
2301 Boardwalk, Atlantic City, NJ 08401
category: music
Click here for full description
---
Selling Kabul

Thursday, September 07, 2023 @ 8:00pm
Premiere Stages – Bauer Boucher Theatre Center
1000 Morris Avenue, Union, NJ 07083
category: theatre
Click here for full description
---
---
For more event listings, click here
---