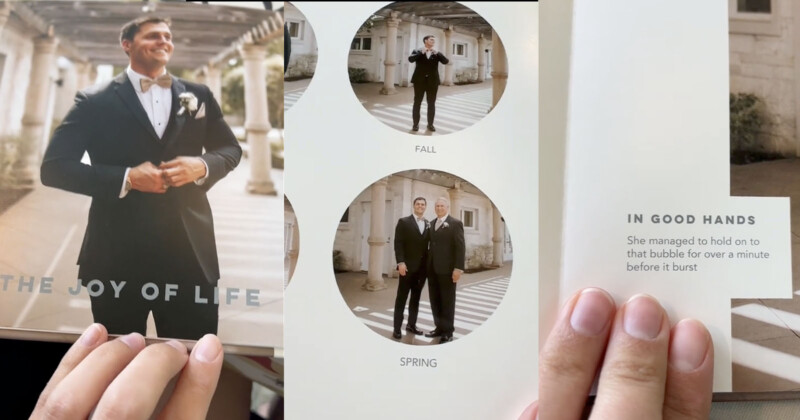 Securing the perfect wedding photos can be stressful, but when they look great, family might be inspired to make albums for the occasion. That's what this newlywed's mom did, only she didn't realize that she had to manually change the captions when using Shutterfly before getting the book printed. Oops!
A a viral TikTok, the newlywed showed off the wedding album her mom gifted her. The keepsake was filled with beautiful photos from the special day, but most of the captions were a bit…off.
@niki_nibs Our mother is single handedly the most hilarious person we know, and its usually completely on accident. Favorite wedding gift EVER!!! @shutterfly #shutterfly ♬ original sound – Niki
A page with for photos of the groom with loved ones read "summer," "fall," winter," and "spring," beneath each image. More curiously, the next page's caption read, "In good hands," in bold followed by, "She managed to hold on to that bubble for over a minute before it burst." There was not a bubble in any of the photos, simply the groom and what looked to be his groomsmen.
Another page with images of the bride in a covered outdoor space read, "A day at the park: We had a picnic, then walked around the park collecting leaves." The bride may have been outside, but it didn't look like a park, and there certainly were not any leaves going near that dress. Nor did the occasion appear to be a coast wedding, making the "day at the beach" caption a bit confusing, especially as it talk about sandcastles and splashing water on each other.
Occasionally, though, the words miraculously fit. For example, there was an innocuous caption that read, "the joy of life." What are weddings if not a part of the joy of life? One caption with the bride and her sister simply said, "precious moments." Another page had the words, "you make my day," emblazoned at the top with a caption stating, "This might have been our favorite family trip so far."
"Well, it was," the bride, whose name appears to be Niki, concedes laughing.
The family seemed to have a good time joking about the matter as the new bride sat with her sister and mother. In the TikTok caption, she wrote that it was her favorite wedding gift.
Even the comments found the humor in the honest mistake, some of which came from reported Shutterfly employees, which led one person to quip, "All of y'all who work at Shutterfly and no one can get the poor woman a fixed book for free."
---
Image credits: TK