Here's the closest-look yet at BMW's most important – and expensively conceived ever – new model, set for the second half of this decade… and it's a doozy.
Dubbed the Neue Klasse Vision Concept (NKVC for short), it is a close-to-production representation of a 3 Series-sized electric vehicle (EV), due to enter production in two years, just ahead of a 2026 Australian rollout.
One of the stars of this year's IAA motor show in Munich, think of it as the brand's long-awaited response to the Tesla Model 3, albeit in a more sophisticated and upmarket package.
Using an all-new battery EV architecture known as BMW's sixth-generation 'eDrive' technology, promising 30 per cent more range, 30 per cent fast charging and 25 per cent grater efficiency, the productionised NKVC is expected to employ a rear-mounted motor with rear-wheel drive, while a front-motor/front-wheel drive layout for all-wheel drive will also be available in higher-grade versions.
This is expected to set the template for all of the company's coming mid-size sedans and their offshoots from the 3 Series up, as well as crossovers and SUVs from X3 up, over the next 10 years or so. To that end, there are both 'Low' and 'High' riding versions under development according to body type.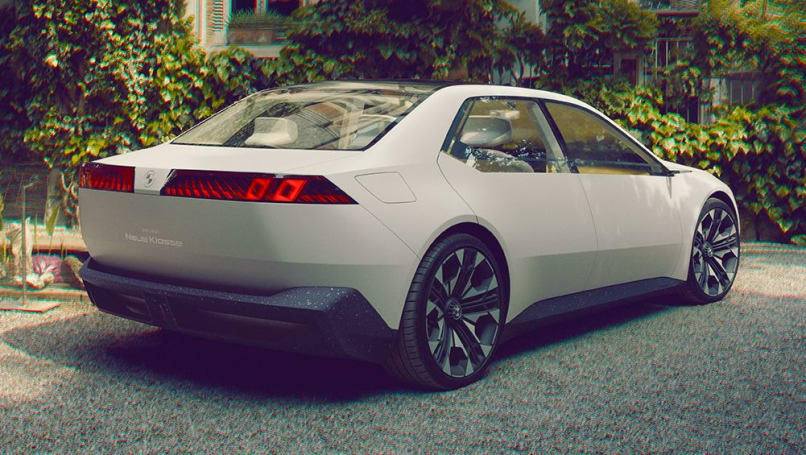 The Neue Klasse Vision previews BMW's future.
Yet just look at it – the NKVC is also about BMW's new design direction, adopting stunningly sparse surfacing, set within proportionally elegant silhouettes that are about as far away from the current, complex and divisive styling as you can get. All while still retaining signature brand styling cues like the Hofmeister Kink rear door shape and 'Kidney Grille' motif up front.
Speaking of which, visually the show car seamlessly combines retro and futuristic.
The former is evident in the slanted 'shark nose' front end reminiscent of the classic E9 coupe from 1968 to 1975, yet the LED headlights are set within a (thankfully horizontal) take on the corporate grille – just like 1980's ill-fated BMW M1 supercar. The angular body, with deep glass areas, also recall 3 and 5 Series sedans of that era, but with modern lines and detailing.
And while the NKVC's starkly bare interior seems far-more concept car than the exterior presentation, with a full-length glass roof, Stormtrooper White surfaces, retro-style bucket seats with pineapple-hued trim and an absence of physical controls, it highlights BMW's pared-back thinking. Just as in the new J01 Mini Cooper Electric out next year.
The Neue Klasse Vision is similar in size and shape to the 3 Series.
That said, the show car debuts BMW Panoramic Vision, which projects customisable vehicle operation info across the lower width of the windscreen in conjunction with a head-up display and central tablet-style touchscreen, to minimise driver eye movement and distraction. Content can be moved or called upon using hand gestures as well as voice control.
Still inside, the EV architecture has led to new space-saving solutions to provide more room.
As the 'Neue Klasse' name ­– which directly translates to 'New Class' – so clearly implies, this is a fresh start, just like the original Neue Klasse range of compact sports sedans did for a beleaguered BMW from 1962's boxy 1500 range. These led directly to the development of the more-compact '02' series that later morphed into the famous 3 Series line of today.
On the subject of the latter, BMW is remaining coy as to whether the NKVC merely previews or is actually pointing right to the next-gen 3 (and 4) Series replacement.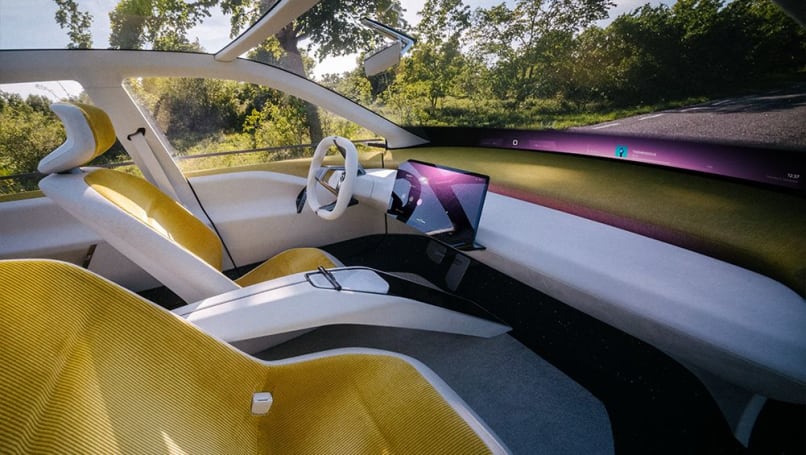 The Neue Klasse Vision takes the head-up display to the next level.
Some rumours say that the new EV models will run concurrently with rebodied versions of the current G20-derived models launched from late 2018, adopting the new design language, while still using an albeit extensively overhauled iteration of the acclaimed Cluster Architecture (CLAR) platform to see the internal combustion engine (ICE) models out into the next decade.
A similar approach has seen the previous (F48) BMW X1 small SUV built on the old UKL2 platform evolve into the newer Front-drive Architecture (FAAR) as found underneath the succeeding U11 X1 launched late last year.
However, others suggest that BMW has engineered the production NKVC models with the ability to also accommodate ICE drivetrains, though the platform will be fundamentally 'EV-first' architecturally, as consumers increasingly switch to EVs whether by choice or legislation requirements.
Whatever happens, the production version of the NKVC have been engineered from the outset to major on sustainability by using far more recyclable materials and far fewer natural resources such as rare Earth elements than today's CLAR equivalents, to reduce its carbon footprint across the vehicle's entire lifecycle.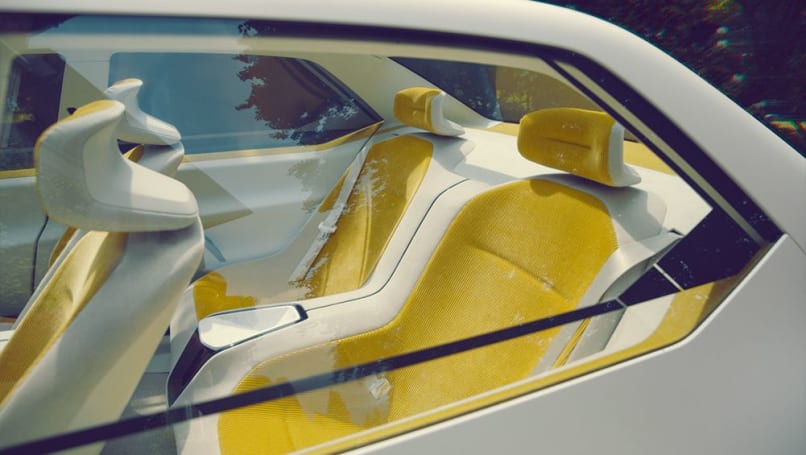 The Neue Klasse Vision has a very futuristic interior design.
"The BMW Vision Neue Klasse combines our ability to innovate in the core areas of electrification, digitalisation and circularity," according to BMW AG Chairman of the Board of Management, Oliver Zipse.
"In this way, we are always able to stay two steps ahead of the future; the Neue Klasse is already bringing the mobility of the next decade to the roads in 2025 – and leading BMW into a new era."
To be manufactured in an all-new, completely carbon-neutral and fossil-fuel free factory in Hungary, the production version of the NKVC will be ultra-aerodynamic, boast exceptional heat management and feature substantially more energy-dense battery cells to usher in those aforementioned dramatic improvements in range, charging and efficiency.
Wherever it slots in within BMW's vast array of sedans, liftbacks, wagons, crossovers and SUVs, the NKVC and all its offshoots will advance the EV in a way not seen since the original Tesla Model S did a decade ago.
And with supermodel looks to boot.