New York is a big and populous state that is revered worldwide as a college destination with easy access to the Big Apple. Pursue what you really want through quality education, after class, and in the great outdoors. Immerse yourself in the calm, studious atmosphere for learning, the complementing culture, and the vibrant downtown sights and attractions.
All but one of these towns has the big draw of its small population count, allowing you to enjoy the five years of college life with no pressure to follow the crowds but your interests. Get a nature fix in minutes and easily access big city shopping and entertainment for a day trip or a weekend getaway.
Binghamton
Binghamton is a great college destination with an apparent focus on student life and experiences. From its top-rated Binghamton University, students can enjoy a diversity of pursuits downtown, just a short ride from the campus. The bustling local craft breweries and trendy eateries lend to a diverse cultural feel that permeates the lively atmosphere. Settle in this August and join in the annual Porchfest, a vibrant community celebration with dancing and music at the end of the month. Stop by the local favorite Spiedie & Rib Pit, which will quickly become your go-to for a to-go bite of flavorful meat on a warm roll and add-ons to delight your taste buds.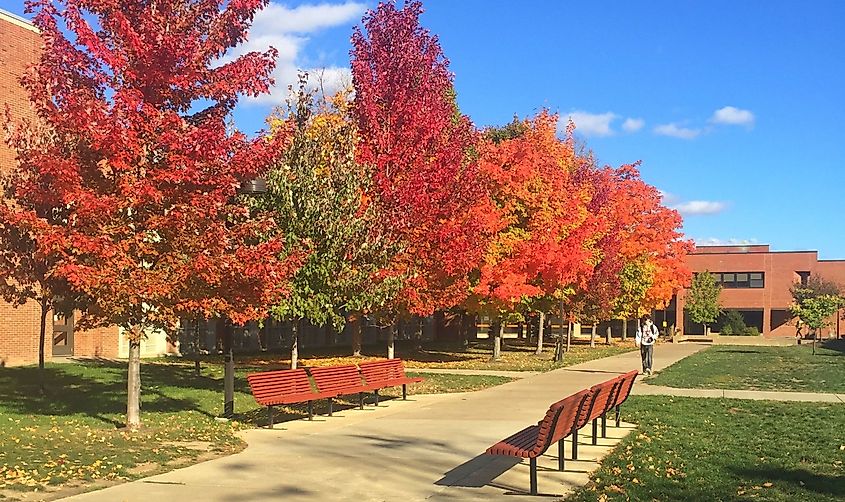 The retro carousel in Recreation Park, with six antique merry-go-rounds and the original Wurlitzer Military Band Organ with Bells, offers a whirl through history atop 60 jumping horses or chariots. Nature lovers and foodies rejoice in weekend after-class and weekend options, including family-friendly activities and fun nights out. Come face-to-face with wild and exotic creatures at the Animal Adventure Park or take refreshing strolls through the sensual Cutler Botanic Garden. Find the adjacent Taste NY shop for top-notch New York products and the nearby Roberson Museum and Science Center with the latest art exhibits, history, and science displays.
Brockport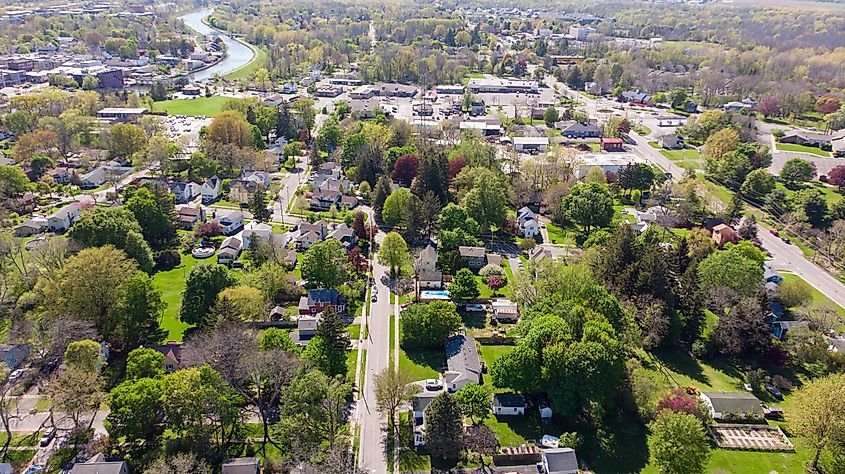 Brockport is a quaint village with under 8,500 residents, 25 miles west of Rochester, where nearly everyone is tied to SUNY College, which receives around 6,900 students each year. If you are an aspiring nursing student or into other health services, then statistically, no college town in New York can compete for a top title, with an 82.9% student population and only $812 for median rent. Enjoy quick access to nearby Rochester or take a day trip to Buffalo, one hour away.
The safe town nicknamed "The Victorian Village on the Erie Canal" has various opportunities for part-time work and leisure pursuits in between classes. Get to know the small town of just over two square miles at its Victorian museum, the Morgan-Manning House. Stock up on vintage home decor for your new place and frequent the atmospheric cafes and restaurants where quality stands the test of a 3% higher cost of living.
Cortland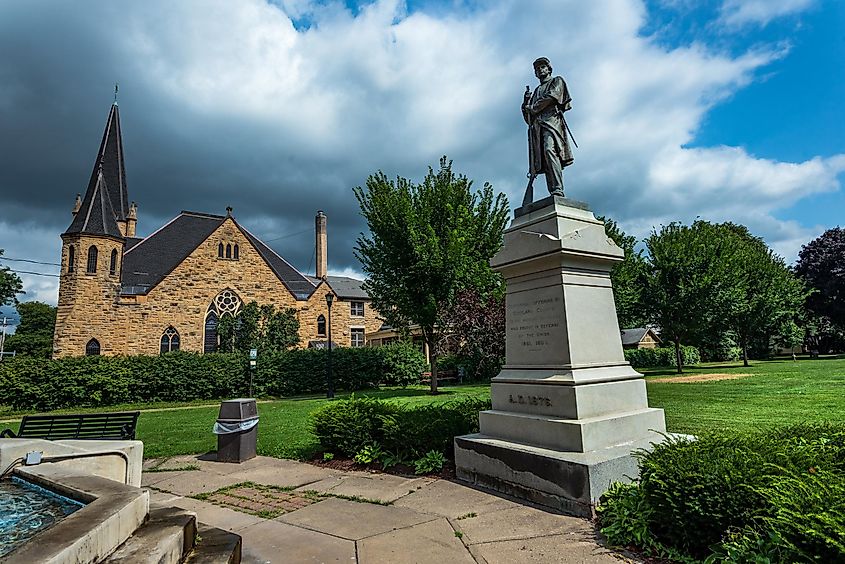 The town with SUNY Cortland is home to just under 19,000 residents, 6,600 of whom are students at the college. Cortland is a special town in the southern section of the state, overlooking the landscape from its 1,130-foot stance above sea level as the "Crown City." It is home to future teachers and health care providers graduating from the college who like to have fun after classes and enjoy nature in between.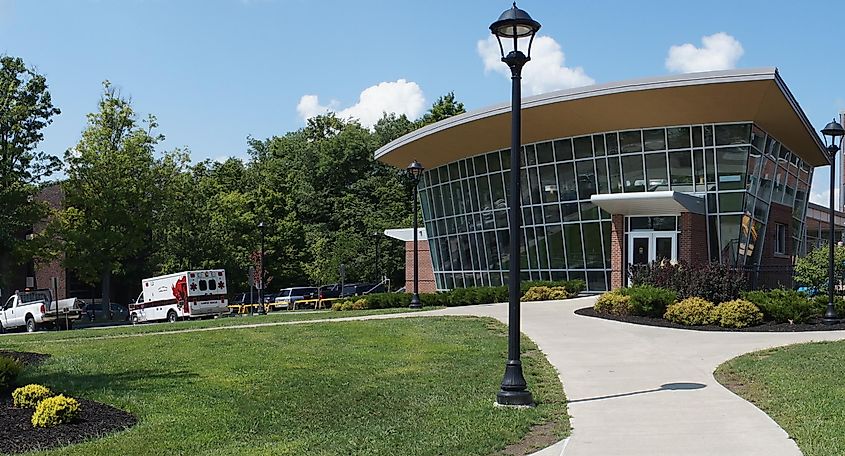 The small town is easy to explore on foot, with just a short walk to a nearby bar or restaurant wherever you are, as well as a few bike lanes. The town gets thick with visiting families for wintertime activities at the nearby Greek Peak Mountain Resort, with student discounts for snowboarding and skiing. Come imminently to enjoy a quiet summertime atmosphere without crowds, pick blueberries at nearby Cherry Knoll Farm, and catch an evening show at the Cortland Repertory Theatre, one of the state's oldest.
Hyde Park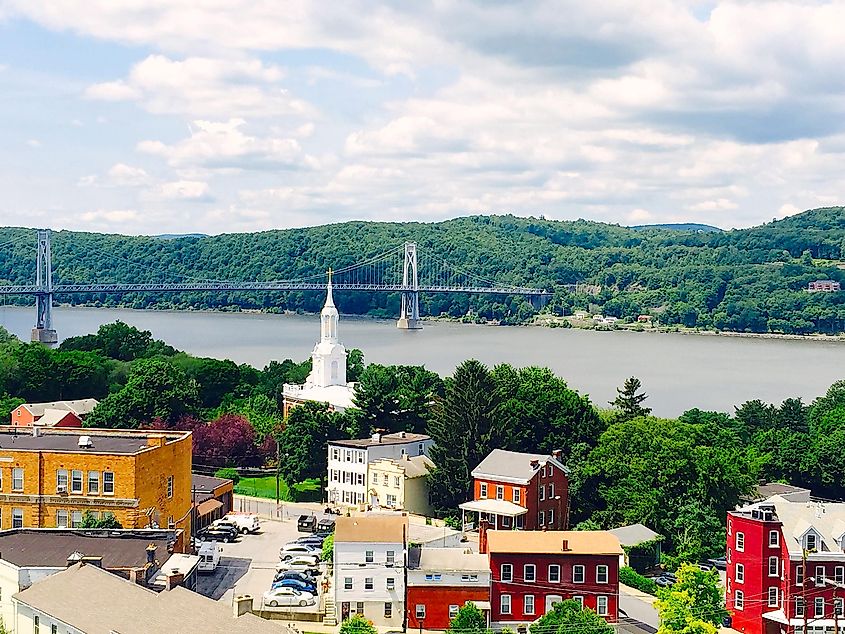 Hyde Park is a revered college destination for the globally prestigious Culinary Institute of America. The town with its Gilded Age historical college shines with extra sophistication in Dutchess County in the Hudson Valley, with sweeping views of the Hudson River. This hamlet is also home to Franklin D. Roosevelt's national site, who grew up here, along with the Eleanor Roosevelt National Historic Site and the immaculate Vanderbilt Mansion. Enjoy the grand architecture along the streets and explore the outdoors just nearby with state parks and a nature preserve.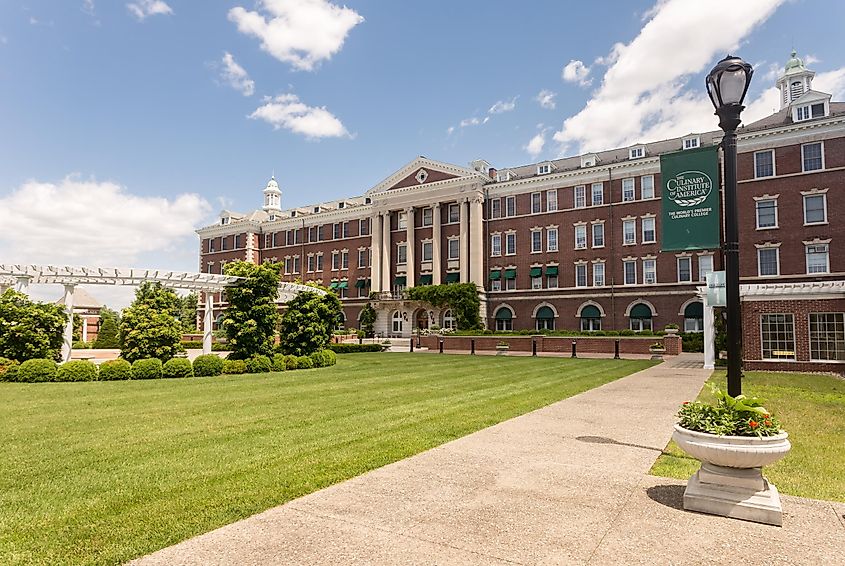 The small town of under 21,000 residents is just north of Poughkeepsie on the Hudson River. Over 3,000 aspiring chefs and culinary artists come to attend the CIA, on top of plentiful tourists to taste their way through town. It is the US's heaven for foodies, with the best and most diverse cuisine options, staffed by student talent. Visit the Artists' Collective, an initiative that features local creatives' work, and catch a flick under the stars at the Hyde Park Drive-In Theater. Come to attend one of the top four-year culinary schools in the country and walk it off along the Hyde Park trail system, or skip town to NYC, just two hours away.
Ithaca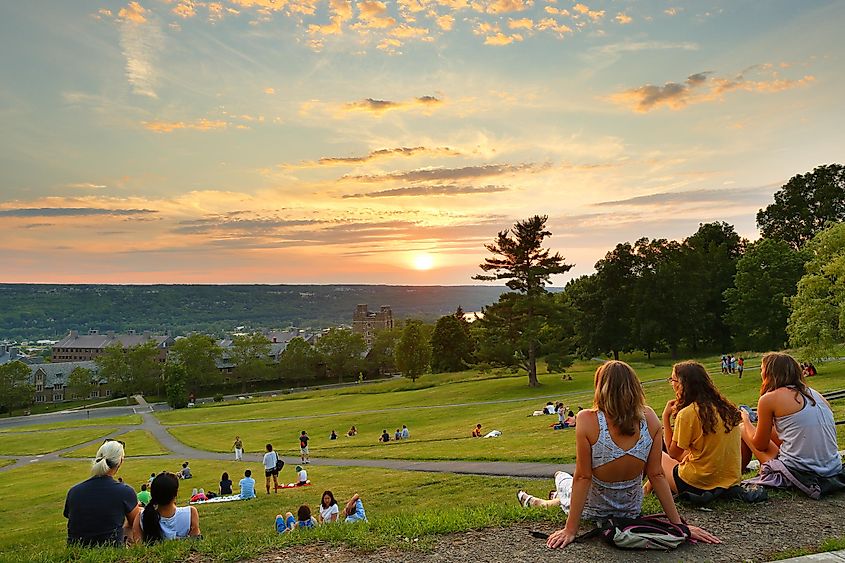 Ithaca is a small and lively college town in the Finger Lakes region with around 31,500 residents and is home to one of New York's only two Ivy League campuses, Cornell University. With a large student population, this classic college town is also home to Ithaca College, with 5,400 students, as well as the Finger Lakes School of Massage. Become part of the crowd at $1,171 median rent, employment opportunities, and a vibrant atmosphere in town named after the Greek Island from Homer's "Odyssey." Enjoy Ithaca's student-driven economy and the great outdoors, only 10 miles away from downtown.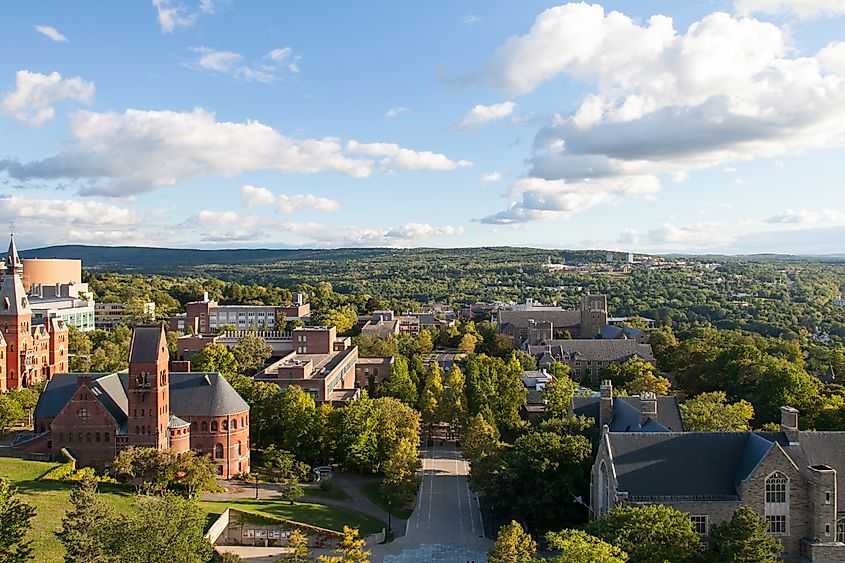 There is plentiful culture on the town, like theaters, museums, and cinemas, in between bars, coffee shops, and restaurants at every turn. Find state parks, ski resorts, and 150 waterfalls in the area, like Ithaca Falls and Buttermilk Falls. Join Cornell's Big Red family or Bombers at the college and enjoy the same great service through the pedestrian-friendly downtown and shops along the four-block stretch of Downtown Ithaca Commons. Find a plethora of beautiful nature around, including Fall Creek, Taughannock Falls State Park, and Cascadilla Creek Gorge, and spend the summer at nearby Cayuga Lake.
New Paltz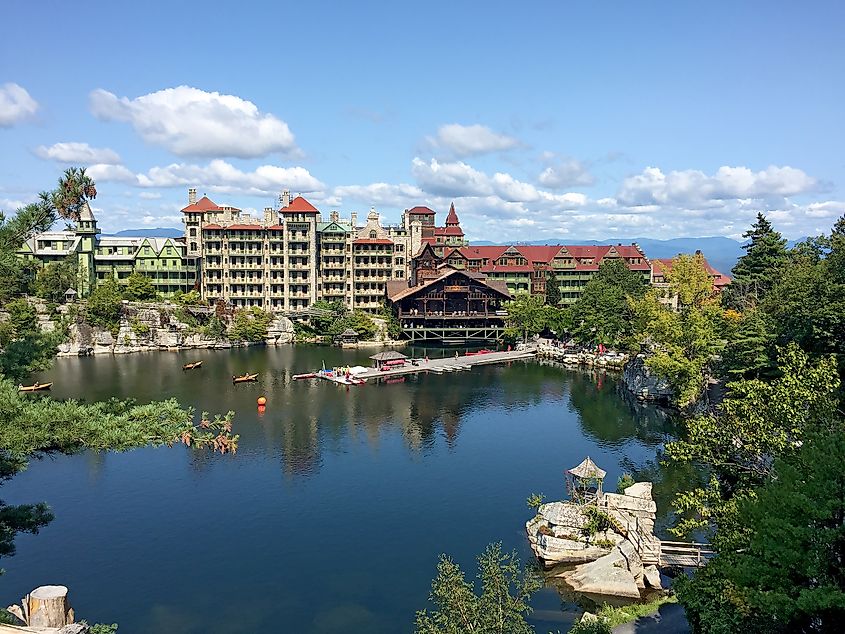 The vibrant rural town with the State University of New York at New Paltz is part of the area with the second-best undergrad population in the state. Despite a somewhat higher median rent rate of $1,313 a month, the small town population of just over 7,000 with 84.1% students is a revered college destination for the youth. Its new and attractive SUNY campus is among the other shiny toys here, sitting under the spectacular Mohonk Mountain House and the brilliant Victorian castle in the Mohonk Preserve.
You may not need to use MHM's lavish suites, but reward your studiousness at its award-winning spa and access some of the state's best hiking and rock climbing. Work off the energy and move that sore from the school bench bum up and over boulders at the resort's Lemon Squeeze. If you reach the Sky Top Lookout with breathtaking views of the Hudson Valley, you can definitely conquer Shawangunk Ridge with a relaxing spa treatment or a fulfilling dinner afterwards.
Plattsburgh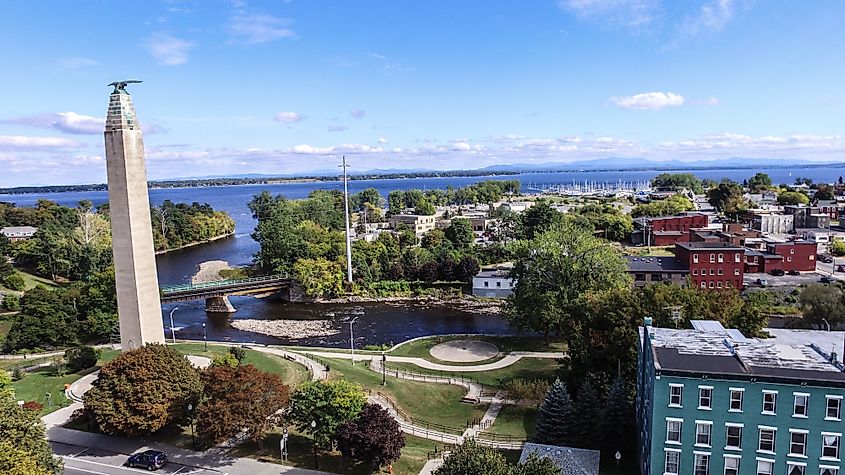 This town with just under 20,000 residents, a manageable rent, and a student population of 30% offers a great variety in education, like majors in business management and marketing at SUNY Plattsburgh, with around 4,800 students each year. Choose another direction or see what you may be interested in at Clinton Community College or Clinton Essex Warren Washington BOCES, and get the same after-class privileges and great city access as your SUNY friends.
Plattsburgh borders 6 million acres of the Adirondack Park, the ultimate outdoor playground with endless hiking opportunities, mountain peaks, and camping options. The highly walkable downtown offers a choice of coffee shops and cafes, and students can make an hour-long trip to the beautiful city of Montreal for shopping, concerts, and to rev up their French. The Saranac River on campus offers the outdoors from the doorstep, with outdoor hiking and biking trails. Enjoy the river as a ready-made summertime day destination, or take a short trip to Lake Placid, just an hour away.
Poughkeepsie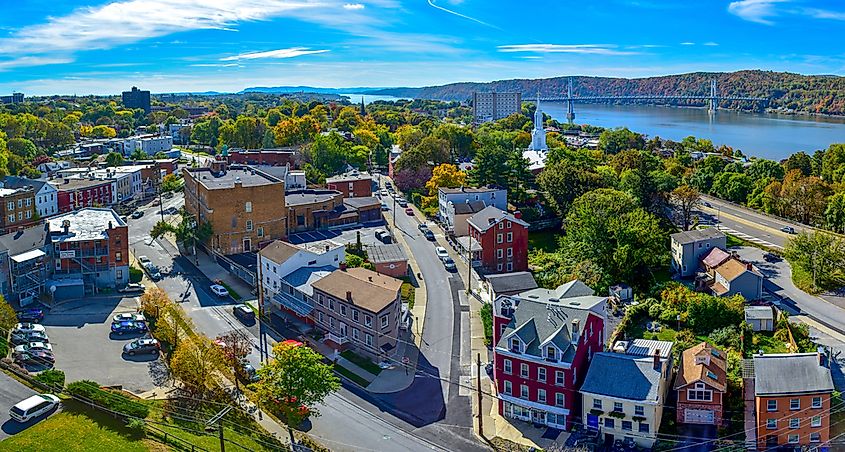 Poughkeepsie is a revered college destination in New York's Hudson Valley for history and architecture fans, along with magnificent landscapes and fabulous farm-fresh food for foodies. Choose from Vassar College, Marist College, or the nearby Hyde Park Culinary Institute of America. With a population of just over 30,000, a community feel and places to relax in friendly nature abound in Poughkeepsie, home to the wealthy Vassar College founder, Matthew Vassar, who was also a philanthropist and a renowned brewer.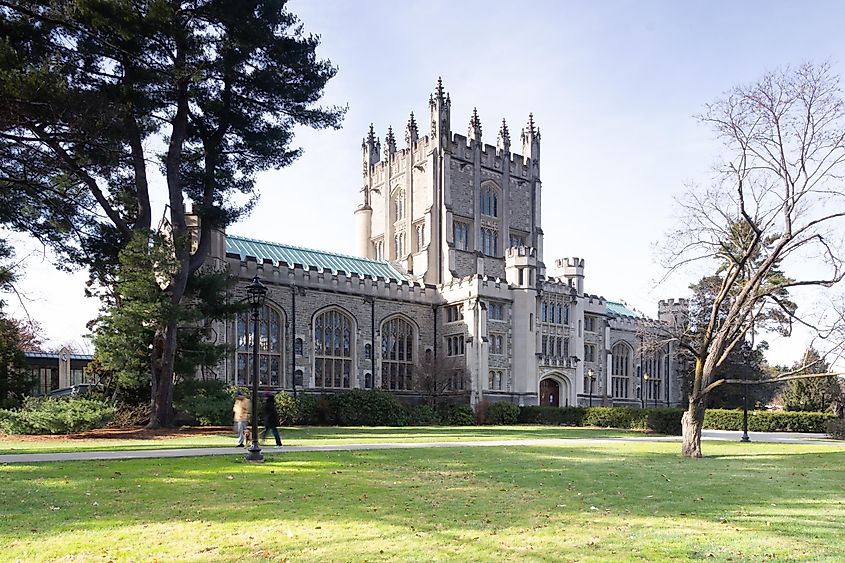 The larger Marist College, with about 6,400 students, has ties with the Hudson River Valley National Heritage Area to educate tourists and assist educators and scholars with research. Enjoy the outdoors year-round through hiking and skiing and plentiful restaurants to recharge, including local craft beverage breweries like the famous Angry Orchard. Sightsee the world's longest elevated pedestrian footbridge, "the Walkway Over the Hudson," and visit the nearby CIA's 170-acre campus to delight your tastebuds with a stop at Franklin D. Roosevelt's home for tens of thousands of artifacts at the presidential library.
Rochester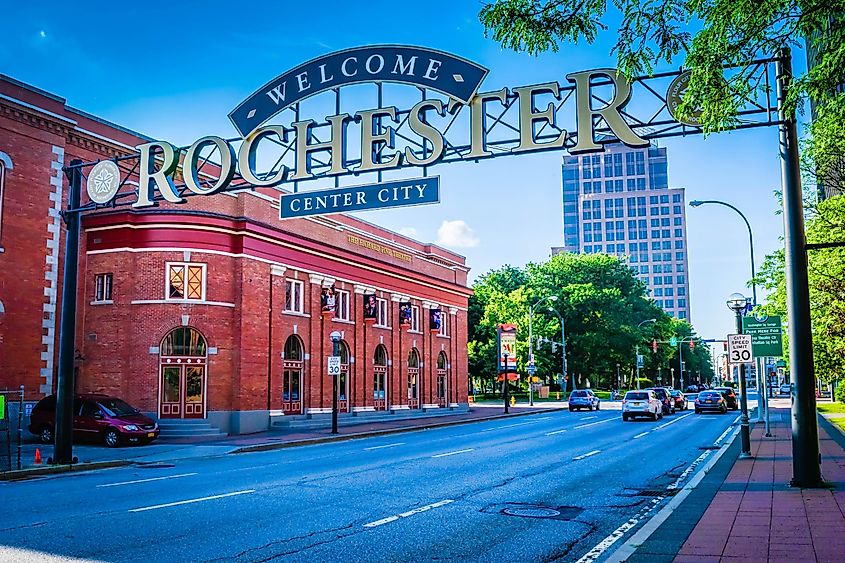 This big city of some 207,000 residents, along Lake Ontario's banks, is a sought-after college destination for studious fans of big-city life. Settle for the University of Rochester with 12,000 students, the Rochester Institute of Technology with nearly 20,000, and photography and nature to diversify your weekends. Once a thriving town in the floral and seed industries, the "Flower City" offers the best outdoors at the doorstep through Highland Park's 150-acre arboretum with a sensual display of 1,200 lilac shrubs.
Rochester is also the birthplace of Kodak cameras and famed photographer George Eastman, with endless galleries to eye-feast on after classes without seeing the same picture twice. Rochester University partly operates the George Eastman Museum for a hands-on lesson through history, while the Strong National Museum of Play will tickle a sports fan's fancy in conjunction with catching a minor league hockey or baseball game.
Saratoga Springs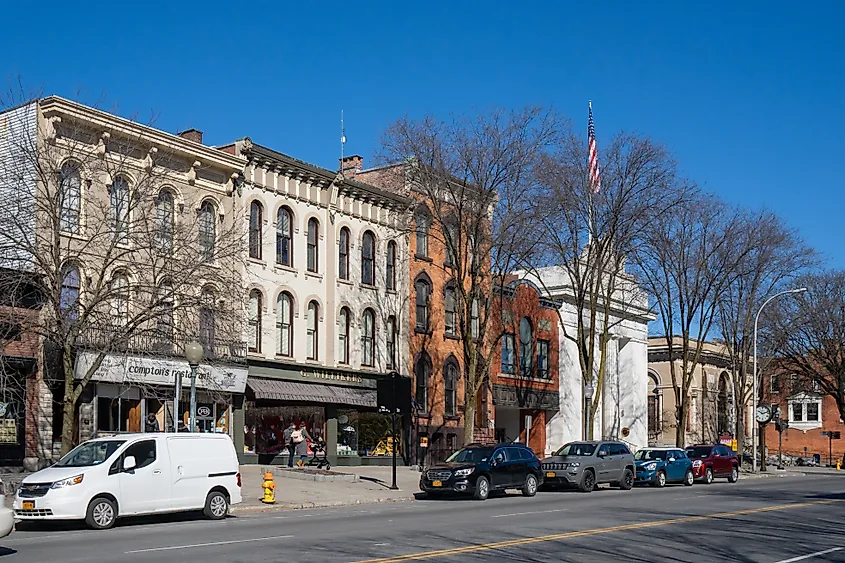 Saratoga Springs is home to 28,000 residents, including 2,500 students each year at Skidmore College. This school is a "hidden Ivy" with the motto "creative thought matters" for the artists and other creatives in the state. Visit the popular Saratoga Performing Arts Center and head to the nearby, only naturally carbonated mineral springs east of the Rockies. The town is "The Queen of the Spas" and a destination for the boho to achieve ultimate spirit, mind, and body relaxation, along with a variety of outdoor activities. Students enjoy weekend trips to New York City, Boston, or Montreal for some city life, all three hours away.
The town is vibrantly diverse, with many tourists seeking health, wellness, or just a respite in the wilderness. Saratoga Race Course is the oldest organized sporting venue in the US, while Caffè Lena is a favorite student hangout with famous past performers like Bob Dylan and Arlo Guthrie. Find a thrilling set of activities right outside of campus like horseback riding, hiking, ziplining, and haunted ghost tours, and peruse the "Broadway," one of America's favorite main streets with Colonial Revival and Beaux-Arts architecture.
New York is abounding with quality education, nature, and history. These nine towns and a city are a dreamy destination for all types of students, and parents will be happy to see their kiddo pursue learning and their life goals.
With a town for each taste, you will quickly immerse yourself in your studies, diverse culture, fun with friends, and the outdoors after class. If you are after that big city feel, access the cities on a day trip or attend one of the schools in Rochester.