Ayesha Curry's lifestyle brand, Sweet July, is probably best known among foodies, but it was actually conceived as a beauty brand first. And after years of planning, creating, and testing, Sweet July Skin is finally here.
"What's interesting is that we've been working on this for over three and a half years, and it's one of the first things we started working on for Sweet July," Curry tells Bazaar.com. "It's just taken such a long time, but was well worth the wait."
Sweet July Skin launched with three core products—Pava Exfoliating Cleanser, Pava Toner, and Irie Power Face Oil—and is meant to be easily integrated into anyone's routine. Taking inspiration from Curry's Jamaican heritage, the line is packed with Caribbean superfoods such as guava, papaya, soursop, and neem, along with more familiar skincare ingredients like glycolic acid, lactic acid, and squalane.
More From Harper's BAZAAR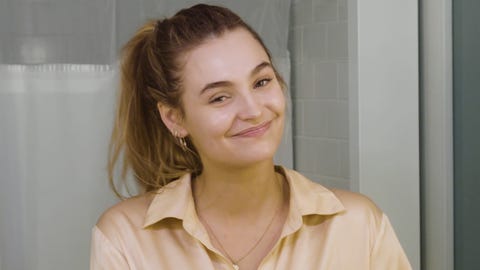 Here, Curry shares more about the unconventional beauty tips she's picked up from her grandma, what she wants to teach her children about skincare, and the Jamaican dish she could eat every day.
---
Why did you want to expand the Sweet July brand into beauty?
It's one of those things I wanted to do because I grew up hearing about all these amazing ingredients that my mom and grandma would use on their body and their skin. I was hardheaded and never listened, but I grew up with problematic skin and still have it now in my adulthood. We started to do a ton of research and realized that the ingredients were super effective and very potent. These untraditional ingredients were superfoods and way more nutrient-rich and packed with vitamin C and more hydrating than some of the typical things on the market. So we started working with an amazing lab and an amazing chemist and started formulating these products.
Why did you choose to launch with these essentials?
I know how important it is to introduce people to the brand and gain a relationship with them, especially in this beauty space. For me, I felt like these were the three core products that anybody could integrate into their current skincare routine without having to worry about anything being irritating or too daunting to use or switching up too much. It's a core routine in and of itself—you wash, you tone, you hydrate. It's a great way to start.
Shop Sweet July Skin
You're no stranger to the food world. How has developing a beauty line been similar to and different from your food-centric endeavors?
I think it's been different in the sense that when I want to prepare a meal, I can go to my kitchen and do that in like 30 minutes or less, put in something in front of somebody, impress them, satisfy them, take them on a journey in a very short period. Whereas with skincare it's so much more scientific—but at the same, in a sense, I get to still take people on this sensorial journey. It was really important to me with the face wash to take people on a journey, have it feel like their skin is on vacation and have that cool breeze feeling after you've washed your face well after you've dried it. So creating that environment for people with the routine of the skincare has been the same as food. Then you know with this we kept everything extremely clean, and we really did use natural superfoods. That's how I played into the food side of things for me.
You mentioned growing up with skin issues. How has that caused your routine to evolve over the years?
Anyone who deals with like hormonal acne knows that there's not much you can do sometimes. So for me now, it's more about making sure that the products I'm using aren't harsh irritants, so that I can keep that pH balance on my face, and that was very important to me for the line.
You talked about the products and skincare methods that your mom and your grandma used to use. What is the first beauty-related memory you can recall?
Oh my goodness. I have the more commercial moments of, you know, my mom using her Pond's Cold Cream growing up, which I cannot use on my face. But my grandma, when I was a teenager, I was having breakouts and my grandma was like, "Cut a piece of tomato and rub it on your face." She's like, "That's what we do in the bush."
So, I tried it and it did work. But it's not something that I stuck with, because I thought it was so ridiculous. But now we're formulating products with tomato in [them]. So, there was truth to the madness. I do vividly remember—my sister and I were just talking about it—how important consistency is with your skincare routine. I do remember, growing up, my mom was extremely consistent with her routine. I don't know if it was because it was her "me time," or she felt that it was important to take care of her skin. I'll have to ask her, but I do remember seeing that growing up.
Who have you learned the most about beauty from?
I would say my sister, and she's sitting right next to me. I learned the most from her. She always knows what the latest, greatest product is. She's a makeup junkie, and she went to cosmetology school. She's in the know about all things skin and beauty.
If you had to pick one "desert island" product from your line, which would it be and why?
Oh, it would be the Irie Power oil. Because of the heat and the sun and the dry nature of the sand, I'd probably get dry patches on my body. It's so multipurpose that you could put a few drops on any dry patches that you're experiencing on your body. I could also potentially put it in my hair. I'm assuming if I'm stranded on an island, though, I wouldn't have had time to get my hair braided.
What's something you want to teach your kids about beauty that you wish you'd learned sooner?
What's interesting is the way that I grew up was like: "You're a child—don't put anything on your skin." It was cocoa butter or bust. So I didn't have that routine from a young age. I saw my mom doing her routine, but a torch wasn't passed down. My girls are so into the beauty routine. It is like ritualistic at this point, especially for my oldest. She thrives on having that me time and really taking the time to go through the steps. And I love that for her. And I'm happy that that's becoming a part of who she is. It's a way to just be with yourself and gain a little self-confidence in taking that time for yourself. I'm so happy that they're learning that unapologetically, because sometimes you feel guilty for taking that time for yourself, and I'm hoping they won't have that issue.
I love that you incorporated your Caribbean heritage into Sweet July Skin. What do you think is the most beautiful thing about your heritage?
I think the sense of community, how everybody is family. I can't speak for everyone's family, but when I get around the Jamaican side of my family, everybody's just so warm and welcoming and accommodating and happy and joyful. It's always a good time. I feel like everybody's very artistic and just loves to live life, if that makes sense—just this appreciation and lust for life. I love that about the culture and my heritage.
What is one Jamaican dish that you would eat every single day?
Oxtail for sure, but it has to have spinners in it. Rice and peas, I could live without that, really. But oxtail and then some fried plantain.