Anarkalis aren't popping off. That's a 2023 declaration. Here's a look at the best featuring Aishwarya Rai Bachchan's newest outfit for Anant Ambani and Radhika Merchant's engagement night. Celebrations were on yesterday as it was beautifully star-studded and glammed up. We could go on at length about who wore what and Antilia's appeal. That's not all, we have a favourite person and that will keep you stuck here for the chicer good. 
We come to you with research and tips on how you could pick outfits and accessories the same as your celebrities, all of which can get the job done with great adroitness. If there is a renewed interest in Anarkalis, let your wedding season outfit portfolio be about it. The mother-daughter-duo chose Manish Malhotra desi ensembles and what we surely know is that sparkle and statement are just easy to be yours. How do Anarkalis emit elegance at all times? 
Aishwarya Rai and Aaradhya look truly fabulous in Anarkalis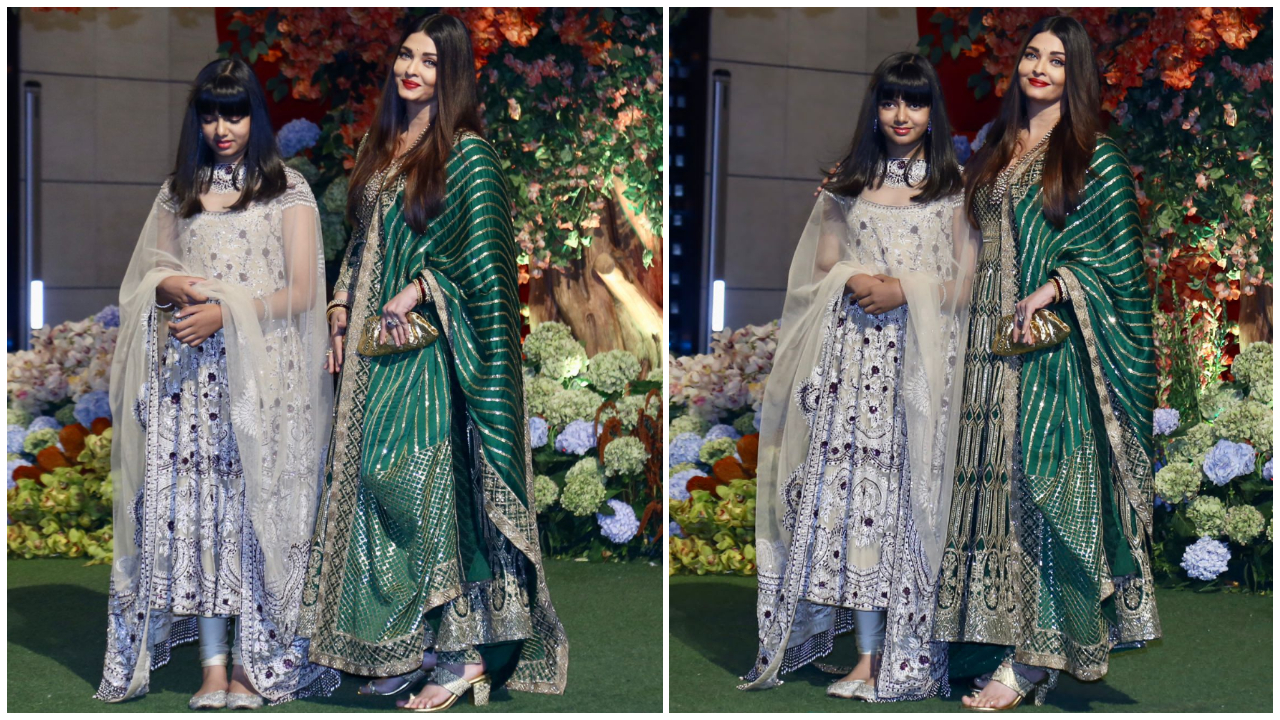 If you ask us, the Ponniyin Selvan: I actress may have an answer. While ethnic outfits will never fail us, there is always a particular something that owns the crown. That is what Anarkalis truly are. Beautifully chic, Aishwarya's three-piece green attire is wearable for its blingy sequin work that could instantly turn you into a shining star. 
Aishwarya's long-sleeved and maxi Anarkali kurta was teamed with palazzo pants and a dupatta. It had a strong hold on patterns and stripes but it's the gold that adds up to the stunning visual view. Her outfit was styled with a long and studded necklace. It was fully gold with a clutch and Kolhapuri block heels from Aprajita Toor. The Prism embroidery footwear worth Rs. 6,999 was handcrafted in Nappa leather and made to look aglow with mirrors and embellishments. Her look was all the pleaser with cherry red lipstick, eyeliner, bindi and a straight voluminous hairdo. 
Little and pretty girl, Aaradhya Rai Bachchan too was dressed in an ivory Anarkali set which featured a heavily embroidered panel kurta and churidar. Her look was rounded off with juttis, earrings and a netted dupatta. Her hairstyle featured bangs and she wore bright-coloured lipstick.