Utah overflows with natural beauty, and is also well known for its range of recreation opportunities, from an exhilarating adventure in one of its "Mighty Five" national parks (Zion, Bryce Canyon, Arches, Capitol Reef, and Canyonlands) to scenic drive through the aspen forests or even a visit to Park City Mountain, the largest ski resort in the country. A trip to Utah would be incomplete without a stop in one of its most beautiful small towns, with activities ranging from a stroll along charmed main streets to a breathtaking sunrise in Bryce Canyon. Whatever the trip entails, adventure awaits in the small towns of Utah. 
Park City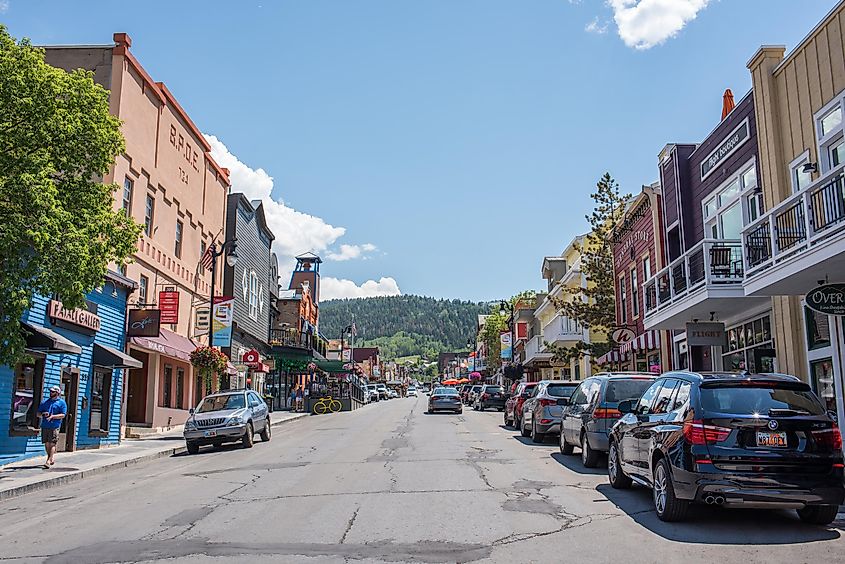 Park City sits in the center of the Wasatch Mountains, boasting breathtaking scenery, an enticing cultural scene, and of course a charming mountain town atmosphere. In winter, skiing, snowboarding, and hiking are popular activities, with the Park City Mountain ski resort within the town's limits. Throughout the rest of the year, visitors enjoy mountain biking, fishing, and golfing. The hamlet's historic main street is another delightful spot, featuring restaurants and shops such as Java Cow Café & Bakery, Flight Boutique, and Deer Valley Signatures. After an eventful day exploring the town and its adventures, be sure to enjoy a taste of craft whiskeys and vodkas at the High West Distillery and Saloon. 
On top of all that, Park City is just under 45 minutes away from Salt Lake City, meaning travelers can enjoy the charm of the small town alongside the excitement of the big city. 
Springdale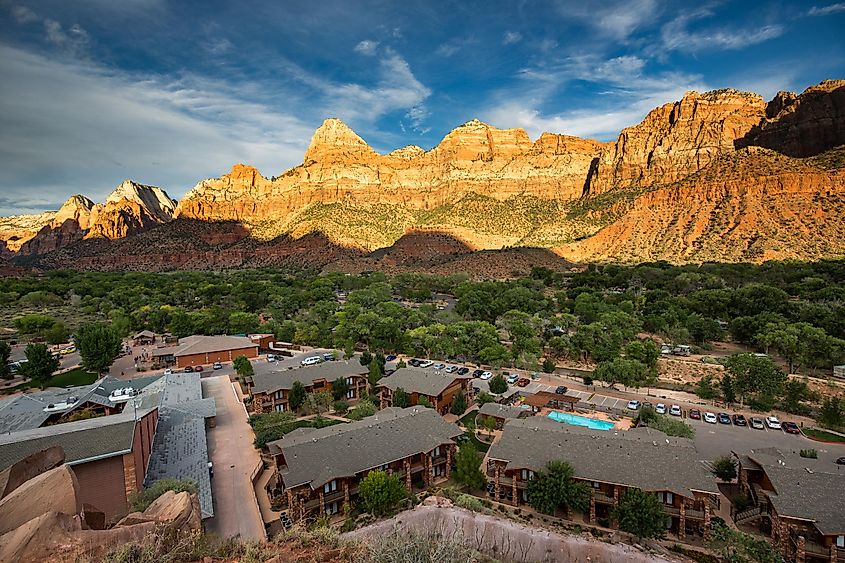 Springdale is one of the most underrated towns in Utah, situated just outside the boundaries of Zion National Park, making it a hub for outdoor adventurists and park-goers alike. The park's red rock monoliths line the town's horizon, making for a postcard-worthy backdrop. Visitors can spend days exploring the thousand-foot-deep red rock canyon, hiking, camping, canoeing, rock climbing, and stargazing. Sunrises and sunsets are especially breathtaking as the warm orange rays bring the multicolored sandstone to life. Though the town only houses 500 residents, it is chock full of interest, with gorgeous art galleries such as Worthington Gallery, as well as unique stops like Springdale Candy Company, and charming restaurants like Oscar's Cafe.
Moab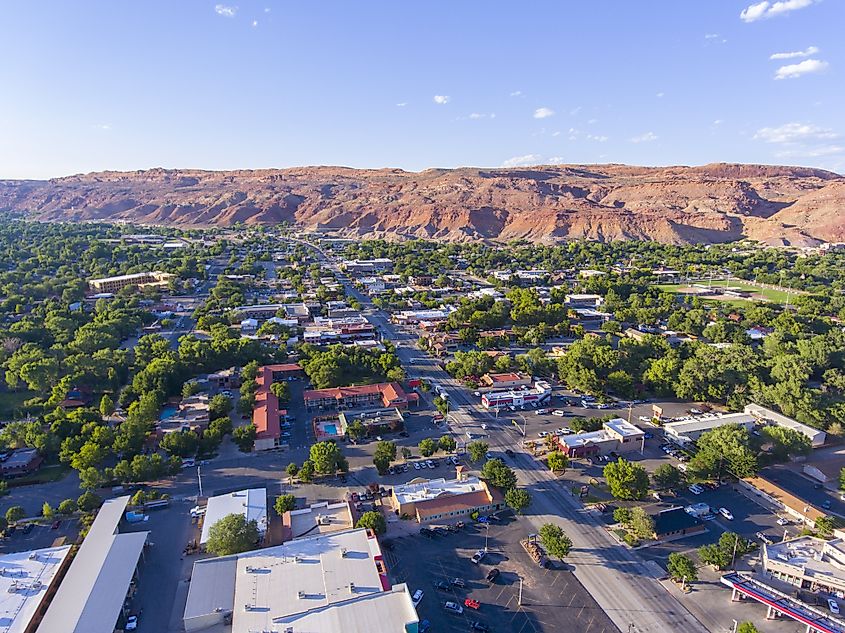 Moab is one of the top destinations in the Colorado Plateau, renowned as the gateway to the spectacular red rock formations in Arches National Park. Carved out through hundreds of thousands of years, and broken down over time by sun, wind, and rain, the sandstone towers are a natural wonder of the world. Because of its proximity to the park, the town overflows with outdoor adventurers, including mountain bikers, hikers, and river rafters alike. Aside from being just a stone's throw away from one of the world's most famous landmarks, visitors also travel to Moab to enjoy photography, stargazing, and scenic drives. For a relaxing vacation, the Moab Resort is the place to be, while setting up camp under the stars in Arches National Park is ideal for a more rustic stay.
Bryce Canyon City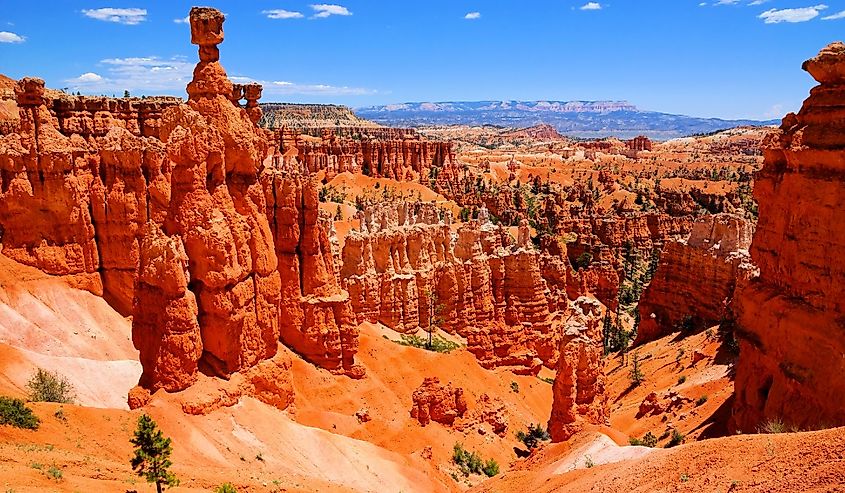 As the name suggests, Bryce Canyon National Park sits on the borders of Bryce Canyon City, a charming small town that comes alive in summer. Red rock pinnacles, arches, and hoodoos make up the canyon, creating a captivating landscape that draws in visitors all year round for camping, hiking, rock climbing, and more outdoor activities. Guided tours are the perfect way to explore the beauty of the park, as well as venture into unique opportunities, such as ATVing and kayaking.
With a high elevation, the town is a reprieve from the hot summer sun, ideal for a summer vacation, though travelers enjoy activities all throughout the year. There are several events as well, where visitors and locals alike come together, such as the Bryce Canyon Winter Festival, Bryce Canyon Country Rodeo, and the Canyon 2 Canyon Bike Ride.
Torrey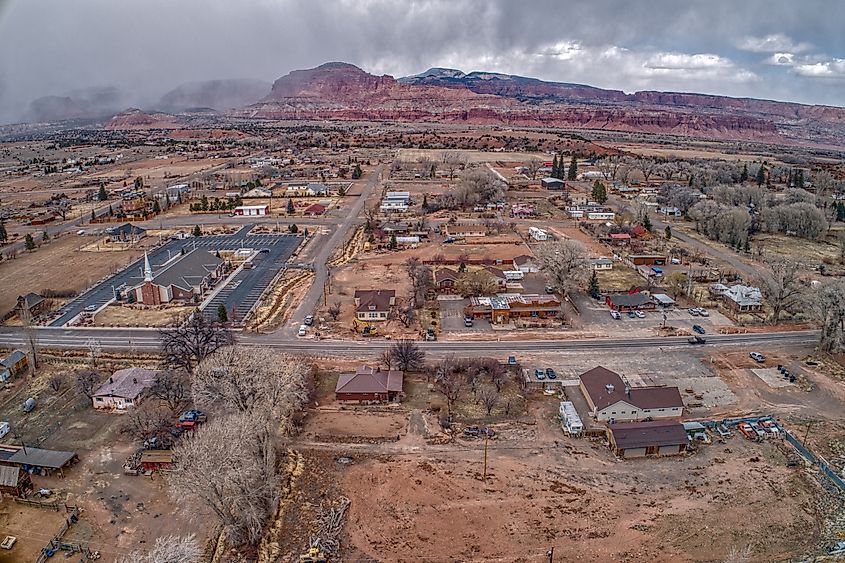 Torrey is one of the most picturesque small towns in Utah, nestled on the eastern entrance of the magnificent Capitol Reef National Park. The tree-filled town is just one gorgeous stop on the Capitol Reef Country Scenic Byway, but it is not to be missed. Like Bryce Canyon City, the town has a high elevation, making it an ideal summer destination with more comfortable temperatures. Aside from the national park, visitors enjoy hiking the aspen forests of Thousand Lake Mountain and hiking and fishing at Boulder Mountain. The town also hosts annual events such as the Cowboy Music and Poetry Festival and the Big Apple Outdoor Dance Hall, making for a unique and unforgettable trip. While camping is definitely popular, other places to stay include Cougar Ridge Lodge, Capitol Reef Resort, and Cowboy Homestead.
Panguitch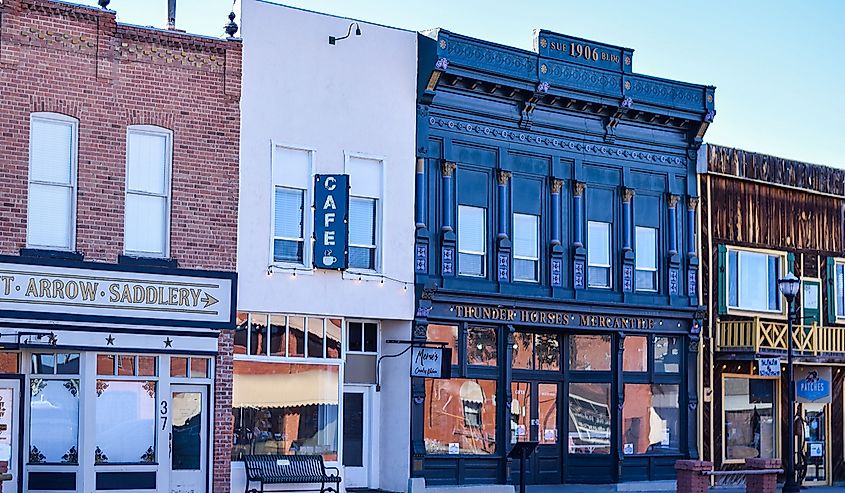 Panguitch, meaning "big fish," is a charming small town and an excellent destination for fishing, home to a couple of bodies of water that share its name: Panguitch Lake and Panguitch Creek, as well as Asay Creek and Paragonah Reservoir. Visitors also explore the Fishlake and Dixie National Forests, the Cedar Breaks and Grand Staircase-Escalante National Monuments, and the Kodachrome Basin and Escalante Petrified Forest State Parks. On top of that, Bryce Canyon Park is just 20 minutes away, ideal for park hopping and exploring the charm of the nearby towns.
Much of Panguitch is historic and chock full of heritage, earning a spot on the National Register of Historic Places, including Panguitch Carnegie Library, the Panguitch Social Hall, and the William T., Jr., and Mary Isabell R. Owens House. The downtown area also boasts unique architecture, alongside a collection of local shops and cozy hotels, such as The Panguitch House, Smokin' Hot Antiques, and Old West Cowboy Store.
Brigham City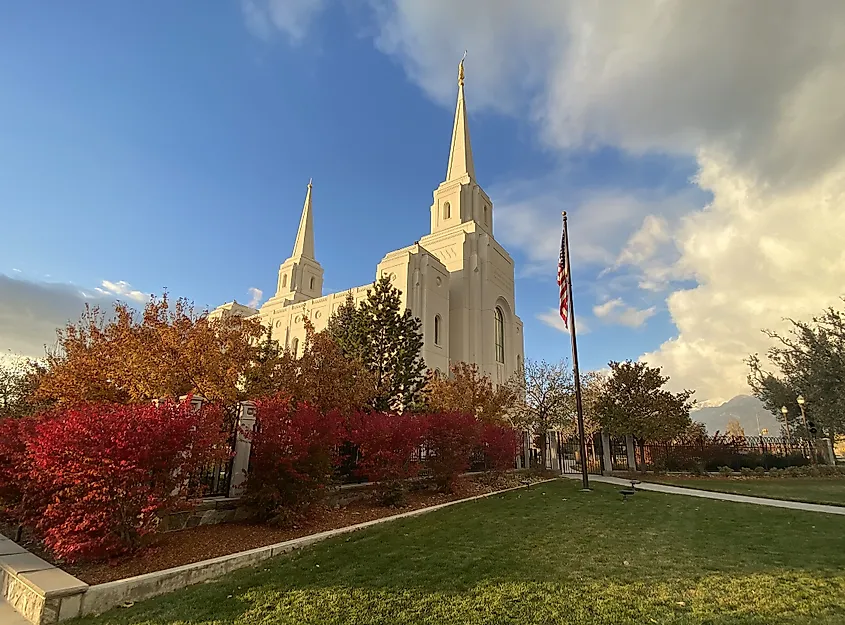 Brigham City earns the title of "one of the country's most beautiful historic downtowns," as historic buildings, charming shops, and local restaurants line the town's streets, including Idle Isle Cafe, Three Goats Gruff, and the Vintage Dove Market. Historical buildings include the pillared courthouse, a Mormon Tabernacle, and the 100-year-old Capitol Theater. The ATK Thiokol Rocket Garden is a unique destination, displaying space shuttles and rockets from the 20th century. 
Be sure to bring binoculars to the Bear River Migratory Bird Refuge, a 74,000-acre National Wildlife Refuge. Visitors can explore the gorgeous wetlands, witness thousands of birds migrating, and spot up to 200 different species. Also, the town hosts Peach Days each September after Labor Day, where locals and visitors alike enjoy live entertainment such as pageants, a variety of vendors, Utah's largest car show, and of course a plethora of peaches!
Midway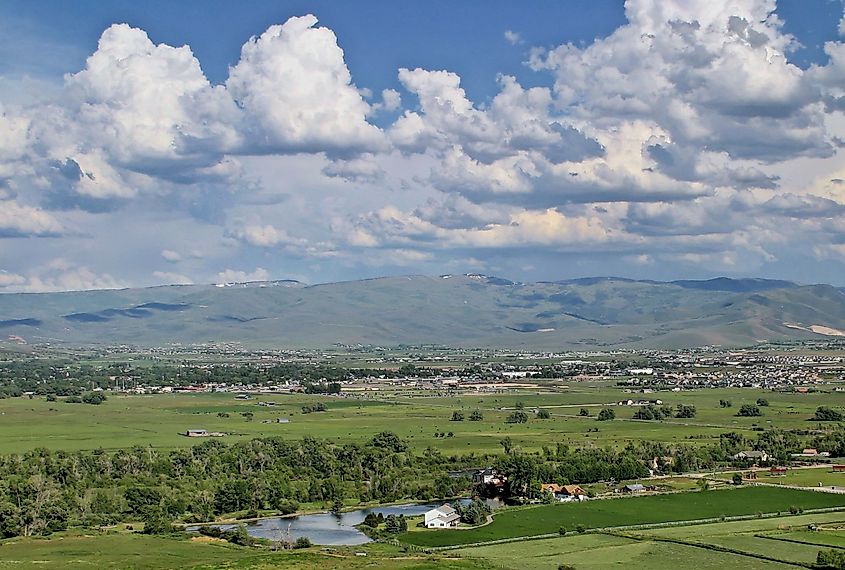 Midway is one of the cutest small towns in Utah and just 20 minutes from Park City. The town is attractive year-round, with activities including snowboarding, skiing, and snowmobiling in locations like Sundance, Park City, and Deer Valley, as well as golfing, fly-fishing, and horseback riding. Timpanogos Cave Hike is an especially unique excursion, allowing visitors to explore the picturesque pink and white crystal-filigreed walls alongside the delicate helictite formations. The Homestead Crater is a breathtaking natural hot spring and an essential addition to the to-do list, hidden by a 55-foot tall limestone rock. The Homestead Resort is an especially charming place to stay, boasting easy access to the spring, and offering a relaxing and restorative vacation. Wasatch Mountain State Park is another popular destination, home to a cozy campground, 18-hole golf courses, and plenty of hiking trails.
Garden City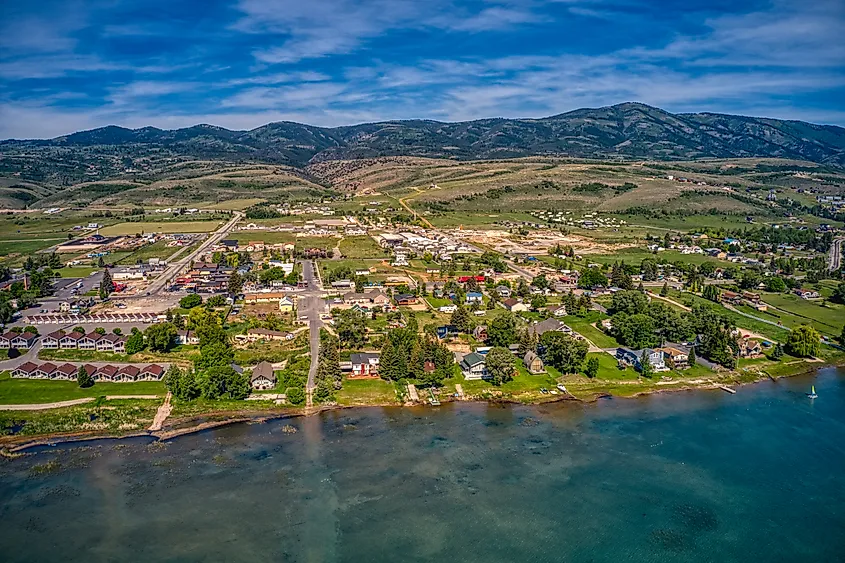 Garden City is one of Utah's most charming beach towns, situated on the shores of Bear Lake State Park. The state park's lake boasts vibrant turquoise waters, thanks to the natural limestone deposits scattered along the bottom. In summer, canoeing, kayaking, and hiking are popular activities in the area, as well as cycling in Logan Canyon. Fall calls for scenic drives and hikes, as well as fishing, while winter activities include snowmobiling along groomed trails, skiing at Beaver Mountain Resort, or even ice fishing on the lake.
The town is also the end of the Logan Canyon Scenic Byway, making for the perfect end to an exhilarating road trip any time of year.
Enjoy a Trip to Utah!
Utah's small towns are home to endless adventure, whether the Midway ice castles pique your interest, or you find yourself in a hot air balloon in Panguitch. Wander the aspen forests and petrified sand dunes, drive along the scenic mountain passes, and don't forget to explore the charming downtown area of each destination. When planning your next trip to the beautiful state of Utah, these gorgeous small towns deserve a spot on your list.