Are you ready for some thrilling, chilling, and utterly adorable jack-o'lantern crafts? We've got you covered with 23 awesome activities that are perfect for little ones to enjoy. So, gather up those craft supplies, rope in the kiddos, and let's get our Halloween creativity flowing!
1. Paper Plate Jack O'Lanterns
You won't believe how easy it is to turn plain old paper plates into spooky jack o'lanterns! Simply prompt your kids to paint a plate orange and cut out eyes, a nose, and a mouth from black paper. Stick 'em on and you'll have some weird and wonderful jack o'lanterns to use as decorations! 
Learn More: Dracut Library
2. Pumpkin Playdough
Who's ready for some squishy, squashy fun? Whip up some orange playdough and let your kiddos get creative as they craft their very own pumpkin shapes. They can even add pipe cleaners for stems and googly eyes to bring life to their pumpkin characters. 
Learn More: Mama Papa Bubba
3. Mini Pumpkin Monsters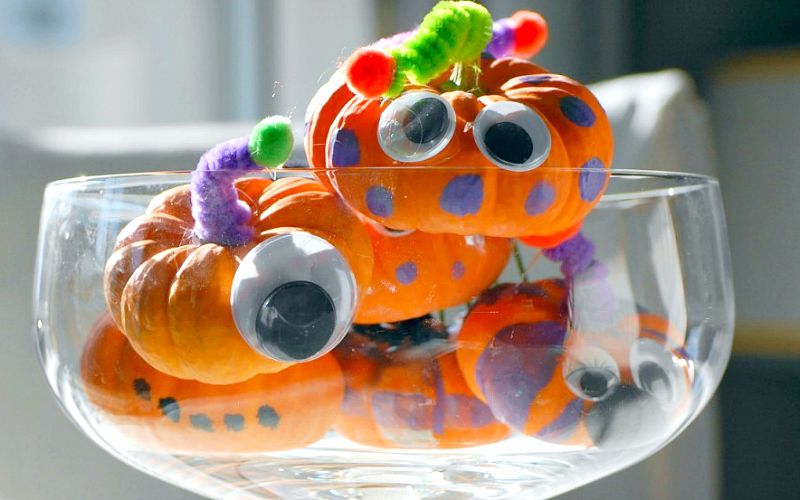 Tiny pumpkins, meet your monster makeovers! Kids can transform mini pumpkins into the cutest monsters with paint, googly eyes, and pipe cleaners for arms and legs.
Learn More: A Pop of Pretty
4. Mason Jar Jack O'Lanterns
Light up the night with these glowing beauties! Have your kids paint a mason jar orange and then add jack o'lantern faces with black paint or stickers. Pop in a battery-operated tea light and let the magic begin!
Learn More: Fireflies and Mudpies
5. Jack O'Lantern Popsicle Stick Puzzles
Ready for a puzzling good time? Kids can paint a bunch of popsicle sticks orange, draw a jack o'lantern face on them, and then mix 'em up for a fun puzzle-solving challenge! 
Learn More: Tangrila
6. Pumpkin Stamping
Let's create some one-of-a-kind Halloween art! Begin by cutting an apple or a potato in half. Then, dip it in orange paint and watch as your kids make their very own prints. Once the prints are dry, they can add jack o'lantern faces for a spooky touch! 
Learn More: Frugal Mom Eh
7. Jack O'Lantern Collages
Get those old magazines, scissors, and glue sticks ready as you prep for this fun activity! Kids can cut out facial features from black paper or magazines and stick them onto a pre-drawn pumpkin shape. What a great way to get creative and practice those fine motor skills!
Learn More: The Pinterested Parent
8. Balloon Jack O'Lanterns
Blow up some orange balloons and equip your kids with black markers; prompting them to go wild and draw their own jack o'lantern faces. Hang the finished products up for a spooky decoration that's a real gas!
Learn More: Daily North Western
9. Paper Bag Jack O'Lanterns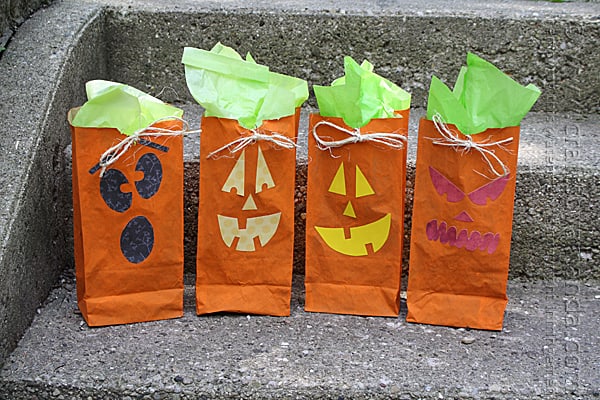 Here's a clever, eco-friendly idea that couldn't be simpler to bring to life! Dish out an orange paper bag to each learner and prompt them to draw or stick on jack o'lantern faces. Then, they can simply stuff the bags with crumpled newspapers. 
Learn More: Crafts by Amanda
10. Jack O'Lantern Rock Painting
Let's rock out as we bring the Halloween spirit to life! Go outside and get your kiddos to search for smooth stones. Return to your learning space and let them paint them orange. Once dry, they can add jack o'lantern faces with black paint or markers. Scatter them around the garden or classroom for a festive touch!
Learn More: Pinterest
11. Pumpkin Seed Mosaics
Don't throw away those pumpkin seeds! Instead, let's use them to create beautiful mosaic art. Your kiddos can glue the seeds onto cardboard or paper to form unique patterns and designs. Then, they can add a touch of color with paint or markers and watch their masterpieces come to life.
Learn More: First Palette
12. Pumpkin Decorating Contest
Let the creativity run wild with a pumpkin decorating contest! Provide small pumpkins and a variety of craft supplies such as paint, markers, glitter, and stickers. Let your learners unleash their imagination and transform their pumpkins into unique and personalized jack o'lanterns. Hold a classroom vote for the most creative design!
Learn More: EGCSD
13. Pumpkin Carving Adventure
For a classic Halloween tradition, organize a pumpkin carving adventure. Give each child a small pumpkin and let them scoop out the insides and carve their own jack o'lantern faces. Don't forget to emphasize safety by providing child-safe carving tools and supervising the entire process. 
Learn More: YouTube
14. Puffy Paint Pumpkins
Add some texture to your jack o'lanterns with puffy paint! Using orange puffy paint, your learners can create raised designs on black construction paper cutouts shaped like pumpkins. Once dry, they can proudly display their puffy-painted creations throughout the classroom! 
Learn More: Preschool Inspirations
15. Yarn-Wrapped Pumpkins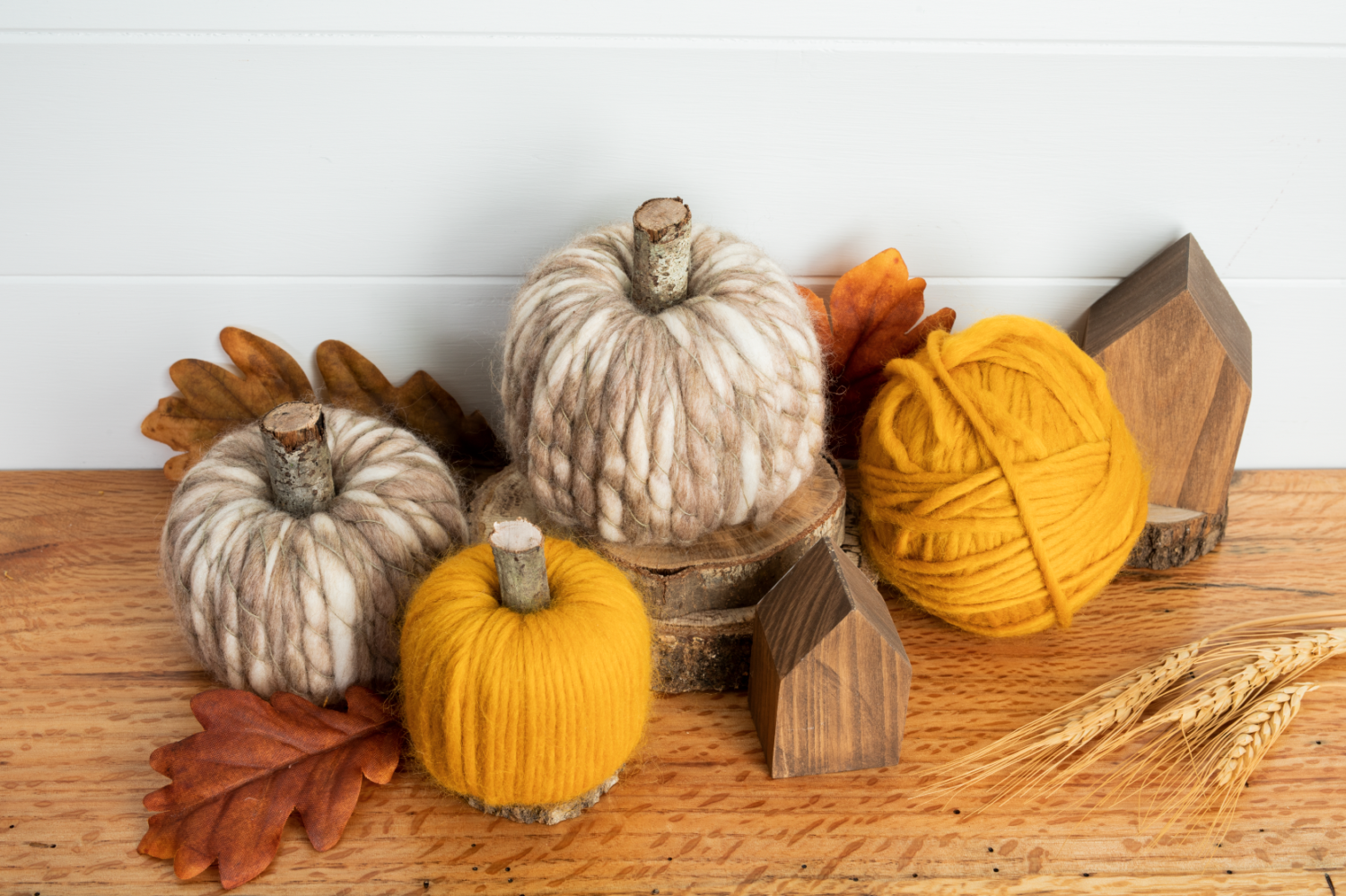 Let's get crafty with yarn! Provide small pumpkins and colorful yarn, and encourage your students to wrap the yarn around the pumpkins; creating a cool, textured look. They can experiment with different colors and patterns and even add extra embellishments like felt leaves or googly eyes.
Learn More: Olivia Ohern
16. Paper Strip Pumpkins
Get ready for some paper-weaving fun as you help your learners develop their motor skills! Cut orange and green construction paper into thin strips. Have the kids weave the orange strips together to form the body of the pumpkin before attaching a green strip for the stem. 
Learn More: Fireflies and Mudpies
17. Pumpkin Paper Bag Puppets
Transform boring paper bags into lively puppets! Equip your learners with brown paper bags, orange construction paper, glue, scissors, and markers. They can cut out pumpkin shapes and decorate them with faces and other details. Then, they can simply attach the pumpkins to their bags, and voila- they'll have their very own jack o'lantern puppets to play with!
Learn More: Simple Everyday Mom
18. Pumpkin Slime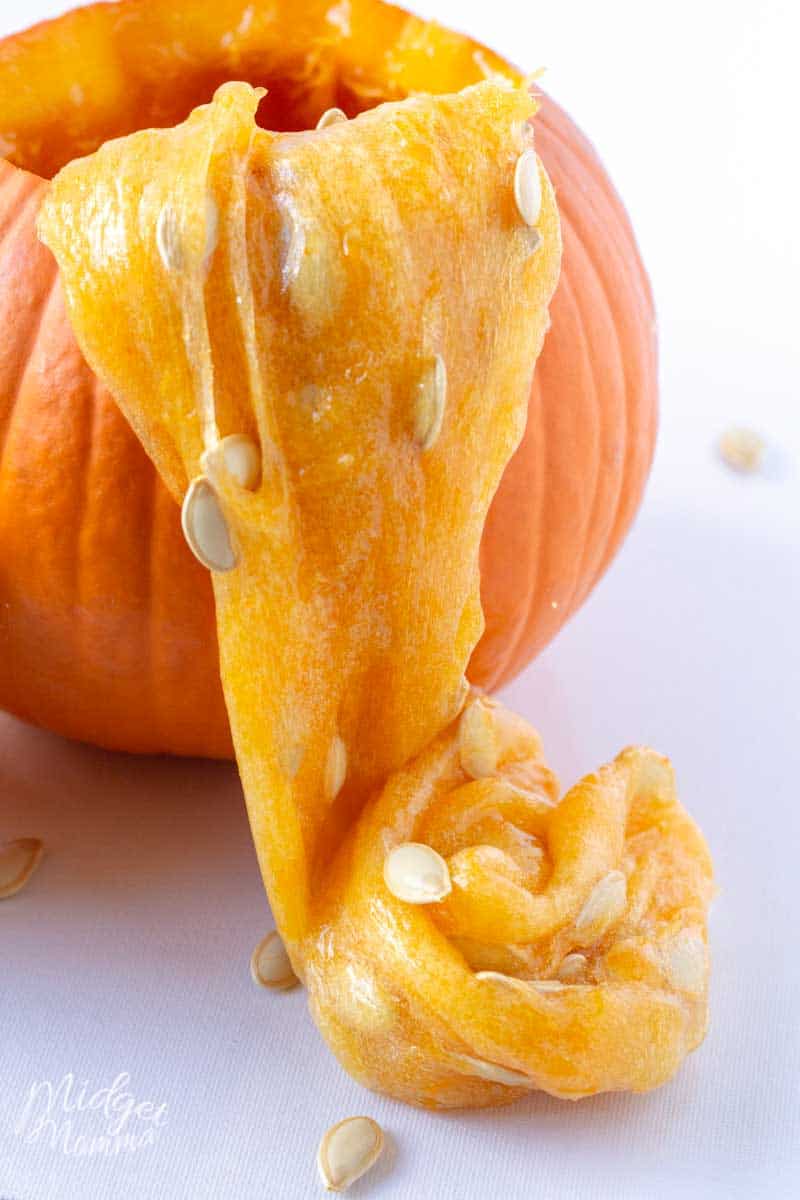 Get ready for some ooey-gooey fun with pumpkin slime! Mix clear glue, liquid starch, orange food coloring, and pumpkin-scented oil (optional) to create a stretchy and pumpkin-scented slime. Your kiddos can then stretch and play to their heart's content! 
Learn More: Midget Momma
19. Pumpkin Sun Catchers
Incorporate the beautiful colors of Autumn into your classroom with pumpkin sun catchers! Cut pumpkin shapes out of black construction paper and deal out orange tissue paper squares to your kids. They can then glue the tissue paper onto the pumpkin outlines to create a beautiful stained glass effect when hung from the windows.
Learn More: The Suburban Mom
20. Pumpkin Tic-Tac-Toe
We invite you to enjoy a round of pumpkin tic-tac-toe! Paint small pumpkins with alternating orange and black squares to resemble a traditional tic-tac-toe grid. Then, provide pumpkin- or ghost-shaped markers for your learners to play with.
Learn More: Toddler Approved
21. Pumpkin Bowling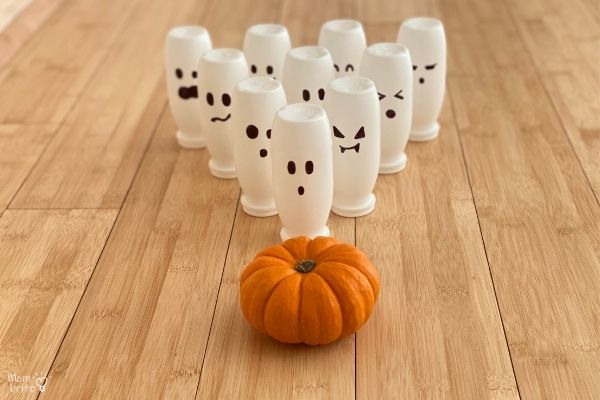 Create a pumpkin bowling alley in your classroom! Set up empty water bottles as pins and use small pumpkins as bowling balls. Your learners will have a blast as they take turns rolling the pumpkins and trying to knock down as many pins as possible. 
Learn More: Mombrite
22. Pumpkin Leaf Rubbings
Explore the beauty of Fall leaves with pumpkin leaf rubbings. Collect a variety of leaves and place them under a piece of paper. Then, have your kids use crayons to gently rub over the paper to reveal the leaf patterns. Finally, cut out pumpkin shapes and glue the leaf rubbings onto them to create unique pumpkin leaf collages.
Learn More: Artful Parent
23. Pumpkin Volcano
Combine science and Halloween fun with a pumpkin volcano experiment. Hollow out a small pumpkin and place it on a tray. Mix vinegar and orange food coloring in a small cup. Add baking soda to the pumpkin and pour in the vinegar mixture. Stand back and watch as it erupts with fizzy orange foam!
Learn More: Little Bins for Little Hands