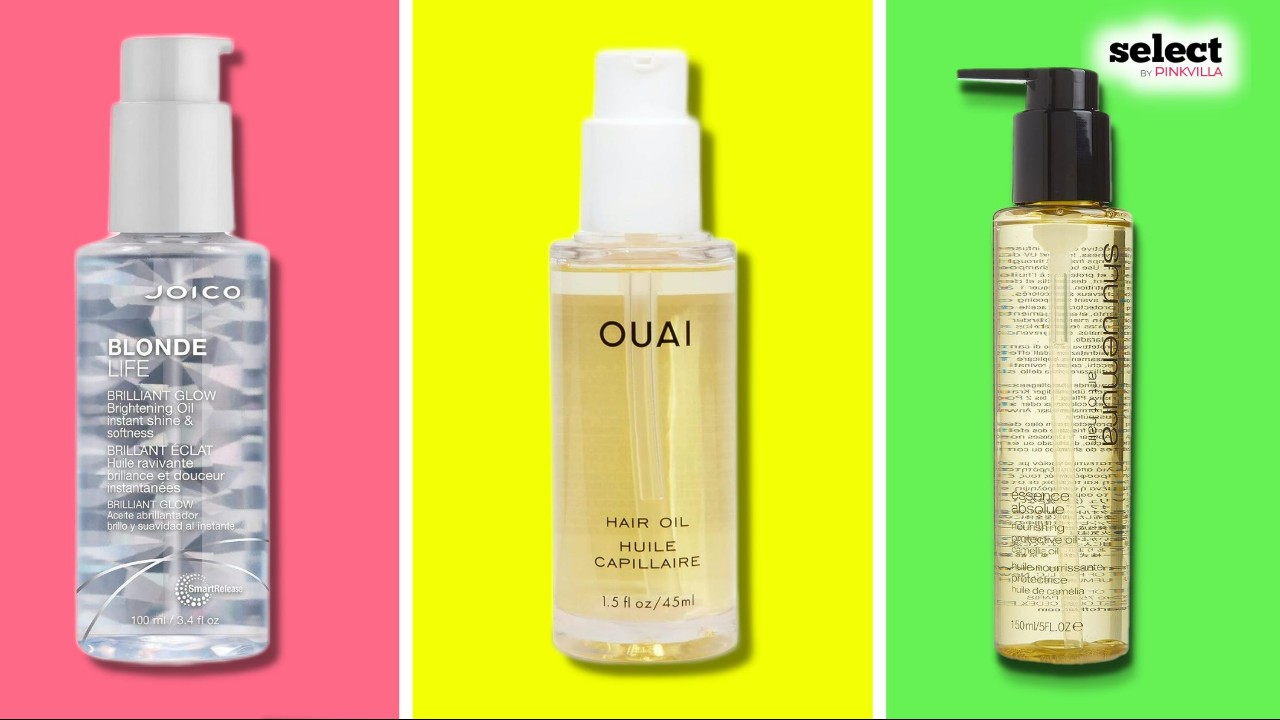 The products curated for this article are independently chosen by the
editorial team. If you make a purchase through the links mentioned below, we may receive a commission. Check out our product
research & curation process
Picking the right kind of oil, especially for blonde or other color-treated hair can be a bit tricky! And that's why we have come up with these best oils for blonde hair that boast of revolutionary formulas, which not only keep the desired tone intact but also nourish the hair while treating several problems all at once. They are packed with essential ingredients backed by nature and science that promise to keep the brassy tone at bay! On the other hand, it is no brainer that bleached blonde hair tends to look a bit drier, more brittle, and rougher, and the effective formulations of these products deeply penetrate into the hair and keep the strands moisturized and smooth for a healthier appearance.
Hair oils are indeed magical elixirs for your hair. So, without further ado, take a look at the hair oils for blonde hair that we have curated based on our observations. Apart from giving you the best result, they also help you achieve a voluminous, shiny, and color-protected mane backed by their lightweight formulas that won't weigh down your hair. Scroll down below to take a look at our top picks!
Our top picks
Best Paraben-free Formula
Best to Treat Frizzy Hair
Best to Keep Blondes Bright
Best to Neutralize Brassy Tone
Best for Chemically-treated Hair
Best for Color-treated Hair
Increases Hair Elasticity
11 Best Oils for Blonde Hair to Get the Desired Volume
This is a smoothening oil that is formulated with moringa and bamboo extract to soften, smoothen, and defrizz your hair for a lustrous look. It also ensures a radiant shine to your blonde hair that you have always desired for! The hydrolyzed protein in the hair oil locks the moisture into the strands while strengthening the shaft for a nourished mane. The best part? It is a weightless oil that you can also mix with any of your favorite hair styling products for the desired result.
Pros
Eliminates frizz
Adds shine
Ensures smoothness
Lightweight
Paraben-free
Gluten-free
2
Best to Treat Split Ends
OUAI Hair Oil
With a tantalizing scent of rosemary, the hair oil not only smoothes your shaft but also controls frizziness, hydrates your dry hair, and tames the flyaways at the same time. Other than that, it also bestows an unwavering shine while adding softness to ensure the best appearance. The best part? The product works as a UV protector that creates a shield around your hair shaft for a sleek look. To note more, the product contains effective ingredients like galanga root extracts, borage oil, and AMA oil that promise to protect your blonde hair from humidity and environmental stressors.
Pros
French-inspired fragrance
Provides protection from sun
Adds softness
Adds shine
Treats split ends
Ultra-lightweight
3
Best to Treat Frizzy Hair
Shu Uemura Essence Absolue Nourishing Protective Oil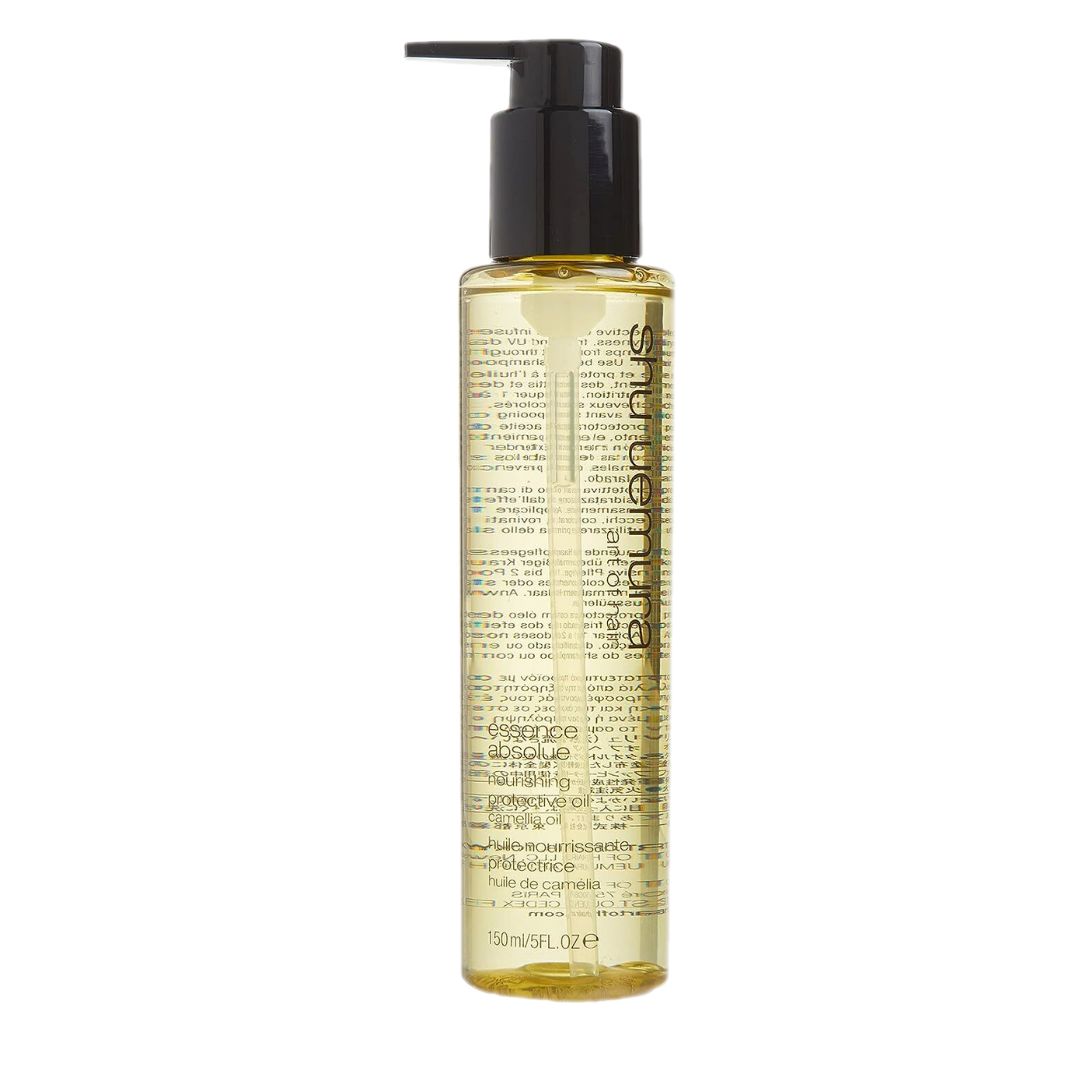 The nourishing and protective essence is packed with the goodness of camellia oil that protects your hair fiber against dryness, roughness, and damage. Other than that, the blonde hair oil takes the upper hand at taming frizziness and protecting the hair shaft from the harmful UV rays for an overall protection. Adding to that, it has a lightweight texture that doesn't weigh down your hair and imparts a great shine for amazing hairstyles. And we think it works excellently on blonde hair that requires a bit more glaze than the others.
Pros
Amazing scent
Lightweight
Imparts shine
Protects hair from UV light
Treats frizziness
Provides nutrition
Cons
Packaging could be better
4
Best to Keep Blondes Bright
JOICO BLONDE LIFE BRILLIANT GLOW Brightening Oil
Packed with arginine, monoi oil, and tamanu oil, the glow brightening oil tames your frizzy hair while boosting shine and smoothness. With a tantalizing scent of jasmine and vanilla, the effective oil further instantly provides a silky and soft shaft that you will love to touch. Not just that, the brand also claims to make your hair 7x stronger while banishing dryness for a chic and polished look. Last but not least, the brand ensures to keep the blonde hair bright for up to 8 weeks.
Pros
Gives spotlight glow
Nourishes hair
Protects the shaft
Makes hair silky
Keeps blonde bright
Makes hair stronger
5
Best to Provide Shine
LUSETA Keratin Oil
The keratin oil works like a strengthening and nourishing serum that treats damaged hair while resisting breakage and reinforcing elasticity. It not only provides an unwavering shine but also conditions and smoothes the hair from within for a healthy appearance. By locking in moisture, it also minimizes frizziness. On the other hand, the keratin-enriched formula containing sunflower seed oil, quinoa seed extracts, and protein, deeply penetrates into your hair shaft to provide lasting softness for your blonde tresses. And we think it definitely deserves a place in your stash!
Pros
Ensures stronger hair
Provides shine
Effective ingredients
Salon-like finish
Color-safe
Paraben-free
6
Best to Neutralize Brassy Tone
KERASTASE BLOND ABSOLU Strengthening Hair Oil
Kerastase has come up with a strengthening oil loaded with effective ingredients like hyaluronic acid and edelweiss that make the product one of the best oils for bleached hair, blonde hair, and highlighted hair. It goes deeply into your strands and reduces the split ends while repairing weak hair fibers and strengthening the shafts. Other than that, it provides an instant anti-brass neutralization so that you can achieve and maintain that cool toned blonde hair color. Last but not least, it ensures that the formula illuminates the hair for an even better appearance.
Pros
Strengthens hair
Neutralizes brassy and yellow tones
Makes hair lustrous
Protects hair strands
Enhances softness
Reduces split ends
7
Best for Chemically-treated Hair
UNITE BLONDA Oil
With a tantalizing floral scent, the hair product is enriched with argan oil that works like magic on chemically-treated shafts. It promises to give your highlighted or blonde hair that extra shine and smoothness you have always wanted. Furthermore, it seals the moisture from within to protect the hair from frizziness, potential damage, and UV rays. Developed by hairdressers, the formula is loved for its paraben-free and vegan-friendly nature around the world.
Pros
Best for chemically-treated hair
Cruelty-free
Vegan-friendly
Adds shine
Seals moisture
Protects the hair
Cons
Packaging could be better
8
Best for Color-treated Hair
OGX hydrate & color reviving Sunflower shimmering blonde Penetrating Oil
The shimmering oil stands true to its name and provides an unwavering blonde radiance that you want! Packed with sunflower extract and honey, it also comes with UVA/UVB filters that protect your strands from harmful sun rays while keeping your blonde tone intact. It further nourishes your locks and keeps the frizzy strands at bay by deeply penetrating into the hair shafts. Last but not least, the haircare product is designed to bring back the coveted sunny tone blonde effect into your hair which is the ultimate motto at the end of the day!
Pros
Provides radiance
Hydrates thoroughly
Protects the strands
Smells irresistible
Protects color-treated hair
Best to get sunny tone blonde
Cons
Could be more moisturizing
9
Increases Hair Elasticity
Lisa Rachel Vitamin E Oil
Infused with vitamin E, the oil not only rejuvenates your blonde tresses but also stimulates the scalp for better hair growth. It also takes the upper hand at preventing breakage and treating split end problems for better hair length. Along with acting as a smootheing agent, the oil deeply conditions your hair shaft for softer and frizz-free tresses while giving an unwavering shine. Last but not least, the antioxidant-rich formula boosts hair elasticity to ensure better results.
Pros
Stimulates scalp
Improves blood circulation
Treats split ends
Restores moisture
Gives extreme shine
Increases elasticity
10
Best to Revitalize Hair
HAIR CHEMIST BRASSINESS Hair Oil
Enriched with soothing and calming lavender oil, the hair oil deeply conditions the hair while brightening the highlighted tresses along with concealing the brassy tone. The nourishing macadamia and coconut oil present in the product further ensures a tropical oasis for your hair as it deeply moisturizes and revitalizes the shafts. The best part? It is paraben-free and silicone-free! So, why wait? Get natural, beautiful, and manageable bleached hair just like that!
Pros
Soothing lavender scent
Revitalizes hair
Makes hair manageable
Deeply moisturizes
Paraben-free
Silicone-free
11
J BEVERLY HILLS Blonde Gloss Toning Treatment Oil
J Beverly Hills has come up with a revolutionary formula packed with jojoba oil, safflower, and lavender extract, claiming to tone down the unwanted yellow tones. It is one of the best oils for colored hair that doesn't come with nasty ingredients like parabens or sulfate to ensure proper care. Other than reviving highlights, the product adds shine, and controls frizz while smoothing the strands for the best appearance. Furthermore, the brand boasts of designing the product keeping in mind all hair types.
Pros
Provides salon-quality treatment
Adds shine
Neutralizes tone
Revives highlighted hair
Silicone-free
Paraben-free
Now that you've already taken a look at the products, check how you can pick the best one for your hair—
How to Choose the Best Oil for Blonde Hair?
Here are the parameters to keep in mind before buying the best oil for blonde hair – 
a) Ingredients- Make sure the product contains essential oils like jojoba oil, coconut oil, macadamia nut oil, argan oil that will hydrate your hair shaft. A well-balanced ingredient list packed with vitamins and antioxidants will also protect your bleached hair strands from damage along with delivering a great result look wise. 
b) Texture- The texture of the oil matters a lot when you are looking for a top-notch outcome. The lightweight the texture is, the better! An oil that comes with a greasy formula will weigh down your hair and make it appear limp and not so attractive. A hair oil with lactic acid tends to make the hair less limp and more bouncy.
c) Hair problems- Pick the oil according to your hair type. If you have pesky problems like flyaways and frizz, pick a formula that is enriched with keratin so that it tames your mane. On the other hand, for people with dull and dry hair, a formula with grapeseed or camellia seed oil will work like magic. Similarly, canola oil helps in preventing hair breakage and promoting new hair growth.
Tips to Maintain Blonde Hair Color
Below are the tips to maintain blonde hair color at home – 
a) It is no brainer that washing your hair less frequently will keep the color intact for a long time. Experts recommend not washing your hair more than 2-3 times a week.
b) Use a good blonde color-protecting shampoo that will lock the color and not wash away the pigments with each use.
c) Rinse with cool water only. Using hot water will open up the cuticles, which may encourage dull and dry hair and fade away the hair color.
d) Don't forget to apply an intense conditioner on your damp hair to avoid a frizzy and lifeless appearance.
e) You can also use a mask weekly to ensure extra moisturization that the usual conditioner may fail to give for that desired hair health.
f) Use a protectant as well to prevent heat damage and to shield your hair cuticles! This way, the color will be intact for a long time.
g) Add chemical-free and ammonia-free specialized toners in between your color sessions to keep your tresses vibrant and glossy.
h) To avoid brassiness in your blonde hair, use a purple shampoo that will cancel out the tone and keep your hair as it is.
i) Lastly, use a hair oil that will protect your hair color for a longer time while keeping the tresses nourished and glowy as you have always wanted.
So, that's it! You now have the buying guide and a list of the best oils for blonde hair that you can use to literally transform your tresses. The effective formulations are indeed game changers when it comes to keeping your shafts moisturized, shiny, and smooth. But if you want something more out of it, i.e., keeping the luscious blonde tone as it is, our research indicates that Kerastase Blond Absolu Strengthening Hair Oil could be your holy grail. Similarly, if you want to take special care of your already color-treated hair, OGX hydrate & color reviving Sunflower shimmering blonde Penetrating Oil could be your ideal partner. Lastly, if your demand is to revitalize the damaged, brittle, and coarse blonde tresses, Hair Chemist Brassiness Hair Oil can help you with that!
FAQ's
Is hair oil good for blonde hair?
Hair oil works like magic for blonde hair, especially a few specialized ones that even help to keep the tone neutral.
How often should I use oil treatments for my blonde hair?
You should give an intense oil treatment to your blonde hair at least once a week.
Can I use oils on all shades of blonde hair?
Yes, you can definitely use oils on all shades of blonde hair. But make sure the oil helps to keep the tone intact.
Will using oils make my blonde hair look greasy?
If the oil you're picking is lightweight in texture, it is less likely to leave a greasy residue or weigh down your tresses.
What's the difference between store-bought and homemade oil treatments for blonde hair?
Store bought oils for blonde hair are a great amalgamation of science and nature as they not only promise to hydrate, nourish, and moisturize the mane, much like homemade oil, but also keep the tone intact unlike homemade ones.
Do I need to consult a professional before using oils on my blonde hair?
Not necessarily, unless you have any specific concern that a nourishing hair oil cannot solve! Using hair oil as a post or pre treatment will help you get the best result in a jiffy!
Are there any side effects of using oils on blonde hair?
Oils having slight tints may mess with your color-treated hair. On the other hand, blonde hair tends to lose more pigment than any other hair color. So, choosing the best one keeping in mind all the aspects is the key factor.
Can oils protect my blonde hair from heat damage?
Yes, you can definitely use hair oil as a heat protectant to keep your cuticles protected as you use any hairstyling tool.
Do different oils have unique benefits for blonde hair?
Yes, different hair oils have indeed different and unique benefits for blonde hair. For example, tea tree oil is excellent to soothe the scalp, jojoba oil is a great component to calm down flyaways and frizz, while coconut oil softens and conditions the strands.
Can oils help with blonde hair that is prone to frizz and dryness?
Yes, oils with nourishing and moisturizing formulas can definitely work wonders on frizz and flyaways.
Why Trust Pinkvilla
Picking the right hair product for your chemically or color-treated hair can be a bit challenging. And thus, our in-house hair care expert, Alvira, has devoted her time and energy to round off the best hair oils especially crafted for blonde hair so that the result remains spectacular while infusing all the goodness of the hydrating and nourishing ingredients. She has carefully gone through all the products that have some rave reviews online and curated a list keeping in the parameters like ingredients, formula, texture, hair type, etc to deliver you the best results.
Our product experts study the specifications of every product we suggest and try them out to bring what's proven to be worthy of your money, time, and energy. We also have subject matter experts from various fields like Fashion, Skincare, Haircare, Home Decor, and Health & Fitness onboard to make sure our suggestions are credible and trustworthy. You can trust Select to be your faithful shopping guide for all the right reasons!
Author BIO
With a keen eye for detail and a passion for hairstyling, Alvira is a certified Hair Expert who brings the latest tre More