Wisconsin's allure lies not only in the thrills of its big cities but also in the uniqueness and beauty of its small quaint towns. These hidden gems, from the quaint historic Cedarburg to the fish-themed Sturgeon Bay, represent the state's history, natural beauty, and varied tapestry of culture. Each town offers a different story to be discovered through the exploration and experience of their cultural representation, like the famous Taliesin heritage of Spring Green.
Explore the captivating side of Wisconsin's distinctive small towns, from Bayfield's enchanting streets on Lake Superior's shores to the idyllic setting of Ephraim and Sturgeon Bay, while learning their peculiar history. You can enjoy every slice of this Midwestern state through Sister Bay, Fish Creek, and other towns, engaging in all kinds of activities like capturing and reveling in picturesque landscapes, venturing into the town's art and antiques collection at Ephraim and relishing in great dining at Sturgeon Bay. So, regardless of the category you fall under, you'll find something to satisfy your visit to one of these Wisconsin towns.
Cedarburg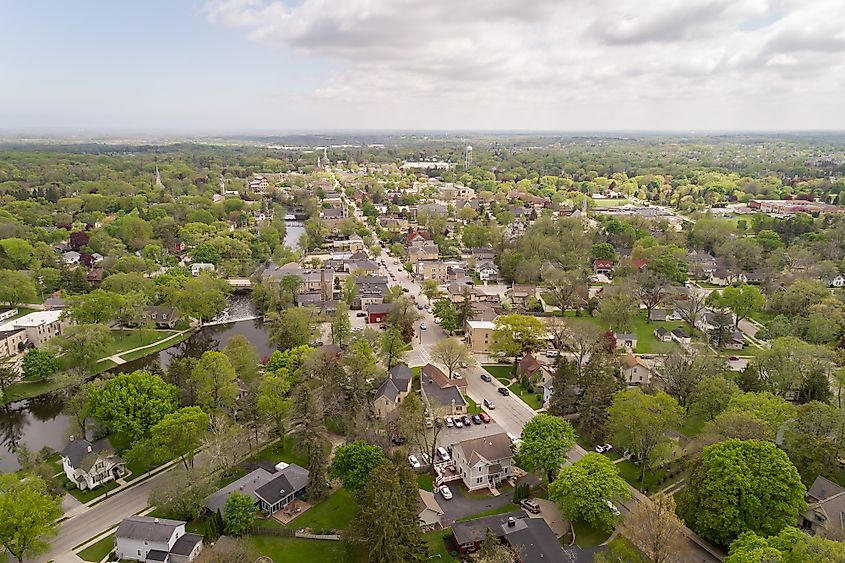 This quaint town, 20 miles north of Milwaukee, has become a favorite among visitors due to its charming outlook and collection of beautiful shops, restaurants, and art galleries like The Cottage, the Farmstead and the Pink Llama Gallery. It is a great place to explore nature and history, given its beautiful landscape all year and various museums and historic sites. Some of its landmark gems include Cedarburg Art Museum, History Museum and public library, where you can learn about the town's ancient history. You may also check out the Cedarburg Cultural Center and Main Street Gallery, where you can see different works of local artists and exhibits. There are wine-tasting opportunities at Cedar Creek Winery and Handen Distillery, and the Best caramel apples are at Amy's Candy Kitchen. Visitors often love this place for its occasional festivals, including four major ones: Winter Festival, always held in February; Strawberry Festival in June; Wine & harvest in September; and Oktoberfest.
Elkhart Lake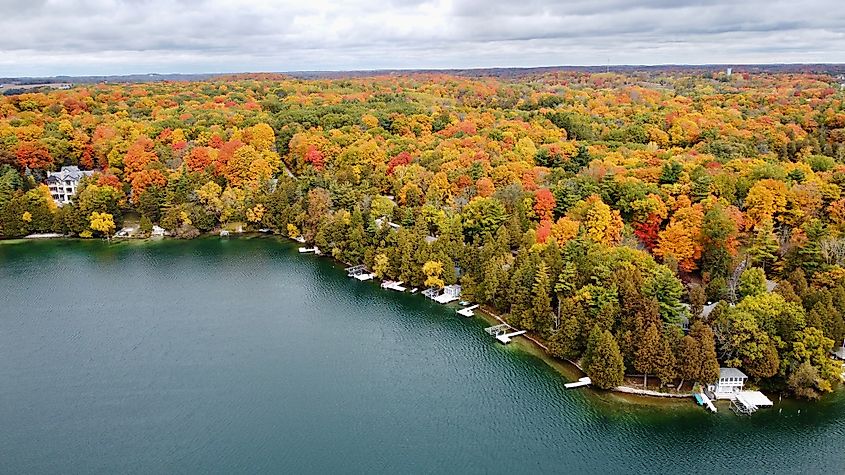 Elkhart Lake, situated in the center of the Kettle Moraine State Forest, has become a destination for a year-round visit due to its rich community and picturesque view. The small town has been known as a top road racing destination for years, and most visitors hope to witness firsthand the thrills of the infamous Road America, one of America's finest motorsport road courses. The pretty clear waters of Elkhart Lake are also a beautiful sight for visitors who want to revel in its tranquility or hike through the lake's trails. 
The town also has beautiful inns/resorts, including the Siebkens Resort, Osthoff Resort and Victorian Village Resort, offering visitors a warm and luxurious stay at various times of the year. While here, enjoy culinary goodness at Elkhart Lake's, including Off the Rail Café, Schwarz's Supper Club and Lake Street Depot, and take a tour through museums, historic sites, galleries and unique shops like the Throttlestop Museum, Wade House Historic Site, Two Fish Gallery and Elkhart Lake Outfitters. 
Sister Bay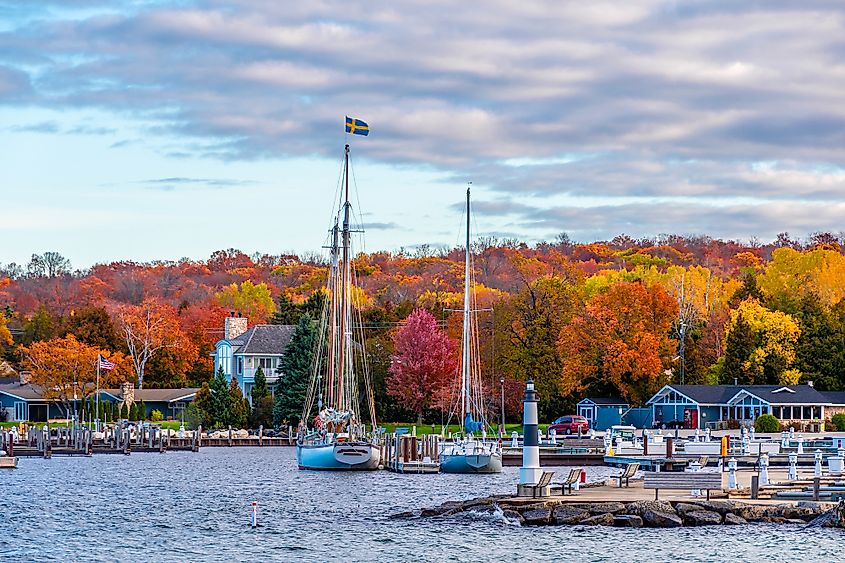 Are you looking for a town in Wisconsin with the best waterfronts and a relaxed rural lifestyle? Sister Bay is one of the first on the list with its picture-perfect view of the Sister Bay waterfront view and Waterfront Park. Spend a day watching the beautiful sunset along the beachscape during summer, or have an energetic time boating, kayaking, fishing or cruising in the water. You may also experience weekly live concerts on the waterfronts. 
Be sure to taste the town's food in its various restaurants, including the Door County creamy, Al Johnson's Swedish restaurant for a sophisticated Swedish menu, Wild Tomato Wood-fired Pizza and Grille for a casual yet fantastic dining option. To top it up, book a stay at one of Sister Bay's most popular and reputable resorts- the Scandinavian Lodge, a beautiful cabin-style lodge offering a relaxing and comfortable stay while enjoying the uniqueness of Sister Bay.
Spring Green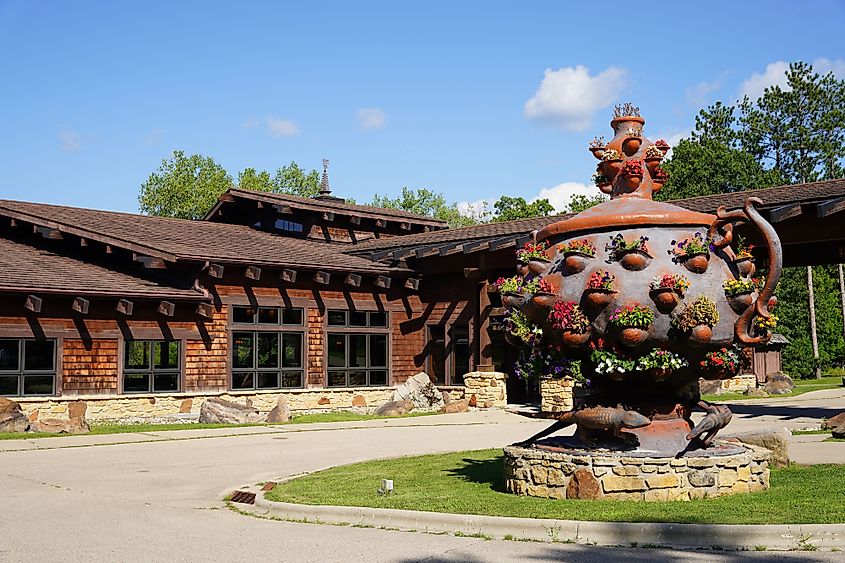 Besides being known as the hometown of architect Frank Lloyd Wright, Spring Green in Southwest Wisconsin is a small town loved for its river dominance with the Wisconsin River at its boundary. It also has excellent architectural sites; check out Frank Lloyd's 800-acre Taliesin estate, which contains the Taliesin home, school and hillside studio in the Driftless region near Spring Green. There's also the American Players Theater, House on the Rock Tower Hill State, and Taliesin Preservation to explore the town's history and beauty.
Have a relaxing time at Wisconsin Riverside Resort, which offers visitors a fantastic view of the river and a luxurious experience, including pool clubs and excellent service. You may also have an understanding of Spring Green's agricultural heritage through farm tours at Seven Seeds Farm and Peck's Farm Market.
Ephraim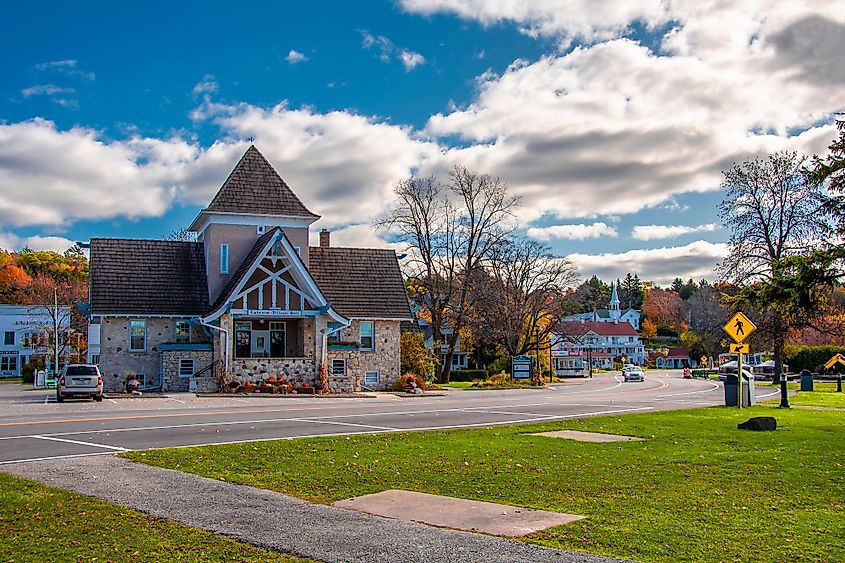 Ephraim boasts of its outstanding history and mix of Moravian and Norwegian culture in its historic buildings, including The Moravian Church, the Anderson Store and the Pioneer Schoolhouse. Some of the town's other notable buildings are the Ephraim Historical Foundation and Peninsula State Park, with fun activities such as hiking, biking and boating for visitors as they experience the town's great landscape views and learn its history. Ephraim ensures strict zoning of its history and beautiful landmarks to keep its heritage going. However, it still oozes a playful atmosphere with lovely antique shops and galleries like Anderson House Shop and Gallery, Door County Rock & Gem and the Hardy Gallery. Meanwhile, these experiences are incomplete with an empty stomach, so dine in the Sourdough bakery at Cultured, visit the old post office restaurant for the renowned Door County fish boil and sip through the day with fresh coffees, smoothies and beer at Sip.
Fish Creek
Fish Creek is located along the shores of Green Bay in Door County, featuring lighthouses, beaches, galleries, restaurants and scenic lodging. The Peninsula State Park is a common attraction for visitors, spanning 3,776 acres with 468 campsites, a summer theater, a sand beach and hiking, biking and ski trails. It also has the Eagle Bluff Lighthouse and White Cedar Nature Center. Explore arts and culture in its various art studios, such as Juddville Contemporary Clay Studio Gallery, and attend concerts at Fishstock Concert series and Northern Sky Theater- Indoor Gould. Feed your appetite at White Gull Inn's door county fish boils and French toasts or have in the crafty pizzas and bears of Wild Tomato Wood-Fired Pizza and Grille. 
Bayfield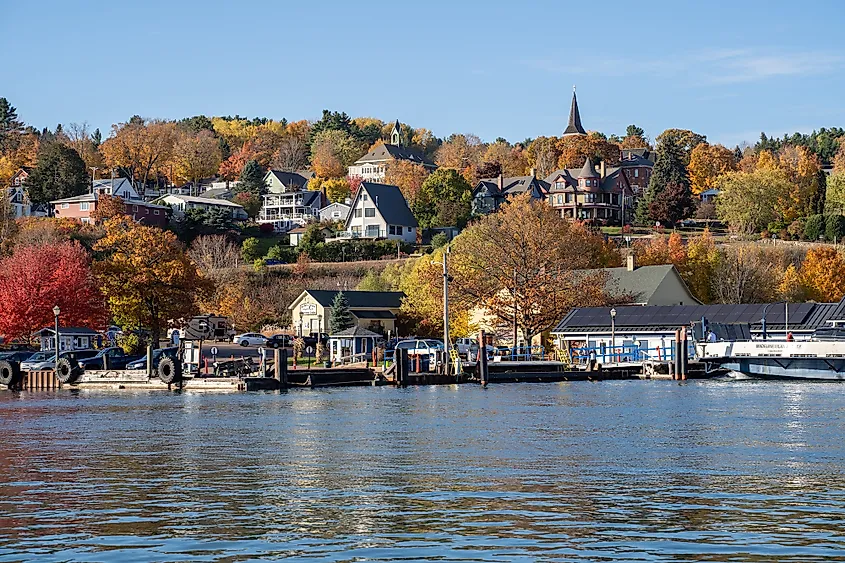 Bayfield is a beautiful small town with less than 600 population in Bayfield County, making it the smallest town in Wisconsin. However, its size says nothing about what it offers, being in a gateway to the almighty Apostle Islands. It is a fabulous suburban town with fantastic music, art attractions and incredible scenery, especially on the shores of Lake Superior. Take a trip to the Bayfield Maritime Museum to view the natural artifacts and learn of the town's story. Also, the Big Top, Chautauqua, located near the Lake Superior shore, is an excellent spot for concerts with scheduled events and performances.
Since most visitors are after the most popular attraction in the town, you can take a ferry to the islands on Apostle Islands National Lakeshore and engage in exciting activities, including hiking, kayaking and boating. However, take advantage of the satisfaction of nature-loving through fruit-picking in orchard tours to local orchards like Bayfield Apple Company and Blue Vista Farm.
Chippewa Falls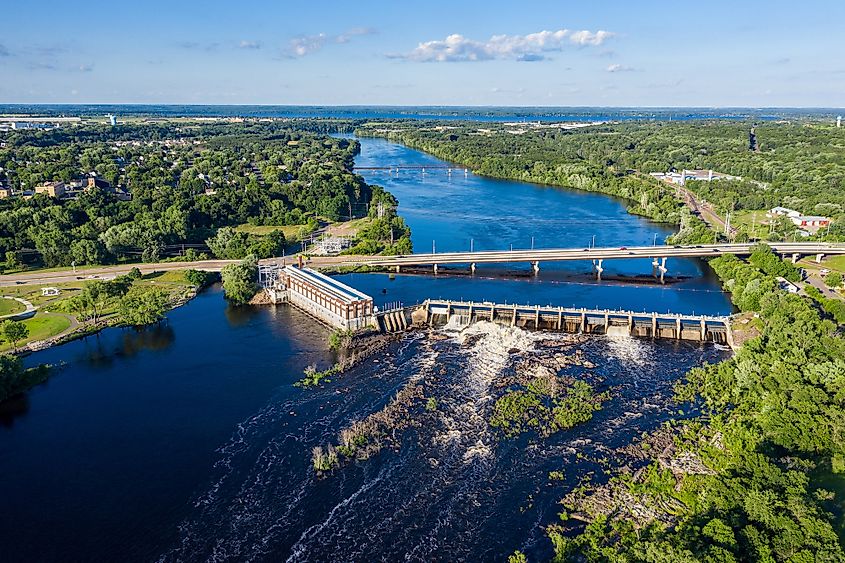 Chippewa Falls is a unique small town in Chippewa County with a host of fun and admirable qualities, including hosting fun activities, such as park get-aways at Irvine Park in the Chippewa Valley with a zoo home of several animals, skydiving at Skydive Wissota and apple-picking sessions at Apple Orchards. If you like to taste locally crafted beers and spirits, visit the town's breweries and wineries at Chippewa River Distillery & Brewster Bros. Brewing Company, Dixon's Autumn Harvest winery. Eat rich with Chippewa's restaurants, including Wissots High Shores Supper Club, The View, and Sheeley House Salon, offering seafood, homemade pizzas, tacos and other irresistible dishes. Also, attend some of the town's festivals like Oktoberfest, Onefest, Pure Water Days & Riverfest and SpringFest Chippewa Falls.
Hayward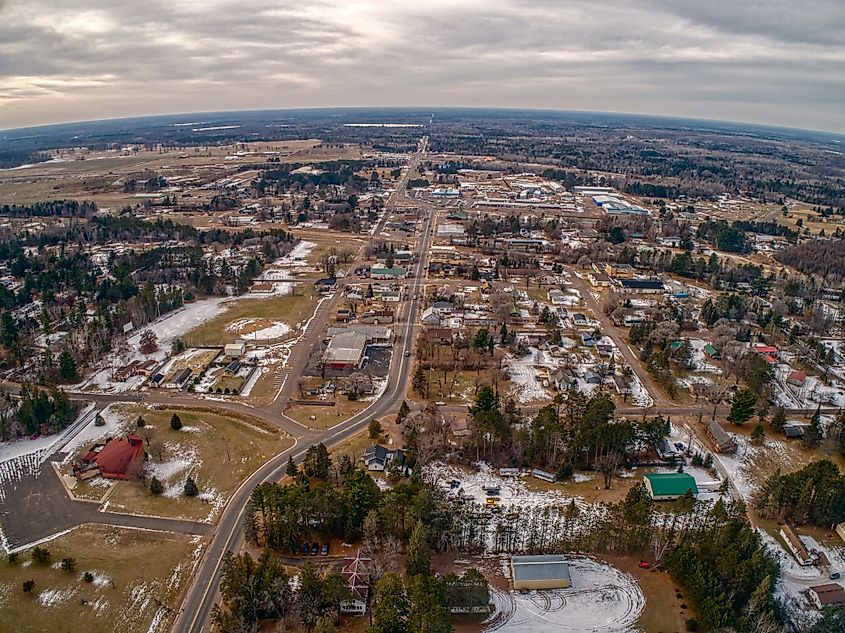 Hayward is located in the Midwest region of Northern Wisconsin in Sawyer County, close to the Namekagon River. It is famous for its natural attractions featuring forests and about 2000 freshwater lakes, and thus, is packed with water activities, including the National Fresh Water Fishing Trail, which is a museum in celebration of freshwater fishing exhibited through artifacts and holding a giant musky fish statue on its banks. It also has 448 trails for outdoor activities like biking and hiking. There's more to experience and do with the town's movie theater at The Park Center Theater and Hayward Golf Club with several golf courses. You may also join the fun at the Lumberjack World Championships events by displaying lumberjacks' skills from various people worldwide. After a long day of fun, have a pleasurable time at AmericInn by Wyndham Hayward or the Flat Creek Lodge.
Sturgeon Bay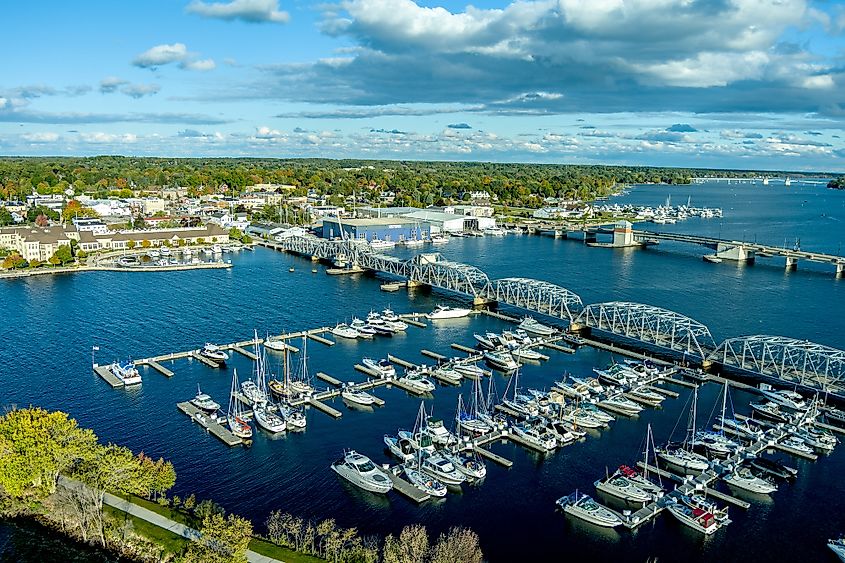 Sturgeon Bay is every fisherman's delight, offering the best fishing opportunities with bass-fishing boats and a vast shipbuilding history. As one of the largest towns in Door County and a base surrounded by waters including Lake Michigan and Green Bay, it keeps its reputation with its Maritime Museum and charming natural beauty intact. Begin your journey in this town at the Maritime Museum and learn about the area's history and the role of Navy Ships in World War II. Discover the Lighthouses comprising Sturgeon Bay Canal station, North Pierhead and Sherwood Point. While you join in the town's most-loved fishing activity, stir up a feast with traditional fishing dining at Crate Sushi Seafood & Steak and Kona Bay Fish House. Also, indulge in recreation activities at Potawatomi State Park and empty your purses at the town's unique shops and boutiques at Jefferson Street, West Side and Third Avenue.
Wisconsin is home to everything you seek in a great getaway or adventurous visit. The natural beauty, fun and uniqueness of the small towns, away from the brawl of big cities, are embedded in the many beautiful Wisconsin towns and their specific qualities. Depending on what you seek, you'll find comfort in the elegant history established in architecture and historic sites in Spring Green, have fun in nature parks and observe wildlife in Hayward, witness the thrills of the famous Road America at Elkhart Lake and keep wanting more of the delicious Swedish meals at Sister Bay. While these small towns may not always be in the spotlight, they are excellent places you would love to visit, primarily due to their indigenousness and culture.